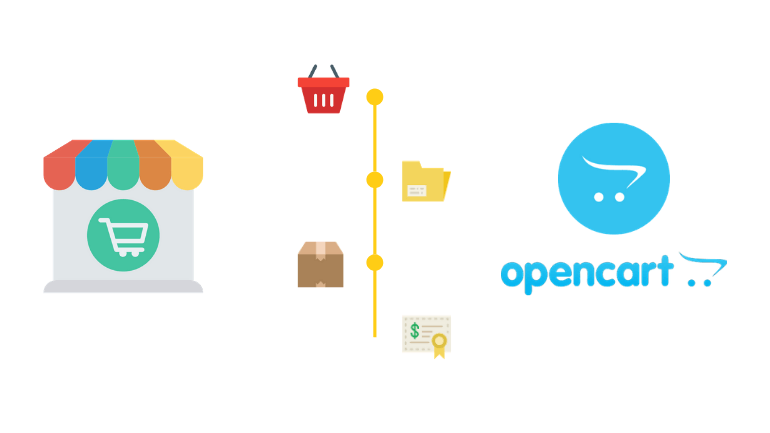 When you trade online, choosing an eCommerce platform is one of the important steps because it will follow you throughout your business journey.
The emergence of eCommerce platform has allowed countless enterprises to pursue a lot of opportunities to reach the vast market, not only in the domestic country but also on a global scale.
Initially, you can use a simple eCommerce platform for your website.
However, when your store has more abundant traffic and grows bigger, your site will need a stronger server to store all user information while meeting that big daily traffic. That's what sites like WordPress gets difficult handling because WordPress websites often don't adapt well to changes.
At this time, you need to have a better CMS (content management system) for your website, and OpenCart will be the proper answer for you.
So, what is OpenCart?
What makes it more special than other choices?
How to migrate your store to OpenCart accessibly?
After reading the guides, you will be able to solve these questions. Furthermore, we will introduce to you one of the most popular online migration tools – Next-Cart. Let's find out with us.
Overview of OpenCart shopping cart solution
OpenCart is an open-source solution
As an open-source CMS using PHP programming language, OpenCart is currently the leading eCommerce solution for every small to medium-sized businesses. OpenCart helps users easily set up an arbitrary interface with its Build Theme, incorporating features that are compatible with eCommerce such as discounts, coupons, etc.
With every problem occurring, there will always be a strong, big OpenCart community supporting you and sharing a lot of knowledge as well as useful information.
OpenCart is a shopping cart system
OpenCart has developed a rigorous module system of stall management, thus creating a premise for customers to have an online shopping cart to buy products and pay with unlimited currencies.
OpenCart has multiple features
Besides the remarkable advantages we've mentioned above, OpenCart has many other attributes, such as:
Offer shopping cart function
This function helps customers to buy multiple products at the same time and make payments easier (can be combined with the discount program if any).
Accumulate points for loyal customers
Provide coupons
Classify product categories clearly
Support SEO effectively with meta tags, product description tags
Allow payment with many different currencies
Offer clear agent/store information on the online store
Backup and restore
In an emergency, OpenCart allows you to backup and restore data on your own site quickly and completely.
You can also update and edit a wide range of products and categories with OpenCart.
Supply easy-to-use management interface with many modern features and extensions
Record daily activities to help you deploy better plans
Limitations
When using vqMod, it is easy to have errors
OpenCart module is still rigid, not flexible
Features are wide but not enough, must be updated in the long term.
Why you should use Next-Cart services
One of the reasons many businesses love this eCommerce solution is the ease of use. OpenCart is designed and optimized to be user-friendly, providing the best and most convenient experience even when you don't have much knowledge of web code or programming.
However, the process of how to migrate your store to OpenCart sometimes make users confused. In this situation, the data transfer duty would be much simpler if you have the support from Next-Cart.
This is a shopping cart migration solution that allows you to easily migrate website to OpenCart without losing any data.
You can upgrade OpenCart store to a newer version or migrate from all the popular eCommerce platforms in the industry like WooCommerce WordPress, Shopify, Magento, Zen Cart, PrestaShop, OsCommerce, etc to OpenCart perfectly.
Not to mention, OpenCart is also an open-source solution, so it will be regularly developed and improved. With Next-Cart, changes from OpenCart will be automatically updated on your website. Therefore, you will not have to worry that your sales system can be obsolete or have errors.
Features of Next-Cart
Save your current warehouse
Move customers, categories, products, images, features, manufacturers and more with an unlimited number of directories.
Keep SEO URLs (301 redirects, URL rewrite) in the new website
Data entry is simple, fast and safe
The move is completely automated and does not require any programming knowledge
Prices are adjustable – they are calculated based on the amount of data transferred
Effective and professional customer support – available 24/7 to provide assistance
Also, if you want to reference more options like Shopify or WooCommerce, you can find them on Next-Cart blog.
Simple steps to transfer your website to OpenCart
You have decided to move your site to OpenCart, but before you do so, you need to log in to your account on Next-Cart.
If you are a newbie, you can sign up for an account via Google or Facebook.
At the same time, if you are not ready to purchase your migration plan, Next-Cart also offers you Free Demo OpenCart Migration to try.
Step 1: Set Up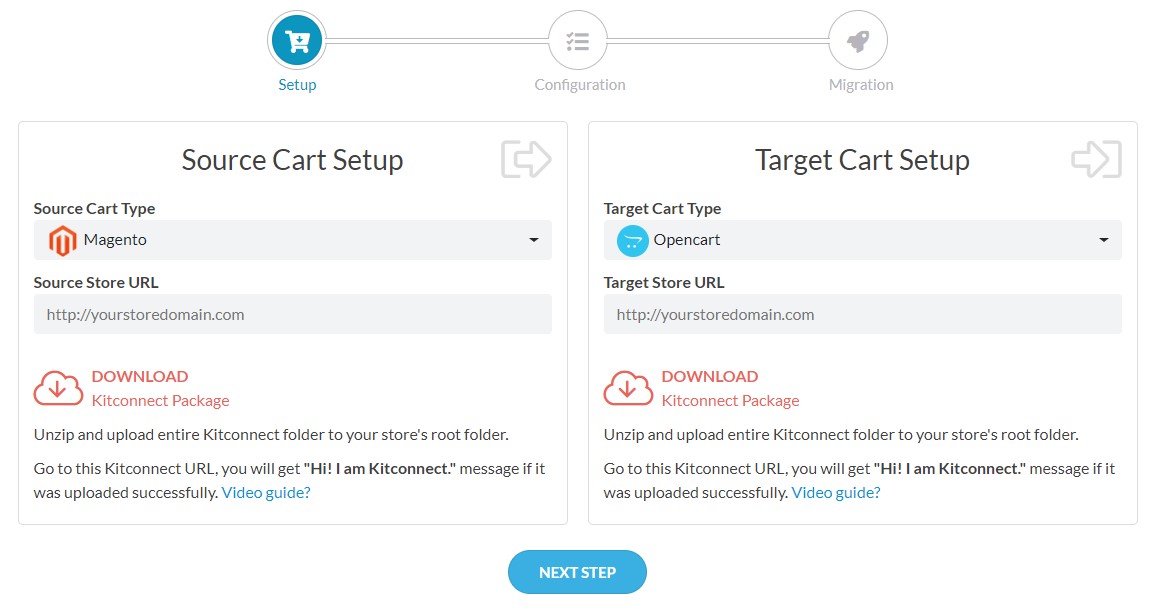 In the first step, you need to fill information in the required fields to start performing data transfers: select Source Cart Type (your online store's current eCommerce platform), Target Cart Type (OpenCart), copy/paste your Source Store URL, OpenCart Store URL. Don't forget to upload Kitconnect package to your Source and OpenCart store's root folder.
Then, click the Next Step button.
Step 2: Configuration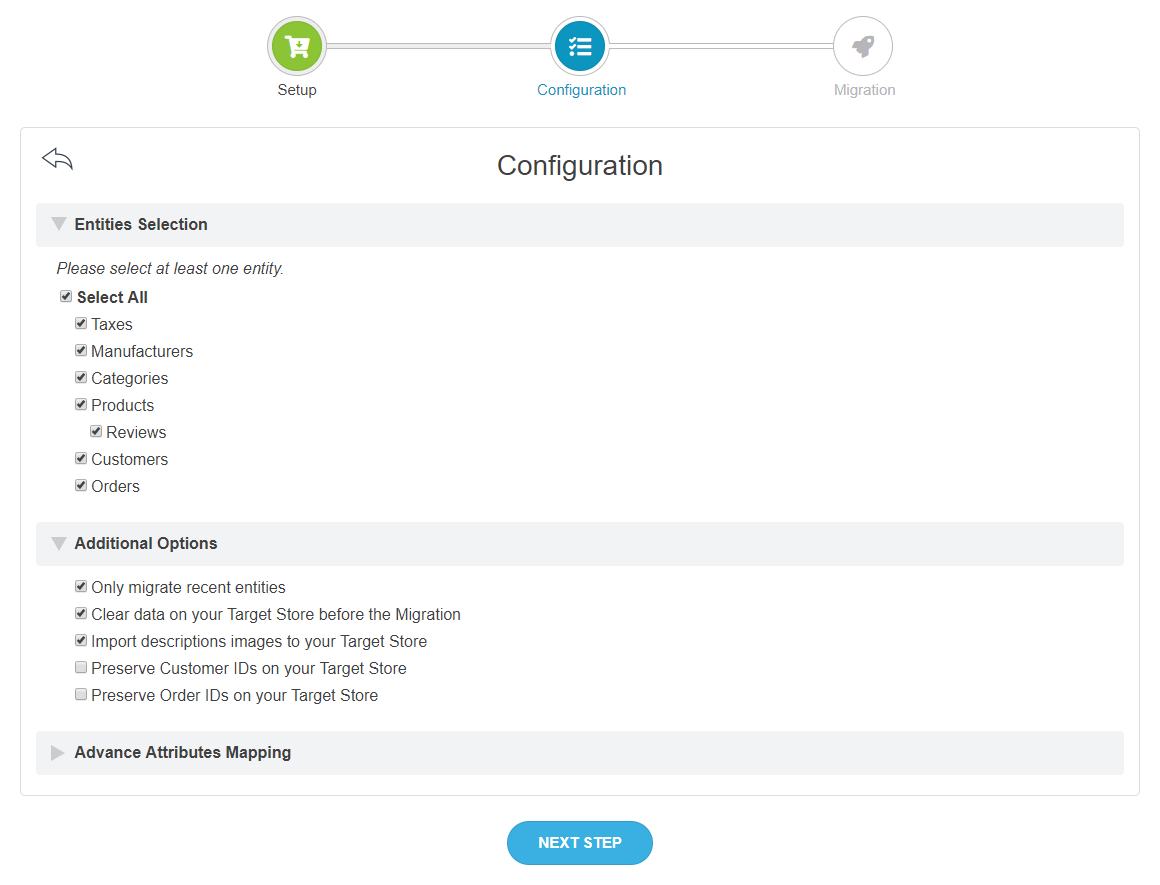 To migrate an eCommerce site from platform to platform, after supplying the above information, you need to select which data you want to migrate.
Entering products into OpenCart via Next-Cart is as easy as pie. In the Entities Selection section, you can choose items like Taxes, Manufacturers, Products, Customers, Categories, etc., and more depending on your current store.
Notably, you can change the settings based on your needs in the Additional Options and Advance Attributes Mapping sections.
When you are done with all the steps to fill the required information and choose the type of data to transfer, you can press Next Step and Yes buttons when they ask you if you are ready to let the Next-Cart tool perform the migration process.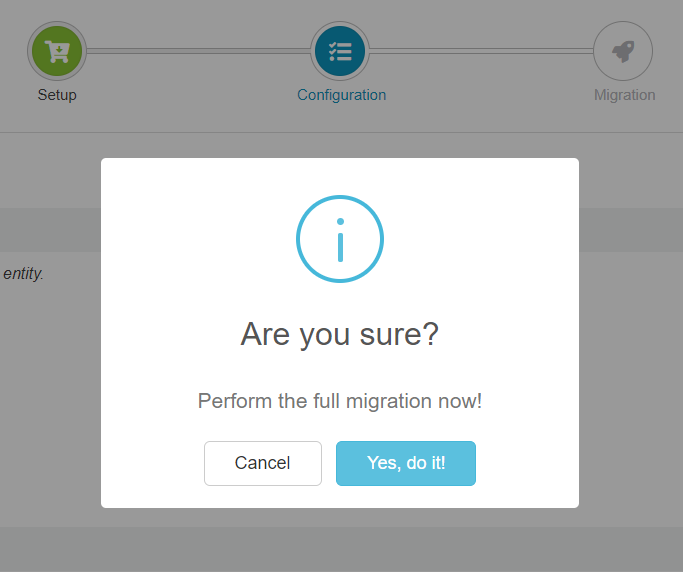 Step 3: Migration
The process of how to migrate your store to OpenCart is in the final stage. It may take several minutes or longer depending on the size of your website, ie the number of products, images, and information, etc.
After it is finished, products and images on your online store will be transferred to OpenCart successfully. This is the time you can check out the new website. In addition, you should check customer data and orders, etc.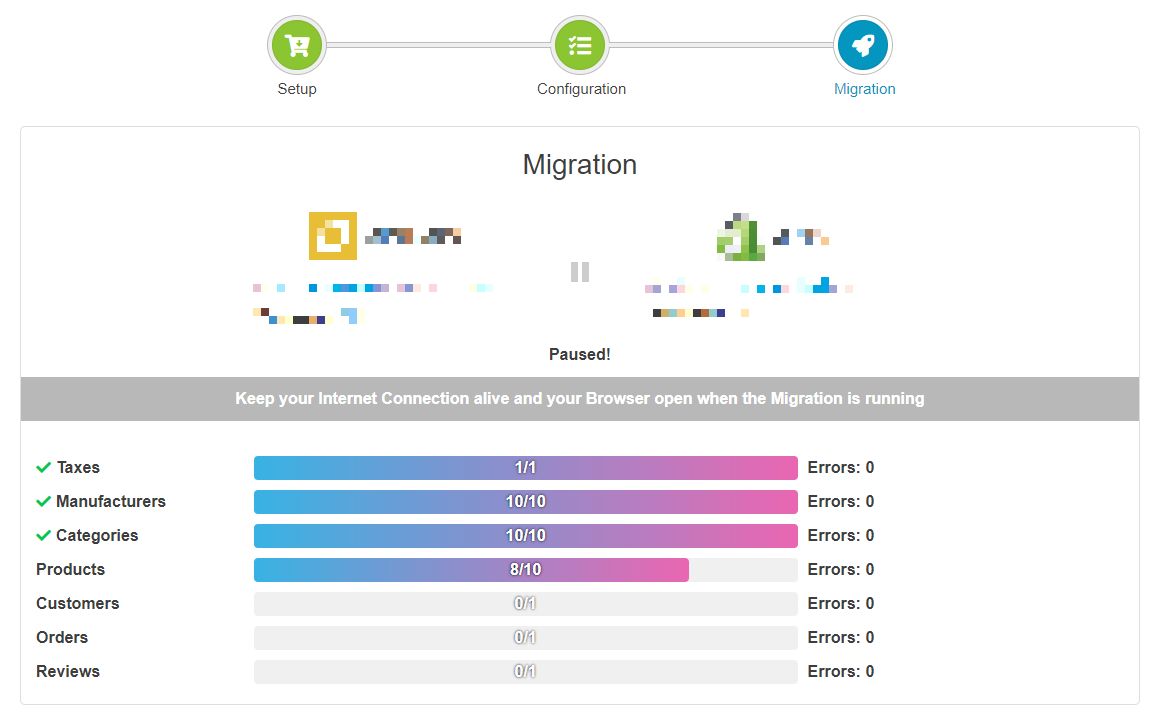 Final thoughts
Developed in nearly 20 years, OpenCart is considered the perfect eCommerce solution for businesses by advanced specialized features for businesses selling online.
Not simply does it expand the sales channel, it also helps businesses increase sales exponentially if they know how to exploit the tool effectively. Through the migration guides of Next-Cart tool above, hope that your website will gain more profits on OpenCart.