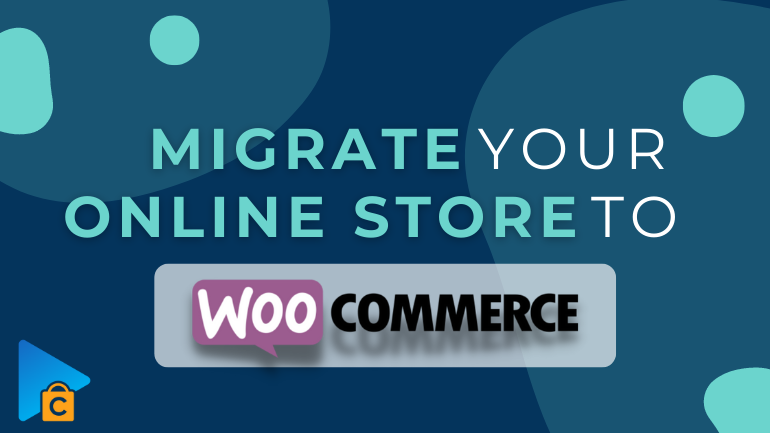 After a period of running an eCommerce website, most users will come to a time that they consider moving their store to a new eCommerce platform. The reason might be that the business grows out of what your current platform has to offer. The task is extremely important, but it is a big challenge to overcome. It is recommended to migrate your online store to WooCommerce.
Given the complexity, users should plan the eCommerce platform migration carefully. There are many aspects that eCommerce store owners should take into consideration before performing the process. In this article, we will discuss some of the main things you should know before you migrate your online store to WooCommerce to help you run the whole process more easily and seamlessly.
Entities Supported by WooCommerce and WordPress
Following are the main kinds of data that is available on WooCommerce for WordPress. They are also the data NextCart can help to migrate to WooCommerce:
Product and variations: Name, SKU, Product Specifications, Description, Short Description, Price, Images, SEO data, Product Options and Product Variants/Variations, Product Inventory, Product Links, Product Attributes, Multi-language Product Information
Category and category structure: Name, Description, Image, Meta, SEO, Parent Categories, Subcategories, Multi-language Category Information
Tax Class, Tax Zones, and rates.
Customer with addresses: First Name, Last Name, Email, Addresses, Customer Order History, Customer Newsletter.
Orders with products details and customer details: Status, Currency, Total, SubTotal, Tax, Shipping, Discount, Date, Product Details, Customer Details, External Links

Coupons and discount codes

Blog posts

Statics HTML pages
Types of Products That WooCommerce Supports
WooCommerce supports different types of products, including simple products, variable products, and grouped products. By choosing the right product type, you can present your products in the best way and also improve the performance of your site.
Simple products – In WooCommerce, this is one of the most common and easy-to-understand product types. They are often physical items that can be sold separately at any price. A simple product comes out with a brief description, a price, an SKU, and little else. The SKU is also saved in the WordPress database and you can use it for other purposes later.

Grouped products – This product type is a collection of related products that can be purchased individually and only contains simple products, for example, a set of drinking glasses.

Variable products – They are products that come with variations, each of which has a different SKU, price, stock option, etc. For example, a woman's bag is available in different colors and sizes.
Compared to Magento, Woocommerce does not have Product Bundles, which means:
To move bundled options from Product Bundles from another platform to Woocommerce, you definitely need a

third party plugin for Composite products

.

With products containing Custom Options, when you migrate them to WooCommerce, Custom Options will become variants. However, only the Options in the dropdown can be converted to variants while WooCommerce does not support the Options in swatch, text, or date. Therefore, if you want to migrate these types of Options, it is necessary to use a

plugin for product custom options

.
Products of WooCommerce support both attributes and custom meta fields, so if your products in the source store contain many sub-attributes, you can migrate them all to your WooCommerce store.
About WooCommerce Orders
Because orders are linked to products, any changes in products will cause orders to change accordingly. Therefore, if a product is not compatible with WooCommerce, its orders will not present all attributes of the product. Luckily, this issue can be resolved by plugins of Product Custom Options of a third party, and the WooCommerce migration tool of NextCart will help you migrate data to these plugins.
WooCommerce SEO Plugins
On WooCommerce WordPress, there are two most popular plugins for SEO, which are Yoast SEO and Rank Math. When migrating a website to WooCommerce, users can optimize the website data structure by using these plugins, which can enhance the exposure performance of products and the whole website on Search engines, like Google and Bing or on Social Media, like Facebook, Twitter, Instagram, LinkedIn. 
These plugins offer many on-site technical optimizations to improve the SEO of your website. Yoast SEO with a wide variety of features is an all-in-one plugin.
Page Rank and Redirects
When it comes to SEO, we cannot avoid Page Rank and Redirects. To keep the page rank of an original website after being moved to WooCommerce, the URLs of the original have to continue surviving and be directed to their right content area. In addition, the domain of the website has certainly remained the same, so redirecting the old URLs paths to the new URLs paths is extremely important.
In terms of this issue, the shopping cart migration tool of NextCart can help you to move all URLs in 301 redirects. This is processed by a URLs Redirect plugin that is exclusively designed for migrating to WooCommerce. 
This plugin is also integrated into the NextCart migration tool. With NextCart, you can have additional migration options like automated 301 redirects to preserve the SEO scores of your old store and maintain the SEO URL structure of the old store. 
Migrate Your Online Store to WooCommerce – In Conclusion
WooCommerce is an amazing Open-Source eCommerce platform, allowing users to freely customize their websites. It belongs to WordPress, which is a strong CMS (Content Management System), making it more popular. Moreover, with its ecosystem full of abundant plug-ins, is considered user-friendly and free what you need to startup.
If you are looking for a service to migrate your online store to WooCommerce, Next-Cart is the only tool you need. NextCart provides ultimate and exceptional support, helping you move your stores with all of its included data to WooCommerce without any techniques requested. 
The shopping cart migration tool will ensure all the entities are through to your new home on WooCommerce securely and more quickly than you ever expect.