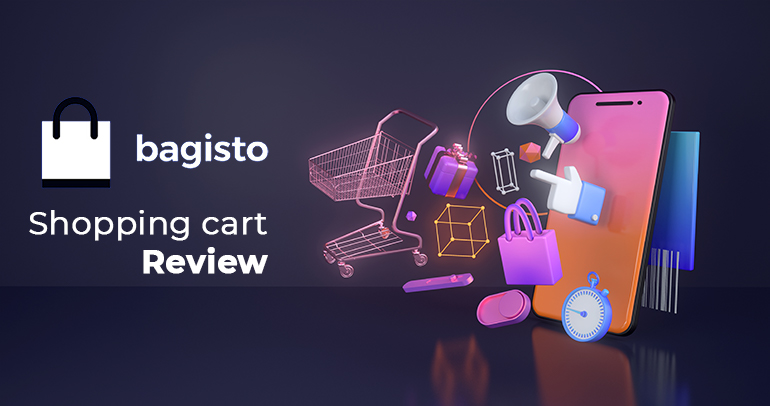 If you intend to build an online shopping website, there might be no better choice than Open Source eCommerce software solutions. These eCommerce platforms are an ideal place to create friendly and fast shopping websites. 
A good Open Source eCommerce platform has to pack essential features like inventory management, product listings, shopping cart integration, and payment integration. From giant corporations to small shops, eCommerce store owners turn to these solutions to save time and money but still gain big profits.
There are many eCommerce platforms out there, we will today take a closer look at the Bagisto review, a product built on Laravel, which is one of the most popular frameworks currently. The following paragraphs will reveal from general information to main features and the pros and cons of Bagisto.
Overall introduction about Bagisto
Bagisto is an Open Source eCommerce Ecosystem built on the Laravel framework and started as a community project by Webkul. It is free to set up and run an online store on this platform.
More than that, Bagisto provides solutions to cut down the time, cost, and workforce for building online stores. Whether small or huge, it helps business owners with shopping cart migration from physical stores to the potential eCommerce market.
Let's take a look at why Laravel makes Bagisto advantageous:
The Laravel structure allows developers to create unique eCommerce websites with no limitations

Lavarel ensures a high site security level so that the customers' private and banking information is protected well

It is an excellent option for the performance of SEO optimization. This will satisfy clients who cannot be patient to wait for pages to load while they tend to browse multiple items before deciding to buy one

Lavarel has efficient development cycles with amazing OOP, MVC structure, easy and well-organized documentation process. These make online store creation faster and more effective
Thanks to its highly customizable structure and the advanced code-driven method, and the tech stack of Laravel and Vue.js, it is straightforward for developers to build their own code and change or add additional functionalities they want.
Users will not find any hassle when they use a shopping cart migration tool. Or even they can have a shopping cart migration service that takes just a few hours to finish without affecting the performance of your current store.
Bagisto has successfully impressed Laravel Community by its absolute reliability in information security and delivering goods, building and enhancing complete trust among users. Within over two years, from October 2018, it recorded over 10,000 downloads and more than 1,000 members in forums and Facebook groups.
The core feature of Bagisto is the Multi-Vendor Marketplace. And its admin panel includes many functionalities but still is very easy to navigate. The featured functionalities are Localization, Access Control Level, Multi-Channel, Multi-Currency, Payment Integration.
Bagisto Main Features
Multi-Vendor Marketplace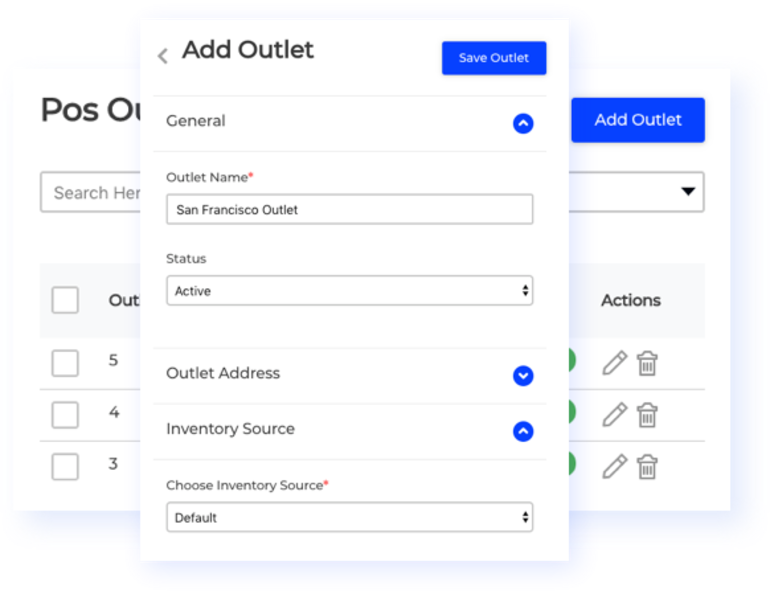 Business owners can now have their store converted into the marketplace, and multi-vendors from diverse categories can join together and sell products in a single storefront. Buyers, therefore, can reach out to more product offerings. That's how the conversion rates will increase on your website.
With a Multi-Vendor Marketplace, shoppers can easily compare the price and stock units from various vendors. They will have more ideas about the product's respective price and ratings and make a faster decision.
The sellers who have registered with the admin will have a separate Seller Registration in a Seller Central where they can get many benefits as below:
Inventory Management
In the multi-vendor marketplace, admins can easily manage inventory settings to keep products stocked well. They can either upload vendors' products or let vendors do it on their own.
Commission Rules
Appropriate commission management will attract more sellers to sell in your stores. You can choose to apply a single commission percent for all sellers or differently for each seller, depending on the specific categories.
Auto Approval of Product
Certain vendors can have their products auto-approved on your store. As an admin, you can review those products later on and set either manually or auto-approval for them. It is beneficial for vendors who want to save time on posting their products.
Product Assignment
Based on the list of sellers and products, admins can assign certain products to respective sellers and create a brief comparison of the same products. That's how buyers have all options available on the same page and make a better purchasing decision.

Moreover, admins can assign popular products to certain vendors from the admin panel to reduce significant time creating product posts. Then they can have more time to do marketing campaigns.
Landing Page
Sellers can create and add quality content about their offerings and products' features on the landing page. An effective landing page can help sellers attract more potential buyers. So it is one of the factors for merchants to decide to register on a multi-vendor store.
Review and Ratings
Customers often refer to product reviews and ratings before deciding to buy an item, so this part is crucial in the vendors' sales. The more good reviews a store has, the more customers see and make purchases in the store.
The marketplace allows admins to enable product review and star rating, then manage all positive and negative feedback by approving or disapproving reviews. The approved review will appear on the front-end product page, which maximizes the SEO value of the eCommerce websites.
Admin Benefits
Admins control all their merchants on their marketplace store, as well as their products, orders, commissions, shipment. After all, they gain commissions from each order without worrying about inventory.
Diverse Add-Ons
You can easily enhance the functionalities of the shopping and browsing experiences on your online store by integrating different add-ons into it. It allows you to serve buyers better, increase sales, and attract more vendors.
SEO Solution
Sellers can easily modify profile pages and product page URLs by search engine-friendly URLs functionalities in the Bagisto Multi-Vendor marketplace. These are easily readable by Google bots and customers.
Maximized SEO Management
Laravel offers a great eCommerce SEO management module for Bagisto stores to improve their SEO efficiency. You can display various snippets on product and category pages and have automatic suggestions for improving product SEO meters.
And you can also add content on Facebook and Twitter to share your business on social media. Moreover, you will have Facebook and Twitter snippet preview in product creation form, show sharing icons on product pages, and share buttons with customers' friends and followers.
Product SEO
SEO techniques like title, meta description, and keywords are dispensable to make a product appear on top of the search. Bagisto provides you with easy-to-use tools to enhance your product SEO, bringing them closer to potential audiences.
Product Search by Image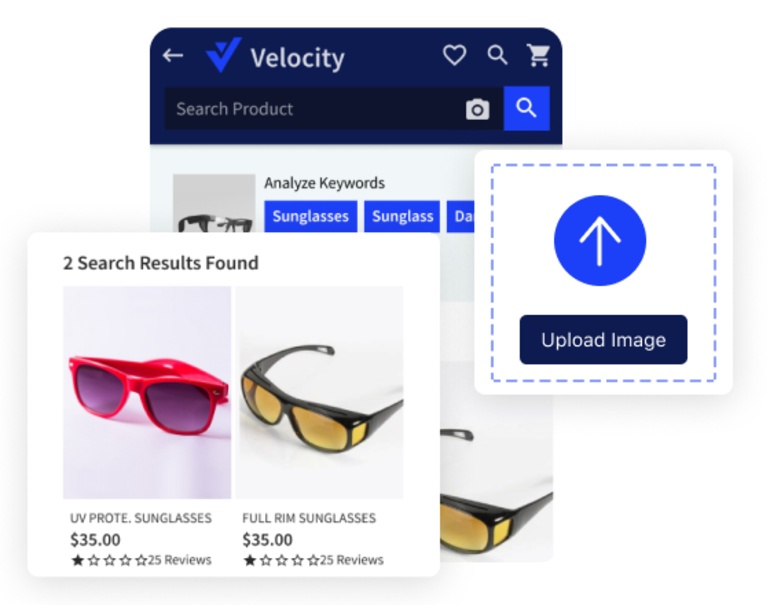 Tensorflow of Laravel allows eCommerce stores in this web framework to implement machine learning. It provides native support to make a seamless search experience for your customers by using improvised product search by image. 
Core Web Vitals
With the boom of eCommerce store numbers, the competition of Google ranking also has considerably become more fierce. It is so important to know what Google uses to measure a site's performance. It is the user experience that presents through core web vitals.
Your website's core web vital score is measured on three factors: Largest Contentful Paint – Performance of the largest content like text, images on a web page, First Input Delay – Users' first interaction with server response, and Cumulative Layout Shift – The shifting of the blocks. Bagisto platform resolves all coding issues so that you can have the best website performance.
Payment Integrations
Paypal Smart Payment Button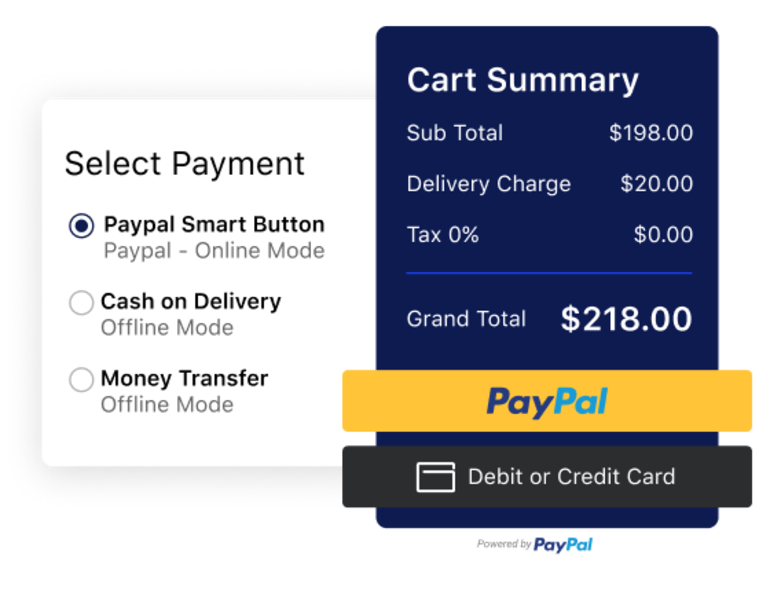 Payment method plays a vital role in the eCommerce market. A fast and secured payment process will encourage customers to finish an order. Bagisto allows stores to integrate with Paypal, the largest payment processor in online transactions.
The Paypal Smart Payment Button in Bagisto provides customers with an effortless and quick payment experience. With this feature, customers who decide to order an item will not be redirected to another page. Instead, he can pay for the purchase with all payment information on the same page. This rapid paying method with all associated benefits will lead to quick conversion. 
Cash On Delivery and Money Transfer
The payment method of Cash on Delivery is where the transaction is complete, and buyers make the payment when they receive their orders. Otherwise, buyers can transfer money through their bank. The payment methods appear right on the front end for customers to choose the most convenient payment methods with them.
Final evaluation
Bagisto came into existence a couple of years ago, and many users have given their opinions about their experience using this eCommerce platform. Here is the summary of pros and cons for the Bagisto review:
Pros
Simple and effective user interface for rapid and accurate search

Fully customizable to adapt to different users' needs

Diverse features that are easy to use

Convenient and effective customer support service

Suit all forms of business from freelancers to large enterprises
Cons
Lack some docs and guidance about creating proper Package, Module, Theme, some other tools

Require experienced setup
Who should use Bagisto
Above all, Bagisto is a perfect choice for those who are familiar with open-source technologies such as Laravel a PHP framework.
More than that, it's a feature-fruitful platform that helps you build an online store from scratch. With its notable features, this free eCommerce marketplace is estimated to develop more and more and can compete with the big names at the moment.
Additionally, Next Cart also makes it possible for you to migrate from your store to Bagisto with no hassle if you wish. Now you can make your decision. Thank you for reading!