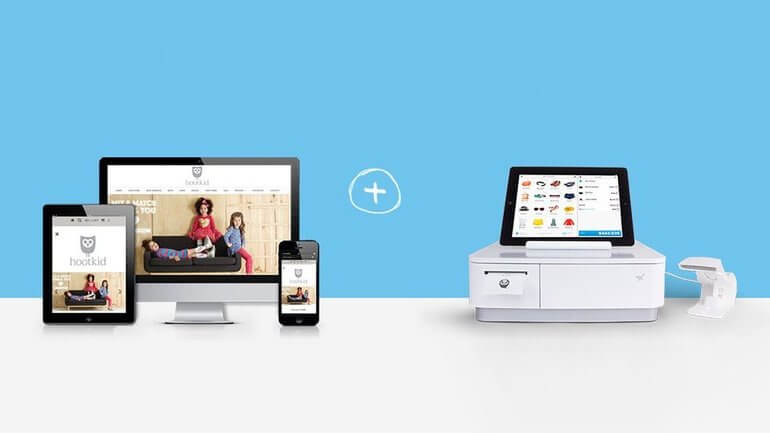 Let's go back to the time when eCommerce was not developed. Imagine you open a store and make a fortune.
However, when the internet and eCommerce enter a new era, with the constant growth of new competitors, it requires your brick-and-mortar shop to change.
Here's something we can both agree on:
Building an online store on an eCommerce platform can help your sales increase later, right?
Well… Not really.
That is, as your company grows bigger, high demands on inventory management, information storage, and personnel, etc. can give you a headache.
So, what is the solution?
That's when you need a Point-of-sale (POS) solution or a platform offering POS services to solve all of these problems.
What is POS?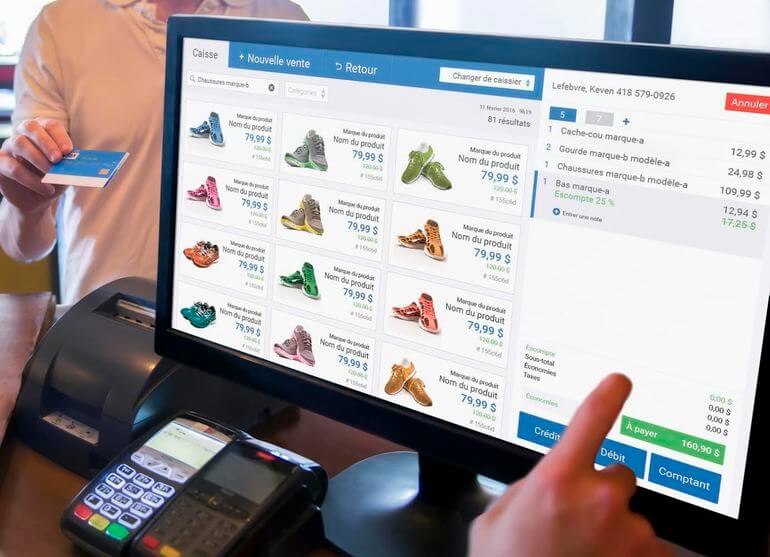 Here's what it looks like:
It is a combination of both software and hardware to make transactions more effortless. Furthermore, it also has some other convenient functions that we will explain in a later section.
What are the software and hardware here?
Hardware:
Screen (monitor)
Barcode reader
Credit card reader
Receipt printer
Cash drawer…
Software:
Web platform
Mobile app
Computer software
In particular, depending on the POS provider that it can be used offline or not. Generally, POS can work online on computers, phones, laptops, and tablets.
Thanks to POS, the payment task will be more straightforward. And you can be assured that all the information on products, buyers, salespeople, revenue, etc. will be stored on your website system.
Along with that, billions of other features can be very helpful for your business. Let's find out more.
Why is POS needed for eCommerce nowadays?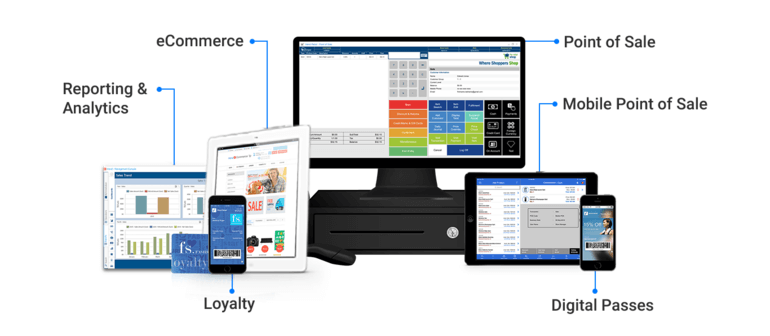 Issue an invoice in… seconds
Imagine you sell goods in the traditional way and have problems when customers seem uncomfortable because of long queues for payment. Unquestionably, you will lose customer loyalty, and they will move to other stores with more modern payment systems.
That is one of the most significant shortcomings if you do not use the POS app for your store.
With machines and smart software connectivity, all the bills will be paid in a few moments.
It will be a hundred times faster than just recording everything. Not to mention, the mistake when saving information manually is very likely to occur, making your work even more complicated and time-consuming.
Diverse forms of payment
What if you go out without bringing cash? Of course, you cannot buy anything at stores that do not use the POS system.
On the contrary, besides cash, POS software also accepts many other forms of payment, such as credit cards, Master Card, and payment applications on the phone.
It also encourages the purchasing power because usually, people don't bring too much cash to avoid being stolen or lost. Thus, more forms of payment mean customers will purchase more.
Track and manage staff
You won't be able to show up at the shop all day to keep track of salespeople, right? In-store sales are just one part of the business's operation chain, and you have a variety of other tasks to do.
With the POS system, you can control the working hours, employee identities, the products they sell as well as the KPI (key performance indicator) they achieve. This is because they need to log in to be able to use the software.
In general, everything will always be under your control even if you are on vacation thousands of kilometers away from the store.
Automatically export revenue report
Many POS providers offer this feature on the system, helping you keep track of sales reports by month, quarter, or year. In particular, they are also displayed in a chart so that you can see the development of the business.
In some industries, POS also lists some other information such as best-selling products. As such, you can plan to import more of that item. At the same time, you can cut back on those that are difficult to sell or liquidate them.
With POS software, your sales will be much more convenient.
Automatically tracking inventory
For shops that sell physical products, the inventory problem will be much simpler with a POS system.
By not merely tracking what is available and what is out of stock, you'll know all the essential figures to make as much profit as possible.
Firstly, you will know when the goods are out of stock. As a result, you can calculate the lead time so that the new arrival import date will coincide with the day the old items are sold out.
It is beneficial because customers will not have to wait long to buy the products. They will always be available to meet their needs.
Secondly, you can know which products are the best-seller ones to keep importing them. Also, from cutting out unmarketable items, you can limit the loss and save space in your inventory for top-selling items.
Thirdly, the distribution of goods between branches will also be more straightforward with POS. Looking at the system, you'll know which of your stores sells the most. Hence, you can transfer goods to there from less-consumption ones.
In the long term, you can rely on that to consider moving branches to more favorable locations.
Building customer data system
Not just managing customer information, POS also helps you build long-term relationships with potential customers and improve their loyalty.
Specifically, you will keep buyer information such as email, name, and phone number, etc. It makes it easier for you to connect with your customers than the case that they just come to buy goods and then leave.
In particular, POS also helps you promote their purchasing power. Based on the amounts the customers spend on your product, you can create promotions such as loyalty cards, discounts, or coupons, etc. for the next purchase.
What should you consider when choosing a POS solution?
Depending on the type of product, you can choose a suitable POS system.
For example, with physical products like goods at grocery stores, it requires the POS provider to offer the attributes of inventory tracking, customer database, purchase orders, and more.
Meanwhile, if the product you sell is a service at a spa or restaurant, for example, you'll need to find some POS features like workflow integration, seat number, or appointment calendar, etc.
You're probably feeling confused and do not know what you will have to rely on to choose the right POS system for your business. The easiest way is to ask for advice from other sources like your friends, colleagues, and family. They are those who may have used or know about the POS.
Another way is to ask intermediaries like us. We are willing to answer all your questions.
However, some significant POS factors can be applied in every industry that you need to pay attention to.
Integrations
As we talked about the concept of POS, it is a combination of hardware and software. Therefore, it must be able to integrate with the software your store is running. Besides, this feature is also used for third party applications to make your website more advanced.
Ease of use
Not everyone can install and operate well POS systems, especially new employees who work for you. Therefore, POS providers will often simplify the steps in the payment and management process for users to operate smoothly. You will not have to take much time to train your staff.
Payment processing
Payment is the primary function of the POS system. As a result, you need to pay attention to the payment options available as well as payment processors that the providers designed for it.
Inventory management
For physical products, the POS needs to be flexible and functional in managing inventories. Therefore, your business will not fall into the lack of goods.
Customer relationship management
The features related to customer data of a smart POS system are not just the customers' phone number or name. It also helps you to set deals, gift cards, or email marketing, etc.
Employee management
In order to manage human resources competently, of course, your POS apps must be able to save information when your staff accesses the system. And, all of them can control it at the same time. Besides, the system must also help you set tasks and analyze their performance by week or month.
Cost
The cost of a POS system will include the registration fee, the cost of machine purchasing, and some charges for advanced features. Some applications are quite economical compared to others, but their advanced features are pricy and require you to pay many times.
Ecommerce
If you are planning to expand your store and get more online customers, eCommerce applications are a necessary factor of POS.
Customer support
Although the POS is easy to use and convenient, you still need help from the POS providers. Also, it is always evolving to keep up with the ever-changing retail market. Consequently, a reliable POS system will include dedicated customer service.
Our last words
With the convenience, ease of use, and high applicability in eCommerce, POS has now become one of the criteria for every business to choose a suitable eCommerce platform. For further guides, don't hesitate to contact us. Please like and share the article with others if you find it useful. Thank you.