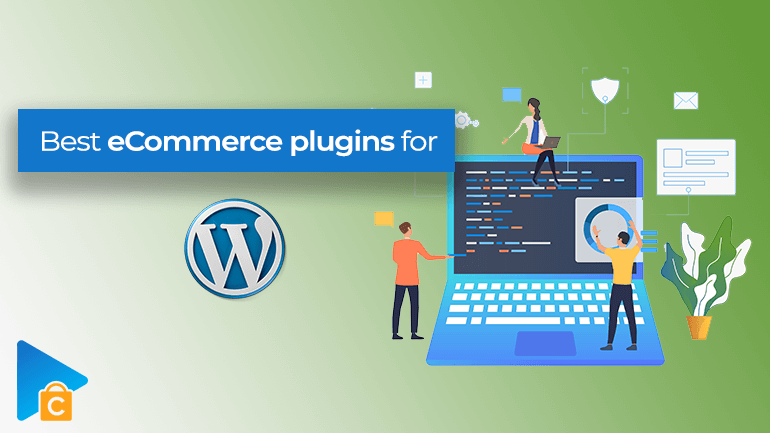 Do you want to create an online store on your website? Do you need the best eCommerce plugins for your online store? If yes, this article is for you!
As you know, nowadays, more and more people start their own online business. Many developers provide tons of high-quality plugins that help online store owners sell their products to customers with ease.
But not all plugins should be installed in the browser. Many businessmen have failed because they install the wrong add-ons to their websites.
Below, we explain our tips to choose the right extensions. Also, we recommend the top 10 best eCommerce plugins for WordPress and many websites that you own. Scroll down and find out right now!
What are eCommerce plugins?
Basically, a plugin is a type of software that you add to your website browser. This add-on extension gives more features and functions to the browser. With the help of plugins, you can show extra content that is not originally designed to appear on the web.
Ecommerce plugins are types of extensions that give extra eCommerce features. You don't need to customize or code the advanced features for your website. They are ready to use after you install them to the browser. 
For example, an eCommerce plugin helps you create a full-fledged membership business. On the other hand, several plugins help you sell different types of products (subscriptions, appointments, digital goods) you desire.
The great thing is you can download and add most plugins to your browser without paying a single dollar. Many companies offer plugins for free.
How to install eCommerce plugins to WordPress?
It is effortless to install plugins for eCommerce stores. All you need to do is access the website of the plugin providers, select the extensions you require, find the link that allows you to download their extensions, and click on it.
For example, if you want to install WooCommerce plugins, you have to access the website of this company and download the file.
Remember to download the extensions to the place that you can easily find on your computer. You can add a new folder and rename it as "eCommerce Plugins''. On the other hand, you can save these add-ons to the Desktop on your computer. 
Doing this is essential, as you download not only 1, but many plugins. A specific folder for all the plugins will give you ease of file management and organization.
Now you have the plugins wholly downloaded. The next step is to open the file follow the prompts to add the plugins to the system. The web browser may need to be restarted so that the extensions can start working.
More tips to improve your eCommerce store:
How to choose the correct plugins for your online store?
It is needless to say that the industry of eCommerce is growing. Many companies and stores start their online businesses. That's why many plugins have been released to serve different purposes. Some add-ons are good for your websites. But some are not.
In this section, we will guide you to the essential tips to find the best eCommerce plugins for your online store.
Which purposes do the plugins serve?
Plugins are designed for different categories.
You may find the best eCommerce plugins that help you sell digital products. Several types of virtual goods on the internet are eBooks, music in different formats (MP3, MP4), images, vectors, source codes, etc.
On the other hand, several extensions work to help you sell physical goods, which you may have to deliver (ship) to your customers. These plugins need to have features that support shipping control.
There are even more purposes to list. Overall, you will have to think about the types of products that you sell. It is essential to consider all functions from the best eCommerce plugins that will make your online store work properly.
How are the customers going to pay you?
Payment solutions are an essential thing to consider. As customers buy products online, they prefer to purchase online instead of by cash. Therefore, consider plugins that offer many payment gateways.
How good is the user interface/user experience (UI/UX)?
The entire interface (design) of your eCommerce store is the first thing that catches the eyes of your customers. It is essential to leave a good impression on the guests the first time they visit. Also, you will want the customers to feel good when surfing on your website and buying your goods. With good experience, they will visit your store the next time.
Therefore, the best eCommerce plugins should include different templates and customizable options. The more features, the easier you can decorate your websites. Also, make sure that the functions run smoothly and quickly. Customers don't like waiting!
Can the website integrate with third-party applications?
What integrations of the plugins are available for third-party applications? At a minimum, the best eCommerce plugins should allow your online store to connect with several apps, such as Email Marketing Services, Accounting software, CRM software, etc. Added applications from third-party companies will help your online store run with high efficiency.
10 best eCommerce plugins you must install for your online store
#1: OptinMonster
Overview
A good plugin you may want to add to your WordPress eCommerce platform or website is OptinMonster. 
This plugin allows you to build multiple high-converting conversion campaigns in a short period of time, including:
Floating bars

Pop-ups

Fullscreen welcome mats. 
These features will help get the customers to take action while visiting your online store. In addition, the conversion campaigns will help you get more page views, improve your email list, as well as make more successful sales.
You don't need to know coding or designing to use OptinMonster. This plugin offers more than 50 beautiful templates. More than that, the drag and drop builder will help you customize your website within minutes.
OptinMonster offers hundreds of eCommerce targeting tools. They will help you build your own conversion campaigns based on specific goods in your online store, products in the carts of your guests, and the guest's cart total.
The good thing is this plugin integrates with other platforms, including WordPress, WooCommerce, BigCommerce, Shopify, etc.
Primary features of OptinMonster
Convert abandoning customers into leads.

Build special offers aiming to repeat customers based on the previous actions in your store.

Follow up with your customers.

Use your visitors' demographic data to build custom browser cookies and show targeted campaigns to drive conversions.
Pros
Users can get started quickly, all thanks to the intuitive drop and drag builder interface.

Help users customize an online store within minutes.

The conversion rates increase thanks to the user-friendly pop-ups.

The pop-ups don't cause disruption with customers' interactions or annoy them.

Help users get more email addresses from customers.

Offer multiple options and choices for customizations and designs.

The pop-ups are adaptive. The customers don't get the same pop-ups every time they access your website. Ones who have bought products from your store will not get the pop-ups.

The responsiveness of the website is modified so that the interface is always good whether customers use computers or mobile phones.

Help users design unique websites with many templates.

No limitations for pop-ups.

Add animation effects to make the store more eye-catching.
Cons
Some advanced features are locked. You need to pay money to be able to use the premium functions.

The price for the premium features is quite high.

It is hard to set up the plugin on OptinMonster's SAAS website.
#2: All in One SEO
Overview
All in One SEO is the next plugin for online stores we want to introduce to you. This add-on is well known for its ability to increase traffic and earnings.
This extension supports optimizing all content on your site based on SEO standards. More and more customers can find your websites every time they search for a product on Google.
AIO SEO also supports social media integration. This means you can control the appearance of your content and thumbnails on Twitter, Instagram, Facebook, and other social networks.
Primary features of OptinMonster
Generate a WordPress XML sitemap by itself.

Notify users about all search engines of new updates.

Feature a video sitemap generator that helps your online store rank in Google's video carousel widget, thereby growing your traffic.

Modify the look of thumbnails and content on many social media platforms, including Twitter, Instagram, Facebook, and so on.

Analyze and detect serious errors in your WordPress website.

Send your latest articles to Google News to increase your ranks and get more traffic.

Help you control RSS (Really Simple Syndication) feed for adding credits, custom links, texts, ads, etc.

Give you an overview of how your online store looks in the search results with the Shippnet preview feature.

Show SEO score, readability, title, and give recommendations for optimization.
Pros
Users have convenience with setup.

Users can edit the title and description with ease.

Offer advanced tools to manage index, tags, search engine following.

You can switch off indexing and search engines following specific articles.

Give full support for schema markup,\.

TruSEO on-page analysis helps you add title, meta, keyword, etc.
Cons
Can not import data from Google Search Console features

Feature no breadcrumbs navigation.

Users can only add 1 focus keyphrase if using the free version.

The customer support feature only comes in the paid version.
#3: MemberPress
Overview
MemberPress is one of the best membership plugins for WordPress or any other platform. You can take advantage of this extension to create a membership website, offer secured credit cards, sell your digital courses, provide digital downloads, and monitor all members that visit your site and read your content.
The MemberPress is specially designed for WordPress so that it works well with all themes from this platform.
In addition, this plugin supports member management. You can grant and revoke all accesses of your customers to posts, videos, pages, categories, feeds, tags, digital files, communities, according to their current memberships.
Also, you can integrate this plugin with other applications from third-party companies for expanding your online store functions. Many outsource solutions are accepted, including affiliate program running, email, payment processing, and so on.
Primary features of MemberPress
Access Rules support the WordPress paywall with a single tap.

Build and sell online courses digitally.

Customize and provide unlimited coupons to increase your successful sales and keep your guests.

Manage the expiration dates and quantity of uses of coupons.

Create and develop a community so that customers can talk together.

Give default themes for quickly creating a high-converting and dynamic pricing page.

Manage timed content releases and expiration of content access.

Feature Easy Affiliate – a promotion tool that supports referral marketing.

Set up many integrations for payment gateways

Automatic billing 

Members can join, cancel, upgrade their membership right in your online store.
Pros
Users need no coding skills to create a website.

Easy to set up.

Customers make many personalized membership levels.

Users can customize content and control timed releases.

The plugin integrates with many third-party services.

Support affiliate marketing.

Users can sell online courses.
Cons
The plugin has a low number of payment options. Only Stripe, PayPal, Authorize are supported.

Only 1 option for yearly pricing plans.
#4: Easy Digital Downloads
Overview
If your business is to sell digital goods, including eBooks, music, pictures, digital downloads, etc., then you should install the Easy Digital Downloads to your system. This lightweight plugin contains all necessary functions that help increase the sales of your digital products.
Of course, you can find tons of plugins to support selling digital goods. But they usually include features for selling physical products as well. The extra functions that you nearly never use may add extra size to the plugin. It is really not essential to carry loads of unwanted extensions.
With features that focus only on digital products, Easy Digital Downloads have surely beaten other opponents.
Primary features of Easy Digital Downloads
Support flexible payment. The plugin accepts quick credit card payment with many options from Apple Pay, Google Pay, Stripe, and PayPal.

Build and provide discount codes to increase the sales from customers. You can customize the percentage rates, expiration, maximum number of uses, and many things more for your coupons.

Feature a digital shopping cart system, allowing guests to buy many downloads in one purchase. Special mechanisms with a low number of page loads make the

shopping cart migration tool

easy to use.

Give no limitation for the distribution of digital goods.

Give permits for customers to download files endlessly.

Support restricting downloads of files by time or attempts.

Display the entire purchase history table, which only logged customers can view and manage. 

Help users manage which files are being downloaded by the visitors. The tracking details include the date, time, IP addresses, etc.

External apps can access product and sale details (JSON and XML format) quickly.

Report full data and stats.
Pros
Convenient to set up.

Beautiful interface.

Integrate with many primary payment processors, including PayPal, Stripe, etc.

Integrate with third-party services, including Dropbox, Mailchimp, Affiliate WP, Aweber, Zapier, Convertkit, Authorize, etc.

Match many themes.
Cons
There is no support for selling non-digital products.

Required a third-party service to add external products or affiliate goods to the EDD store.
#5: WP Simple Pay
Overview
Another good plugin you can try installing to your WordPress store is WP Simple Pay. With the help of this extension, store owners can accept 1-time and recurring payments without setting up a difficult and complex system for shopping carts.
The name has said everything. WP Simple Pay gives ease in selling single goods, accepting donations, and collecting service payments.
The WP Simple Pay features a built-in mechanism that offers multiple options for payments. Customers can buy your products using credit cards, Apple Pay, ACH debit payments, Google Pay, and so on.
The good thing is WP Simple Pay supports multiple languages and currency conversion. Customers can have convenience when visiting and taking action on your online store.
Primary features of WP Simple Pay
Give ease in collecting payments for services, single goods, and online donations. No code or complex setup for the shopping cart system is required.

Support SCA – Secure Customer Authentication.

Stripe's ultra-secure server keeps the size of the website database small, thereby increasing the loading speed.

The store display is modified to suit small screens. All content will be shown fully on mobile phones and tablets.

Integrate subscriptions. Users can create installment plans and initial setup charges, and periods for trials. Visitors are allowed to sign up for recurring payments.

Feature drag and drop builder for customizable payment forms.

Offer a customizable amount in forms. Customers can input the amount of money they want to donate.

Payment forms are translated into languages and currencies according to the customer country.

Accept direct payment from the bank account of the customers.
Pros
The plugin has a small size that is fast to download.

Users can create and control coupon codes.

Support developers.

Affordable price.

Beginners have convenience with setup.

The plugin has a beautiful user interface.
Cons
There is a limited number of payment gateways.
#6: ProjectHuddle
Overview
If you want feedback between customers and developers to run smoothly, install ProjectHuddle to your online store. This plugin supports users in communicating with clients for website projects.
The plugin features a central dashboard. You can take control of endless websites on this board. Any feedback or reports are easy to read and manage with the drag and drop user interface.
Primary features of ProjectHuddle
Give no limitation for projects.

Monitor all projects and website feedback in one dashboard

Add optional accounts of clients and colleagues.

Allow direct commenting on the website. Customers can give comments over the top of the web.

Support not only WordPress but also other platforms.

Store an interactive history of mockup changes and comments.

Restore the previous versions of mockup changes easily and quickly.

Integrate with more than 1500 third-party applications

Feature markdown in replies to comments.

Allow embedding projects on pages with shortcode.

Customize roles for colleagues and clients.

Responsiveness is modified for small screens of mobile devices.

Set up a password for projects (optional). This gives extra security for your work.

Build accounts for clients and set up login requirements for projects.

Bring more people into a discussion by sending individual comment links.

Notify users about new changes in projects through emails automatically.

Customize the appearance of projects.

Bring back all comments that users have deleted by accident.
Pros 
Easy to manage files.

Many teams and people can collaborate together in one place.

The plugin is integrated with Outlook.

All information is securely kept.
Cons
Hard to maneuver

High price
#7: Ecwid Shopping Cart
Overview
Ecwid Shopping Cart is one of the best eCommerce plugins that are simple to use. This add-on supports you in selling goods worldwide, right from your WordPress online store. 
The plugin accepts over 40 options for international payments. This number does not stop as it will increase in the near future. In addition, the add-on features a real-time shipping integration.
You just need to download and install Ecwid Shopping Cart to your eCommerce store. If anything new about this plugin is released, it will update automatically.
Customers from all over the world can take action with your store easily. The plugin detects 45 languages based on the customer's country and features translations.
Primary features of Ecwid Shopping Cart
Support all themes on WordPress.

Contain top-notch security.

Sell your products on many platforms, including websites, social media, live in-person, and marketplaces. The plugin adds Facebook, TikTok, Amazon, eBay, and more to your sale channels.

The store backups are free to use and unlimited.

Scale automatically any number of goods and traffic.

Calculate shipping fees, payment, taxes automatically.

Integrate all famous shipping carriers.

Accept more than 50 options for payments.

Display full content on the mobile application.

Support selling digital goods and subscriptions.

Detects language and translates over 45 languages, allowing customers to go shopping in your eCommerce store easier using their native language.
Pros
Decent features from the free plan.

Accommodation of dropshipping.

The plugin integrates with many famous web hosting platforms, including WordPress.

Responsiveness is modified for both computers and mobile devices.

A multilingual user interface gives convenience in shopping for customers.
Cons
There is no capability of editing SEO.

There is no chance of editing the product's URL.

Users receive no support for AMP versions of the product page.

Only premium subscribers can take advantage of phone support.

The plugin gives a limitation for customization and design options.

The translations may not be 100% completed.
#8: BackupBuddy
Overview
BackupBuddy is a good security plugin for your eCommerce store. You can rely on this extension to make a backup of all customer's data. In case you lose the information by accident (due to the host server being hacked or hardware breaking down), you can restore the data from the backup.
This plugin helps you keep all essential types of files on your website, including:
Files

Media files

Themes

Other plugins
Since the backup is completed, you download a zip file, which contains all the above details.
The great thing is, you don't remember the time to backup. BackupBuddy allows you to set up schedules, from hourly, twice daily, every day, every week, every month, and so on. It will automatically do all the backups when the time comes.
Primary features of BackupBuddy
Customize the backup content. Users can save only the database, file, or entire files. 

Keep the data in a zip file. The backup is stored as a downloadable zip. You don't need cloud storage to store the data.

Make plans for backups. Set the automatic backup schedules, from every hour, every day, every week, every month, and so on.

Save your data remotely. The plugin delivers all backup data to many remote back storage locations by itself, including Google Drive, Dropbox, BackupBuddy Stash, etc.

Send notifications to your email instantly to announce when the backup process is completed or the plugin has something new.

Restore the website to the backup that you have made previously.
Pros
Simple user interface.

Easy setup for beginners.

On-screen prompts give instructions.

The plugin provides lifetime services.

Compatible with not only WordPress but also other PHP hosting platforms.
Cons
The plugin gives no guarantee for money back.

Users can only get ticketed support through emails.

Complicated restoration functions.
If you have the backup data stored in another alternative platform, you can use the Next-Cart shopping cart migration tool to transfer it to your current site.
#9: Yoast SEO
Overview
Yoast SEO is a famous plugin that helps optimize the eCommerce website to get more key customers. With this add-on, you can improve the visibility and Search Engine Optimization ranking of your online store.
Beginners may have difficulty with SEO. But Yoast SEO makes everything a lot easier. It guides users through many essential SEO tasks to find out the great optimizing chances quickly.
Primary features of Yoast SEO
Recognize keyphrases and synonyms that are related to your site. It helps you write your content more naturally.

The powerful internal linking tools give recommendations for what you need to do to improve the quality of your store. It makes sure for a solid site structure.

The redirect feature helps customers avoid 404 errors and dead-ends while surfing on your website.

Visualize the appearance of your post when it is shared online.

Track the rank of your content in Google.

Share the content on platforms automatically as you desire.
Pros
Available in many languages, including English, German, Dutch, French, Italian, Swedish, Portuguese, Polish, Arabic, Japanese, Indonesia, and so on.

Give premium support 24/7.

Provide a quick analysis of your content.

Suggest internal linkings.

Suggest the correct keywords for good optimization

Detect the issues that decrease the quality of your content, including readability, long sentences, errors of grammar, passive construction.

Support Auto-Generated XML Sitemap.
Cons
Yoast SEO is not so good at understanding intent.

Advanced features are online available in premium versions.
#10: Quick and Easy FAQs
Overview
An FAQ section is necessary for any eCommerce WordPress website. As you release new goods, some customers may want to ask questions about them. In this case, we recommend you install the best eCommerce plugins for FAQs, typically Quick And Easy FAQs.
As the name describes, this plugin helps you create many FAQ pages in a short period of time. This minimizes the customer support you need to do, as the visitors can find the answers they need while surfing on your WordPress website. 
Add FAQs with the FAQ custom post type conveniently

Show all the FAQs in many styles. You can choose between simple list style, accordion-style, and toggle style.

Show all FAQs in filterable and non-filterable groups

Set up sorted order FAQs based on title or date.

Provide options of colors and many features to customize and design pages.

Feature POT file, PO, and MO translation files to translate the pages into many languages.

Support Right to Left language (RTL).
Pros
The plugin has a small size that is quick to download.

Simple to use.

Default styles are beautiful.

Users who don't like the default styles can restyle the page.

Suitable to many different kinds of online store owners, as the plugin has many shortcodes (js and non-js based).

Support translating different languages.
Cons
There are not many features for custom listings.

No thumbnail images for FAQ items.

The plugin gives no insight support. Users can not know whether their FAQs are helpful or not.
#Bonus: Next-Cart Migration Tool
Do you want to transfer data from your old platform to your newly created eCommerce store? If yes, try using the plugin: Next-Cart Migration Tool.
This WooCommerce migration tool offers an ultimate migration service that will take care of moving your data to another platform and make sure they function correctly.
Next-Cart works well with multiple common eCommerce platforms, including Magento 2, WooCommerce, BigCommerce, Shift4Shop, Shopify, etc. The tool is also customizable to migrate to less popular platforms and supports a full eCommerce migration until you are happy with your new store.
While migrating, the plugin does not give any effect on your online store performance. All features on your website will work as usual.
Primary features of Next-Cart Migration Tool
Offer automated shopping cart migration tool that completes the work after few clicks

Keep the URLs and meta you have on the target cart store

Ensure your SEO rankings

Process payment methods via SSL Protocol

Offer high data security

Affordable
Pros
Free technical support for 1 year

Free updates

No installation required

Professional support via Email, Ticket, LiveChat, WhatsApp
Cons
The plugin only supports migrating data, not theme and functionality
Some data types are only available in premium versions
To Conclude
Above are the top 10 best eCommerce plugins you should install for your online store. They will bring convenience to you in managing your products, as well as getting more customers to your store. Your digital business will definitely become successful with the help of these plugins.
Remember to follow all tips in our guidance above. They help you find out the most suitable plugin for your business model and avoid unnecessary add-ons.
If you have any problems while installing and using the best eCommerce plugins for WordPress above, just get in touch with us. We will help you solve the issues quickly!