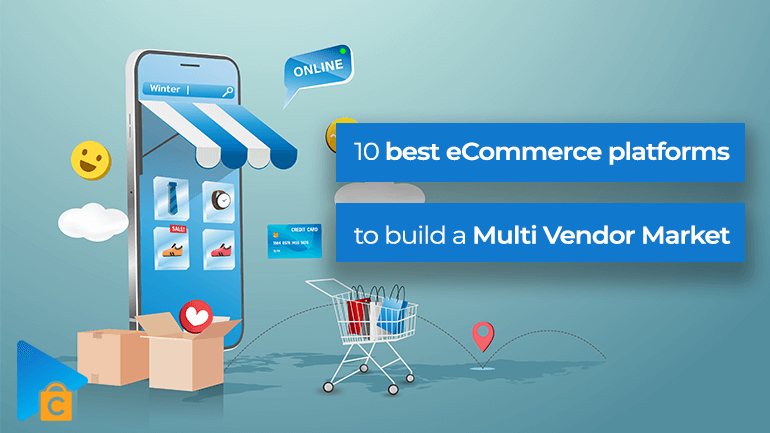 If you intend to expand your eCommerce business, the highly recommended advice for your strategic plan is to build a multi vendor market as the next venture.
Multi vendor eCommerce websites bring a staggering opportunity for businesses in a wide range of sectors. The results from the iBe recent research, the pan-European financial services advisory firm, showed that half of the online retail sales are currently processed through marketplace channels around the globe. iBe has also given an estimation for sales-driven from multi-vendor marketplace platforms that can exceed $7 trillion in the next five years. This figure today is $1.7 trillion, so if it is, it will hail a new era in eCommerce.
More and more companies are embracing multi vendor eCommerce platforms to raise product range, expedite cross-border expansion, and enhance logistics, costs, and operations. However, to have a successful marketplace, you need to work on a marketplace software that is designed to have full control over the administration vendor relationship which is the key to successfully completing a multi vendor eCommerce platform.
What is Multi Vendor Marketplace Software?
Multi vendor software is a web program designed for building an eCommerce website where multiple independent eCommerce vendors can sell their products. Marketplace sellers can either sell on their own micro vendor websites or through a common storefront. Normally, vendors are offered a seller app to add products to the catalog and manage their accounts.
A multi vendor marketplace script usually contains a complex of components: a multi vendor eCommerce platform, a vendor app, a customer app, and moderate hosting.
How to Choose a Suitable Multi Vendor Marketplace Software for Your Business?
There is now a variety of good and reliable marketplace software, so it seems difficult to pick the most suitable one for your business needs. Answering the following questions: 
What is Your Final Goal?
Which is the multi vendor software for your business depends mostly on what is your final goal. For small businesses and MVP testing, a SaaS platform, like Arcadier or Sharetribe, is enough.
Meanwhile, it is better for big and mid-sized enterprises to look for software like CS-Cart Multi-Vendor with a no-code part, also there is a possibility to add any features by coding. In addition, a significant point for those who plan for more future growth is the capacity to be expanded by code-based parts.
Is Technical Support and Community Helpful?
You should know how the multi vendor software you choose works. You can refer to documentation that describes how to use it in order to make things clear. The information should be structurally arranged and easy to understand. It will be better for you if there are not only written documents but also videos on how to use their platform. 
Then, you should make sure that the platform offers technical support. Another factor that can help to find answers is whether it has a strong community. A large and supportive community is a good sign for you to consider choosing it. You can have first-hand experience and also it shows that people trust this company. 
What is Its Price and Payment Type?
To avoid unexpected surprises, you should check prices, features included, and a payment method in advance. Two options for you here: subscription and one-time payment. Subscription seems an appealing choice since it normally costs you about 20$ per month to start your business.
However, the included features are not enough for development and you would have to buy a premium tariff, about 300-500$ per month. That's why one-time payment is cheaper in the long-term perspective and when compared to subscription, it may cover its price within 1-3 years. 
Ideally, you should try to plan your business development for the next 5 years, estimating whether you need a type of payment and which features are necessary for the future.
What are the Differences of Multi Vendor Solutions and a Common Website?
Multi vendor solutions are eCommerce software which is a broad term and includes both single-seller shopping cart software and multi vendor eCommerce platforms.
The difference between the two types of platforms is simple: the multi vendor platform is designed for building large websites with multiple online vendors while the single-seller platform is for the traditional online shop with only one seller, also the shop owner.
You should read:
Key Features of Multi Vendor Marketplace Platforms
To select the best marketplace software for your business, you should start with determining the most important features your business model needs from the marketplace script. There are various different business needs and platform functionality to serve them.
However, the important thing to remember is the script features that should accommodate the different scenarios of an admin-vendor and vendor-customer relationship system. Below are essential features to look for while deciding on a multi vendor marketplace software.
Features for Marketplace Vendors
Easy registration and listing for online sellers. It needs to be easy for third-party vendors to register and make their own product listings.

Micro vendor websites and an individual admin panel should be separated. A fully functional micro store should be available right inside your trading platform in each marketplace seller.

Language translation is supported. The marketplace software should support you to translate your website into multiple languages to attract worldwide vendors.

Vendor location setting. Your eCommerce sellers can set their locations, which allows them to receive more orders from local customers.

Real-time and manual shipping calculations. With the eCommerce marketplace platform default functionality, vendors can use globally famous shipping methods like DHL, UPS, USPS, FedEx. Then, they can calculate real-time shipping and set their own manual shipping methods.

Different vendors' products in one cart. A customer can order all chosen products from different vendor stores in one shopping cart. Then, the order should be automatically divided into separate orders of each online seller supplying the purchased items. But the customer can still pay only once as a single order.

Comment and review system. Multi vendor software should have the feedback and review system available with an interactive star rating to persuade customers much better.

Loyalty program. The software should have a built-in "Reward points" to allow customers to earn and spend points for purchases. This will encourage them to buy more and shop regularly.

Vendor account balance, sales reports, and statistics. It is essential for eCommerce sellers to review detailed sales statistics on their

multi vendor eCommerce website.
Features for the Admin
Different levels of administrative access. You should have root administrator access, but also can register employees and set levels of access to the admin panel of your peer-to-peer eCommerce marketplace platform.

Configurable vendor plans. Your marketplace software should give you the functionality to create subscription plans for vendors with the appropriate conditions and limitations.

Flexible product approval system. It should be simple and efficient to manage products in your retail marketplace. The admin can check the vendor products before they go live.

The right to allow and refuse menus and set privileges. In this way, you can hide unnecessary menus and interface elements in the vendor panel and offer only those that are frequently used by a seller.

Advanced payout system. The payment can be automatic or manual. Automatic payouts are normally carried out via a built-in payment method. The system automatically distributes the payment to vendors and commissions to your account.

Vendor debt payout system. The debt payoff function should pair with vendor plans, allowing you to block the admin panels who have reached the debt limit or who didn't pay in time. This will motivate them to get to pay in time.

Detailed statistics and reports. It is ideal to have the

multi vendor eCommerce platform

integrated with Google Analytics so that you can generate detailed statistics about your website visitors.
Top Recommended eCommerce Platforms to Build a Multi Vendor Market
Arcadier – SaaS Marketplace Platform
Today, Arcadier is known as one of the world's leading and most scalable Software-as-a-Service (SaaS) marketplace platforms. Arcadier owns many awards for providing white-labeled marketplace solutions for entrepreneurs, start-ups, large enterprises & governments to create their own B2B, B2C, retail, service bookings, rental, or procurement marketplaces. This platform now has more than 15,000 marketplaces from 180 countries working on it.
Arcadier offers a ton of marketplace features, like templates for users to get started quickly and affordably, and advanced headless and API-centric eCommerce solutions for clients with specific customization or high-security requirements to create their own white-labeled marketplaces efficiently and inexpensively. You can get all the essential marketplace features when you have an Arcadier package.
A dedicated multi vendor solution. Arcadier is an ideal multi-vendor solution to create a multi vendor marketplace. It has a dedicated admin, seller, and buyer portals and even provides an admin-selling feature. All marketplaces types are supported by Arcadier, including retail, services, and rental for creating marketplaces like Amazon, TaskRabbit, and Airbnb.
Ease of use. Arcadier's admin user interface is extremely straightforward to use. It has instructive prompts to get started and a robust knowledge base that admins can easily reach out to. Arcadier's DIY SaaS solution comes with marketplace templates and ready-made design options. That's why it is hassle-free to set-up your preferred marketplace look and feel, and no requirements of coding knowledge.
Customizability. Arcadier provides diverse customizability, including plug-ins for novices, to HTML, CSS, and Javascript editors for more knowledgeable developers, SDKs, webhooks, and APIs for pro-level programmers. With these customizability options, marketplace administrators can easily change marketplace features, from design and user flows to integrations with other software.
Software Delivery Model. You can have different hosting options available under different plans. And you can access standalone environments that are available upon consultation.
Yo!Kart Marketplace Software
Yo!Kart is a powerful self-hosted eCommerce platform to build a multi vendor market in the B2B, B2C, and P2P industries. Since 2015, the software has been used by over 2000 businesses in more than 70 countries. Yo!Kart provides all necessary in-built features and powerful third-party integrations like ShipStation, TaxJar/Avalara, Stripe Connect, MSN Translator, MailChimp API.
Yo!Kart allows its vendors to set up their individual storefronts with separate dashboards for admin to streamline eCommerce operations. Also, it is fully responsive with native buyer multi vendor apps for iOS and Android platforms.
Unique Features of Yo!Kart multi-vendor platform:
Global product catalog System

Order inventory management

Progressive Web Apps (PWA) Compliance

Multilingual and Multi-currency

Stripe Connect for real-time split payment

20+ Payment methods (Payment gateways, Wallets, BOPIS)

Abandoned Cart Management

PCI-DSS and GDPR compliant 

Marketing strategy features like Affiliate module, Discount coupons, etc.

Lifetime license and source code ownership

Up to 1-year free technical support
The overall rating of Yo!Kart is 4.1 on Capterra, 4.9 on Good firms, and 4.7 on G2 with the most positive reviews from international clients. Most clients have used Yo!Kart multi-vendor software for its extensive customizability, UI/UX, outstanding technical support, and affordable packages. 
Yo!Kart has quickly grown into a proven and best multi-vendor software that is trusted by 
small & mid-scale, or even billion-dollar enterprises and some Fortune 500 companies. The clientele includes big names like Uni Diamonds, Voyij, My Cart Mauritius, Bozinga, etc.
Read more: Yo!Kart Inside out review
Yo!Rent – Rental Marketplace Software
As a famous online rental marketplace software, Yo!Rent is built with high precision and the desired functionality for entrepreneurs to build a multi vendor market for rental. It will help users overcome the most common rental challenges with its rent-centric features like RFQ management, rental security management, document verification, and product inspection to enable smooth rental operations and increase business productivity. 
The latest version of Yo!Rent is Yo!Rent V3, which also offers industry-specific designs with heavy equipment rental, automobile rental and dress rental. The niche-specific features and functionality make these designs a complete suit to launch a rental business in respective industries. Yo!Rent is also fully customizable to allow any unique features and business preferences.
Key features of Yo!Rent multi-vendor platform:
Rental security management helps vendors deduct reimbursements and late return charges

On delivery product inspection and order acceptance

Product comparison for decision making and improving customer experience

Cancellation policies are customizable for recovering order processing fees

Rental add-ons to offer complementary goods and services

Agreement management and eSign that are suitable for authorizing vendor terms and conditions

Document verification is available for automobile and heavy equipment rental

Map view filter for peer-to-peer rental operations

Chat module for customer-vendor communication

20+ payment gateways supporting cross border operations

API support for functionality extension
Yo!Rent's overall rating is 4.5 on G2, 5.0 on SourceForge and FinancesOnline, and 81% score on Comparecamp.com. What makes the platform able to convince customers is its after-sales service, user-friendly dashboard, and diverse features. In addition, some online reviews said the software has a steep learning curve.
CS-Cart Marketplace Software
The CS-Cart multi vendor marketplace software provides administrators full control over their vendors and gives the owner the maximum flexibility in monetization options. 
The administrators have everything they need to build a multi vendor market and accommodate the new web vendors on the website. With CS-Cart eCommerce marketplace platform, you can build different kinds of multi-vendor business websites, in absolutely different niches, and by various business models.
If you are a new store seller, you will pick the most suitable vendor plan with your pre-set conditions. Then, you can get a separate micro-store with a personal fully-featured dashboard and reporting. Vendors have everything they need to operate their stores with ease. There is no previous experience with a marketplace script requested.
Multi vendor eCommerce website owners also get satisfied with the security level of the multishop eCommerce script. They do not have any security issues while using CS-Cart marketplace software. CS-Cart engine is the best marketplace platform for businesses.
Some pros of the platform:
Feature richness: over 500 built-in eCommerce functions

Secure: meets PCI DSS and GDPR requirements

Self-hosted: you don't depend on the provider

One-time fee: there is no need to pay monthly or annually

Well-supported: gets regular updates and new features.
As praised for its third-party tools and regular updates, CS -Cart has received an overall rating of 4.7 on Capterra and 4.8 on G2. It is highly-rated software to build a digital multi vendor eCommerce website. Its average rating is 4.75 out of 5 stars on the most popular business software review platforms in the software industry, including SourceForge, Capterra, G2, TrustPilot, and others.
Sharetribe Marketplace Software – SaaS Multi-vendor Software
As a cloud-based eCommerce platform, Sharetribe is designed to build a multi vendor market with customization and ease. Its hosted marketplace solution comes with a subscription-based model for online businesses to start their multi-vendor store. 
Sharetribe helps both small and medium businesses to create and manage custom online marketplaces and facilitates integration with analytics platforms. Moreover, it offers all vendors personalized profile pages, and displays their listings, rating, and reviews from buyers. Sharetribe B2B eCommerce software solution now brings the most key features you require from a marketplace platform right out of the box.
There are two products with Sharetribe – Sharetribe Go and Sharetribe Flex. While Sharetribe Flex allows businesses to create a customized online marketplace using powerful APIs, Sharetribe Go provides a scalable online multi-vendor marketplace without coding.
Key Features of Sharetribe Multi-vendor Platform:
In-built product catalog management system

Advanced payment system with support for over 25 currencies and 200+ countries

Fully responsive to all devices and their screen sizes

A hosted platform solution to maintain and scale your eCommerce business

Individual profiles for users (buyers and sellers)

Social sign up for users

SEO tool to optimize your marketplace

Powerful customization tools to scale your business
Sharetribe has an overall rating of 4.4 on Capterra and 3.9 on G2. It is an easy-to-use platform customizable using front-end development. Based on client reviews, it offers excellent customer support. Starting in 2011, Sharetribe has powered around 1,100 marketplaces in 70+ countries. It is an excellent solution for small to medium-sized eCommerce businesses.
Shuup – Open Source Multi-vendor Platform
Since 2014, Shuup has powered niche-specific marketplaces like pharmacy retailer network, B2B workwear marketplace, gaming hardware marketplace for clients globally. Shuup is a fully customizable open-source multi-vendor platform, which is suitable to build a multi vendor market. Also, it is an innovative eCommerce platform working for both horizontal marketplaces like Amazon as well as vertical marketplaces such as Airbnb.
The Shuup multi-vendor eCommerce platform comes with excellent features like data migration, cross-selling, tax management, inventory tracking system, and order management. With its centralized dashboard, the admin can easily manage product listings, shipping methods, check sales reports, and more.
Key Features of Shuup Multi-vendor Platform:
Built-in layout editor to create the own feel and look of the marketplace

Fully responsive design for consistent user experience (UX) across all devices

Complete content management system (CMS)

Freedom to personalize individual vendor storefronts

Easy to Customize as per business requirements

Built-in payment gateways through Paypal and Stripe

Open-source API allows your websites to integrate third-party payment processors freely.
One of the core values of Shuup is the high quality of its admin panel. Working in the business for years, the company has developed thousands of different effective solutions for clients. Their proprietary back-end allows you to use their open source solutions to build upon and offer this as something you may want, even if you are not looking for a site.
Clients appreciate Shuup marketplace software for its extreme flexibility, custom integrations, and support. It gets a rating of 4.3 on Capterra and 4.8 on G2. 
Growcer – Self Hosted Multi-vendor Platform
Growcer is ideal for entrepreneurs as well as enterprises to start online grocery marketplaces. This multi vendor platform is also robust on-demand to start a hyperlocal marketplace. The readymade multi-vendor eCommerce solution comes with all vital features, like a product catalog system, commission management, tax management, order tracking, click-and-collect, and PWA. 
Growcer is highly customizable and scalable to start e-pharmacy, liquor, dairy products, pet food, board games, and various other hyperlocal online marketplaces. Following are the key features of Growcer multi-vendor platform:
Readymade buyer & delivery apps

Fully customizable system to easily create a personalized grocery marketplace

Individual vendor storefronts, easily personalized

Separate dashboards for admin and sellers

Full-fledged in-built CMS

Streamlined delivery management system

Multiple revenue models for the admin

Free 12-months technical support and more.
Growcer marketplace software get a rating of 4.4 on G2, with positive feedback from its clients for its intuitive admin panel, frictionless user experience, and amazing customer support. Also, it is outstanding with all essential features/integrations like Mailchimp, Stripe Connect, Google Analytics, and other third-party software right out of the box.
Kreezalid – SaaS Multi-vendor Platform
Kreezalid is another reliable multi-vendor eCommerce platform with the startup as well as enterprise clients across the globe. It is a SaaS platform, so without the hassle of coding, businesses can create their own marketplace. It is a fully customizable platform which provides users with a ready-to-sell marketplace to sell or rent products, services or digital assets. 
The eCommerce platform offers a nice, mobile-friendly, and customizable design. Its features are all essential for building a multi vendor marketplace, including listings, reviews, calendar, shipping, geolocation, etc, and other additional features on demand. Also, Kreezalid natively integrates third-party payment solutions, namely Stripe Connect and Mangopay.
Kreezalid is a SaaS-based multi-vendor platform that allows you to build a multi vendor marketplace with customization. Also its powerful eCommerce features enable vendors to quickly scale their online marketplace. Kreezalid has an intuitive design, is mobile-friendly, and comes with a plugin library to integrate new functionalities that streamline the entire marketplace operations.
Outstanding features of Kreezalid multi-vendor platform in list:
An official partner of two in-built payment gateway integrations, Stripe Connect and Mangopay.

Streamlined tax management and shipping module management.

An app store with necessary features, services, and plugins to the marketplace.

In-built SEO and digital marketing tools that help to increase search engine visibility of your websites.

Integrated analytics system which has quick access to Google Analytics.

Kreezalid is a

multi language website

, available in English, Spanish, French, and Danish languages.

In-built modules for the management of users and listing.
Kreezalid rating is 4.2 on Capterra and 2.3 on G2. Client reviews have shared its intuitive user interface, excellent admin panel, and the ability to sell digital products. 
Zielcommerce – Premium Multi Vendor Marketplace Software
Zielcommerce is a white-labelled software integrated with numerous features for contributing user-centric and admin-level performance, which makes it ideal to build a multi vendor market. Online vendors can take advantage of the complete marketplace suite. 
The marketplace platform is perfectly social media-friendly and its power comes from extensive control features for admins, vendors, and users. In addition, Zielcommerce is fast in processing and clear with an interface, so it can attract more visitors to your multi vendor marketplace platform.
A detailed feature list of Zielcommerce multi-vendor software
The marketplace software is a one-time payment. Paying once and you will own the license.

A completely customizable multi vendor platform that allows you to optimize the business requirements.

Advanced commission configuration.

The dedicated mobile app gives a handy experience to all vendors and users.

Post and delete multiple products at once instead of adding one by one.

Real-time notification alerts to all participants, including the admin, vendor, and customers.

Supports multi-language and currency for multi-stores.

Well integrated with all popular payment methods.

Users can avail all shipping methods.
Zielcommerce tools support users with no advanced technical knowledge to create an active online store or mobile booking app in just minutes. This scalable platform allows businesses from start-ups to enterprises to easily make the most out of all its offered features. Zielcommerce owns complete tools to manage catalogs, shipping, payment, and marketing. 
It also comes with nifty tax features that work for automated tax monitoring, tracking, and recording. The advanced cataloging tools allow users to edit in real-time. Moreover, order management, inventory management, and purchase management can be handled with customizable and specialized tools.
Magento Marketplace Extension
A massive community of developers supports this platform because of its large number of Magento marketplace extensions that allow you to convert a Magento-based eCommerce website into a multi-vendor marketplace.
Magento marketplace extensions will help you turn any Magento store into a thriving online marketplace like Amazon. With full control using a Vendor Cpanel, your vendors can manage their own products, sales, invoices, shipments, and credit memos. 
Each of them will receive a customizable storefront within Magento Marketplace, which brings you as the marketplace owner a set fee for each order placed. Then, customers can leave reviews and ratings for sellers after placing the order, which creates a very safe shopping experience and a reputable marketplace. That's why the Magento marketplace extension is the most comprehensive solution of its kind.
Outstanding features:
It has dedicated marketplace extensions that are available from different community developers.

Magento marketplace is famous for its heavyweight features and scalability to build large-scale stores.

It's highly customizable as a Magento-certified developer can customize your marketplace with ease.

Regarding the software delivery model, the Magento community edition is a self-hosted solution.

Magento community edition is a free eCommerce platform, but you will need to purchase a Magento marketplace extension to introduce multi-vendor features to it. Each community developer sells the extensions at different prices, ranging from $200-$500.
To Conclude
All the multi vendor solutions in this list offer essential features to build a multi vendor market. The difference among them lies in the software delivery model, which decides their usability and cost largely. On the one hand, a self-hosted solution demands more technological knowledge to use than a SaaS or managed solution, but it gives users a better class of customizability and control over the platform. 
On the other hand, a SaaS-based solution requires monthly recurring payments, and in return, they offer a range of managed services. What you should do is to know your priorities and requirements clearly before picking a software delivery model, and then the solutions for the respective models.
To move your website to any of those eCommerce platforms, don't miss out on the great function of Next-Cart shopping cart migration tool, which will make the process much easier.