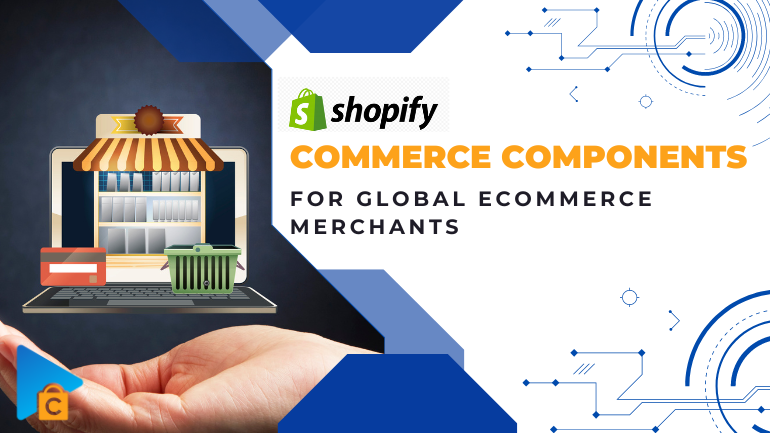 As an eCommerce business, having high-quality components to make up your eCommerce store is essential. Shopify Commerce Components allow you to craft a unique and functional storefront experience for customers shopping with you that helps create loyalty and trust. 
With the right components in place, you can create an enjoyable user experience while keeping the most important focus areas of your shop organized and easy to access. 
In this post, we'll dive into why Commerce Components by Shopify are highly beneficial for any eCommerce owner looking to optimize their website performance. We'll review each component in detail so you can get the full picture of what makes these components stand out from competitors and how it could be impacting engagement or activity levels on your site. Keep reading!
New conditions for Shopify to drive prospects
Due to the shutdown of retail markets caused by the COVID-19 epidemic, major brands and small businesses established eCommerce platforms to sell goods, which led to a surge in Shopify's eCommerce sector. 
Shopify, however, lost its pace after the economy started to improve and retail establishments began gaining back their lost clients. The existing market environment was made worse by inflation and potential recession indicators, which impacted the expansion of the eCommerce business.
Additionally, operational costs increased as inflation rose. Non-GAAP operating costs increased 52.6% year over year to $845.9 million in the third quarter, resulting in an adjusted operating loss of $45.1 million.
In the past six months, shares of Shopify have returned 13.6%, outperforming the 16.5% decrease seen by the Zacks Internet Services category. However, Shopify has been spending a lot of money on R&D, sales, and marketing to build new platforms and make alliances with significant tech firms to provide services and handle the escalating trends in the social media marketing industry.
Shopify worked with organizations, including Apple's AAPL iPhone tap-to-pay feature and significant social media sites like Facebook and Instagram from Meta Platforms.
The latest connection with Apple allows customers to pay for things with their Apple cell phones at the terminal. While this is not a novel retail feature, Apple's latest Pay Later installments add an entirely new layer to retail promotion.
Moreover, Shopify SHOP just launched a new product called Commerce Components, a composable stack for business retail. The solution will allow shops to incorporate Shopify components into their existing systems.
The Commerce Components platform will help businesses with difficulties, including shifting consumer demand and quicker checkouts. Mattel MAT is among the first users of Shopify's new service.
What are Commerce Components by Shopify?
Shopify's release of Commerce Components follows past attempts by the eCommerce giant to optimize backend technologies for sellers. The business launched POS Go in September, allowing retailers to execute transactions from anywhere, examine product information, and access customer notes and purchase history.
Shopify Commerce Components is a modular suite of tools built to meet the specific needs of commercial brands. Select the components you require, combine them with current technology, and create using Shopify to provide enterprises with the ideal balance of flexibility, size, and agility.
The foundation of Shopify is a strong eCommerce platform. Retailers can access that infrastructure through Shopify in a cutting-edge, scalable stack for businesses.
Available Commerce Components by Shopify
Storefront – Utilize your preferred hosting company and framework to create bespoke stores. Included are Storefront search, Low-code storefronts with Liquid, Headless SDK with Hydrogen, Headless API with Storefront API, and Headless hosting with Oxygen.

Cart and checkout – Increase your revenue by using an expandable cart and checkout. The Cart, the Payments platform, the Fraud prevention, the Checkout platform, and the Tax platform are included in the list of components.

Shipping and logistics – Make your order logistics more efficient. Included in the list of components are fulfillment, shipping label API, order administration, returns, and inventory (like

Commercehub Shopify

integration).

Omnichannel – Sell everywhere while having a consistent picture of your company. Included among the components are a point of sale, customer accounts, and social commerce.

Core commerce – Build your company with key competencies. Product catalog, Markets-based cross-border selling, Customer data, Functions-based function extensibility, Custom data models like Metafields, Subscriptions, Discounts, and

Shopify B2B commerce

are some of the components.

Data and compliance – Secure and accurate consumer data will help you increase revenue. The following are some of the components: Data analysis, Card data and vaulting, Marketing insights, Security and compliance.
The categories and components provide all the essential support every brand requires to deliver the greatest possible experience to its consumers and ensure the business has everything to cover its eCommerce category's front and back end.
Since Shopify drives almost 10% of all US eCommerce, these components have previously undergone real-world pressure testing and have been shown to be reliable. For the first time, Shopify is allowing businesses to utilize these elements any way they see fit and combine them with their current offerings.
How is Shopify Plus different from Commerce Components?
Although switching to Shopify Plus was frequently a financial choice rather than a need for the additional functionality, as businesses developed, Shopify Plus became a more practical alternative to access further features and modify the checkout.
The following are the primary distinctions between Plus and Components:
While Commerce Components is a collection of modules that business merchants may utilize to create unique experiences and seamlessly integrate into their commerce stack, Plus is an all-in-one solution for digital-first brands.

Plus has a regular 0.4% variable charge, 0.15% discount when using Shopify Payments, and a minimum monthly payment of $2,000 USD. Meanwhile, depending on the demands of the merchant, Commerce Components offers customized pricing.

While retailers using Commerce Components will have access to Shopify Professional Services, enterprise-level SLAs, and a dedicated account team, Plus merchants receive help from a Success Manager and launch support.

Shopify Plus features and functionality are already well-defined, and new developments will be made in 2023. However, Commerce Components is already available and has no API limits, 40,000 checkouts per minute per store, and increased product variant limits in addition to a new, expanded feature set, new ways to customize a storefront, and new partnerships with third-party technology companies.
Commerce Components by Shopify is promising for retailers around the world
Enterprise retailers face difficulties such as accelerating technological change and evolving consumer expectations, which force them to innovate in real-time to stay competitive. 
To achieve that, businesses want a commerce solution that emphasizes choice, has the freedom to integrate and develop without limitations and offers reliable infrastructure components that speed up the work of their teams.
For enterprise retailers, Commerce Components by Shopify combines the best of both worlds, including access to Shopify's core, high-performing components, such as their checkout, which converts 72% better than the industry standard checkout and 91% better on mobile. And according to Shopify, this solution provides flexible APIs to build dynamic customer experiences that integrate seamlessly with a retailer's preferred back-office services. In details:
Flexible APIs for back office and storefronts, which now have no pricing limitations, enable companies to link their existing services with Shopify's modular components and create unique consumer experiences across all devices. Enterprise merchants can take what they need and leave what they don't, and developers may use any front-end framework they choose.

Trusted commerce foundations, such as one of the best-converting checkouts, with 99.95% uptime, processing up to 100,000 checkouts per brand each minute and unlocking more than 100 million current Shop Pay customers with one-click checkout.

Shopify's globally scalable infrastructure, which includes over 150 network edge points of presence, enables speedy storefronts regardless of where clients are located.
Highlights of Commerce Components by Shopify
Shopify Checkout, one of the tools in Commerce Components, makes it easier to create a checkout page for an online business. It may be used in mobile apps and eCommerce websites. 
Shopify claims that its mobile version is 91% more effective at converting app users into paying customers than certain rival products.
Numerous eCommerce transaction types can be handled using Shopify Checkout. Users may use it to make one-time purchases, subscribe to services, and preorder forthcoming goods. Businesses can optionally provide discounts through the interface thanks to the support for coupon codes.
Retailers using Commerce Components can process consumer transactions using the company's own engine and third-party payment processing providers. Customers may transact in more than 130 different currencies with the latter engine. Companies may also use Shopify's tools to track unfulfilled orders and manage refunds, the company claims.
According to Shopify, Commerce Components also provides application programming interfaces for interfacing with outside programs. A business may import information about user purchasing preferences from an online store powered by Shopify to its customer relationship management software via the APIs. 
Enterprise resource management systems, among other external applications, may be linked by businesses to Commerce Components.
Shopify already makes its platform accessible through APIs. However, it imposes rate caps that limit how frequently some eCommerce operations may be performed. Due to the absence of API rate constraints, Commerce Components can assist businesses with huge online storefronts more effectively.
Who are Commerce Components intended for?
In fact, Commerce Components by Shopify is specially developed for commercial retail, so it's clear that it's not for everyone. Shopify has made it very clear that the solution is only available for retailers with revenues of more than £500M. 
It's probably going to work best for merchants in charge of several brands, who sell both online and offline, and who have a big workforce. This will most likely feel out of the ordinary for most existing merchants. Still, it is a significant step forward for Shopify in terms of competing with other enterprise brand solutions.
There isn't a public price listed for this solution, but Shopify has stated that it will be usage-based and depend on how many components a merchant intends to employ.
Several businesses, including Mattel, JB Hifi, Glossier, Coty, Steve Madden, Spanx, and Staples, are already using Shopify in this manner.
This list will undoubtedly grow significantly as corporate retailers seek to improve their online presence, offer integrated experiences between in-store and online, and reduce the cost and maintenance of old IT stack.
What Mattel, the first retailer to use the service, said
After working with Shopify on Mattel creations, a platform where artists could redesign classic toys, Mattel made the decision to transfer its brand portfolio there. Mattel intends to keep experimenting with its brand offers integrating commerce components in light of the results of that cooperation.
According to Harley Finkelstein, president of Shopify, they've always handled innovation at Shopify by predicting what businesses need, then offering those solutions. 
Enterprise merchants are given more freedom to personalize, stand out from the competition, and grow thanks to Commerce Components by Shopify, which makes their infrastructure more accessible.
However, as Shopify has added additional features for shops of all sizes, the platform has also let go of staff members and acquired a subsidiary. The business announced a $1.2 billion Q2 net loss in July. On the basis of COVID-19 forecasts for the future expansion of eCommerce, the business also announced plans to fire 10% of its workforce that month.
Later, in August, the business made a $100 million investment in Klaviyo, a startup that automates online sales. According to a press statement, Klaviyo was selected as the email solutions partner for Shopify Plus, a service for retailers with larger volume sales, as part of the strategic collaboration.
To conclude,
Overall, with the help of Commerce Components by Shopify, businesses of all sizes can gain a quality and cost-effective platform to get their business started in no time. The myriad features such as integrations, analytics, multi-channel selling support and much more make it the perfect place for entrepreneurs who are looking for the power that comes with a bigger company without the committed investment. 
Moreover, Shopify provides customers access to top professionals who are dedicated to utilizing all the eCommerce website components offered in order to launch businesses online faster, cheaper, and smoother than ever before. 
If you're ready to take your business to new heights with Commerce Components by Shopify then please don't hesitate to contact us and get started on your journey today! As an experienced Shopify migration tool, NextCart will support you to start a fresh journey with eCommerce Shopify businesses smoothly and effectively!