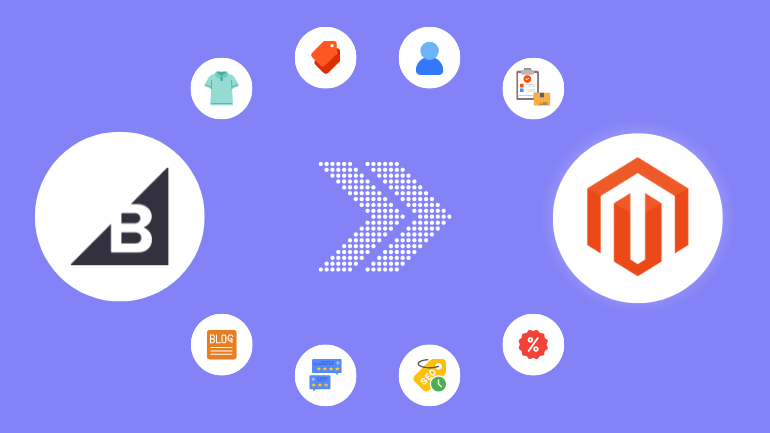 The eCommerce market is competitive, so just putting up a website doesn't mean that customers will come to buy from you. Instead, you must provide an excellent shopping experience your customers demand. And how you use technology plays a vital role. BigCommerce and Magento are two leading eCommerce platforms, but they have their own advantages. Let's make a comparison and learn how to migrate from BigCommerce to Magento.
BigCommerce vs Magento
What is Magento and BigCommerce? Both BigCommerce and Magento are powerful eCommerce platforms, but they do have one fundamental difference that merchants must understand. Literally, BigCommerce is a SaaS (Software as a Service), cloud-based solution while Magento is a PaaS (Platform as a Service), open-source solution.
On the one hand, BigCommerce is a cloud-based software as a Service (SaaS) platform which is licensed to its users. Shop owners can access their webstore from any web browser through the Internet. The SaaS software of BigCommerce takes care of any hosting or infrastructure maintenance for its users. However, merchants don't have the software's code to access like an open-source platform.
The new PaaS of Magento, named Magento 2, moved Magento to a cloud infrastructure. This version still gives developers an open-source framework to build and create customized eCommerce applications.
Open Source vs Out-of-the-Box
Magento is an open-source platform, giving users access to modify Magento's webstore code. It is essential to have outside or third-party developers create enhancements and plug-ins for the Magento eCommerce stores. In turn, technical developers can have endless creative freedom when designing and configuring a website.
In other words, open-source platforms attract sellers with their own in-house developers. Your web team can customize your site according to your unique requirements. They will have complete control of the website's design and functionality. In case you don't have an in-house web team, an agency can help to create your website. But it can be costly to maintain this type of hiring.
BigCommerce, on the other hand, will take care of setting up and hosting your website. It offers pre-built and customizable themes for you. So you don't need an in-house IT team or an agency to build or maintain your website. The core product does include the features like product reviews, digital marketing, and loyalty programs. You don't have to rely so much on extensions or apps.
Maintenance
For some of you who cannot take many responsibilities and don't have the IT team to manage the technical tasks, BigCommerce takes care of the hosting part. The software updates your software automatically, advertises 99.99% server uptime, and fixes any issues. 
Meanwhile, because sellers on Magento can manage the hosting, they will take care of all infrastructure and administration on their platform. Users also handle any bugs in the software or upgrade their software when it is necessary. There are merchants needing more control and customization of their eCommerce platform. They want complete ownership of the infrastructure's capabilities.
Security
You must be PCI compliant sellers to safeguard your customers' payment information. While BigCommerce hosts your platform and ensures that all sellers are PCI compliant, Magento merchants are responsible for meeting PCI compliance standards themselves. They need to stay up to date with any patches or bug fixes to ensure security.
Functionality
Open source platforms like Magento can be attractive for sellers with special requirements. If Magento doesn't natively have any feature, you can build it yourself. On the other hand, you cannot do that with BigCommerce and just work on its availability. You might have to wait for BigCommerce to release the new functionality you need.
Plug-ins/Apps
Magento's marketplace is bigger than BigCommerce's app store because so much functionality is already built into the core product. The difference in the installation and maintenance process allows app developers to know different criteria between the two platforms and how they can use them.
Magento requires a more traditional installation process in which you need to maintain and upgrade extensions when needed. On the other hand, BigCommerce apps install directly to your store in the download process. You can have a faster and simpler install process. 
Enterprise
Both Magento and BigCommerce offer an enterprise plan. This feature allows enterprise merchants to have a high-volume of orders, large product catalogs, and complex processes.
For enterprise users, Magento provides Adobe Commerce Cloud that totally controls your digital experience from content to checkout. BigCommerce enterprise plan also offers additional functionality out-of-the-box. So it has faster loading times and advanced development tools to make coding easier.
Pricing Structures
When comparing pricing for the two eCommerce platforms, merchants should calculate the total cost of ownership of each platform. Here are the detailed costs in each platform:
BigCommerce total cost includes monthly subscription fees starting at $29.95/month, agency fees, apps or extensions, and any integrations into other systems
Magento requires: licensing fees, hosting provider fees, extra hosting fees for increasing server bandwidth for increased traffic volume, web developer or agency partner fees, additional costs to fix bugs or patches for any software updates, security and PCI compliance costs, apps, or extensions, any integrations into other systems
In general, BigCommerce users report that they pay less than Magento. It is because BigCommerce provides an out-of-the-box solution and you don't have to think about hosting security, and maintenance fees. However, some merchants want to pay more to have more control over their platform.
Ease of Integration
Overall, both platforms integrate well with other systems because they both have APIs to manage the flow of sales data between your systems. However, it is trickier to integrate with Magento than with BigCommerce.
Magento integration, in an open-source, is often more complex. It is possible that each client customizes just about any field or operation within Magento and each project can vary greatly to deal with unique requirements. So the integration projects become lengthier and hard to predict. In addition, you'll also need to work closely with both its agency and the merchant. Some feel this makes communication more complex. And the Magento integration might be a bigger and higher-cost project as a result.
The integration with BigCommerce tends to be easier to predict because there's not much customization. BigCommerce's API is powerful, which makes this platform integrate well with other systems. No limited API calls mean that there is no need to throttle transferring data between your eCommerce store and other systems. Therefore, the data processing is automatic and real-time for your orders, items, customer, and inventory, like your system locking up due to overload.
In your long-term plan on growing your online business, you need to think ahead about the systems you'll want to integrate. Automatic, trustworthy integration can help you get the most value out of your systems. Also, you have to work with the right integration expert of either platform, avoiding risk undergoing a painful project.
Read more: How to add products on Magento 2 full guide
BigCommerce vs Magento: How to Choose?
Which platform to choose depends on your unique business needs, budget, and plans for further growth. Each platform will serve you well in certain parts. You should compare the profile of an ideal BigCommerce merchant vs a Magento one. The following is the list of advantages of the two platforms:
BigCommerce:
Fast-growing

Excellent scalability and flexibility to meet fast-changing consumer demands

Lower cost

Offering out-of-the-box solutions and quick go-live time

Not necessary to have an in-house IT team to worry about infrastructure and administration
Magento:
Established retailer

Looking for the ability of customization of design and functionality of the site

Need for an in-house IT team for complete control of infrastructure and administration

Be able to work with partners or agencies to maintain your website

More time is needed to create a website and go-live
When it comes to the day's end, you might decide to work on either the platform of BigCommerce or Magento. In case, what you are looking for are Magento's advantages, continue reading the following section to learn about how to migrate from BigCommerce to Magento.
Migrate from BigCommerce to Magento
You can use a trusted shopping cart migration tool to migrate data from your BigCommerce store to Magento 2. In this article, we use the BigCommerce to Magento migration tool provided by Next-Cart, the migration process consists of 3 simple steps:
Step 1: Set up the connection
Before starting the migration process, you need to set up the connections from your BigCommerce store and your Magento store to the migration tool.
For your BigCommerce store: follow this instruction to get your BigCommerce API credentials. Then, fill in the BigCommerce store URL and the API information in the Source Cart Setup form.

For your Magento store: download the Kitconnect Package, unzip and upload it to your Magento store's root folder. Then, fill in your Magento store URL in the Target Cart Setup form.

Click "Next Step" to go to the configuration step.
Step 2: Configure the migration
Select the entities of the BigCommerce store that you want to migrate to the Magento store; including products, categories, customers, orders, reviews, taxes and manufacturers. You can use the Additional Options and Advanced Attributes Mapping to customize the migration to your needs.

Step 3: Start the migration

After finishing valid configurations, you will confirm to start the migration process. You don't need to do anything else, just wait for the migration to complete. When the "congratulations message" is displayed, that means your BigCommerce data has been successfully transferred to your new Magento store.
Video Tutorial
This video tutorial will help you better understand the migration process.
Migrate BigCommerce to Magento in 3 simple steps
Wrapping up
The more you know about the market, the bigger chance you have to get successful. Hopefully, this post has given you helpful information on the two leading eCommerce platforms. If Magento is the software that eCommerce stores need at the moment, you will not worry about the steps to migrate from BigCommerce to Magento, with the help of the Next-Cart tool, which will cover all the migration process well.