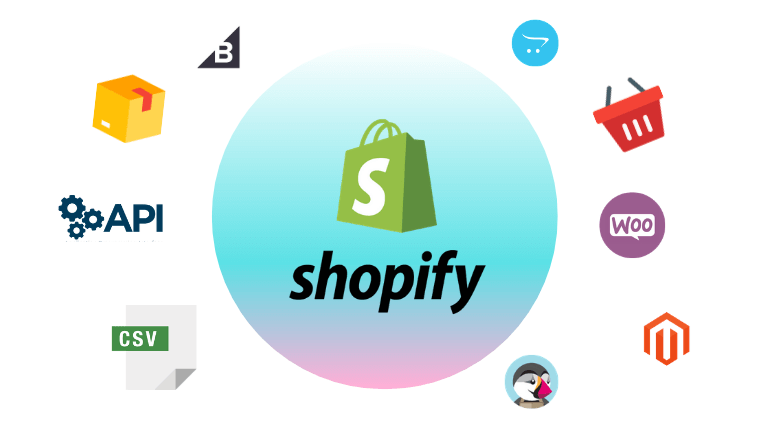 Are you thinking of rebuilding a brick and mortar store that lets you expand to reach out to more potential groups of online buyers?
If you have no idea how to kick things off when it comes to migrating store from here to there, I've got a guide for you.
Since Shopify is among the top choices for an eCommerce store, let it be your prospective counterpart in your business journey, and get started now with Shopify Migration.
Overview
About Shopify
Shopify is among the best eCommerce platforms that give your business a competitive edge over other offline stores. It allows dealers to sell a wide range of products, both physical and virtual, to numbers of online customers.
Also, the two impeccable services of Shopify add products and Shopify import orders are the powerful management tools assist you in keeping stocks and watching the sale funnels.
To transform a piece of a datum to Shopify, you have to enter it into a customer CSV file and then import it to the Shopify admin panel. But this step is only achievable when you've already got a CSV file that meets the requirements from Shopify, otherwise, extra use of migration program should be made.
Limitations
It seems that the most significant flaw of Shopify lies in the CSV files. The only file format that will be accepted in Shopify is a CSV file with a specified group of columns. You cannot replace it by the one taken from the exported database or the typical data from other eCommerce platforms.
Service at Next-Cart
Next-Cart is the best shopping cart migration solution which facilitates automatic full-scale data migration from one eCommerce site to another. The service supports all the existing platforms in the globe and is willing to deliver the service upon request.
You are able to migrate from WooCommerce, Magento, BigCommerce, PrestaShop, OsCommerce, OpenCart and many other platforms to Shopify.
Next-Cart allows you to move any wanted data to a desirable shopping cart. From products, customers, orders,… to multilingual data.
It is friendly to users, and the migration procedure is very straightforward.
Also, there is no need to install a migration program as it's already available on the Secure Cloud Server.
The service offers nice pricing and 24/7 technical support.
Migrate your store to Shopify
With the Shopify migration tool of Next-Cart, you can easily migrate data from your online store to Shopify in 3 simple steps.
1. Set up the connection
Firstly, you need to follow the instructions in the Source Cart Setup form to set up the connection to your Source Store.
For the Shopify store, you can follow this instruction to create the Shopify API Token and put it in the Target Cart Setup form.
Then click Next Step.
2. Select entities for migration
This section showcases various types of entities open to your choices; which include taxes, manufacturers, categories, products, customers, orders, reviews, blog posts and pages. Feel free to pick the ones you love to transfer to Shopify.
Next-Cart fully supports optimizing the migration process with options of Entities Selection, Additional Options and Advanced Attributes Mapping.
Press Next Step and there will be a pop-up asking you to confirm the process. Click Yes, do it to initiate the migration process.
3. Perform full migration
This screen shows the full migration process of your choices.
The migration process may take from a few minutes to hours depending on the number of entities in your Source Store. When the process is finished, you will get a Congratulations pop-up confirming it's done. Time to enjoy the new Shopify store.
Conclusion
With the services provided by Next-Cart, store migration no longer sounds as intricate as it did. We have simplified all process to the matter of clicks and left the difficulties to our duty. That will be 1:1 technical support throughout the migration.
If you want to see how it is going to work miracle for your store, try transferring your store using the Shopify migration tool today. Our team will be here to back you up.