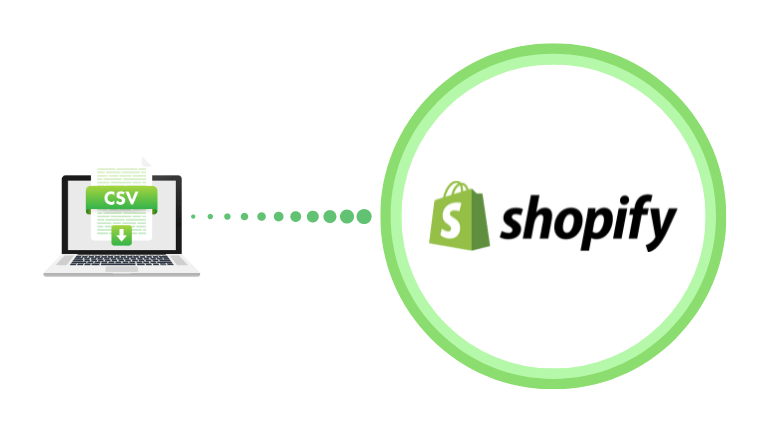 It is so popular and useful to import CSV of products to Shopify stores when users switch to Shopify from another platform or when they want to make many changes to their products or inventory; in terms of the dropshipping business, CSV files are widely used to receive all product information from vendors.
What are CSV Files? 
CSV stands for comma-separated values. This type of file allows data to be saved in a tabular format. Like a garden-variety spreadsheet, but CSVs come with a .csv extension.
CSV files are compatible with almost any spreadsheet program, including Microsoft Excel and Google Spreadsheets. Unlike other spreadsheet file types, CSVs only have a single sheet in a file, and they can not save a cell, column, or row. 
Also, it is impossible to save formulas in this format. CSV files are plain-text files that are easier for the website developer to create. It is also very quick to import into a spreadsheet or another storage database, regardless of the specific software you're using.
These files serve several different business purposes, including helping companies export a high volume of data to a more concentrated database and organize large amounts of data better.
Other cases where CSV files are used:
In the dropshipping business, CSV files of products are transferred from vendors to their suppliers.

Store owners want to migrate their website to another platform. This work can also become very easy with the help of a

shopping cart migration tool

, like NextCart.

There is an existing excel file of products, and the shop owner wants to upload it online.
Considerations for the Product CSV File
Before importing a product CSV file, you should take the following considerations.
Format the Product CSV File
To make a product CSV file function correctly, it is essential to verify that it meets the following criteria:

The CSV file's first line must be the column headers as specified in the product CSV description table.

Columns must be separated from each other by a comma.
Columns in the Product CSV File
The columns in the CSV file must meet the following conditions:
While creating a product CSV file to import new products, the Title is the only required column.

But when updating products using a CSV file, the required columns are both Handle and Title.
Overwrite Product Details Using an Import CSV File
When you import CSV file to Shopify, you can select the option Overwrite any current products with the same handle. Existing values will fill any missing columns. Then, when a handle is the same in the import CSV file in your products list, the values in the CSV file will overwrite those in the matching columns in the existing product list. Otherwise, if you don't choose the overwrite option, then the products matching an existing handle will be ignored during CSV import.
In a blank required column in the import CSV file, the matching value in the product list will be overwritten.


For example, if the Product Number value in your existing product list is 3, but the Product Number column is blank in the CSV file that you import, then the 3 is overwritten as blank.

If a non-required column is not existing in the import CSV file, but in the existing product list, then the value in the product list remains the same.
For instance, if the Size column is included in the existing product list, but not included in the import CSV file, then the value in the product list remains the same.
How to Import Products on Shopify Using CSV Files?
To do Shopify product import, there are two ways. You can utilize the tool provided by Shopify. Or you can use Next-Cart's CSV to Shopify migration tool.
To begin with, you can test imports using a development store. If you are a Shopify Partner who can perform a large-scale import for a merchant, make sure that you test a small subset of changes first using a development store before the actual Shopify product import.
Import Product CSV files into Shopify Using Shopify Tool
If you have a CSV file that came from another store or another source, make sure you will verify that it matches this CSV file template. If the format doesn't match, like there are any missing headers for instance, then the import will not succeed.
The product CSV file can't exceed 15 MB. If there is an error when uploading a new CSV file, then check whether it does exceed the size limit.
Steps to import CSV of products to Shopify from another store:
From your Shopify admin, go to Products and click Import.
Click Add file, and then choose the CSV file that you want to import. Here you can choose to overwrite values for existing handles and check to overwrite any current products with the same handle. Existing values will go to fill for any missing columns.
When getting things done, Click Upload and continue.
Preview the details about the import before clicking Import products.

When the CSV file is successfully uploaded, you will receive a confirmation email from the

Shopify store

.
Importantly, when importing products to Shopify via CSV file by Shopify tool, their relations with other data entities are not preserved. Since you're moving products "detached" from other entities, like orders, their associations in the Shopify store will be lost. 
Luckily, you now have the support of the File Migration Service from NextCart, which will handle the process smartly and ease any difficulties.
Import Products CSV to your Shopify stores by NextCart
NextCart can transport data in different file types to your business website. Here are three simple steps to import CSV of products to Shopify:
Step 1. Submit data files


Submit your online store credentials, specific requirements, and CSV product files you want to import.

Step 2. Set up file import


After receiving your request, our technicians will set up a file importing process based on your requirements.

Step 3. Import data files
All data in your CSV files will be imported into your online store through our file migration system. In case you feel confused in editing the CSV, Next-Cart's service will take care of file importing for you. If there are any possible issues, they will be solved until you get satisfied with the results.

In Conclusion,
There is no doubt about the meaning of CSV files while transferring data among websites. This article, hopefully, has given you useful information about CSV files and how to import CSV products to Shopify, the most powerful eCommerce platform at the moment.