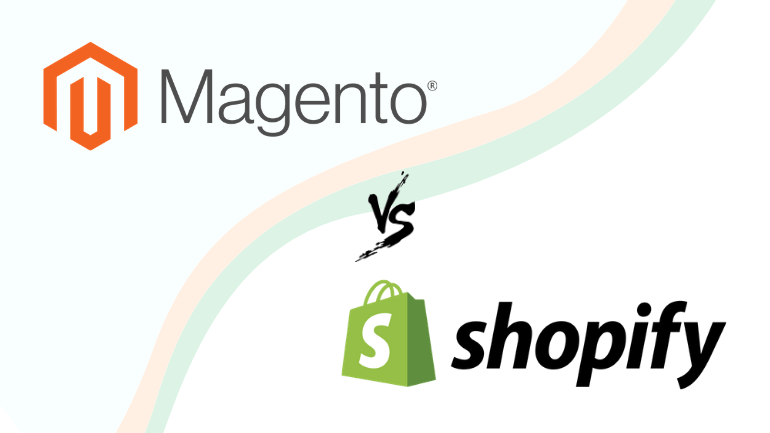 An eCommerce site plays an important role in setting up a business for online entrepreneurs. With many platforms available on the market today, it's difficult to decide which one is right for you.
This article is going to explore the similarities and differences between the two most popular ones Magento vs Shopify.
Background information
|   | Magento | Shopify |
| --- | --- | --- |
| Number of Sites Powered | 250,000 | 6,000,000+ |
| Number of Products | Unlimited | Unlimited |
| Number of Themes | 10 (4 free) | 141 (12 free) |
| Number of Apps and Plugins | 3,300 | 8,000+ |
| Number of Stores | 250,000+ | 4,400,000+ |
| Number of Supported Payment Gateways | Almost all | 70+ |
| Bandwidth Restrictions | Depend on hosting plans | None |
| Pricing | Free | Starting at $25 |
(These figures were updated in June, 2023)
Magento
Founded in 2008, Magento has made a name for itself under Adobe. As an open-source platform, it offers plenty of options for customers to customize their sites. Those seeking maximum flexibility and scalability may find it extremely helpful.
Advantages
Several built-in features are integrated.
There is a large Magento community to readily answer your questions. With a huge database of user-generated content, you will find a detailed explanation to all you wonder.
Ready-made extensions are available on the Magento connect.
The platform is totally flexible. You can freely design your store with the help of some code. Therefore, your store will stand out from the crowd and make a great impression on customers.
It is free of charge to use, except for your own hosting.
Rich in product types: Magento has 6 different types of products (Simple Product, Configurable Product, Grouped Product, Bundled Product, Virtual Product, Downloadable Product).
Disadvantages
Themes are complex to figure out. If you're a non-technical person, running into difficulties is unavoidable. It takes some time to familiarize with the interface of Magento.
Hosting and app costs can be expensive. Although some apps of Magento are free, others ask for yearly and installation fee.
Updating software on a regular basis is necessary.
Shopify
Founded in 2004, Shopify has provided a streamlined approach to building online stores. With high-quality hosting that is equipped with a CDN, site backups, and unlimited bandwidth, it does away with the need to look for a hosting provider.
Its interface is designed to be user-friendly, helping beginners through registration and adding products to their sites.
Advantages
There are a variety of mobile-ready storefront themes. Your store will automatically optimize itself to be compatible with diverse screen sizes and devices
A large App Store is available to easily add new functionalities to your site
SSL and hosting are included
Customer support is around the clock through cellphones, live chat, and emails. There is a forum to share business tips and website building experience
Disadvantages
Not all themes are free. However, investment in Shopify's premium themes can pay off in the long run.
A transaction fee is included per sale. The more inclusive the plan you sign up for, the less fee you have to pay.
The CMS capabilities are weak, causing difficulties for sites with high traffic.
Product types are not abundant: Shopify only has 2 product types (Simple Product, Configurable Product).
Product limitation: Shopify only allows adding at a limit of 3 options and 100 variants per product.
Which platform is better?
Themes and templates
Between Magento vs Shopify, the former provides a wider choice of templates.
In Shopify, there're 141 templates with only 12 free of charge. All of them are modern-looking and mobile-optimized, providing a great user experience whichever device they are accessing from. Even the free option comes in 2 or 3 variations for each template so that customers can create one of their own. For paid templates, there're powerful customization tools in color palette, fonts, banner images, and sizes.
When it comes to Magento, it offers a more limited collection of templates. Only 4 out of 10 are free while others don't share the same level of customizability and design. They are generally dated with mundane designs. However, the open-source feature of Magento enables you to design a template from scratch.
Customer support
For each subscription tier, Shopify provides both phone and online support. Its staff is helpful and responsive while live chat response is within a minute.
Unlike Shopify, Magento doesn't provide any official support to its customers. Should any problem occur, they are supposed to diagnose and solve it by themselves. There are Magento forums so that you can seek advice from other users with the same problem.
Pricing
Magento is cheaper than Shopify in the sense that it is free for use. However, its users have to buy a website hosting plan for at least $4. Shopify introduces 5 pricing options ranging from $5 to $2000 per month.
In terms of transaction fees, Shopify, like other eCommerce store building platforms, charges users a sum of money up to 2% per transaction. Those registering for the most expensive plan can benefit from the lowest percentage of 0.5%. However, Shopify Payments saves you that cost but is limited to a few countries. In the meantime, using Magento, customers must turn to an external payment processor so the transaction fee greatly varies.
Extensions
Shopify launches an App Store that is home to about 2300 apps, and grow up to 8000 apps in 2023. They serve to extend the platform's functionality, catering to diverse user requirements. Its layout is similar to that of smartphone app stores so that average people can use easily.
Magento introduces a Marketplace with 3300 extensions. In case your platform needs to catch up with the rapid expansion of your business, such extensions prove helpful in ensuring complex business processes are well handled.
Ease of use
With a user-friendly interface, users of Shopify can set up a basic store within a day. It may take little time to set the layout, add product, and images. However, Magento requires technical knowledge to get things to work. Even programmers have to spend some time to learn about its interface first before actually using. Users are supposed to adjust website parameters to get the best out of the products.
What is your final decision?
Magento vs Shopify owns their benefits and drawbacks so it would be unfair to say which one is over which one. Depending on your specific needs, either Magento or Shopify is preferable.
If you're not an expert in website development, or going to build a small scale business, Shopify will be a more feasible choice. Whereas, Magento suits developers with decent skills and businesses of larger scales because it's more flexible and controllable.