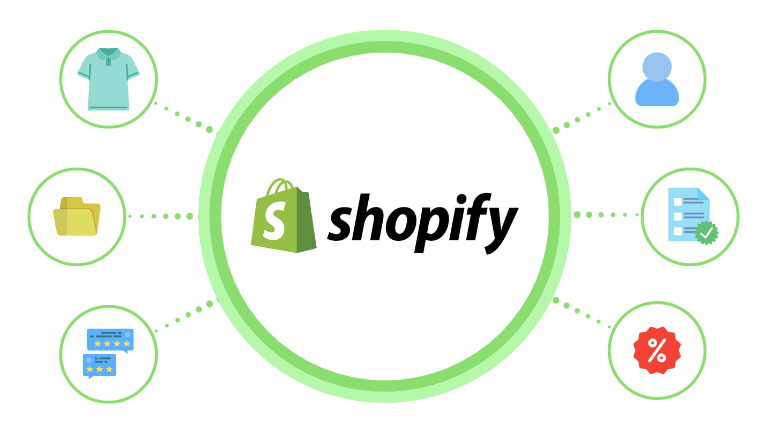 Are you considering migrating to Shopify? If so, there are a few essential aspects you must consider before making the switch. In this blog post, we will outline the key factors to think about before you can migrate website to Shopify. We'll also provide the best solution to help you migrate to Shopify as smoothly as possible. So, if you're thinking of making the switch to Shopify, read on!
Entities Supported by Shopify
Products and Variants: Name, SKU, Barcode (ISBN, UPC, GTIN), Quantity, Weight, Dimensions, Description, Cost, Price, Special Price, Images, Videos, Brand, Vendor, Meta Title, Meta Description, SEO URLs. Product Options and Variations. Multi-language Data: Title, Description, Meta Title, Meta Description.
Product Categories: Name, Description, Image, Meta Title, Meta Description, SEO URLs. Parent categories, Sub categories. Multi-language Data: Title, Description, Meta Title, Meta Description.
Customers: First Name, Last Name, Email, Phone, Addresses, Order History, Newsletter.
Orders: Status, Currency, Total, Sub Total, Tax, Shipping, Discount, Note, Comment, Date, Product Details, and Customer Details.
Coupons/Discounts: Discount Code, Discount Type, Discount Value, Expiry Date, Usage Limits.
Product Reviews: Title, Author, Comment, Rating, Status, Date. You can import reviews to any third-party Shopify review apps.
Blog Posts: Title, Content, Tags, Images, Images, Meta Title, Meta Keywords, Meta Description, SEO URLs.
Pages: Title, HTML Content, Tags, Images, Meta Title, Meta Keywords, Meta Description, SEO URLs.
With a ton of incredible tools to help you get ready for your e-business, Shopify is one of the strongest online shop builders present worldwide. You may make your store appear amazing and work effectively by using a wide variety of tools and layouts.
Types of Products That Shopify Supports
On your Shopify store, you may offer both physical and digital goods. Customers are drawn to digital items since they are frequently available to them right away after making a purchase. 
In addition, on all Shopify subscription options, the gift card feature is enabled. When you use a gift card to fill an order, you send the customer an email with a special gift card code that they may use to redeem the value of the gift card at the checkout.
Online services and downloadable media like digital art, videos, or audio clips are examples of common digital products that Shopify does not support. But you can use third-party apps integrated into your Shopify store to sell them. Even NFTs, or non-fungible tokens, are the type of digital goods that you can offer for sale on Shopify platforms in this way.
To make it clear that you are offering a digital goodsgood or service rather than a physical one, you can uncheck the delivery checkbox when you add a product to your store. You'll also need to use an app to deliver a download link if you're selling digitalselling a digital products.
Migrating products into Shopify undergo several limitations if the products in your Source store contain variants and options. Here are the constraints you should get to know:
A product could have up to three different options and 100 variants. Therefore, if either the total number of variants or of options is larger than that, they will be refined. Both Shopify and Shopify Plus fall under this restriction.
You are only permitted to add up to 1,000 new variants each day (around 24 hours) if your Shopify store reaches 50,000 variations. All data import methods, including uploading CSV files and Shopify apps, are subject to this restriction; however, Shopify Plus stores are not in this case.
Please get in touch with us if you have any of the aforementioned issues so we can determine the best migration option.
About Shopify Orders
On the Shopify Orders page, all of your orders are automatically shown. You can alter the filters, sorting, and column layouts in your order views or build new views with these features to make it easier for you to access and prioritize groups of orders in the future.
Order views are generated using saved filters, column options, column order, and sort order. You can create, rename, or delete views in addition to customizing order views.
You can move all order details, such as status, total, discount, and date to product details, customer details, delivery address, etc. using Next-Cart.
Before migrating the orders, mapping the statuses is essential. Then, you can move them from the Source store to Shopify and reorganize them according to the preset statuses on your Shopify store.
When it comes to order statuses, Shopify seperate two different types, including Payment status and Fullfillment status (or Delivery status and Shipping status). That's why if the Source store has no this kind of order status grouping, you need to identify the current orders into the two most appropriate groups before the migration.
After the transfer is finished, the products in the orders will fully show in terms of names, SKUs, attributes, and options. And they will also be automatically synced to the orders.
Shopify SEO Plugins
In order to fully optimize your Shopify store, you must update a variety of interlinked settings in addition to sprinkling buzzwords throughout your descriptions.
These include factors like keyword density, page speeds, product advertisements, backlinks, rich snippets, meta tags, and several more things to take into account. Naturally, most non-technical people will find manual Shopify SEO optimization to be an unrealistic solution.
Thankfully, a ton of Shopify SEO apps have been developed to aid in website optimization. They are designed to help entrepreneurs that want to increase website traffic and make their Shopify store SEO friendly with the least amount of work feasible. The capabilities are typically built into the app if you wish to dive deeper into Shopify SEO tools and settings.
Page Rank and Redirects
After your website is migrated to Shopify, its URLs must remain active and redirect to the appropriate content area in order to maintain its page rank. Additionally, the website's domain has undoubtedly not changed, making it vital to redirect old URL paths to new URL paths.
With regard to this problem, the Shopify migration tool of Next-Cart can assist you in moving all URLs using 301 redirects. After the migration is complete, you can check the performance of the redirects at Online Store > Navigation > View URL redirects.
You might also manually create the redirects. Make sure that the URLs on the Source site are properly redirected to the new URLs on Shopify before transferring the domain to Shopify. There is a very powerful tool to assist you in checking the URLs on your website, which is Google Search Console.
Migrate to Shopify – In Conclusion
If you're looking for a platform that can handle your eCommerce store's needs, Shopify is the perfect solution. Or if you are planning to build a professional blog, Shopify also contain various relevent features to help you. That's why Shopify is no doubt a complete platform for an extensive eCommerce website.
With its wide range of features and capabilities, as well as its easy-to-use interface, Shopify will take your business to the next level. Contact us today to learn more about how we can help migrate to Shopify smoohtly and start seeing the results for your business.