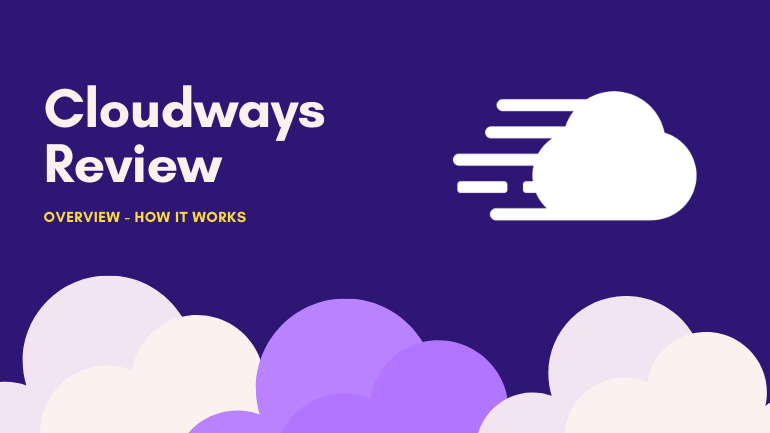 Online business is one of the popular sales methods that bring high profits compared to traditional stores. When you develop a website, you will need a web hosting package solution to provide additional website space, bandwidth, RAM amount, CPU cores, and more.
However, instead of buying a simple hosting package, you can buy a cloud hosting like Cloudways. While it is not too expensive, you are provided with many more features that are superior to the previous option.
So, what does Cloudways feature to rise above the other names in the market? And is it really suitable for your website?
That's what you will get answered in this Cloudways review.
Explore now!
What is Cloudways?
Before explaining this cloud hosting service provider, we would like to explain the concept of cloud hosting compared to a regular website hosting package and virtual private server package (VPS).
Firstly, with a simple website hosting package, it gives you a variety of features for website development.
However, when your online store gets bigger, the fixed resources will limit it to meet the increasing needs of customers. Besides, even if you buy an upgrade, the site will temporarily "take a break" for a while. It may not take long, but it will slightly affect the website's traffic and your business's revenue.
Secondly, it can be said that VPS and cloud plans have many considerably similar features. One of the differences between them is that the cloud package is more flexible in allocating resources across multiple devices. Thus, you can connect and manage the website more accessible.
About Cloudways
Headquarters: Mosta, Malta
Established: 2011
Services: Managed cloud-based hosting, application deployment, and infrastructure management
Cloudways is such a cloud hosting plan provider, but it stands out with a focus on simplifying the customer experience. Therefore, if you build a website with Cloudways, you will just need to focus on selling without having to worry about running applications.
Additionally, you can deploy Cloudways solutions on many different platforms and be provided with many other services. Some of its services that you may find useful include email, DNS, and load testing, providing high-quality services, etc.
Cloudways key features
Custom control panel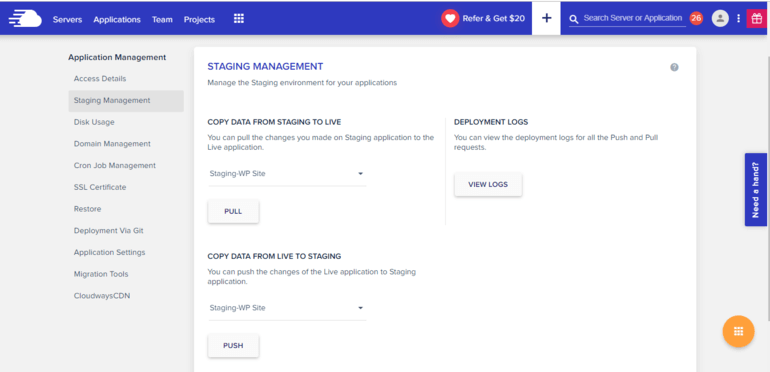 From the custom control panel or Cloudways portal, you can access many categories that Cloudways offers to manage your server. These include Servers, Applications, Teams, and Projects.
If you already have a website, everything will be easy. However, if you do not have a domain, do not worry too much. You will register a temporary URL provided by Cloudways in the Application Management section.
Moreover, you will set up and install many attributes related to the applications on your website on the Application page.
Also, in the Application Management section, you also need to pay attention to two important pages, SSL Certificate and Restore. Here, everything is accessible to manage and download with just one click.
In terms of Servers, it is where you install and manage the services that are running, thereby benefiting your website to load pages quickly and operate smoothly.
For example, managing CPU is essential because if you use this service continuously, your website performance will be limited. Besides, you can also turn off or pause some services that the site does not use.
As such, it will not be slow or lag when the page load is large.
Finally, the Team Management section is a tool for you to divide the task to other people. You can set up everything related to group members, those who help sell or do other things on your website, such as giving them full or partial access to the server.
Staging and cloning
With Cloudways, you can expect a managed hosting that offers both staging and cloning features.
You must be wondering:
"What is staging? What is cloning?"
Let us give you an example.
Let's say you are installing some categories for your website. Everything looks fine until you press the Confirm button and you discover a silly mistake.
However, it is permanently located in your store, and you have no way to change it.
With the Staging attribute, you can change that before things get out of control. It allows you to test the settings you want before pushing them onto your website. As a result, you will have the opportunity to review more carefully before making the decision.
When it comes to Cloning, it somehow has the same functions as the Staging but works differently. This characteristic makes it possible to create multiple clone websites in parallel with the transfer of your website to new servers. Or, you can use this feature when you want to showcase your website to clients.
Advanced caching
Cloudways is a well-known brand in the cloud hosting server industry. But when it comes to getting server infrastructure from many cloud providers like DigitalOcean, Vultr, and Google Cloud, etc., it is much more trusted. They are known to offer premium SSD-based VPS, and dedicated servers and people are willing to pay more, as well.
Besides, Cloudways also enhances and optimizes the server through a number of methods.
First, they leverage some storage mechanisms such as a caching plugin called Breeze that supports their content delivery network or use Cloudflare CDN, Varnish, and Redis, etc. Second, they host your website on servers in many different countries. Therefore, your site's loading speed will be faster, and the data on it will be more secure.
With this series of Cloudways storage mechanisms, you won't have to worry when you want to have advanced caching for your online store.
Vertical scaling
This is an important feature for you to expand your server resources. It is quite useful when you want to upgrade your server for the website to develop bigger. Plus, every step to perform it is very smooth. Whether you are a new website developer or a master, you will do it effortlessly.
Besides this, is there even something more to add?
When you need to get your website back as before, it also allows you to downgrade it. Conveniently, right?
Customer support
If you're just starting to use hosting solutions as a way to upgrade your website, you'll be extremely grateful to Cloudways's customer service.
You can call them 24/7 when you need immediate assistance. And if you are not in a hurry, you can email, ask on blogs or on Cloudways community forums. You can rest assured that they will respond in a surprisingly quick way!
Pros
Easy to use
Install WordPress quickly
Unlimited website and domain settings
Already optimized
Integrating hosting transfer tool
Free SSL
Easy to upgrade resources
Cons
Limited server control
This is one of the drawbacks that you might feel uncomfortable using Cloudways compared to other hosting providers. Instead of giving cPanel and Plesk dashboards, Cloudways does not allow you to entirely access root and manage all activities on server related to storage.
Although you are provided with a dedicated console, managing applications on the server may be difficult for some people who start getting familiar with cloud hosting. In particular, if you are trying to switch to Cloudways from another hosting platform, it will take you a while to get used to the Cloudways control panel.
Too many options can confuse users
While many vendors focus on supporting a number of users, also known as user segments, Cloudways extends packages to a wide range of customers. It can meet diverse needs and many people are willing to choose their products. In return, for those who want help for their options, it may be limited.
Not to mention, too many choices will make some people confused. It is especially detrimental to Cloudways as many vendors offer a lot of help to their customer niche as a competitive strategy.
Many people finding it difficult to choose, as a result, will switch to other hosting companies.
Cloudways pricing
The Cloudways server price is vary depending on cloud providers. As you can see in the table below, Linode, Vultr, and Digital Ocean have the cheapest service pack, from $10-11/month. Meanwhile, Google and Amazon are three times more expensive.
Digital Ocean Cloudways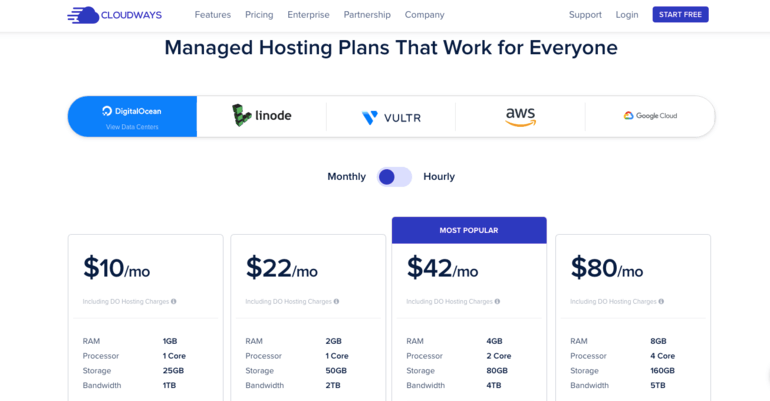 Linode Cloudways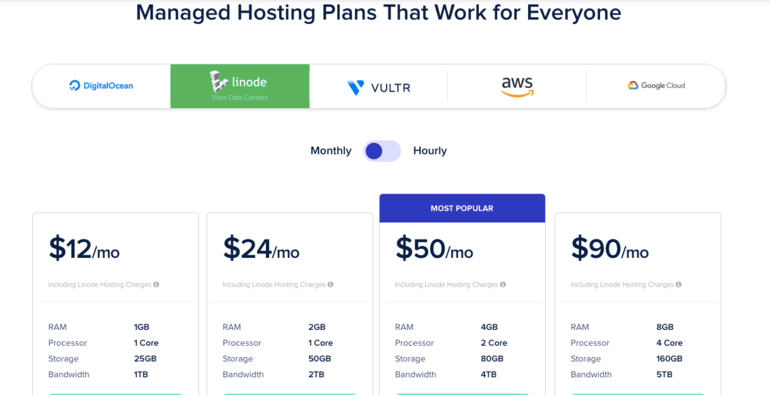 Vultr Cloudways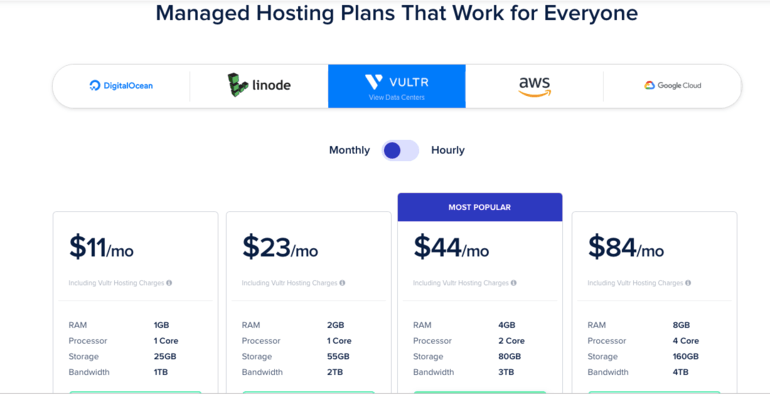 Amazon Cloudways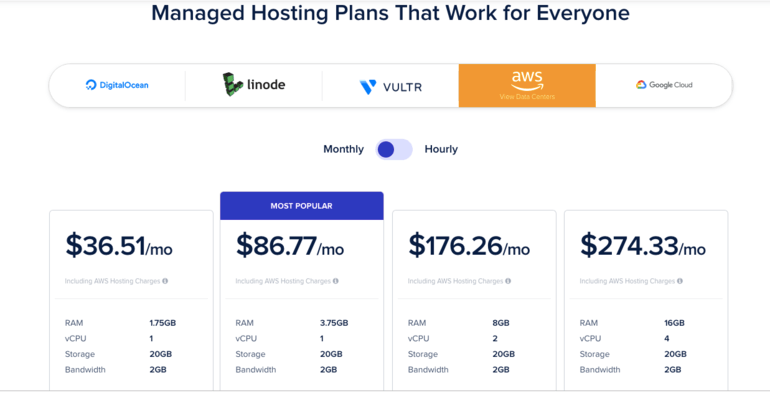 Google Cloudways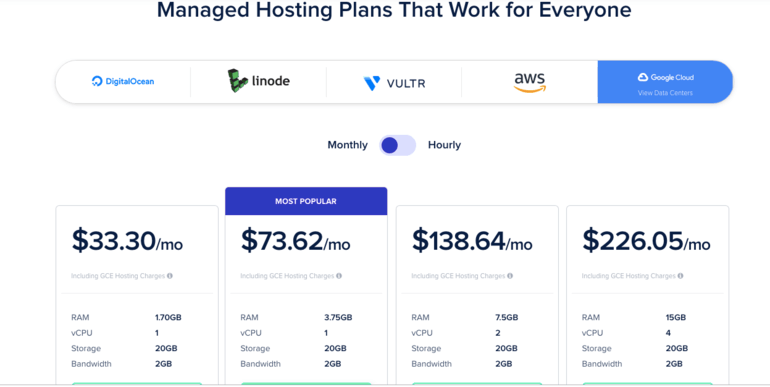 However, you should not worry too much because the services will be charged by the hour and you can upgrade, downgrade, and cancel them anytime you want.
In other words, with Cloudways, you only pay for what you use.
Is it the best choice for your website?
It can be said that Cloudways is very friendly with beginners. While they are powered by a range of the world's leading cloud providers such as Amazon, Google, DigitalOcean, Kyup, Linode, and Vultr, the platform is easy to use. You can control your website simply and conveniently with many advanced features.
If you do not fully trust this hosting supplier, you can use a 3-day free trial to consider. This process does not require any credit card details.
After three days, if you are not satisfied with what Cloudways offers, you can press the cancel purchase button, and you will not lose anything. However, we can guarantee that you will enjoy this exciting cloud hosting product and do not want to miss it.
Besides, if you are familiar with WordPress and can solve errors of this CMS, we recommend that you should not ignore this solution.
Our last words
Overall, Cloudways is a great option of cloud hosting service, which is easy to use, enhance, offers unlimited website and free SSL, and many other features that every website developer demands.
However, even if you have a basic knowledge of hosting, you may still have difficulty moving your website to Cloudways. At this point, using shopping cart migration solutions will make things a lot simpler. And Next-Cart is a name you can trust.
If you need further guides on other choices, don't hesitate to contact us or visit our website. Please like and share the Cloudways review with others if you find it useful for you. Thank you!