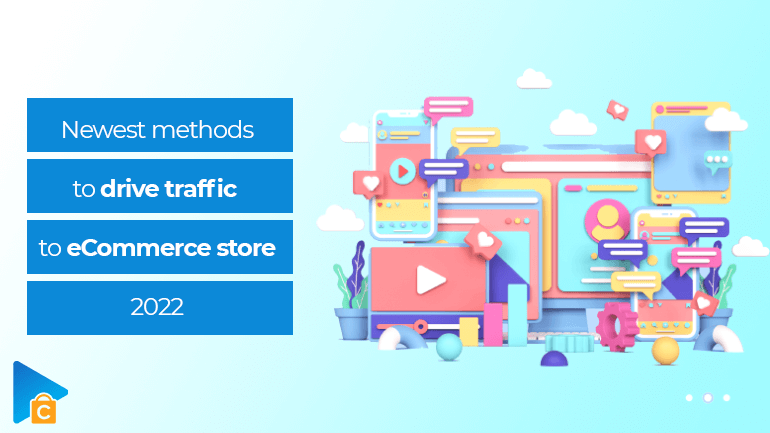 In 2021, online sales are soaring across the globe, making new eCommerce companies pop up all of the time. But how can you stand out from the crowd and obtain a successful online business in this increasingly competitive marketplace? One of the most vital things you need to do is to drive traffic to your eCommerce store.
When eCommerce is growing and shoppers are willing to spend big money on the products they love, how can you take advantage of this situation? To get your piece of the action, you need a powerful marketing plan for an eCommerce store to drive quality traffic to your website.
You are advised to think outside of the box and implement techniques that your competitors overlook. And that's what this article is going to focus on here – new and effective ways to quickly increase eCommerce traffic.
With that said, here's a list of tactics proved recently that can deliver big results to eCommerce sites.
Read more: How to start an online business in 2022
1. Use Instagram to Drive Traffic to Your eCommerce Store
Instagram can provide huge traffic to your website if you can use it to cultivate your brand. It will give people a look into how your product is developed and how your store is run. By getting involved in one of the best social media platforms for eCommerce, you can make your customers fall in love with your business and with you.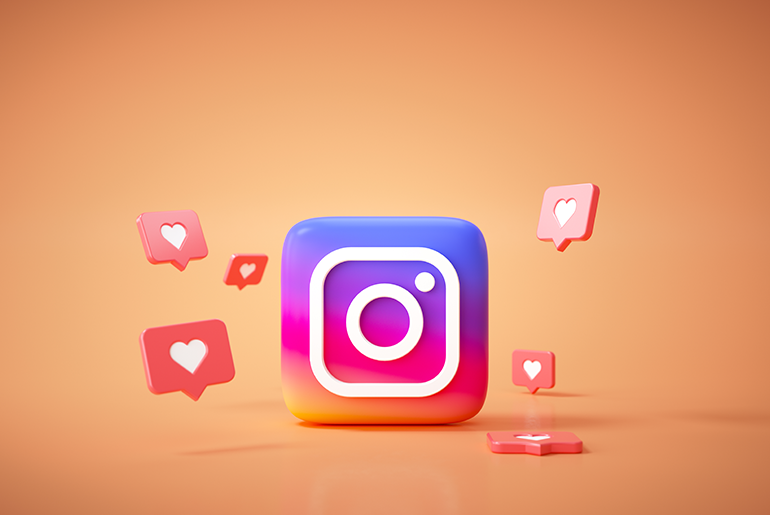 Here are some ways you can link your Instagram account to your website, and vice versa. If they perform well, you can best use this social media channel to drive traffic and sales.
Optimize Your Instagram Bio
Make sure to optimize your Instagram bio for your business by a link to your store, other contact info, and even some witty content. Customers will expect to find that info there to directly connect to you or go to visit your online store.  
Use Instagram Stories
You should definitely make use of this most popular feature on Instagram to develop the human element in your store. What businesses do is show your day-to-day life behind the scenes, also using it to showcase new products, designs, or offerings.
If your business account has more than 10,000 followers or verified accounts, you can add link stickers to send users to a webpage. To do so, you need to build a story with your slides. You can drive traffic to your online store with relevant and exciting content crafted for your brand. From interesting videos, pictures, hashtags, and more conclude with a CTA to your online store.
Integrate Instagram Account with Your Site
Customers can search for the products they want on your social media channel. Then, they can click on the product image in order to see more details and check out. Like Facebook, you can sync your Instagram feed with your website to allow customers to shop from your Instagram posts. So when you have posted products on Instagram, half the work is already done.
2. Optimize Product Pictures for Google Search
How is the Product Image Optimization Vital?
As doing an online business, you might know how important it is to have a strong presence on Google search. 93% of online shopping experiences begin with a search engine. There is no doubt that this is one of the best ways to reach eCommerce customers and draw them to your online store.
When it comes to image search, over a third of all Google results, 34%, come from Google Images. However, while most brands have already been aware of investing in optimizing their store for Google Search, many ignore Google Images optimization. If your product images are Google optimized, they can appear in Google Image results, offering a strong visual element. This can motivate users to click. Moreover, highly ranked images usually appear in prominent positions. 
So it's easy to see the impact of optimizing your product pages for Google Images is huge. Each minute, there are 3.8 million searches performed on Google. So you might want to use this highly effective way to get your products in front of a massive audience. 
A high-quality image will raise the rate of clicking and result in a steady amount of eCommerce traffic coming your way. 
To Optimize Images for Google Search
Now there's quite a bit when it comes to the image optimization process, but here are some of the key strategies:
Choose unique, high-quality images

Compress images to make a smaller storage size

Set highly relevant keywords for the image file name

Fill keywords in the alt-text
You should follow all tips and properly optimize the images you use for the products on your website. Then, you can pull in a good flow of traffic from Google Images and outrank many of your competitors. And in the long term, this can have a huge effect on your eCommerce sales. In addition, if you want to migrate your eCommerce store to another platform, a good shopping cart migration tool can maintain all the SEO rankings of the product images.
3. Collaborate with Influencers
It is necessary to step out of your network into someone else's. So you can expand your reach to a whole new audience to gain traffic to your site. Social media influencers, like guest blogging, are an outreach marketing tactic just for your reach.
Influencers are famous people who have established high credibility in their community as trend-setters. They have a large following of users on Facebook, Instagram, or YouTube. Followers tend to take their advice seriously. Especially when it comes to their shopping experiences relating to their lifestyle because it's usually honest, relatable, and unbiased.
To start, you can find popular accounts related to the industry on your social platforms. For Instagram, a tip is to use Webstagram. It is an Instagram web viewer with advanced features, and type in keywords related to your products. 
From the list of influencers you have created, you should start conversations with them. You should provide the product information and let them know why your product is useful and worthwhile. Then, clarify how both of you can work together. 
Common ways that people do to get them to speak about your brand:
Sending them product samples. 

Pass them along with special discounts to distribute exclusively to their followers

Offer commission for every new customer making a purchase from your store. 
To automate the process and work with a large number of influencers in the most efficient manner, it's also possible to create an affiliate program. This program usually leads to them discussing your product in their Instagram stories, or tagging you in a post. Both of these activities are excellent ways to advertise your eCommerce store.
4. Drive Traffic to Your eCommerce Store with a Sales Campaign
As a buyer when shopping online, do you immediately click the "sales" tab to find the best price offerings? By creating the right sales campaigns, you can drive more visitors to your website looking for a good deal. It doesn't matter that the campaign is launched just in time for the next holiday season or for no particular reason. Online shoppers will respond and pay attention to it.
To get success with a sales campaign, here are some ideas you can implement:
Offer a Competition or Giveaway 
People love receiving presents, so you can take advantage of this to offer an incentive for visitors. You can give them free shipping or a coupon towards their first purchase and if they sign up for your mailing list. This effort will motivate online shoppers to enter your site and shop.  
Give a Coupon on Your Website Only 
Coupons, whether it's 15% off or 50% off, are also a surefire way to lure guests in. By creating the coupon available through only your website, you can attract more visitors and persuade them to do shopping on your website. 
Create a Sense of Urgency 
When deciding to have a flash sale or free shipping until the end of the month or announcing a huge upcoming sale, you should include the urgency element. This is a tactic to drive visitors to your site. A countdown clock on your website for the application of an event will urge shoppers to re-enter your website again.  
Make BOGO (Buy One, Get One) Deals
Like a gift, whether it's scarves, books, chocolate bars, or plants, most buyers are more excited to buy when they know they're getting something for free. In addition, customers tend to come to check out the website to see what this deal is all about.  
However, it is not enough to just create a sale. Without a well-prepared plan to back this promotion action up, it can end up running down lost roads. Especially when you don't have a brick-and-mortar shop to place a huge sign out front screaming "SALE NOW." 
That's why marketing promotions come to make it effective. Whether you conduct the advertising campaigns via social media, email marketing, or other channels, this promotion is the missing ingredient to your success. If you want to get more website traffic, combine the efforts of a creative campaign with promotional tips. Then, you'll have the formula for success.
5. Ask Loyal Customers for Leaving Reviews
Why is This Important?
Customer reviews can make or break you depending they are positive or negative.
90% of respondents reading online reviews said that positive reviews influenced their buying decisions. And 86% of people said they were influenced by negative online reviews. These figures show how important it is to have as many positive reviews about your eCommerce store and the products as possible.
However, you must not want to resort to the techniques in which you have to attempt to control everything about your store and products. Instead, it certainly doesn't hurt to make an effort to generate positive reviews. That's why you should ask your most loyal customers to review your products. It is an excellent way to get more positive reviews on your website.
There is a fact that only a few customers take the time to make a comment, even if they're very satisfied with the shopping experiences in your store. But if you ask, the vast majority of them, around 70 percent, are willing to comment on their satisfaction. So as soon as your customers make a purchase, ask for their feedback, which just takes a little nudging.
What can You Do?
To do so, you make it a point to reach out to your most loyal customers to ask them for a review. 
For instance, you can send an email to repeat customers, requesting feedback. It is because when a customer buys multiple times, they usually have a certain level of satisfaction.
Or you can also give a discount on your website for customers who take the time to leave you a positive review. 
It is also effective to reach out to notable YouTubers and ask them to review your products. With their multiple reviews for their products, they will bring in a good amount of traffic from both YouTube and Google. 
As you can see, there are different ways to go with reviews. The bottom line is getting positive customer reviews. This will help you increase eCommerce traffic and enhance your reputation. Positive customer reviews are considered as good as gold.
In Conclusion
One of the most interesting things about digital marketing is that it controls the playing field between major brands and smaller ones. 
Fortunately, you don't need a massive budget to drive traffic to your eCommerce store. There are many small brands that go from being completely zero to well-known by just thinking outside the box. If you're sensible enough with the newest, but productive methods and tap into the right resources, you can quickly increase eCommerce traffic and consistently generate quality leads. 
Hopefully, the strategies given in this post will give you helpful ideas on how to drive traffic to your eCommerce store.