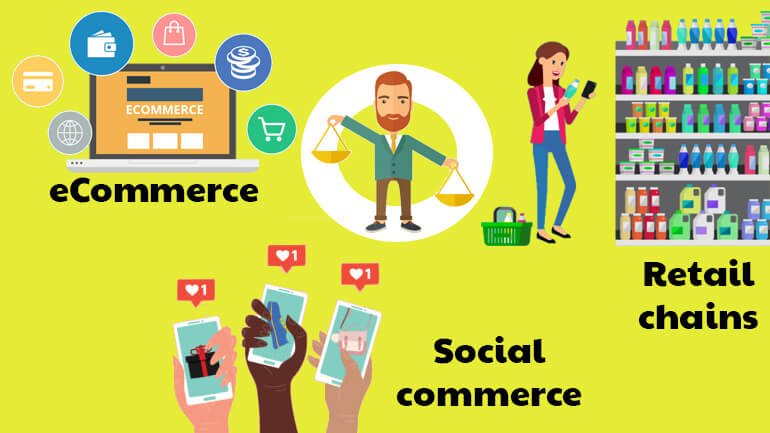 In the form of sales, it can be said that online business is the easiest to start because you do not have to spend too many operating costs, and time is also more flexible. It could be an eCommerce store or simply a social store, Facebook, for example.
However, compared to traditional stores, it'll be not true to say that online business is certainly making a bigger profit unless you know how to use the right tools.
In general, each form of business will have its own benefits and drawbacks. Therefore, in this article, we will help you choose the form that best suits your needs.
So don't miss anything in this eCommerce comparison!
A quick look at the major types of commerce: eCommerce, traditional commerce, social commerce
Traditional commerce is buying and selling goods at a geographical location, of which the goods can be physical products or services. Customers can go to the store to choose and purchase the goods or contact the store to deliver for them.
eCommerce is buying and selling through the Internet. This form is also known as electronic commerce or internet commerce, where goods, similar to traditional commerce, can be physical products or services. However, customers will not directly choose but select goods through photos or product descriptions provided by the seller. After that, the goods will be shipped to the buyer or some other way, depending on the type of product and service.
Social commerce is similar to eCommerce. However, it is buying and selling on networking websites through the use of online media and user contributions.
Simply put, traditional commerce is that you sell at the store. Meanwhile, eCommerce is that you make sales on your website, and social business is selling on social networking sites like Facebook, Instagram, or Twitter.
So, what are their benefits and limitations?
eCommerce
Pros
The largest market
Globally trading scope 
Fast response to consumer trends and market demand
Ability to scale up quickly and vice versa
More opportunities to make sales
Customer insights through tracking and analytics
Personalized messaging
Lower cost
Increased sales with instant gratification
Unlimited "shelf space"
Cons
Lack of personal touch and tactile experience
Credit card fraud
Need for Internet access
Downtime or technology hiccups
IT security issues
Complexity in taxation, regulations, and compliance
Expensive marketing cost
Traditional commerce
Pros
More reliable
Most consumers choose to buy in stores instead of buying online
Consumers can see and check the products directly before buying them
Fewer scams
No hackers and scammers
No need for the Internet
No need for technology skills
Face-to-face communicate with customers
Cons
Constructing and operating costs
Working time is fixed, not flexible
More hand-relating tasks to do at the store
Business scaling is difficult and needs huge capital investment
More complicated and risky to start
Limited "shelf space"
Confined distribution area
Social commerce
Pros
Decrease marketing costs
Expandable sales nationwide
Drive lead to your website (if any) and increase the growth of the audience
More comprehensive customer engagement
Opportunity for customer feedback
Opportunity to do market research about your customers
Two-way communication
Customer loyalty and retention
Cons
Social media needs daily monitoring
Need clear marketing or social media strategy
Need to manage social media presence to see the real benefits
Can encounter negative feedback, information leaks or hacking
Lots of competitors
Lack of trust
Not scalable due to poor management method
Head to head comparison
Ease of use
Compared to building and operating a physical store, selling on a pre-programmed website is much easier.
Although you will need knowledge and skills in technology and eCommerce, there are many shopping cart platforms that provide the ease of use feature. Combined with the support of the experts of the vendors and the platform development communities, you will not have much difficulty with your business on the website.
With social commerce, it is even more accessible because it is common. You only need to tinker a bit and know how to set up an account for your store, and with a small investment, you can use social media for your business development.
Costs
Traditional commerce requires a significant investment in order to run your store. Besides, you also have to prepare the money to hire employees, promote businesses through advertising, along with transportation costs, warehousing, etc.
Contrary to this, eCommerce and social commerce do not require a large investment because you will not sell directly to customers but sell services and products electronically. This results in a significant reduction in costs compared to traditional commerce.
There is an issue that we want you to notice. That's when you sell goods on social networking websites or online stores, you'll get a discount on fees that are called fees for middlemen. Therefore, they will be more competitive than traditional commerce.
Potential profits
There are many factors that determine the profitability of a business, including types of product, location, availability of goods, competition, customer segmentation, etc.
For example, some items that are sold online will be more profitable than offline sales because their customers are young people, and there are items that are the opposite. Therefore, you need to know how to analyze the type of goods, customer subjects, and potentials, etc. to choose the appropriate sales method.
However, in general, social commerce will not bring much profit compared to the other two methods.
Scalability
Scaling up traditional stores will cost a lot of money and include a variety of paperwork processes. This is because traditional commerce is direct selling, meaning that your business will be developed in a physical environment in one or more particular localities.
As for the eCommerce store, because it is developed in a virtual environment, you will have to pay a fee to upgrade the plan of an eCommerce platform provider. However, it is still much cheaper than building a new store in a distinct location. Meanwhile, the number of customers in the virtual market will be larger and easier to access compared to the physical market, making scalability of eCommerce more straightforward.
Customer relationships
The development of technology and the Internet has made eCommerce and social commerce a new form of business for product suppliers. But it is not only about selling but also focusing on the areas of after-sales service such as customer feedback, customer support, or membership registration. That is one of the advantages that traditional commerce is hard to match.
For example, some clothing or coffee shops already have a loyalty program to boost sales in the future. However, not everyone is willing to come back for a second purchase, like visiting the online store or visiting the store's Facebook page.
Therefore, it can be said that if you open an online store, whether it is eCommerce or social commerce, you will not only have a larger number of customers, but you will also be easier to consolidate customer loyalty.
Customer experience
Each form of sales will offer different customer experiences.
Specifically, for a traditional store, your customers will buy in person or face to face. As such, they have the opportunity to test the product before deciding whether to buy it or not.
Besides, they are immediately advised by the staff at the store, do not have to wait for the response as when buying online. This will help the seller know the aspirations and tastes of customers. And if they cannot meet the products they need, the store can choose for them the available alternatives, which are similar to their requirements.
When you sell online on a website, there is no direct contact between the seller and buyer but only over the Internet. Therefore, if customers need more information about the product or need advice between multiple options, some technology tools will be needed to meet the needs of the customers.
The advent of the Internet eliminates physical and geographical barriers between the seller and buyer. Even though when customers buy products online, they cannot test products, they can still get an overview of them through product ratings and reviews. In addition, they can compare products at different prices and materials, etc.
The next benefit of eCommerce and social commerce is that they will enjoy after-sales services that direct shoppers don't have.
Marketing (Advertising and Promotions)
Since traditional commerce is the interaction of sale and purchase between the two parties (ie, the seller and buyer), the advertising made by this method will be delivered directly from the seller to the buyer.
If you're selling on social media, the best way to promote your brand and products is through campaigns. And the biggest requirement for buyers to be able to access ads of this form is an Internet-connected device.
Therefore, your ads will reach more customers and faster because today, most people in the world are using the Internet every day, not just local people. Not only that, shoppers can view products at any time. That is, it is not limited to operating hours like traditional stores.
If you choose eCommerce, you will not need to spend too much money to advertise new products launched because often, the platform vendors will allow you to advertise on your website. Or, you will have to shell out a small amount of money to integrate with third-party vendor applications.
Payment methods
Unlike physical stores that only accept credit cards and cash, selling on websites will help you and your customers have more payment options. At the same time, many eCommerce platforms are also associated with many common third-party payment methods such as Paypal.
In addition, purchasing online will avoid annoying customers due to queuing.
And it gets better:
Payment and accounting procedures will be listed and analyzed immediately in the online store system. You will not have to inventory or calculate daily or monthly profits. And thanks to that automated system, you will know which items are bringing in the most revenue and vice versa, which ones need to be applied promotion or liquidation.
Security
You may face security issues like theft or steal at a traditional store. Meanwhile, the network is also not safer than it due to hackers or technical errors, network security, which can cause information leakage, memory loss, or even website crash.
Which will be best for you?
It depends.
If you are new to the business, we recommend you try selling on social networks like Facebook, Instagram, etc. depending on what you sell. On Facebook, there are many groups that act as a marketplace for you to introduce and sell products. In addition, the initial fee you pay may even equal to zero.
If you have a budget and want to focus on exploiting the strengths of the product you plan to sell locally, you should open a traditional store. You may take more time and effort than the previous way, but you will have the opportunity to earn more profits.
If you want to save operating costs but can still create more profits than selling on social networks, you can choose to open an online store or do business on multi-vendor websites such as Amazon, eBay, etc.
But stay with me.
What's the big puzzle I'm talking about?
That is, you can combine any two of the three methods above to take full advantage of them.
I'll explain with an example.
When you open a traditional store, you will get a regular profit from local people. However, the ability to expand the store and communicate with customers will be limited. Therefore, you can create an additional social networking store to attract more customers who live anywhere. As a result, your brand will increase its recognition, and profit will rise accordingly.
How about a combination?
So what if you combine all three types of commerce?
It will become a complete commerce business that will help you go as fast as you can on your career. Because each type has pros and cons, you can use the pros of this one as a key to solving the problem of the others. As such, their drawbacks will be minimized while the advantages will be significantly promoted.
But when should you combine them? What about the order?
Depending on where you stand in the industry, you can decide where to start. As we have analyzed, if you do not have a lot of investment, the best way is to rely on the internet first because it helps you reach a wide range of customers and does not require much cost. But it is not perfect, and indeed, you will need to open a store to enhance the reputation of your business in the mind of customers.
One more thing that determines their order is the type of product you are selling. In general, you should choose the model that suits your business, market, and budget first.
And if you're already on your way with one of the three forms of commerce, you can add the other two as your customers' needs increase. It not only ensures your income is always stable, even increased, but it also helps you not to be left behind your competitors.
In today's evolving commerce world, establishing a long-term strategy is essential. Take it step-by-step, not in a hurry. And also, do not limit yourself to one type of commerce. That is, "don't put all your eggs in one basket."
Our last words
Whether you choose to do business on social networks, open online stores, or traditional stores, you can still make a lot of profit if you take advantage of these forms. If you still have anything to solve, don't hesitate to let us know by contacting us or leaving your comment below. Please like and share it if the eCommerce comparison is useful for you. Thank you.