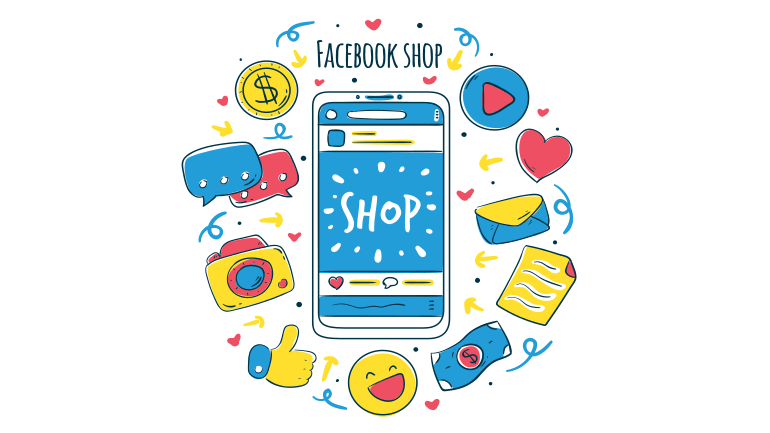 For about ten years of development, Facebook has expanded more and more exciting features that can help this modern life become easier just through some clicks.
As it is shaped as the most popular social network boasting approximately about 3 billion users every month, the newest service just came to make online trading even more prominent: Facebook Shop.
Letꞌs dive into some detailed features of this new tool!
What is Facebook Shop?
Everything starts with one click is precisely how Facebook works, so does the Facebook Shop.
We have all been acquainted for too long to the online shopping form through some outside apps. And this has happened with some steps to find a lot of information about the products.
Now, if these ideas of online shopping seem familiar. But perhaps,  they waste time researching products (for customers). They also require many efforts for sellers, that is also why Facebook Shop appeared to win the crowd's approval. 
Facebook Shop is related to Facebook Stores, which began to launch from May this year. It is a platform for configuring your Facebook pages to promote and sell your products through the Facebook foundation.
When people scroll their newsfeed, they will see your stores, and right after they click on it, a new page is expanded with more information about the products and shopping form.
This tool is like a new start-up idea for people to create their own business directly and quickly to Facebook users. 
To be more convenient for users, Facebook Shop just needs some steps to set up a single online store for customers. It allows us to access straight to Facebook and Instagram – the two largest social networking sites with billions of daily users.
No need to be a professional or significant trading business; you can easily approach the broader social marketing market with free, fast, and full-featured. 
Highlight features of Facebook Shop
While the wave of e-commerce was growing up too fast in this decade, it is missing if you do not try to jump in and skip this chance to boost your sales on Facebook Shop.
It benefits both retailers and shoppers in many ways. We have not mentioned things that you have for your business journey, but this is probably the reason why you need Facebook Shop.
Live Shopping feature
Facebook adds a new feature called Live Shopping. Facebook users must be familiar with watching live streams on these social networks to buy their favorite items. Therefore, Facebook has added a Live Shopping feature that helps to show products and allows users to try the product with augmented reality.
Live Shopping is an exciting feature. You only need to tag products from the Facebook Shop or product catalog before live streaming, and those products will be displayed above the screen. These products will be displayed right on the live video. Viewers can click to learn more or try directly with AR.
Program to connect your Facebook account with loyal customers
Are your customers interested in your product? Do they want to come back to continue your purchase? You always wonder about such questions. Do not worry. The program that connects your Facebook account with your loyal customers will help you know what your customers want.
Therefore, buyers can track their points and rewards when shopping at a shop. Businesses can easily create, manage, and display loyalty programs right on Facebook Shop. Consumers will be interested in the scores they gain by buying shop properties, so they will quickly return to the shop to use that score to make purchases. Besides, leaving some feedback will also make the shop have better changes.
Working with partners
The partners that Facebook Shop cooperates with are famous companies, including Shopify, BigCommerce, WooCommerce, ChannelIDIA, CedC Commerce, Cafe24, Tienda Nube, and Feedonomics. This close cooperation can provide small businesses with the support they need. This means that companies will be able to build and grow their shops using commercial tools of these big companies.
Directly registration and promotion
Facebook Shop has been launched as a tab to take the users straight into an online store. It is based on e-commerce shopping, so the first great thing about it is about directly signing in.
You do not need to create many new accounts or connect from some outside sites to promote; all you need is just an available account or existing Facebook profile.
From your account, you can sign in and easily own your new shop. When you complete building your store, your products can also be shared directly with your profile or linked to different platforms or anywhere.
Thanks to the acquisition of Facebook to the other social media and releasing some new features to the users, now your customers can see your products just by one swipe through using them. 
Free design templates to customize the product's inventory
When you have done your set up and are ready to become a master in online business with Facebook Shop,  now you can build your store visually with the most useful feature of this tool: tagging and free designing. Like a step of decoration for your stores and some marketing strategies required, this feature of Facebook Shop will short your things but still attract your customers to help you boost your sales. 
First, after setting up your brand in the Facebook Shop, you need to have a plan to stand out your products; and in this tool, it allows you to upload your photos and videos with full HD-quality and has many templates for you to choose to state your storefront.
Next, the most important thing we want to mention: the tagging feature. You can tag and mark your product`s information in your image.
This will help your buyers quickly know more of the products you are selling, and they do not get shy to contact you to get advice.
Moreover, it also ensures them to be aware of your stores through the tags. To short your time to promote is to save your money in advertising.  
Understanding customers through Facebook's social engagement
Facebook is accessed by a billion users monthly and million users daily. It is a place where people live, and they spend at least an hour scrolling their feed.
So, starting the business here means you need to put the step to approach customers into your marketing strategies.
But when you have Facebook Shop, this step is almost free and uncomplicated to get insight into the preference for shopping from your customers.
Adding your store to Facebook Shop helps you to capitalize on the engagement of the users. It happened in every post that your customers interact.
Like a normal status posting in your feed, your sales post also contains some actions for users to cooperate, such as like, comment, reaction, share, and save to later view.
These actions are called social-proof, it will be saved into data, and just through the Facebook Shop, you can have a quick reference to understand what products your customers are influenced by. 
So, according to the Facebook Guideline, this is a way to get insights into your shop: Click Publishing Tools at the top of your Page, click the Shop tab from the menu on the left and click Products.
Even though this feature is a new tool, it will bring you a lot of high chances to put forward your business. The three reasons above are related to new stuff that all future online investors need to create their brands on Facebook Shop right now!
How to turn on sales on Facebook Shop?
After exploring enough information about this great function, undoubtedly that you are ready and feel highly enthusiastic about creating your stores on this lucrative market.
And in this part, here is your guideline to set up and turn on sales on Facebook Shop. But before starting to become an owner, you need to be a part of this networking, which means you need to set up a Facebook Business Page on your devices; and besides, you must make sure all your items are the legal owner and agree to Merchant Terms. 
And so, how to turn it on? 
Step #1: Go to your page settings and add the "Shop'' tab.
This action will lead you to the dashboard that has some options for your purpose. In this menu, click on "Template and Tabs'' to add a new tab and click to operate the new tab to your page named "Shop''. In this on-screen instructions, you need to fill all the fields, and it highly recommends this "Shop'' tab will be arranged on top of the lines. 
Step #2: After adding the "Shop'' tab, add "Shop Products''.
When you finish your setting on the "Shop'' tab, the screen will appear with a blue bar named "Add Product". 
Now by clicking on this button, you can upload your photos or videos for your products. In this step, Facebook has guided us to upload the best picture with some tips, such as including at least one image for each product listing and those photos must have a resolution of 1024 x 1024 or higher with the square format. 
Next is a step for decorating your stall – add title and description for each product. It is a formal business form, so its title will require a clear, short, and visual style, so do not use some special symbols or stickers like you are chatting with friends and filling the price and the description with qualified information for your items.
To make it more ideal, your description box should present enough about its unique features, prices, size, inventory status, and make sure your words line must be grammatically correct. And after filling all of your item's details, click on the "Save" button.
With these two steps, you are ready to release to start your online store and turn on sales on Facebook Shop.
Besides, if you are wondering about how to manage the products exactly after a day, just control your inventory in the dashboard near the sidebar menu: click on the "Publishing Tools", and more like this, the button of the "Shop" in the list will show your orders. 
And in the last part is all about the bonus question that every one of the future online masters will concern about: 
How to sell on Facebook Shop effectively? 
Different from the other kinds of investing, online business is the most lucrative business form. It is known as a competitive playground – while it is expanding more and more benefits in Facebook Shop, the overwhelming challenges are coming up for every online enterprise to prove them in the market. 
With Facebook Shop features, it is going about presenting more on the surfaces of business through the social stuff, and all you need is not only a tactic for marketing in real life but also an approach closer to the future of eCommerce – Facebook. Here is the list of 3 things you need to do if you want to sell on Facebook Shop 
effectively. 
Building your brand to have a professional look with good contents
We all know that starting an online shop on Facebook is just as easy as pie, and the simplest thing that highlights yours to users is only for a second. So let's start from building your page with professional style.
Your avatar or your cover picture is public, and it is like a symbol of our business, so let's make your logo with a unique form that presents colours, features about your selling items. Besides, you also need a plan for creating content for your daily posts to interact with customers. 
Interacting with customers 
Facebook is a small world that people can be connected to quickly without touching. If one customer attracts your sale posts, he or she will click on "share" it out to the friend-list, and thanks to this, you will get free advertising.
So the key is, let's make more interaction with your customers. You can create some mini-games to give-away the gifts, or make some trending posts, share some viral videos, or generate some flash sales for your selected items. Do not forget to add a Share button! 
Decorating your store with high-quality photos, videos
The last move in your increasing sales plan is focusing on the surfaces. With Facebook Shop, it is like a storefront to show what you have, and to attract customers in a hundred shops is not easy.
There are hundreds of shops on Facebook, how to make customers choose yours? Your picture presents the products, so let invest them with the highest quality to post.
All of your products posting, they need to be synchronous to your business styles. To take an example, if you are selling clothes for teenagers, you need to know what the trend of those styles that the youngsters use for taking photos and then you can show them on the item's picture. 
Conclusion 
The newest tool – Facebook Shop is not only helpful for those Facebook users who are going to launch their business but also friendly for those who are searching for a swiftly shopping foundation without going out to find the best products.
In short, using the Facebook Shop will empower business masters to sell their items to customers in the fastest and safest way. With all the things about Facebook Shop in this article, this information above may provide enough information that you need to know.
To be a successful seller in this market, you need to learn every move of Facebook updating every second. Now, you can start your business and jump into your online career – better late than never trying!