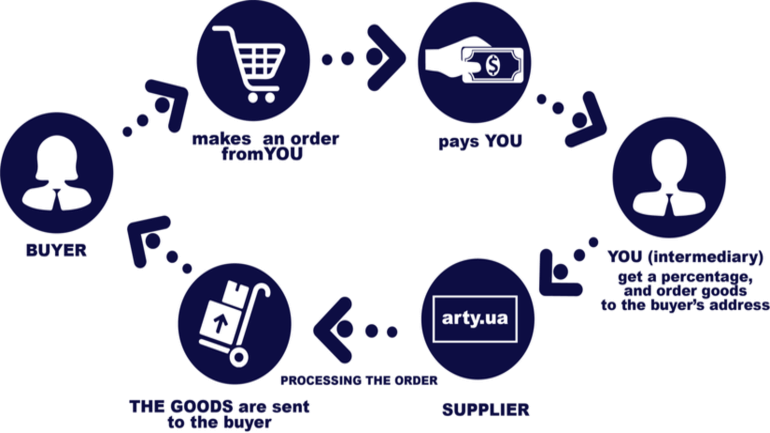 In the field of eCommerce, dropshipping is a tendency presenting an important position. More specifically, it is a convenient and flexible model that helps you make money without having to invest capital.
Magical, right?
However…
Dropshipping is not a perfect system and it's not free for everyone to reach success. Therefore, it's essential to understand how to start a dropshipping business.
Through this article, you will know the potential of dropshipping and why it is the hottest form of online money making today. Besides, we'll also provide some tips for you to take advantage of what it can bring about to maximize profits.
What is dropshipping and dropshipper?
Dropshipping is a form of online selling that you are a retailer and you will connect directly with suppliers.
It is simply understood as "sales without shipping."  The person who owns this process is called the Dropshipper.
That is, you will not have to ship goods to customers but just focus on product marketing, order tracking, and customer care, etc. The suppliers' responsibility is delivering the goods to your customers.
About the way it works, we'll discuss in the next part.
Advantages
Does not require much capital
Perhaps the biggest advantage of dropshipping is that you can start an online business without investing a large amount of money in warehouses, stores, products as well as other expenses like traditional shops.
Effortless
Starting an online store is usually easier when you don't have to deal with merchandise-related jobs. You will not have to manage goods, packaging or tracking inventory on books, etc.
Moreover, most additional order processing work will be handled by dropshipping providers like AliExpress. This has great benefits in helping you expand your business scale and increase sales.
At the same time, if the supplier hosts a list of goods, you can list them all on your website for free.
Flexible location
As long as you can negotiate with suppliers and customers easily, you can start and manage your business anywhere with just a computer and the internet.
Drawbacks
Low profit: Dropshipping is an attractive business model, so this environment is highly competitive. Therefore, it is not easy to get big profits when you need to create a price advantage over many competitors.
Inventory issues: Ordering goods from many different suppliers, you will be hard to track where your products are.
Complex shipping: Many different suppliers mean your shipping is more complicated.
Error from suppliers: It's very difficult for you to control product quality. Even the best dropshipping suppliers can make a mistake when completing an order. Anyway, choose reputable suppliers to minimize such cases that may occur.
How dropshipping helps your business successful
Before finding out how to start a dropshipping business, you need to know the way it works.
When customers purchase, you will send order information to the suppliers and the suppliers will be obliged to send goods to the customer.
The profit you gain is the difference between your selling price and the suppliers' which has been minus by shipping costs.
The difference you receive depends on the type of product. If you have the skills to search for reliable suppliers who offer good services and choose potential products, it can be up to several hundred percents. Normally, a profit of 30-60 percent is acceptable.
With this model, the suppliers will set a special preferential price for you that is called wholesale price. It is applied for single product orders.
Is it suitable for you?
Dropshipping is easy to get started and requires no expertise or capital. Therefore, it is suitable for everyone from beginners to explore online business to professional ones.
If you already have a job and want to earn extra income, dropshipping will be a wise choice. The profit you receive from dropshipping will vary based on the amount of time you invest in it.
And, if you want it to be your main job, it is not a matter at all.
But still,…
You must understand that the dropshipping environment is always a fierce competition. You will have to invest time in marketing, responding to customers, building an online store, and doing everything to attract your potential customers.
Hence, once you choose to try dropshipping, you need to focus and give it a certain amount of time and effort.
Some of the greatest dropshipping suppliers
AliExpress
As one of the Alibaba group eCommerce websites, AliExpress is specially designed for dropshipping models.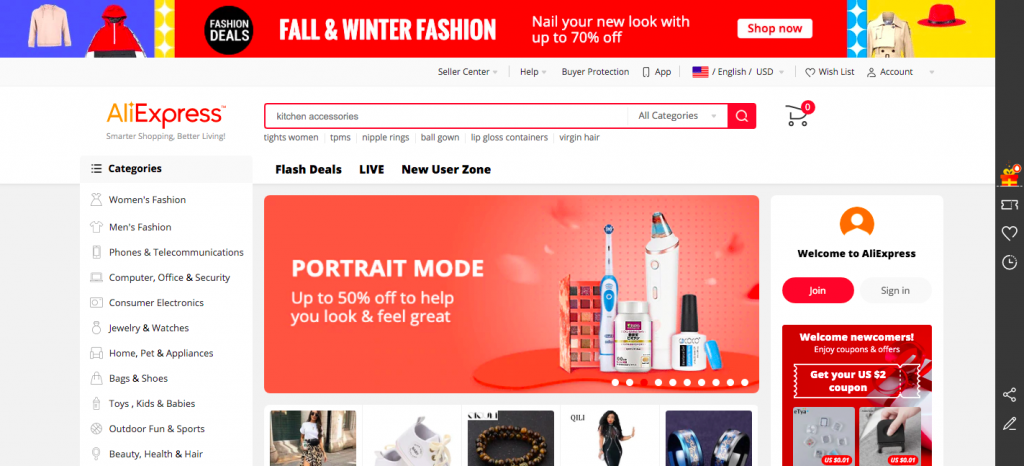 You can search for products on it from millions of options. When you find an item you like, you simply need to get product information from AliExpress into your dropshipping store and set your own price.
SaleHoo
Working with a wide range of quality suppliers, SaleHoo connects retailers with wholesalers around the world, especially in the US, UK, and Australia. Although you have to pay a registration fee, it is still a top choice if you want to source goods that suit European and American customers.
Doba
Doba is home to nearly 2 million products in many different categories provided by about 150 reputable suppliers worldwide. This marketplace is quite selective about the provider participating in online trading, so you will have to pay a registration fee from $29/month.
Wholesale2B
Wholesale2B is a leader in providing product data, Dropshipping tools and services. They have more than 1.5 million products offered by several reputable wholesale suppliers.
When using a Wholesale2B platform, you will have access to a well of Dropship products and maximize your profits by offering genuine wholesale prices.
Dropship Direct
This is a specialized shipping site for dropshipping in the United States. It offers more than 100,000 products and 50,000 retailers here. The shipping time is shortened to a maximum of 2-3 working days.
Easy steps to start a dropshipping business
#1: Seeking potential products and select suppliers
This is the first step for you to negotiate with suppliers about price, shipping method by price, and shipping time. This step is extremely important, deciding 80% of the business's victory.
#2: Selecting sales market
In this step, you will post the product to your store on some marketplaces such as eBay, Amazon, or a separate store website. Before that, you would have to choose an appropriate dropshipping supplier source that we will clarify later.
To create and design a dropshipping online store, you can use eCommerce platforms of Shopify, WooCommerce, Magento, or WordPress.
For Shopify, you can use the Oberlo application that allows you to search, compare products on the marketplace, and automatically post products to Shopify online store with just a few clicks.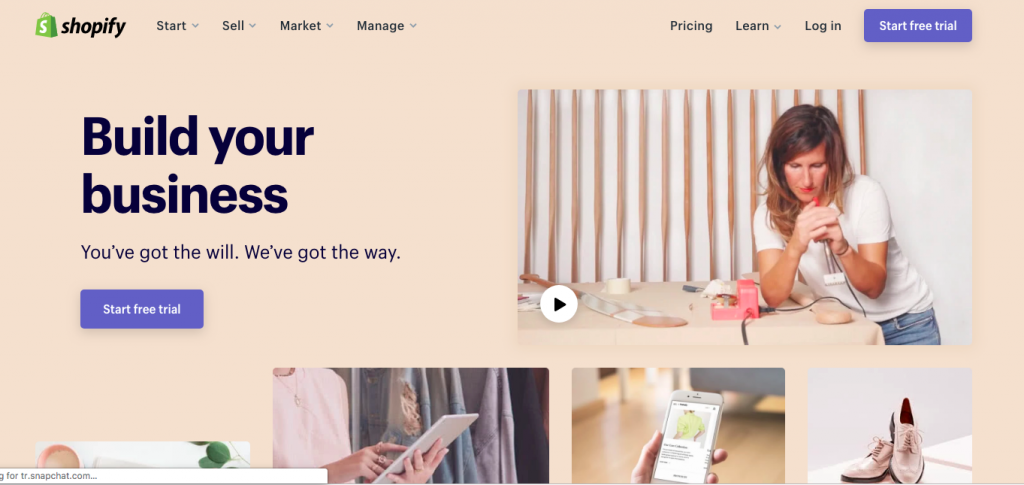 #3: Closing orders and sending goods to customers
Customers will go to your store to purchase via accounts on Paypal, Payoneer or other gates accepted by the channel.
You use that money to buy goods from suppliers and ask them to ship the product to your customers.
The suppliers will be responsible for packaging and shipping products to consumers. They will then send the tracking information to you. You'll track orders and take care of customers.
After a month of sales, you should summarize to know how much profit each product creates and optimize the steps to increase earnings in the next sale.
Some tips when running a dropshipping business
Persevere, persevere and … persevere
If you are a newbie, then 90% you will fail in the first moves even though you clearly know how to start a dropshipping business. Do not give up but keep continuing and develop your skills every day so that you can reach the end of the path.
The cheapest is not always good
Since you can't tell if a product's price is proportional to its quality, be careful when choosing products that are much cheaper than the average price.
Besides, you can also order samples to check the quality.
Find suppliers with high positive ratings
Reviews about suppliers really matter to any sales network.
Imagine you are shopping and someone tells you that the seller is a scam. Will you continue shopping there? Definitely not.
Find products with a good shipping service
Lengthy delivery time is a problem for dropshipping. So, you need to find suppliers who provide fast shipping methods.
For example, AliExpress has ePacket shipping. It takes only about 1-2 weeks for the items to be shipped from the suppliers to your customers.
How to choose the right product to sell?
There are many sources for you to determine which products are potential.
Some big sales networks have a database of best-selling products for each specific category, through which you can see current trends and decide which products to sell.
Social networking sites like Pinterest, Polyvore, Fancy, or Wanelo have millions of products for your reference. Create an account and follow the topics that interest you. From there, you will see the product ideas for sale.
Also, look for products that don't have many suppliers but have a large number of potential customers.
Check the positivity level of your product idea by entering it in Google Keywords Analysis tool or trends.google.com. Then, ignore those with low search volume and less potential.
After chooses a product niche, select some of the hottest items to run ads. If customers do not like one product on your online store, they may buy another similar one.
Conclusion
Dropshipping is an effective way to make money online and it is extremely important for either amateur or professional people. If you decide to enter the online business world through dropshipping, we are always ready to advise you. So, for further information, don't hesitate to let us know. Please like and share the article with others if you find it useful. Thank you.