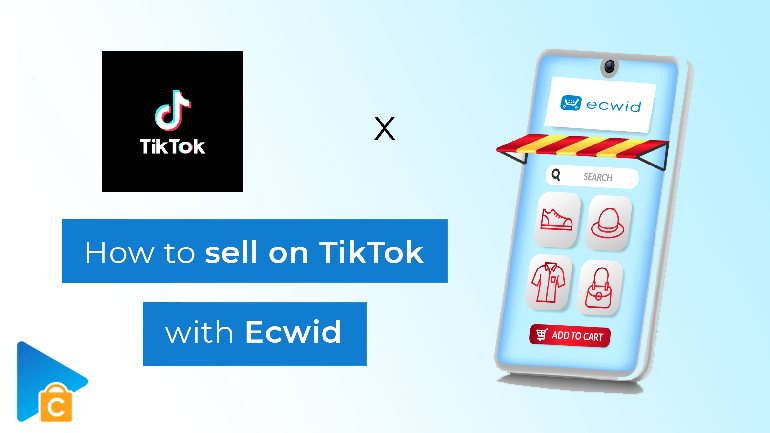 What is TikTok? It is a social media platform where users can create and post short videos on every topic that they can imagine. It has grown so fast that it has become one of the biggest social media platforms globally in the shortest time. Meanwhile, Ecwid is one of the new eCommerce platforms that enables anyone to easily create online stores and sell things. If you are doing a business with multivendor eCommerce, it is essential to know how to sell on TikTok with Ecwid.
Being aware that learning how to sell on TikTok can be intimidating, we decided to create this guide to help you get started easily. At Ecwid, what we want is that sellers will feel empowered and supported to sell their incredible products to customers online. This post will show you how to make the most of the app to increase sales, selling products on TikTok more effectively.
Why is TikTok so Powerful?
Each TikTok video lasts no more than 60 seconds. Videos can be created with effects, filters, music, or voice-overs. They are of all types, from motivational videos, poems, tips, to highlights of all users' interesting moments.
In 2020, TikTok became the top mobile app worldwide, leaving behind big names like YouTube, Netflix, and Tinder. Almost 1 billion users, primarily between the ages of 10-29, are active monthly. TikTok is a great means to reach out to potential consumers. Your brand or company can be of any size to successfully capitalize on TikTok.
People open the app and use their TikTok regularly. It is said that a TikTok user is active on the app for up to an hour a day, scrolling through videos and products. Millions of viewers mean such an amount of dollars in buying power.
Learn more:
Build Your Audience and Community
Tools and data from TikTok can give you existing content that lets you know what other pros in your niche are attracting people's attention.
Once you can understand who you are interacting with, you can focus on the kind of TikTok content in order to build a large, loyal audience. For example, adding cool features like filters or sponsored hashtags can help in connecting to users better.
Grow Your Online Presence
It is necessary to share consumed content and always keep the entertainment value in priority. The important thing is to attract viewers' attention and create a relationship with them. With only a few seconds to grab viewers' attention as they scroll by, you should create eye-catching, useful, and entertaining content. And viewers will be more likely to watch and interact with it.
As many people watch your videos, the TikTok algorithm will suggest other users view them by listing them on their "for you page."
Tools and Analytics
The Sounds library on TikTok offers you an unlimited treasure of songs or dialogue from popular shows, movies, and even from other TikTok videos. Meanwhile, when you place Tik Tok Pixel on your website, store, or on ads, it can help you to track your customers' shopping journey. 
The Tik Tok resource center can help you understand the app in greater detail. Helpful sources like webinars to success stories allow you to connect better with your people.
Types of Accounts
Personal accounts are of viewers who you are getting to look at your products. They are potential consumers with their pain points and are looking for your unique approach.
Creator accounts are created for daily posting to grow your audience. This type of account contains detailed analytics about viewers on your channel and their habits online. The creator account can bring you money after you have 10,000 followers. It runs through a program called the Creator Fund.
For business accounts, you still get all the data analytics, performance tracking, advertising activities, and engagement data although there is no creator fund for this business type.
Selling with TikTok Shopping
The #1 fast-growing social media in the world, TikTok, which has a billion monthly active users, is the fastest growing social media in the world. This makes TikTok a perfect channel to display your products and promote your online store to a larger engaged audience.
You can attach your product catalog to TikTok and use TikTok Shopping to showcase products in your TikTok profile and tag them in your videos. TikTok Shopping will show a bag icon in your profile and videos that customers can see. Customers can tap on an icon to view the product's name, photos, description, and other details. Then, if they get interested, there is a direct link to your store where they can purchase the product.
When your Ecwid online store connects with TikTok, you will have a centralized platform with different tools to manage ads and your catalog. The tools include Business Center, Store Manager, and Ad Account. The synchronization of your Ecwid store with TikTok For Business allows you to either sell with TikTok Shopping or launch ad campaigns. 
The combination also helps to measure the performance of your ads with TikTok Pixel and enhance promotion strategy. With Ecwid admin, you can easily manage your catalog and process orders.
Requirements of Selling and Advertise on TikTok with Ecwid
When getting to know how to sell on TikTok with Ecwid, you need to know several requirements:
Have your Ecwid store connected to a TikTok For Business account. You can create an account while connecting your Ecwid store to TikTok.

Switch to a professional account on TikTok in a few clicks. It's totally free, but a Pro account will allow you to include links to your online store and other social media accounts.

Your store must be from one of the below countries and the currency used in the store must be one specified in brackets: Australia (AUD or USD), Canada (CAD or USD), Egypt (EGP or USD), France (Euro, USD, or GBP), Germany (Euro, USD, or GBP), Indonesia (IDR or USD), Israel (USD), Italy (Euro, USD, or GBP), Japan (JPY or USD), South Korea (KRW to USD), Malaysia (MYR or USD), Russia (RUB), Saudi Arabia (SAR or USD), Singapore (SGD or USD), Spain (Euro, USD, or GBP), Taiwan (TWD or USD), Thailand (THB or USD), Turkey (TRY or USD), United Arab Emirates (AED or USD), the UK (GBP, Euro, or USD), the US (USR, Euro, or GBP), Vietnam (VND or USD).

Your business must be registered in the US or UK to use TikTok Shopping. If not, but it belongs to one of the above-supported areas, you can still use TikTok For Business.

You should comply with TikTok advertising policies when creating any ads on TikTok.

You have to run a store on Ecwid for at least 30 days.
Connect Your Ecwid Store to TikTok For Business
You can make this connection in just two steps: you need first to connect TikTok For Business, then get approval from TikTok that you can display products in your profile.
About TikTok For Business
TikTok For Business is one of the eCommerce platforms where you can access all of the essential business tools in one place. With a TikTok profile, you can manage ad strategies, your shop's product catalog. 
To create TikTok Shopping, the first thing you have to do is connect your Ecwid store to your TikTok For Business that can be created while connecting the Ecwid store to TikTok. Then you need to sync your Ecwid catalog to your TikTok For Business account before you can proceed to create TikTok Shopping.
Based on your store's country, currency settings, and web address, TikTok will create an Ad Account and Catalog accordingly. The currency used in your Ecwid store will appear in your TikTok Catalog. And you cannot change the currency. Therefore, if there are any changes needed to your store's address or currency, you have to make changes before connecting Ecwid to TikTok. To do this, you can adjust settings in your Ecwid admin.
A step-by-step guide to link your Ecwid store to your TikTok For Business account
From the Ecwid admin, go to the TikTok page where you will specify the personal mobile phone number. Here you can also change the password to protect your account.

Click + Connect TikTok Account to be redirected to the TikTok For Business page.

If you don't have a TikTok For Business account, click Sign Up to create an account. If you already have one, log in to the TikTok For Business account, then click Connect.

Set up the Business Center in your TikTok for a Business account by adding the name and choosing to Create New. If you have an existing Business Center, you can associate with your Ecwid store by clicking Connect.

Enter the name for your pixel in the Data Sharing and click Create New.

Enter the name for your catalog in the Catalog field and click Create New.

Click Finish Setup to get things done.
After that, TikTok will take several hours to review your account and products. Then you can check the status of all the products in the Products on the TikTok page in your Ecwid admin. All products which are approved will appear in the "Listed products" section.
Connect TikTok Shopping
Once your Ecwid catalog is uploaded to a TikTok For Business account, you can create TikTok Shopping.
With TikTok Shopping, you can create a shop section in your TikTok profile. That means your followers can see products from your Ecwid store by clicking on the bag icon in your TikTok profile. If customers get more interested in any product, they can click on it to enter a product detail page. And they can do the checkout in your Ecwid store.
By tagging product links in videos, your customers can open the product page right on the TikTok app.
Steps to connect TikTok Shopping:
Go to the TikTok page on Ecwid admin, then scroll down, find and click Apply for TikTok Storefront.

Fill in the special form required by TikTok to make sure you can connect to TikTok Shopping.

Complete doing email confirmation.

In the Connect TikTok Shopping, click Connect TikTok Storefront to be redirected to the TikTok For Business page

Down to the TikTok Shopping section, click Connect and Finish Setup afterward.
When the process is done, the TikTok Shopping tab will appear in your TikTok profile. Then you can add products from your Ecwid to your TikTok Shop.
Add Products to Tik Tok Shop
When having things to sell on TikTok, you can choose to display only one product, or several products, even the whole catalog in your TikTok Shop if you want. The number of products displayed in the Store Manager is also your decision.
This is how you can add products to your TikTok profile:
On your TikTok Business Center, you can see the icon in the upper right corner, click on it and select Store Manager. Then you will see all stores associated with the TikTok For Business account.

Click on your desired Store Name to open the Store Manager page on which select the store and click on the Product tab.

Navigate to your desired product by using the Filter options to see only relevant products. You can also find out a specific product by SKU, ID, or product title.

You can add up to 1000 products to your TikTok Storefront where customers can see and shop in your TikTok Shop.
Add Product Links
Once TikTok Shopping approves your online store, you can add product links to the videos on your account. Product links contain tags of your items in organic TikTok posts. Customers can see the links in the bottom left corner of videos. When tapping on a link, users will be redirected to the product detail page on TikTok Storefront. And the checkout can be done there.
It is easy to add product link in a video:
In the TikTok app on your phone, tap the + icon to add a new video.

During the process to post your video, tap Add link.

Tap Product and select an item from the synced catalog and click Add.

Review the product that will be linked and tap Post.
Process Orders from TikTok
When TikTok users decide to make a purchase, they can click on the link to check out in your store. It is the same way for TikTok Shopping where a customer selects and clicks on a product to be redirected to your Ecwid store. 
After customers make an order, an automatic confirmation email is sent to them. You can check new orders in My sales → Orders in your Ecwid admin. Then what you need is to continue learning about how to sell on TikTok with Ecwid to get more orders in the future.
In Short,
Tik Tok is not only an amazing entertaining social media platform, but it is a great source of potential customers as well. By combining Ecwid, a new excellent eCommerce platform, and TikTok, you can take a huge advantage and become more competitive. This post, hopefully, has provided you with a vital guide on how to sell on TikTok with Ecwid. 
For your reference, if you intend to move to the Ecwid platform, don't miss out on the helpful service of Next Cart. It is a shopping cart migration tool that can help you do the whole process smoothly. Contact us 24/7 for more information.