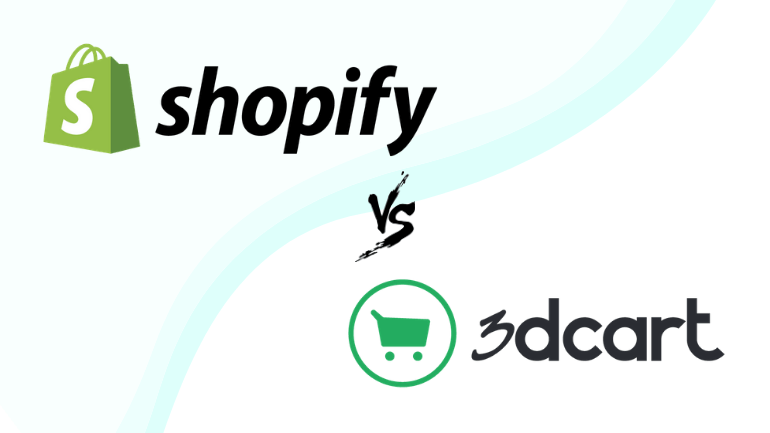 Choosing an appropriate eCommerce platform will not only help you increase revenue on your website but also minimize costs, thereby generating the most significant profit for your business.
So, what role does eCommerce platforms play?
From this tool, you will develop your website in some or all aspects, such as blog site, sales, etc. This is based on the needs of each business, so you should choose the platform that provides the proper features for your store.
Shopify and 3dcart are among the top choices of many large websites. If you're wondering how they differ from each other, don't skip this comparison: Shopify vs. 3dcart.
What do users expect from a good eCommerce platform?
A great eCommerce platform is a software application that is always ready to help you manage your website, including marketing, sales, and operations.
Next, what does it need to have to ensure your website works smoothly while customers are best supported?
Let's see.
Easy to use
Outstanding, consistent themes and designs
Useful plugins and extensions
Effective content management and potentials
Multilingual sites
Security
24/7 support
An overview of Shopify and 3dcart
Shopify
Tobias Lutke is a programmer. As technology and online sales developed, he opened a website that sold snowboards. However, when he realized that eCommerce solutions at that time still had many shortcomings, in 2006, he started to create a brand that would later become one of the leading ones – Shopify.
This platform is preferred because it integrates with many useful channels and comes with multiple user-friendly features.
By the end of 2019, more than one million merchants used Shopify, including many famous names like Bulletproof, Budweiser, Wateraid, The Economist, Leesa mattress, Sunday Somewhere, Red Bull, Yeezy Supply, or New York Times Shop, etc.
Features
Advanced shopping cart features
Customer profiles, accounts, and groups
100+ professional themes
Marketing and SEO
Mobile commerce ready
Email templates
Web-based website builder
Web hosting
Free SSL
Flexible shipping rates
Accept credit cards with Shopify
Domain name
70 payment gateways
Automatic carrier shipping rates
Full blogging platform
Automatic taxes
Analytics
Dropshipping
Refunds
Brand and customizing of your online store
3dcart
3dcart is also praised for its user-friendly features, innovation, and additional services. And, you can customize them according to your business's needs.
You might be thinking 3dcart is an emerging eCommerce platform.
Well… not really.
It turns out that 3dcart is one of the pioneering eCommerce solutions, born when the internet and technology have just launched in the world. It's admirable that the software has a lifespan of over 20 years!
Therefore, we found that the assessment between the two kings of the eCommerce platforms, which are Shopify – a new innovative solution and 3dcart – a reliable "village elder", will be an interesting comparison.
Before coming to more specific reviews, let's take a look at the features of 3dcart.
Features
Support for backorders and waitlists
Integrated with Endicia Label Server
Support for digital products
Gift certifications, coupons, discounts, etc.
CRM features
Bulk importing/exporting
Inventory control, which includes batch editing and low stock alerts
SEO tools
PCI certified
Customizable invoices
Product options, including bundles
Robust tax and shipping calculators
Shipment tracking
No transaction fees
Built-in marketing features
Comparison: Shopify vs. 3dcart
Ease of use
3dcart is rated as an intuitive and simple eCommerce platform, suitable for most websites on the planet. However, when compared to a platform, which even a person with no knowledge of eCommerce can use easily, like Shopify, 3dcart has really lost in the game.
Not only is it easy to use, but Shopify also comes with a preview option that helps you fix errors when designing your website before saving it.
If you still wonder between these two easy-to-use options, try Shopify's 14-day trial and 3dcart's 15-day trial.
Themes and designs
While 3dcart is appreciated for its features, Shopify excels with its outstanding, easy-to-use themes and templates. The interesting fact is that complaints also point to the remaining aspect of each platform.
Thus, it can be clearly seen that in the war on themes and designs, Shopify prevails.
You may find it difficult to understand when the number of free and paid themes of Shopify is smaller than those of 3dcart, and Shopify's paid themes are also more expensive, ranging from $140 to $180.
Here's the deal:
If we talk about the overall design, Shopify easily convinces any website developer. Best of all, the platform's themes also come with many industry-specific features, making it easy for you to choose a design that is consistent with your business.
Moreover, you can also edit your website right on your phone.
Integrations
Both Shopify and 3dcart integrate with many popular names with several different functions. In particular, there is a special inventory management feature that we will cover later in a separate section.
3dcart may have fewer integrations than Shopify, but it is still a powerful platform, and some of its tools are extremely useful for sales. You will integrate with major shipping companies like UPS and FedEx, social media like Facebook, or popular payment methods like PayPal, etc.
Isn't that great?
Yet, Shopify can do more than that. It allows you to integrate with multiple payment options, sales management, SEO and analytics tracking tools, online credit/debit card gateways, and use third-party integrations, etc.
Can you guess?
The number of Shopify's integration options is up to 2,000!
Extensions
This is one of the issues that you will probably be quite disappointed when choosing either Shopify or 3dcart. That is, all packages of both these two platforms do not include extensions, and advanced plans are no exception.
Therefore, if you want to find more advanced features to help develop your website, you will have to find extensions in the App Marketplaces or those of third parties.
Additionally, the cost of these extensions also increases rapidly. In particular, those who need to use several extensions will feel uncomfortable when they have to spend a large amount of money every month.
Content management and potential
Both Shopify and 3dcart are convenient for you to develop and manage content on your website. Whether you want to develop a blog channel or just sell goods, the content management feature will be useful for you one day.
3dcart has a powerful content management system that comes with shopping cart software, allowing you to not only grow your blog but also to sell products. It has a wide range of marketing and SEO tools, making your site more valuable on search engines like Google.
However, Shopify is still rated higher than not only 3dcart but also most of its competitors, because it provides more than those marketing and SEO tools. It is also very easy to use, supports mobile phones, and features advanced SEO.
Anyway, with both the two platforms, you'll have a high-traffic website that can attract and retain customers. And the final result is, it will boost your revenue.
Multilingual sites
For a large-scale website or a large audience, multilingual capabilities are very important. If you do not understand this feature, we'll explain it to you. It helps your store display content in many different languages. Zara is one of the best examples of a multilingual website.
Sadly, both Shopify and 3dcart have limitations in this feature. Shopify still supports multiple languages on payment sites, while 3dcart is based on the Cyrillic script. Even so, all is still to a limited extent. Therefore, you will need third-party tools to develop your website into a channel for audiences in many different countries.
Cost
Both Shopify and 3dcart offer various prices, in which you see some differences between packages of similar sizes and features.
3dcart offers plans in the range of $19- $229/month. Shopify, meanwhile, sets prices ranging from $29/month to $299/month for their products.
Specifically, the costs that you have to pay for each Shopify and 3dcart plan are shown in the table below.
3dcart
Shopify
Plans
Price
Plans
Price
Startup Store
$19/month
Basic Shopify
$29/month
Basic Store
$29/month
Shopify
$79/month
Plus Store
$79/month
Advanced Shopify
$299/month
Pro Store
$229/month
 
 
As you can see, if you just started your store with an eCommerce platform, you will save a lot when using 3dcart's Startup Store plan. It costs only $19/month, lower than the Basic Shopify plan $10, and also does not charge any additional fees or transaction fees.
Additionally, 3dcart gives you more options, including four packages: Startup Store, Basic Store, Plus Store, and Pro Store. Besides paying monthly, you can choose to pay by the year to save money. Also, get everything you need for a dropshipping startup at the price of a burger. With $9,99, you can get 3dcart with one free domain and a bunch of features for your brand new store.
Inventory management
If you want to expand your inventory, you will receive support from both Shopify and 3dcart. Of course, there will be a small fee that you will spend to make it.
While Shopify offers a very low price of $9/month for 25 products, 3dcart is superior when it allows you to store an additional 200 products. In return, you will pay $19.99/month.
If you expect a platform that provides an integrated POS system to help manage inventory well with more powerful features, you should not miss 3dcart. However, you will find that raising the number of products on the 3dcart website is quite complicated.
Adding products on 3dcart will require you to perform two steps. First, you need to enter the basic data of the product, including image, name, price, description, etc. and save them. You will then add more advanced information such as shipping, inventory situation, or SEO descriptions, etc.
But it does not stop there:
If you choose the more advanced Shopify plans, the number of your products will be unlimited. In contrast, 3dcart is quite troublesome in this extension.
Security
No matter how big or well-maintained your website is, it can still be in the sights of hackers.
Shopify is a reliable and secure platform. With the level 1 PCI DSS compliant certification – an information security standard, all data on your website will always be protected, and vulnerabilities will be strictly controlled.
3dcart also offers many features that are no less functional than its "junior". It is also certified at level 1 PCI DSS compliant thanks to effective website data protection through encrypting them even when you are not running them on your website. Besides, it provides https for all pages, and if anything matters, 3dcart will alert you.
If you want to expand the security of your big store on 3dcart, you can choose Enterprise Plan for $400/month.
Support
When installing a platform for your store, of course, you will encounter some difficulties, even if you have knowledge of eCommerce as well as technology. In particular, with newbies, they will need special support from a professional customer support team of the platform provider.
In this respect, both Shopify and 3dcart do well with the 24/7 technical support team. It means that you can get help at any time.
Not only are you backed by a professional team, but you can also have a simpler and easier understanding of the struggles through live chat or video tutorials.
However, the Shopify community is still larger in scale compared to 3dcart, so you will probably receive support almost immediately from Shopify platform users.
Conclusion
It seems that answering the question "Shopify vs. 3dcart: Which one is better?" is varied. While Shopify is widely appreciated and suitable for all users, 3dcart works best with websites that need scaling thanks to extensive inventory. Regardless of which platform you choose, if you need further information, feel free to contact us or leave your comment below. Don't hesitate to like and share the article with others if you find it useful. Thank you :).