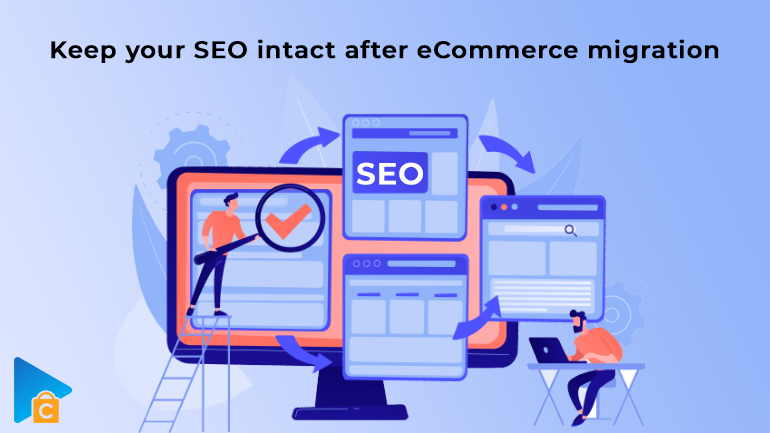 One of the biggest concerns when it comes to migrating to a new store is eCommerce SEO migration. It's about how to keep your rank on Google intact.
eCommerce re-platforming or shopping cart migration relates to multiple tasks that make sure a huge amount of data goes right and effectively. That's why when there are any signs of stopping growing due to an inappropriate eCommerce platform, it is time for business owners to think about re-platforming.
Specifically, apart from moving your online store to a better place and making some necessary changes, there are other things that you must want to keep from the original website.
That is SEO that is the result of the effective implementation of the old site. Therefore, if you can maintain them in the new site, it can continue to grow without missing its previous base.
Let's take a closer look!
Why is SEO migration important?
While migrating data to a new platform, you should make sure to keep the SEO of your website. Why is that?
Simply because if the SEO aspect is not included during the eCommerce migration, your site can end up with an organic traffic and rankings drop. As a result, the conversions are affected and your revenue will decrease.
Everyone deciding to move their online store to another platform wants further development. But the ignorance of eCommerce SEO migration could lead to bad effects.
However, with only very vague SEO tips and advice on the internet, but without a step-by-step schedule, it seems struggling for most of you to maintain your SEO after the migration. Just simply completing a checklist without a strategy will not be good enough for your store SEO. By contrast, it could make your website vulnerable.
Being aware of this problem, this post is created to provide a deep analysis of eCommerce SEO migration, answering the most common questions: How to handle the migration safely? Which parts to pay the most attention to? What makes it succeed in preserving SEO from losing its scores? And more!
It is quite sufficient in this article to mention almost every aspect. Hopefully, it will equip you with must-know knowledge before you have your website re-platformed.
Things to know about SEO before eCommerce migration
Types of eCommerce migration
Store design migration
Which types of migration will affect SEO. If you make changes to your store design only, there will be no drop in SEO because the URLs remain the same. The tip for this type of migration is to be careful with JavaScript elements.
These elements could cover the content, making the page stuffed with keywords. Moreover, such items appear on spam websites that don't show these keywords. This issue is not something that Google will rank your website highly.
URL structure migration
Be careful to monitor the domain or URL structure relating to changes and there are a lot of redirects. You will have to index all new URLs in Google. Because the URL path change is very fundamental, you can update the sitemap or use Google Search Console. By doing that, you can know if the webpages are already live or and request indexing or the new URLs.
The impact of eCommerce migration on SEO is most obvious when it involves all the URLs' changes. This is because each eCommerce platform has a specific URLs structure. Indeed, it is impossible most of the time to keep the original URL after the migration.
You can even boost the traffic
We always worry about an SEO score drop during the migration process. But with a specific strategy and a step-to-step plan, you can ensure a better scenario. If you can fix issues and errors before the migration process, it is more likely that SEO indicators will be the same. Even this will help increase the traffic to your website on the new platform.
Each migration is similar in the final aim
No matter if you migrate your store to a new design, to a hosted or self-hosted platform, or you migrate because of a domain change, the general important thing is to prevent traffic and rankings drops. Again, a migration strategy with optimized SEO will help you avoid problems down the road.
What does the eCommerce SEO migration checklist include?
Replatforming an online store can cause various SEO issues, ranging from traffic drops, lower conversion to revenue rates if store owners ignore the preparation stage. The unexpected problems happen because they focus only on measuring the delivery stage, waiting for the migration results with a shiny store on the new platform, and forgetting to prepare before that.
To help you pass the whole process better, an eCommerce migration checklist with dozens of points will give you all things to control and inspect. Generally, you need to provide the new website structure for indexing and gather all potential problems. Just after that, your site is ready to start the shopping cart migration.
Again, a thorough plan is needed. At the same time, you should have your teamwork on the same strategy and pace. There are 3 parts in the eCommerce migration checklist that are needed to be understood and followed by your whole team. This will help you to maintain organic traffic and SEO rankings.
Evaluate the current website SEO
What is the vision of the current SEO indicators? This should be the first question to answer before the migration. The more data you know about your old website, the more references you have for the new one. In other words, you should be aware of how things are running in your current site, collecting the weak points and have lessons from them, as well as boosting the potential sectors.
Here are the details on the first stage:
Use one of the SEO spider tools like SEMrush, Screaming Frog, Moz Pro, Ahrefs, DeepCrawl, etc to crawl your current website. With the help of them, you will have a URLs list and more information on them.
Get additional information from Google, which collects the data of your website on a dashboard. What you can do is to run the Google Search Console Analysis, export it to a .csv file, and save it for the new website.
Compare and collect the data from the spider tool and Google Search Console for reference in the next stage. Then, check meta robots' "no follow" tags in the source code, pages with a "no index" tag, and all live URLs. It is also essential to review canonical tags, title tags, header tags, and meta description tags.
Recheck the migration process to know what to do next. Be clear of all pre-migration actions, and first decide whether you want to change a domain name, website structure, or URL structure. You can take this time to run a keyword gap analysis and update the keyword matrix.
With the shopping cart migration tool like Next Cart, you can learn details on your specific migration direction and what are the possibilities, such as if you can move a data type and entity, the additional migration options that you have, SEO URLs migration, 301 redirects…
If you cannot keep the URL structure on your new website, work out a 301 redirect. In detail, identify all the pages on the current store that have organic visits and boost high rankings of the website, and make sure to get them well redirected after the move.
**301 redirects vs. 404 page
If you can keep the URL of the page, the SEO and rankings will not be impacted, and you will not have big problems. Otherwise, if there are changes in the URL, like a new domain name or a different structure, you can have two options. One is to redirect the legacy pages, and another is to designate them as 404 pages.
To decide which one to use, 301 or 404, you need to know the organic and external backlinks. Then, use 301 redirects if SEO indicators are essential for your performance. 301 redirects will keep the page ranking and authority on the original website.
It is also necessary to keep the content unchanged as much as possible on the redirected page. "Soft 404" should not happen when users are redirected to a page, and sometimes it even means more to land a visitor on 404 pages.
301 redirects can also move inbound links that are important in your SEO performance on the new website. You can keep their authority as a result.
Prepare the new store and migrate the data?
If the new platform to which you will move your online store is hosted, like Shopify, what you need to do is just simply register an account and a store will be created for you.
Otherwise, if the eCommerce platform is self-hosted, you have to install it by yourself. In this case, you should pay attention to the search engine crawlers, making sure they cannot access the new website during the maintenance process.
Before starting to migrate your website to another platform, you can have an overview of the migration steps in the shopping cart migration tool like Next Cart. If it is applicable, you can use additional migration options like automated 301 redirects to preserve the SEO scores of your old store and maintain SEO URLs that are the URL structure of the old store.
Review how the new website works
After the eCommerce migration process finishes and all data is transferred to a new place, it is necessary to keep observing everything and make sure they run as per your expectation. Following are the important tasks you need to check:
Have a new website crawl. Check 301 redirects and verify all known 301 as well as 200-status code pages. 
You should be aware of the technical issues like blocked search bots access to handle them as soon as possible.
Make sure "no follow" and "index, follow" tags to be on the expected pages. Also, there should be no 404 pages on the new website.
Check the status of internal links and ensure no ones are broken.
Avoid duplicate content on the new website, check everything like title tags, header usage, meta description, image attributes, etc. This is actually like running a site audit using Ahrefs or SEMRush!
Take a test on the speed of several pages
For not found pages 404, but needed, you can consider making the necessary ones from scratch. If the 404 pages are unnecessary anymore, you can create a custom 404 page for them.
Resubmit the XML sitemap to Google Search Console to reindex your new site.
The key shopping cart migration tips
It is highly suggested to continue observing the implementation of your newly launched website after the migration.
This is because not everything will run well as expected and there are always some parts to handle to perfect the whole system. Be prepared for a traffic drop because of some "noindex" pages, then try to figure out the weak spots and fix them.
In the first week after the migration, it is also necessary to monitor the Google Search Console dashboard to ensure all pages are crawled.
After a few weeks, you should check Google Search Console if there are any indexed pages or sitemap errors.
You should set a schedule for the traffic check, making sure all SEO indicators work well. If there is a traffic loss, analyze all the pages to identify the problems and fix them.
To conclude
With a huge amount of data that needs to be transferred in the shopping cart migration, it is quite hard to know exactly how SEO indicators get impacted. Hopefully, this migration checklist has provided you with essential things to know, from preventing possible errors, outlining the migration process, and minimizing the negative impact on your website SEO.