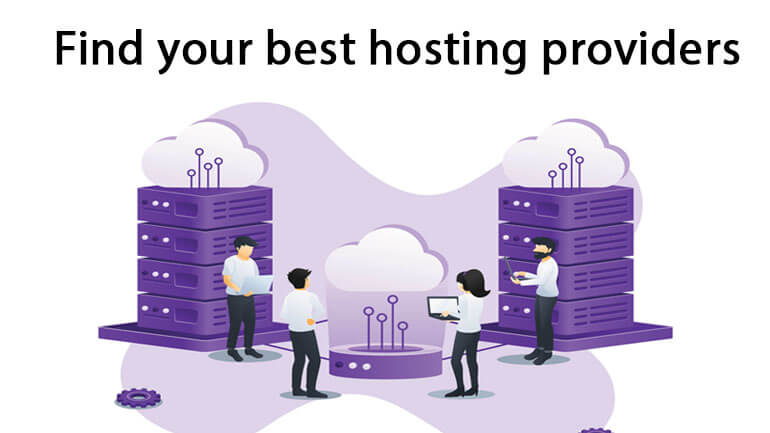 Hosting is the land for your domain to root in and grow. That means you can't run a website without hosting.
But we have more than a hundred hosting services available in a number of price ranges that confuse us.
With this clear and lean comparison here, you'll be able to pick out the most appropriate hosting to operate your domain.
We have recorded 20 web hosting companies for 90 days to write this review.
And now, we're going to show you the best hosting providers rated in 2020 regard page speed, uptime, and budget.
The best hosting providers reviews
1. Hostinger
Hostinger is probably the cheapest web hosting service you can find. The company is serving over 29 million customers in 178 countries. Every day, they receive around 15,000 new customers. So, you know there's got to be something to like about them.
Hostinger is an easy-to-use and straightforward hosting for your website. Their regular plan starts as low as $2.99 per month on a one-year subscription.
In our test, the hosting's load time, on average, was 1.15 seconds, while the downtime was only one minute.
If you use the WordPress Hosting plan, you'll have 100GB of disk space, which is more than any company on this list.
Better yet, you do get unlimited bandwidth. We actually contacted Hostinger for this part, and they explained if you got millions and millions of visits, they might have to throttle your website. But for something around 500k visitors, this plan is suitable.
More than that, Hostinger is a light speed server which known to be the fastest.
With Hostinger, besides the WordPress plan, you'll find shared hosting, cloud hosting, and VPS hosting. The features that come with those plans are free domain name, free SSL Certificates, protection against DDoS attacks, and an SEO toolkit.
Setting up with Hostinger is relatively easy. Hostinger offers the Website Building Service to get your site running if you are new to website building.
Pros
Super affordable
Realtime DDoS Protection
WordPress Optimized
User-friendly control panel
Live support 24/7
Cons
Single Shared Plan offers no free domain
Pricey daily backups
Basic plans have lots of limitation
No phone support
Verdict
With Hostinger, you come for the price and stay for the quality hosting experience with the lowest rates around.
2. DreamHost
This is one of the longest-reigning hosting providers in the market. They offer easy-to-understand hosting plans, affordable pricing, and enough features to run a decent-sized website.
With the Shared Starter, you can host one website that doesn't need more than 50GB of storage. Noted that no email storage is included in this plan unless you buy it separately. On the other hand, the Share Unlimited plan gives you unmetered storage, website, and email.
At WebsiteToolTester.com, where we ran a lot of tests, DreamHost didn't seem to neglect its uptime. It's always been higher than 99.95%. Truth be told, even the entry-level shared hosting plans have decent speed, with our test page loaded in less than 3 seconds.
And to speed up, the host uses a combination of hardware and software, including SSD drives, HTTP2, and PHP7 for a faster website.
The great thing is all plans allow for unlimited traffic, come with free SSL certificates, 24 hours support, and a free domain name for a whole year.
We reckoned that the interface of DreamHost is super intuitive compared to other providers. Though simple in the system, DreamHost offers a number of peculiar features.
With the 1-click installation for a couple of CMS like WordPress or Joomla. If you tend to use other CMS like Magento, Drupal, or ZenCart, you'll need to install manually.
DreamHost keeps your daily backups of the website for about two weeks. You can always contact them if you have an emergency. On top of that, from the backup section, you can create temporary backups to download.
Yet, DreamHost takes security seriously. All of DreamHost plans come with free SSL Certificates via Let's Encrypt. And the domain you register with it will always come with Domain Privacy enabled for free.
Pros
Free SSL, Domain Privacy
Auto backups remain for 2 weeks
1-click installation for WordPress
Allow 1 free domain name
Cons
On-demand backups are not free
Manual install for CMSs other than WordPress and Joomla
Verdict
DreamHost provides it all from a high performance shared platform, decent VPS options, and outstanding support.
3. Siteground
The performance test for Siteground showed an average load time of 2.24 seconds, and around 11 minutes of downtime, which is not bad at all.
In terms of server speed, websites hosted with SiteGround load 5 times faster than being hosted on other sites. One reason for this incredible speed bump is that SiteGround uses SSD storage for all the databases and sites.
They also use NGINX web server technology and other features to focus on bringing better speed to your experience.
This company recently raised their prices, but the plans are still cheap compared to other companies. If you want a year of hosting on the Grow Big plan, you'll be paying around $150 for the entire year.
In general, SiteGround offers 3 flavors that they call Startup, Grow Big, and GoGeek. All have common advantages of being fast, innovative speed, security, and budget.
But we'd like to press that the renewal fees are higher than a few providers.
However, what you are paying for SiteGround is the quality of the products and support. That said, everyone that uses this company says their support is number one. If there's a problem with your site, the care team will solve it within hours.
All plans are eligible for the 30-day money-back guarantee. Even better, there is a number of integrations to make building websites a breeze for beginners.
Pros
Free daily backups (GrowBig and GoGeek)
Fast-response customer service
Free SSL, email
Unmetered traffic
CloudFlare's CDN (140 Countries)
Cons
Limited storage
Strict data overuse policy 
4. Cloudways
In our tests, Cloudways performed pretty well with an average load time of 1.37 seconds and only 7 minutes of downtime over the last 30 days.
Cloudways is a bit different from other typical hosting companies. They work as a middleman for companies like Amazon AWS, Google Cloud, Linode, Vulture, even DigitalOcean.
Plans from Cloudways are a bit expensive, but the performance really makes up for it. So, we would only recommend Cloudways for people who are in the game for a while.
On the pricing tab, you can choose where you want your cloud server to be. Cloudways handles all the security. You can then proceed to a number of caching features that enable your website to load a lot faster.
Many people wonder why they have to buy from Cloudways with an extra cost rather than buying from the server suppliers themselves. Well, Cloudways offers great performance in a simpler interface where users don't have to do everything like the text of command lines.
Cloudways buys the server for you, sets it up, and gives you a control panel, so you don't have to deal with coding.
One of the biggest negatives for most people when using Cloudways is it doesn't host email accounts. If you want to host your clients' emails, you will have to use an external email hosting solution. But emails can cause many problems, especially in shared hosting; so, we would suggest keeping that hosting separately. 
Pros
Operate on DigitalOcean, Vultr, Linode, Amazon Web Services (AWS), or Google Computing Engine (GCE) cloud infrastructure
Lots of WordPress specific features
SSD hosting, Nginx/Apache servers, Varnish/Memcached caching, PHP7, HTTP/2, Redis support
Free automated backups, SSL certificate
Cons
No included email hosting 
Not beginner-friendly
Verdict
Cloudways is a great server with plenty of WordPress specific features built for the platform. It's also lightning fast, possibly the fastest server you can find at a slightly reasonable cost.
5. A2 Hosting
If you are brand new to building websites using WordPress, A2 Hosting is a suitable company.
The hosting performs at around 2.18 seconds with an hour of downtime in 90 days. In pricing, A2 Hosting is a bit more expensive than SiteGround, but the renewal fees are decent.
On average, people usually go for the Turbo Boost plan, which may cost you about $180 for a year. That's not a bad price at all.
But the main selling points are the speeds. A2 Hosting claims to have one of the fastest web hostings. It's got 100% uptime in 10 days without having any problem.
Since a lot of people use WordPress, A2 Hosting does have dedicated WordPress hosting. However, we are sad that the company didn't make it quite as easy as other providers. If you are not tech-savvy, you probably meet some problems.
What we also want to mention is the customer support. With A2 Hosting, they do have 24/7 customer service available in live chat, call, email, or look for solutions in the community.
Pros
WordPress optimized
Free SSL
Free offline backups
Money-back guarantee anytime
Cons
Not easy to install WordPress hosting
The cPanel is not fast responsive
Verdict
A2 hosting brings in a bunch of benefits regarding unbeatable customer service and dedicated resources for you to run your business online.
6. Nexcess
The liquid web has become the leader in managed VPS hosting, cloud hosting, and also dedicated server hosting. It is highly tuned for speed, performance, and security. And that's what Nexcess comes to provide.
Nexcess had a performance score of around 936 ms, which means under one second. The average downtime is 1 minute in 90 days. 
This company's reason to blow other companies out of the water is because they give you a lot more benefits. Notably, you get 60GB of storage for $109 a month, which means three times more storage than WP Engine paying the same price.
Another winning point is Nexcess gives you 4TB of bandwidth, which is 20 times more bandwidth compared to WP Engine.
Though providing advanced managed web hosting plans, Nexcess offers the WordPress server package as low as $12/month when you sign up yearly.
You'll also get a 14-day free trial and super responsive support in the back. They help you solve problems with an experienced system administrator sitting in their Michigan offices.
Pros
Expert support
Well-optimized for Magento 2
Stable and fast
High uptime
30-day money-back no question asked
Cons
Not affordable
No live chat support
Verdict
Nexcess is an option for those who have to manage websites with a large traffic stream and need a lot of space.
7. NameHero
When you need it to be fast and budget, NameHero can be a no-better choice. It's the most cost-effective company on this list.
Their average load time was 1.98 seconds. And they only had 14 minutes of downtime.
If you are considering NameHero, you should buy a long-term plan because there is a renewal fee. But if you purchased a three-year deal at 5.99, you'd save a lot on the renewal fee.
And you are really paying for the worthwhile performance. The company's score is almost similar to SiteGround.
NameHero, like many companies, also offers free SSL, free domains, and more.
What the company is known for is actually the reseller hosting. So, for people who want to use WHMCS or start a web hosting business from scratch, they specialize in the features.
However, their shared hosting was among the fastest, even faster than Hostinger, BlueHost, Dreamhost, etc.
Pros
Good speed
Great uptime
Best value for money
Cons
Verdict
When it comes to the cost and speed, NameHero stands out to be a hard-to-beat competitor.
Final thought
That is pretty much the results we want to convey about the best hosting providers in 2020.
Hope you have gathered enough information to support your choice.
Please reach out to us if you have more opinions.
Thanks for reading.