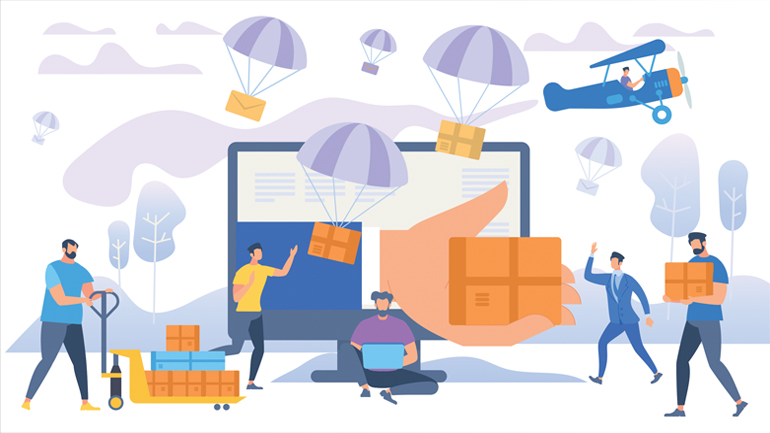 With the development of transportation and infrastructure, you can, today, easily use the shipping services of shipping companies around the world. Each one will have its own strength, using one or a combination of modes of transport such as air, ocean, rail, or road, etc.
So which shipping firm should you choose? And what problems will you face when using the popular shipping service of them?
All will be clarified in this article. Thereby, hope that you can make the proper choice for your business.
Let's dive in!
The most popular shipping services
1. FedEx
This FedEx name is probably not strange to you. It is the later name of the FDX Group, established in 1997, and headquartered in Memphis, Tennessee, USA. FedEx means Federal Express, which is one of the two largest shipping groups in the world, just behind HDL Express.
So, why should you choose the FedEx courier as your carrier?
The first and foremost reason is their reputation. Their services always satisfy customers. That is, FedEx uses a courier network by air, so they operate very quickly, accurately, and safely.
Second, they are present in more than 220 countries and territories. This means you will have no trouble sending goods to international partners or customers.
Besides, the list of products shipped by this company is also very large, covering most of the industries on the market.
2. DHL Express
Like me, you must be thinking of DHL as a US shipping company like FedEx. However, it started out as an international parcel shipping company in Germany and was born very early in 1969. Therefore, DHL surprised everyone when it is now a leading courier company in the world, and it specializes in sea and air. The company was founded by the names indicated in the company name, including Larry Hillblom, Adrian Dalsey, and Robert Lynn.
DHL is well-known, compared to other shipping providers, by its capability of transporting goods to the most remote and complicated countries like Iraq, Myanmar, Cuba, or North Korea, etc. Besides, this company is also a partner of USPS (United States Postal Service), making part of its transportation costs much cheaper.
3. Blue Dart
Timely delivery and excellent quality are what's expected from a shipping company, and the Blue Dart is no exception.
Blue Dart is a world-famous courier company based in Chennai, Tamil Nadu, India. It can be said that it provides the largest courier service in India and South Asia, which can take your package to nearly 34,000 locations in more than 220 countries.
Part of this popularity comes from DHL's contribution of a large stake in the company, increasing its performance standards with parent company DHL's parcel service.
Besides the headquarters at Chennai International Airport, it also operates at many other international airports in the country such as Bengaluru, Netaji Subhash Chandra Bose, and Indira Gandhi, etc. This helps the number of goods to be distributed evenly and stabilize the flow of goods.
4. United Parcel Service, Inc.
The next shipping company we recommend for your business is United Parcel Service, Inc., a delivery company with more than a century of experience in the United States and the world. Currently, the company has grown into a large corporation and acquired more than 40 companies in many fields, from the truck transport industry, aviation to customs brokerage, finance, etc.
What they provide and cover is really broad. They not only use advanced technology but also integrate a strong global network.
Perhaps that is why the express delivery service of United Parcel Service, Inc. is rated as one of the best services in the world. In addition to basic transportation services like many other providers on this list, they also allow customers to use many other external services.
5. DTDC
DTDC Express Limited is the second shipping company from India. Founded in 1990 and originally as an Express Document Player, DTDC has now transformed surprisingly into Integrated Parcels driven business and expanded its network with more than 500 offices.
Can you guess the number of shipments they handle each month?
12 million!
With almost no mistakes!
These orders involve logistics, global freight, finance, and mailing.
If you choose this carrier, you can deliver your products to customers in more than 240 countries quickly and conveniently. Although DTDC's customer service needs to be improved, what they provide is truly premium.
And that is why they have become one of the top courier services in India and the world.
6. Royal Mail
As its name says, Royal Mail is the postal service initially owned by the UK government, and as such, it leads the world in terms of seniority and reputation. First introduced in 1852, Royal Mail today is privately owned and has over 176,000 employees.
It is the largest freight company in the region, with nearly 100 million items processed daily. In addition to its reputation, the company is also well-known for its high-quality services and guaranteed on-time, safe delivery.
In particular, if your company has a branch in the UK, you will love Royal Mail's Universal service. It is a service required by law, in which the fee of delivery to any destination within the UK will not change no matter how far it is.
Convenient, right?
7. PostNL
Also operating strongly in the UK, PostNL has been one of Royal Mail's main competitors for a long time. In addition, they were active in the Netherlands, Germany, Belgium, and Italy. Of which, The Hague in the Netherlands was chosen as the headquarters of PostNL. At that time, they were known as TNT NV – a mail, parcel, and e-commerce corporation.
Today, after more than 20 years of operation, they are reaching out around the world, providing courier services from and to over 200 countries. Together with FedEx, DHL, US Postal Service, and Royal Mail, etc., they have become pioneers in the field of express delivery.
The company's services make it easier to send and receive products, especially those ordered online. They also use many new techniques to help deliver and process orders faster than normal ways.
8. YRC Worldwide
YRC Worldwide is headquartered in Overland Park, Kansas, USA, and is one of the largest companies and a pioneer in the transport of heavy goods of all the industries. Besides, they also operate in the field of transporting commercial and retail goods.
The company was founded in 1924 and nearly went bankrupt. After that, they had a strong rise and became one of the most popular shipping service providers in the world.
You may not have heard of YRC Worldwide, but their freight brands such as YRC Freight, Holland, New Penn, and Reddaway are well-known, especially in North America.
YRC Worldwide also cooperates with in-house freight brokerage HNRY Logistics to provide customers with safe, advanced services and technology. With YRC Worldwide, you will have complete management and control over your supply chain.
9. Japan Post Group
Our next choice comes from a country in East Asia. Therefore, if you operate primarily in this area, you should not ignore their great shipping service.
Japan Post was established in 2006, but a year later, it officially started operating in Japan. At first, Japan Post was under government control but was privatized soon, notwithstanding much controversy and delay. Despite that and the destruction of natural disasters such as the tsunami in 2011, Japan Post rose to the top 13 largest companies in the world on the Fortune Global 500 list in 2013.
Japan Post operates primarily on the postal and logistics business with Toll Holdings. Besides, they also opened Japan Post Bank and Japan Post Insurance for banking business, financial window business, and life insurance business.
10. Schenker AG
Germany is very strong in the shipping industry, and that is why there are three companies in the top 10 popular shipping service providers, including Schenker AG.
If you choose to use the Schenker AG service, you will not have to wonder which transportation mode to use since all are provided by the companies of Deutsche Bahn.
What is Deutsche Bahn?
It is the parent company of Schenker AG, is a German railway business. Schenker AG, meanwhile, is responsible for other forms of transportation, which are sea, land, air transport, and contract logistics.
And you can ship your products to the customers from anywhere with more than 2,000 Schenker AG offices around the world.
Wrapping up
There are many freight companies that provide excellent services that you can rest assured of working with them to use. A small tip is that you should use services of more than one company so that your working process will be less affected by many incurred problems.
In case you want to know more about these popular shipping service companies, don't hesitate to let us know or leave your comment below. Please like and share the article with others if you find it helpful for you.