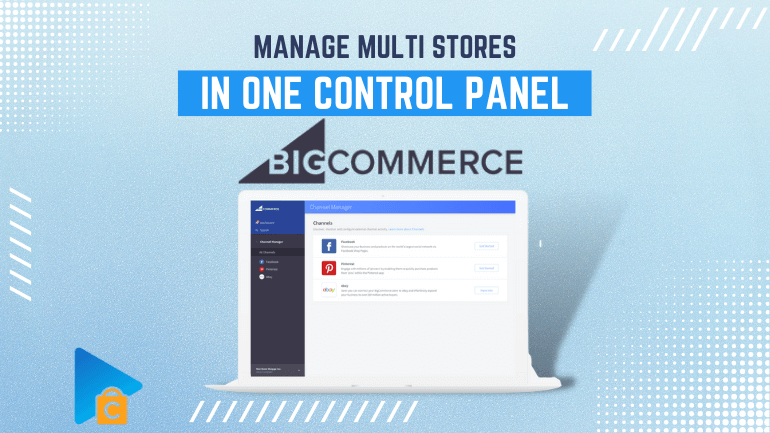 BigCommerce is considered one of the fastest-growing eCommerce platforms worldwide. It is a SaaS software and provides all the necessary eCommerce tools that meet the management demand of businesses from small to large.
In order to extend the enterprise capability, BigCommerce Multi-storefront is added to diverse the selling feature, helping store owners to complete their eCommerce even better.
BigCommerce Multi-Storefront allows you to power multiple storefronts by using only a single BigCommerce store. On the one hand, each storefront can have its unique features, like domain, theme, categories, web pages, social media links, price lists, email templates, and more. On the other hand, the settings and data of all storefronts are managed from one BigCommerce control panel.
You can share your store's catalog among storefronts and you can choose which products appear on which storefronts. Moreover, orders from all channels come into the BigCommerce orders area, in which orders including storefront attribution can be sorted per storefront.
Go into more details about BigCommerce multi-storefront!
What is BigCommerce Multi-storefront Used for?
Whether growing sales in new markets with localized storefronts, streamlining operations for running multiple brands, or customizing for different customer segments, eCommerce merchants can now easily manage every issue of their business from one dashboard. Therefore, they are more likely to deliver exceptional customer experiences and build brand loyalty.
Multi-storefront can be a great solution for merchants with multiple brands or the ones that serve multiple segments, like B2C, B2B, retail, and wholesale. Also, additional storefronts can become a marketing tool. For example, you can build a new storefront as a minisite that focuses on only a specific product or a campaign launch.
Depending on business models, multi-storefront may work as a multi-region or cross-border solution for some online merchants. However, some BigCommerce store functions are shared across storefronts and used globally, such as payment methods, tax, and shipping settings. Additionally, the same product can be assigned to many storefronts, but product attributes, like description and name, cannot be overridden in other languages without customization.
Also read:
Benefits of BigCommerce Multi-storefront
Multi-storefront is accessible from the BigCommerce control panel. It enables merchants to create tailored shopping experiences for their different buyers by setting up unique storefronts coming with separate domains, design, transactional and promotional emails, and customizable pricing with payment methods.
Store management becomes simple thanks to holistic views to manage customers, products, order fulfillment, storefront analytics, and data insights.
With BigCommerce Multi-storefront, you can do all of the following tasks within only one control panel:
Build and manage multiple BigCommerce storefronts.

Configure settings and internal notifications for each storefront.

Connect domain names and SSL certificates for each storefront.

Apply and customize each storefront's themes, page templates, email templates, widgets, web pages, scripts, and social media links.

Set and control default currency.

Make web analytics, like Google Analytics, specific to each storefront.

Build storefront-unique categories and display products on one or multiple storefronts.

Manage product filtering settings per storefront and per category.

Configure category and web page URL structure.

Custom pricing on each storefront using a price list.

Get notified and manage orders and customers for

eCommerce multiple storefronts

in one place.

Control purchasability per storefront.

Control customer groups, retail or wholesale, and set the default group.

Offer category-level discounts per storefront for specific customer groups.

Manage customers' login access to each storefront.

Control status for all storefronts from Channel Manager.

Filter sales reports by native storefront channel.

Gather and export newsletter subscriptions per storefront. 
Key benefits of Multi-Storefront for online merchants:
Quickly enter into new markets by creating custom storefront experiences for different buyers.

Reduce maintenance costs by trimming down the number of systems and integrations of a business and drive higher revenue with fewer troubles.

Increase store efficiency by ditching duplication of efforts with a head system to manage all storefronts. For example, when adding a new product or updating pricing, do it one time, in one place.

Have powerful insights to make smarter decisions, from a unified data source to analyzing business activity holistically to review the performance of a specific storefront.
Special Requirements of BigCommerce Multi-storefront
There are additional limits for individual storefronts:
> 10,000 products in each storefront.

> 70 variants for each product.

> 100 categories are shown in storefront navigation.

> 1,000 products in each category.

> 1,000 orders per day on

eCommerce stores.
Your existing, transacting store must be using the following features:
The v3 Add/Edit Product experience

The new Bulk Edit experience

The Multi-Channel Product List

Optimized One-Page Checkout.

The new Transactional Email Templates experience

The new Abandoned Cart Saver email templates.

Stencil themes are supported (while legacy Blueprint themes are not supported).
Creating a BigCommerce Multi-Storefront
On Channel Manager, you can discover and set up all the features available for your store, like marketplaces, point of sale integrations, marketing feeds, and storefronts, both native and headless. It is also where you create new storefronts and configure their settings.
To create a new native storefront:
Go to Channel Manager and click + Create Channel. 

Under Storefronts, click Create next to BigCommerce or Connect next to the headless platform that you want to use. 

Connect several headless solutions outside of Channel Manager, via the API, or with their connector app, such as BigCommerce for WordPress.
At the same time, to come up with this innovation of the BigCommerce platform, Next-Cart has also already updated our BigCommerce migration tool so that BigCommerce users can smoothly do their migration to this great eCommerce platform. Next-Cart can move all data of your current site, including categories, products, customers, and orders.
Arrange categories in the 'tree' structure, and each storefront will have a specific 'tree'.

Can migrate products and customers into one or more storefronts.

For orders, you can choose any storefront to move to.
Conclusion
BigCommerce has been cooperating with the expansive partner ecosystem to ensure their support of BigCommerce Multi-Storefront. Many merchants have updated their apps to get compatible with Multi-Storefront and take advantage of the new functionality to offer optimized solutions.