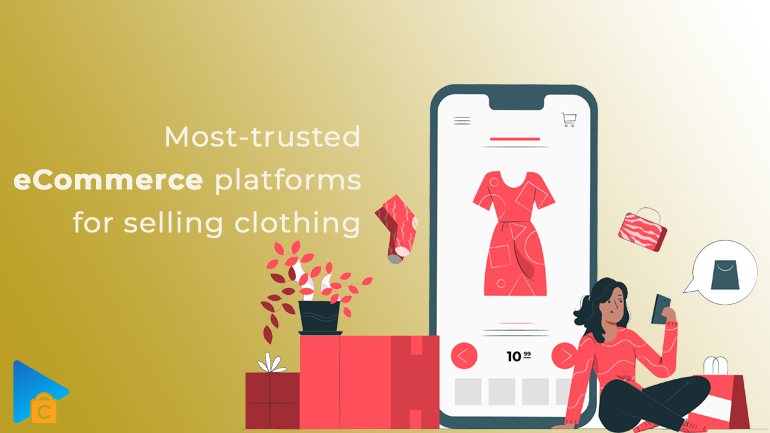 eCommerce platforms offer sellers an easier way to get their products presented to consumers, providing them with the tools and resources they need to do so without building their websites from scratch. However, there are several eCommerce solutions out there to choose from. 
Whether you're just setting forth or already have an established clothing brand, it's essential to know your options before jumping into any new venture. To help you out, we've compiled a list of the top eight eCommerce platforms for selling clothing, along with their pros and cons, so you can find the one that best fits your needs and budget.
What is an eCommerce platform?
An eCommerce platform is an integrated set of software and service applications that allows users to develop, launch and run their online business. The platforms generally offer web storefronts for selling products, inventory management tools, and help with order fulfillment. 
They include features like payment processing, inventory management, customer relationship management, marketing functionality, and more. Many of these platforms are either free or have freemium versions that give users limited features. Some higher-end platforms will charge monthly fees in exchange for more advanced functionality.
Many types of solutions can be categorized into four main categories: open source, hosted solutions, SaaS solutions (software as a service), and, finally, self-hosted solutions. An open-source solution requires some technical know-how to use but provides you with complete control over your data and entire site.
Top eCommerce platforms for selling clothing
Below are some of the best eCommerce platforms for selling clothing that you can put into consideration. 
1. Magento 
Magento is one of the most robust eCommerce platforms for selling clothing, which has powered more than 750,000 online stores worldwide. It has been around since 2007 with tons of robust features, but its best one is flexibility. 
It has an established reputation and gives you extensive control over all aspects of your store: search engine optimization, checkout processes, and everything in between. In addition, the platform can be easily customized to meet your clothing company's needs, so you can modify anything from store colors to store layouts with ease.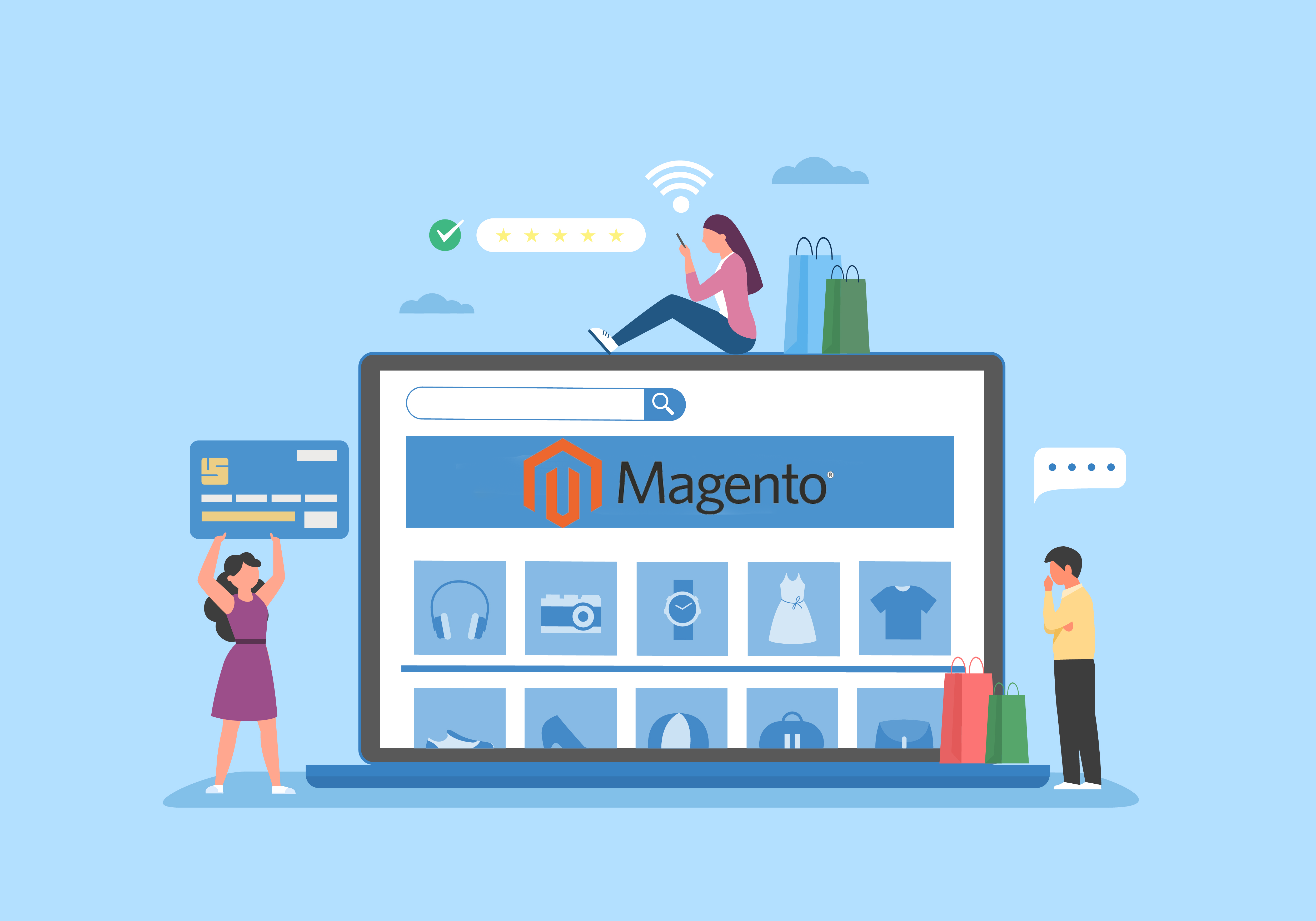 It also offers social media integration, advanced shipping options, and an in-house search engine. What's more, it's scalable enough to adapt to your needs as they change over time. 
However, in addition to the complicated platform, Magento also suffers from a few drawbacks. The biggest one is that it's relatively expensive to acquire, configure and maintain. So if you have limited capital, Magento might not be your best bet.
2. Shopify
Shopify has become a popular choice for many clothing brands wanting to sell their products online. It is known as one of the most accessible solutions because it eliminates many tedious steps involved in setting up a website. With over 100 premade templates, you can even have your first sale within minutes of signing up without coding skills. 
While you do have to pay a monthly fee for Shopify plus additional costs to customize your store if needed, it's much cheaper than other platforms on our list. So if you are considering a cost-effective option, Shopify is well worth examining.
Besides, there are a few cons to using Shopify as an online clothing retailer. For instance, if you want to sell on multiple marketplaces from one platform, Shopify isn't going to be ideal. Also, because Shopify is very user-friendly and easy to use, there aren't many customization areas. 
Another disadvantage of using Shopify is that if your website loses traffic or becomes inactive after some time, your hosting costs and some integration costs could be high.
3. WooCommerce 
Launched in 2011, WooCommerce is a free and open-source shopping cart plugin for WordPress that allows users to add an online store to their existing WordPress installation. It can handle all your basic eCommerce needs, from payment processing to shipping.
No matter what sort of clothing you decide to focus on, there are dozens of templates available to help design everything from blogs to shop pages so that putting items up on sale doesn't take much effort at all.
While WooCommerce is a highly intuitive and user-friendly platform, it does have a few disadvantages. The first limitation is payment – if a product requires recurring billing, such as a subscription or a live video chat service, it won't work on WooCommerce.
And while it comes at no cost, WooCommerce doesn't come equipped with any marketing tools out of the box. So if your business relies on SEO and other strategies to acquire customers and generate revenue, you might want to look elsewhere.
4. BigCommerce
BigCommerce – a cloud-based eCommerce platform – was initially founded in 2006. It is used by over 148,582 retailers worldwide to power their online stores. It has powerful features like customizable themes, advanced shipping options, and an extensive plugin library that will help you turn your site into a successful business.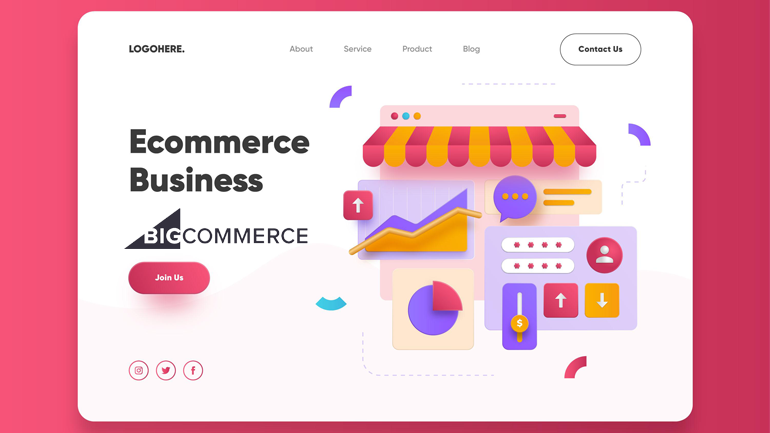 On top of that, you can create as many custom pages as you like. From one-page stores to traditional multi-page ones, everything is easily managed from BigCommerce's easy-to-use dashboard. Setting up a new online shop is simple and takes less than an hour, and best of all: no hosting is required. Your store will be hosted on BigCommerce's servers with no setup fees at all. Perhaps best of all: BigCommerce offers 24/7 live phone support, which many other platforms either charge extra for or don't offer at all.
It's not without cons, though. Some claim that it takes time to set up and is difficult to use when making significant changes/additions later. Their SEO capabilities also leave something to be desired. 
5. OpenCart 
Opencart is another option among the best eCommerce platforms for selling clothing. It is an open-source shopping cart software that's completely free and can be installed on your server. 
Thanks to more than 1,500 community-developed extensions, you can also create a fully customized store and include popular functionality such as product reviews and wish lists. OpenCart also has advanced reporting capabilities, multiple shipping options, and more than 20 languages.
When you use OpenCart to sell your clothing online, it takes just minutes to set up and sell products. What's more, it integrates seamlessly with many payment gateways like PayPal, Amazon Payments, etc., which means accepting payments is a cinch.
One of Opencart's biggest cons is its interface. There are numerous places where confusion can set in, which may be a turn-off for potential users. Other minor issues include things like inconsistent labeling across modules or difficulty installing specific plugins. Fortunately, you can tweak most of these issues yourself with some coding. 
6. Squarespace 
If you're looking to build a website that sells clothing, then Squarespace is a great option. It's an easy-to-use platform that has tools made explicitly for fashion retailers. A few features of their platform include options to create mobile sites, customizable checkout pages, and direct integration with Amazon. 
They have excellent security features, which have earned SAS 70 Type II Certification – the gold standard of vendor certification in secure hosting. Another benefit of using Squarespace is its powerful built-in email marketing tools, which let you build relationships with customers through newsletters and seasonal sales or promos. 
Because of its flexibility, Squarespace is compatible with many different shopping carts and shipping integrations, which helps make it a strong contender in terms of eCommerce platforms for selling clothing.
But Squarespace also has its downsides. For example, it doesn't allow you to import products from other sites, there are no advanced product customization options, and there aren't as many templates as other platforms offer. 
7. Prestashop 
Established in 2008, Prestashop is a highly customizable eCommerce software s widely used by thousands of online retailers. It's built with PHP and Mysql, so you can get started building your website without learning any new languages. Unlike some platforms, Prestashop isn't limited to basic features or plugins. 
With over 130 payment gateways built-in and support for multiple currencies, it makes setting up your store both flexible and straightforward. In addition, you can easily add items to your site's product directory directly from eBay or other marketplaces using Prestashop's external products module. 
Here are some disadvantages you should be aware of. First, it is a lack of support with little training documentation. Moreover, it doesn't have an integrated warehouse management system. That means if you need order fulfillment or inventory tracking solutions, and clothing merchants often do, you should go for another option. 
8. Wix 
In the list of top eCommerce platforms for selling clothing, Wix is worth mentioning. The company launched in 2006 and has overgrown to become one of the most popular website builders, with over 200 million users worldwide. 
Wix might be more widely known as a drag-and-drop website builder, but it's much more than that. The service lets you add a drag-and-drop store to your site without breaking a sweat. 
Once your store is built, you can either sell online only or integrate your Wix shop with third-party sites like Amazon and eBay to expand your sales reach further. Users also have access to over 700 Google Fonts so that they can personalize their website with style. 
The primary issue with Wix is that its templates are geared toward a general audience, not a specific niche. Because of that, they lack specialization and can't provide much in terms of customization. 
They also have very few built-in features that help differentiate your online shop from others in your field. For example, if you're selling clothing on Wix, you'll be out of luck if you want to integrate an inventory tracking system or customer database. 
However, with flexible plans starting at $10/month, you can't go wrong with Wix!
Criteria to select the best eCommerce platform for your clothing store
As there are tons of eCommerce platforms for selling clothing, as mentioned above, before choosing one, you should evaluate your business's situation then carefully consider the following criteria. 
No matter what kind of e-commerce platform you're going with, it's important to keep SEO in mind. If your customers can't find your site or products through a search engine, they'll go elsewhere. For that reason, you must choose an SEO-friendly platform that supports easy navigation and product listing creation. 
Your customers aren't just doing their research on desktop computers anymore –  65% of online sales now come from mobile. So it's crucial to make sure that your customers can view products easily regardless of what device they're viewing them on. 
If you want to sell clothes online quickly, start by choosing an easy-to-use platform. Even though most platforms allow you to jump in and start posting items right away, it's worth taking some time to experiment with how to customize different elements like product listings and purchase flows. 
You'll save yourself hours down the road if everything already looks like something you want your website visitors to see every day.
Think about how quickly you want to scale your business. If it's sooner rather than later, make sure you pick a platform that can grow with you.
Security is a massive concern for online shoppers. Check with your platform of choice to see what security protocols they have to protect sensitive customer information and offer a fraud protection service. 
A secure site with fraud protection is imperative when building trust with online shoppers. Even if you have great products at affordable prices, customers won't buy from you if they feel safe on your website or app.
When you're starting up a business from scratch, you must have support from those who know what they're doing. You don't want to spend hours figuring out how to create a product page. You need help as soon as possible.
Wrapping Up 
eCommerce platforms are the foundation on which people build virtual stores. They handle everything from hosting websites, processing payments, and communicating with shipping providers, and you need to choose the right one to have success online. 
Hopefully, this list of the top ten eCommerce platforms for selling clothing has given you some of the most popular, most widely-used options on the market today, all compared side-by-side to help you make an informed decision.