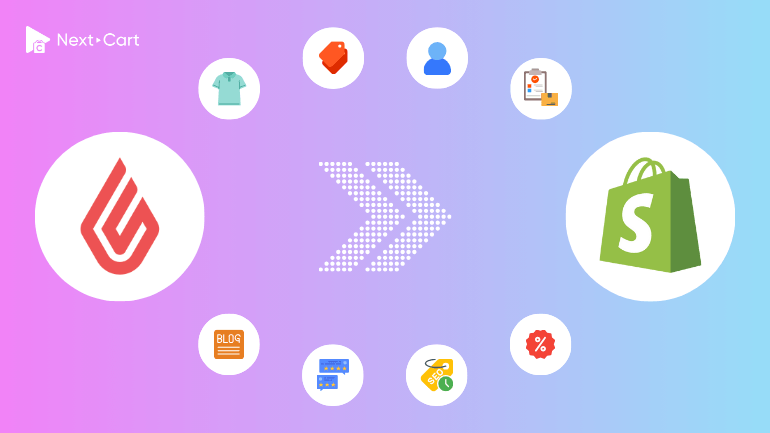 Are you currently using Lightspeed as your eCommerce platform but considering a switch to Shopify? The process of migrating from Lightspeed to Shopify may seem daunting, especially when it comes to transferring your data. However, in this post, we will define the differences in data structure between Lightspeed and Shopify before guiding you through the simple steps in the migration process.
By understanding these differences and following the provided steps, you can move your valuable data from Lightspeed to Shopify smoothly. Let's dive in and explore how you can make the switch with ease!
Retail POS and eCommerce
Retail POS stands for Point of Sale, which refers to a retail transaction in a physical location. It involves the use of a cash register or a computerized system to process sales and manage inventory. On the other hand, eCommerce refers to buying and selling online through electronic platforms.
Lightspeed Retail and Shopify are top-notch eCommerce platforms that facilitate point-of-sale (POS) systems for robust in-store, online, and mobile selling capabilities. Their POS software services are reasonably priced and consistently rank among other choices for small businesses. However, the primary distinction lies in their target markets. The POS of Shopify is primarily tailored to cater to eCommerce businesses, while Lightspeed' POS system is geared towards brick-and-mortar stores, although it can also accommodate online sales.
Both Retail POS and eCommerce are crucial components of modern retail businesses. Many retailers today operate both physical stores and online stores to reach a wider customer base and offer a better shopping experience.
Integrating Retail POS and eCommerce systems allows retailers to maintain consistency in pricing, inventory management, and customer data. It also enables a unified and personalized shopping experience for customers, regardless of whether they shop in-store or online.
Next-Cart is a service provider that specializes in migration solutions for retailers. Our tool supports stock management on both hardware devices and online platforms. And retailers can ensure that their inventory is effectively managed and synchronized across various sales channels. This will provide a seamless experience for both the business and its customers.
Keep reading, you will find the detailed differences in the data structure between Shopify and Lightspeed. Then, we will go to the certain steps for the migration!
Migrate from Lightspeed to Shopify – Differences in Data Structure
Products
When it comes to product listing, Lightspeed allows for both variants and custom options. This means that you can create different versions of a product, such as size or color, while allowing customers to add their personal choices.
On the other hand, Shopify primarily supports variants for products while it does not support custom options. Nevertheless, custom options can still be accommodated on the platform by combining them into variants. So, there is no significant problems, as this feature can be managed within the variant structure.
One important consideration when using Shopify is the limitation on the number of options and variants for each product. Shopify allows a maximum of three options and 100 variants for a single product. Therefore, if your product requires a large number of variants or custom options, you may need to utilize third-party Product Option apps to extend the functionality and accommodate your specific needs.
Product categories
In Lightspeed, product categories can be hierarchical. This allows for a more organized and detailed categorization of products. For example, you can have a main category called "Clothing" and subcategories like "Men's Clothing" and "Women's Clothing" within it. This hierarchical structure is a clear and intuitive way of navigating through product categories.
Meanwhile, Shopify does not support hierarchical categories. Instead, customers need to manually create a drop-down menu and assign categories to it. This means that the categorization in Shopify uses a flat structure and all categories are at the same level. While this simplicity works for smaller stores with fewer products, it can be challenging to manage and navigate through a large number of products.
However, Shopify stores can create smart categories, based on product names, tags, or types. For example, you can create a smart category called "Sale Items" for all products with the tag "sale" or a smart category called "T-shirts" for all products with the type "T-shirt".
Customers
Both Lightspeed and Shopify prioritize the data of customers alongside products as they impact the overall user experience on a website. When it comes to storing customer information, both platforms do not differ in their approach. However, it is important to note that Shopify imposes certain limitations on customer accounts:
Valid Emails: Shopify requires customers to provide valid email addresses.
Valid Addresses: Addresses submitted must contain a valid ZIP code and phone number.
However, these requirements should not be viewed as drawbacks. Instead, they contribute to the overall security and integrity of your website. By working on valid emails and addresses, Shopify helps enhance a secure online environment for both businesses and customers.
Orders
In Lightspeed, there is a single status that represents both payment and shipment for orders. By contrast, Shopify distinguishes between two statuses: payment and fulfillment. It's worth noting that fulfillment in Shopify does not necessarily imply shipment.
Therefore, to migrate from Lightspeed to Shopify, we will need to map the single status from Lightspeed into the two separate statuses in Shopify.
Additionally, it's important to consider that orders are linked to customers on both platforms, so there are certain limitations associated with customer data in the Orders feature.
Blog posts
Both Shopify and Lightspeed see the importance of incorporating blogging capabilities into their platforms, so they enable users to integrate a blog alongside their online store.
When it comes to a leading eCommerce platform, Shopify offers much more than just a platform for selling products. One of its great features is the ability to create a blog page with a feature-rich dashboard. And please be aware that if you utilize third-party website design modules like Elementor or WP Bakery, the content of a blog post might no longer consist solely of HTML and could be incompatible with Shopify.
Other similarities
Both Shopify and Lightspeed support CMS pages, product reviews, and coupons. Furthermore, the structure of these three types of data is remarkably similar between the two platforms.
Simple Steps to Migrate from Lightspeed to Shopify
It doesn't have to be complicated to migrate from Lightspeed to Shopify, even for those who are not tech-savvy. With the user-friendly migration tool provided by Next-Cart, you can complete the entire migration process in just three simple steps. The best part is that the data structure between the two platforms is quite similar, allowing for an easy and fast transfer of your data.
1. Setup the connection
To begin the migration process, you need to establish connections between your Lightspeed site and your Shopify site using our eCommerce platform migration tool.
For your Lightspeed site, you can choose to migrate from eCom or Retail POS account. Specific instructions on your migration tool can guide you through this process.
For your Shopify site, generate an Access Token from your Shopify admin page following the provided instructions. Then, enter the Access Token into the target setup form.
Once you have provided all the necessary information, click "Next Step" to proceed with the migration configuration.
2. Configure the migration
In this step, you can select the specific types of data you want to migrate from Lightspeed to Shopify. The current version of Next-Cart's migration tool supports a variety of data types, including products, categories, reviews, customers, orders, coupons, blog posts, and CMS pages.
You can also customize the migration process using Additional Options. If your Lightspeed site is multilingual, you will need to map the languages in the Advanced Attributes Mapping section.
For order migration, ensure that you map the order statuses correctly. Since Lightspeed and Shopify use different order status systems, you'll need to choose appropriate mappings based on your order processing. For example, "Completed" in Lightspeed may correspond to "Paid" and "Fulfilled" in Shopify.
Once you have completed the necessary configuration, click "Next Step" to proceed the data migration process.
3. Start the migration process
Once you confirm your migration configuration, the migration process will commence. At this point, all you have to do is wait!
The duration of the migration depends on the amount of data on your Lightspeed site, ranging from a few minutes to several hours. Once the migration is complete, you will receive a "Congratulations" notification confirming the successful transfer of your data to Shopify.
Wrapping Up,
Once you have all data migrated to Shopify, it's important to remember that you have only completed half of the job. The next crucial step is to set up the design and functionalities for your new website. But don't worry! Shopify is known for its user-friendly eCommerce platform, so you can perform these tasks without extensive technical expertise. You can manage all design and functionality aspects through the Shopify admin page.
In addition to supporting to migrate from Lightspeed to Shopify, Next-Cart's shopping cart migration tool offers seamless migration from over 80 other eCommerce platforms to Shopify. If you have any questions or need assistance, our team is here to help. Feel free to reach out to us today to go through your eCommerce migration journey.