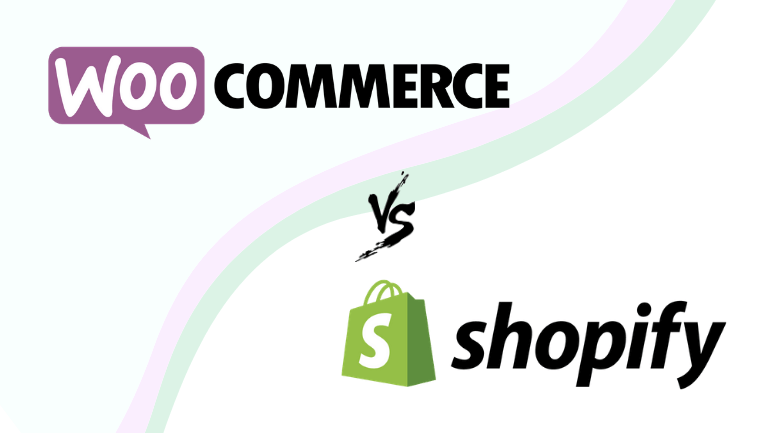 There is a lot of things to do when you want to open an online store like creating payment gateways, working with customers, or managing warehouses. But, the first and foremost issue you should think about is to choose the platform to use.
WooCommerce and Shopify are among those occupying the most significant market shares. So, in the article, we'll show you the typical differences between the two options as well as how they will improve your online business.
From that, we hope you can make the decision between WooCommerce vs. Shopify.
What Features Do You Need For An eCommerce Platform?
A valuable e-commerce platform is to have inventory management options, help you manage payments, and do sales reports. Besides these basic things, it needs to have:
Ability to set product classification
Select product page
Sales and discount functions
Multiple payment gateways support
Information analysis
With the above ideas in mind, let's take a look at the different sides of the two e-commerce platforms below to choose the most suitable one for you.
Shopify
Shopify is one of the world's four largest online e-commerce platform providers.
With many outstanding features and its support for online sales websites, Shopify has quickly named itself on the list of sales platforms that many companies and businesses prefer to use most.
Pros
Easy to install and use
Low start-up cost
Rich source of nice themes
Suitable for Dropshipping model
Provides multiple support options
Cons
Limited functions
Expensive Add-ons
Overloaded support
WooCommerce
WooCommerce is a free e-commerce plugin designed specifically for WordPress. It is a fast and suitable platform for small to large online businesses.
Pros
Free download
Use WordPress CMS to deploy your online store
Customize your store easily with its own extensions
Supported by a large community using WordPress
Cons
Need to use different extensions for many advanced features
Easy to confuse sales with blogging
The Comparison
The Popularity
According to a survey of BuiltWith, WooCommerce led the e-commerce market share (21% of the webs use the platform) in 2018, followed by Shopify (18%).
However, it's hard to say which one is better because, in the top 1 million websites, WooCommerce was still the leader, but in the most 100,000 and 10,000 popular ones, Shopify took that position.
Ease of Use
We can say that Shopify is easier to use compared to WooCommerce with more accessible guidelines and fewer works to perform.
Shopify
Shopify is a fully hosted platform. It means you don't need to install, manage or update any software. As soon as you register, it will help you choose a design for your website, then guide you through customizing and adding products.
Moreover, Shopify comes with intuitive drag and drop interface, making products, sales, and inventory management more effortless.
But, it'll restrict your control that you can only use the tools designed and developed by Shopify or Add-ons in their market. For some companies, it's not a big issue.
WooCommerce
Unlike Shopify, WooCommerce requires you to install, manage updates, keep backups, and make sure your site is safe. However, you can simplify it by using many free and paid plugins.
WooCommerce has one advantage compared to Shopify, which are flexible customization and control.
However, it still doesn't come with the ease of use as Shopify due to the management for your website, especially with the first-time store builder.
Themes and Designs
If you want to know why WooCommerce wins, see the proofs below.
Shopify
The visual quality of its themes is one of the highlights of Shopify. Not only does the platform provide over 60 unique and modern store templates (10 are free) but it also allows you to customize them.
Also, the themes are all flexible on mobile, making sure your customers can easily watch and make the purchase.
Though some of the themes are quite expensive, you'll find they worth every cent you purchase.
WooCommerce
WooCommerce doesn't provide customers any specific design part but cooperates with most themes on the market. That is, you will select the ones you like in WordPress or other marketplaces that are compatible with the platform.
Hence, you will have an unlimited source of themes. In return, you need to spend time to select those working best for your store.
Payment Methods
Both of them supply customers with various useful payment gateways.
Shopify has its payment methods called Shopify Payments (supported by Stripe) as well as all popular third-party ones. The problem is that Shopify charges an additional 2% for each transaction made through the third party's payment gateways.
WooCommerce provides PayPal and Stripe payments by default. It also supports both other famous and less popular payment service providers through additional utilities. As a self-hosting platform, it only requires you to charge just for transactions by your payment gateway or bank.
Price
In terms of pricing, WooCommerce is more reasonable.
Shopify
If you start your online store, then Shopify will be your best bet with a price at $29/month.
However, the more your business grows, the more fees you will have to pay. At these stages, you'd better choose the packages of $79 or $299/month to save more costs of the transaction.
WooCommerce
Since WooCommerce is a plugin for WordPress, it requires you to pay about $70-$150$/year for a domain name, SSL Certificate, and a WordPress hosting account. The cost totally depends on your demand which makes it a flexible choice for startups.
To optimize expenses, you should choose budget hosting, domain, and SSL cert providers such as NameSilo, Hawk Host and Let's Encrypt (Free SSL). You can also choose to purchase tools and plugins only when you need them.
Security
Security is essential for any website, especially the online store. In this field, Shopify is superior to its competitor. It solves all the security breaches and protects your website from hackers. Hence, the information about your customers and the store will be safe.
Since WooCommerce doesn't have its SSL Certificate and isn't automatically PCI-DSS compliant, you'll have to handle the security by yourself or your hosting provider.
Our Last Words
There is no clear answer of which one works more effectively between Shopify vs. WooCommerce because each one has its advantages over the other. Nevertheless, it's undeniable that Shopify is suitable for the beginners, and WooCommerce is more flexible and less limited. Your decision is based on the condition and direction of your business.
For further information, don't hesitate to let us know. If you find our guides are useful, please like and share with others. Thank you!