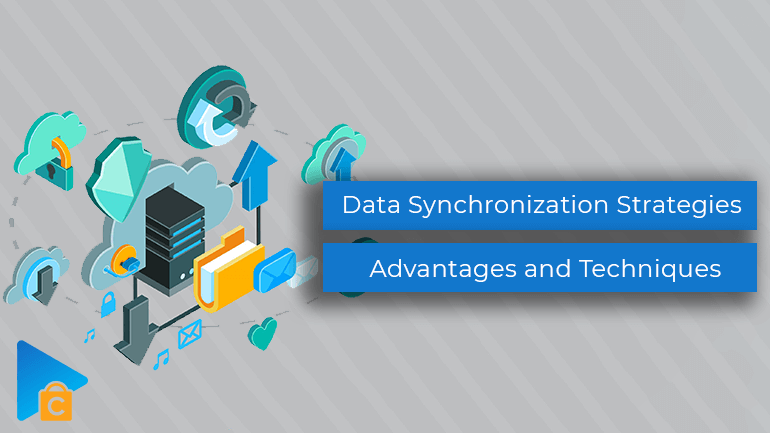 Though the eCommerce business was already an expanding market, online shopping reached new levels in 2020 due to the pandemic. In the US market alone, online spending increased by 44% year-over-year (Digital Commerce 360, 2021).
Fortunately, technology serving eCommerce has evolved at a similar pace. Besides effective software, advances in automation, including data synchronization strategies, have helped online merchants overcome the barriers to entry. They have facilitated the online shopping experience for customers and supported merchants so much.
Data Synchronization Definition 
When you sell on different software and channels, data synchronization makes sure all changes within one system are reflected consistently and accurately in other linked systems.
If you want to build a truly modern BI architecture, you cannot forget this sort of enterprise-wide harmonization. Of course, there are still several key elements that you need to have in place. But the advantage of data synchronization is crucial before you can reach that goal. 
When it comes to the mentioned marketing leads report, there is some form of change data capture (CDC) in place between the subsidiary's database, such as a dedicated platform like HubSpot, and your target systems.
When there are any updates made at the source, the CDC object will read and process these changes. Then, it will match the current dataset against originally input leads data which is stored on linked databases and applications. 
This process will filter out duplicate records and identify discrepancies between the two datasets. These necessary updates and changes are then applied to records at the destination. Similarly, if you have two-way data synchronization in effect, any changes made to the marketing data at the destination would be processed and reconciled with what's available in your source system. This process is done through the differential calculator.
Learn more:
Data Synchronization Advantages
From what we've covered the basics of data synchronization, here are some ways that your business can benefit from implementing data synchronization:
A single version of truth (SVOT) is ensured to get in place for all key processes. No matter if you're talking about financial statements, sales data, or the production information from your manufacturing units, every decision-maker you do will be creating reports and visualization dashboards from the same dataset. 

There will be fewer duplicates, errors, and other inconsistencies during the

data synchronization

between two systems or more. And the more the source data is validated, the higher quality of data you have across your entire enterprise. 

An up-to-date duplicate set of your source data is stored in multiple locations. In case there is any critical data loss in one area, it can be quickly rectified thanks to bidirectional

data synchronization

from a linked database. 

You can make way for collaboration between different departments in your enterprise by aligning your data infrastructure. For example, the marketing team can refer to the same data as the sales team. They can proactively resolve emerging issues by creating more campaigns focusing on specific target segments. Also, they can make it by improving the marketing-to-sales handoff for particular types of leads. 

More importantly, you can avoid much of the manual work of moving updated data from one system to another. You can go through this process smoothly by using an end-to-end data integration platform like

Next Cart data synchronization service

. This

data synchronization software

helps you to automate

data synchronization

tasks. Otherwise, that would cause you many troubles with your reporting processes. Even if you are processing workflows manually, you still need to spend time to execute, monitor and troubleshoot these processes, which a

data synchronization

solution automatically does well. 
Taking the Right Products to the Right People
Product categorization
Sellers in physical stores help buyers easily find the products by displaying them in the correct aisle and labeling it appropriately. Similarly, online stores need the help of product categorization to bring customers convenience.
With better categorization, merchants will get their products in front of the right customers who are really in need. In addition, categorization enables them to appear next to relevant items on a website.
To categorize their products, merchants must adhere to a shopping channel's taxonomy while they are submitting their product catalog.
For example, you might manually categorize a hiking boot as, "Apparel > Shoes > Men's Shoes > Boots > Hiking Boots." But instead of doing this manually for the whole catalog of products, brands and retailers can have the product categorization process automated so that it's faster and more accurate as well. 
Data Markup
Automatic categorization is just one of the helpful advancements that enhance product discovery. Structured data markup is another tool for Google to surface relevant product listings for free in search results. It even boosts sales of popular products that are compiled from product display pages around the web. While giant channels like Facebook, Google, and Amazon are competing to become primary shopping destinations, online merchants can get the benefits of increased traffic. 
Product Listing Optimization
Product listing optimization is another advancement that increases product discoverability, helping customers find exactly what they want. To optimize the product listing, you can craft better titles with search-relevant information, bullet points with outstanding features and informative descriptions that will bump your products up in the search rankings.
Data Transformations
It is a fact that each shopping channel has its own best advantages. That's why it can take a lot of work to tailor a product catalog to meet the requirements. Some merchants decide to catalog their products manually in Excel or another similar program. This might be a tedious process if there are hundreds or thousands of SKUs. This issue can be alleviated thanks to data transformations that create entries automatically and even dynamically as new products are added. 
Augmented Reality
Instead of inspecting a physical item closely in a store by senses like touching, customers rely mainly on product images and videos.
Besides static images, augmented reality features, like the "View in Your Room" option in Amazon, make it easier for customers to try out a product before adding it to the cart.
Google Shopping, Snapchat, Instagram, and other shopping channels also offer similar AR features so that customers can make a try before deciding to buy.
Streamlining the Process
Solution for Multi Businesses
For most of us, it is a daunting task to get all the pieces to work together. But to have a strong online presence, all components from keeping track of stock, optimizing product listings, segmenting ad campaigns, listing new products, removing old products, and fulfilling orders are necessary. 
Then, expanding from a single storefront to a multichannel operation will add challenges. You will suddenly feel like you're running several businesses at the same time. Luckily, with the right tech stack that can help you simplify these processes, it's not impossible. 
With automated workflows and data synchronization, things in your business run smoothly, ultimately resulting in a positive shopping experience from your customers. When you can make sure that inventory is properly synched, all products are optimized to be most favorable for discovery. Then, orders are collected to be handled through a single platform only, which reduces the potential for errors and delays. 
Following is how a today solid eCommerce multichannel and omnichannel cycle might look like:
What Does the Circle Look Like?
The product information is uploaded into an eCommerce platform. 

Connect the online store to a data feed management platform.

The raw data from the eCommerce platform gets formatted based on the best practices for particular channels.

The data feed management platform creates different optimized exports such as Google Shopping Ads, Facebook, and Walmart Marketplace.

The Google Shopping feed is exported to the Google Merchant Center linked to your Google Ads account. Google Ads will use the product feed to create ad campaigns. When shoppers click to any ads, they will be redirected back to your own website. 

The performance of the ad campaigns in Google Ads is imported back into the data feed management platform. Then, custom labels are applied to the product feed according to profit margins. This will accommodate for better segmentation and bidding strategies in Google Ads.

The in-store stock quantities are used to create a feed for local inventory ads (LIAs) and enable curbside pickup. Based on that, you can set up a Shopping campaign showing LIAs to nearby users, or Shopping Ads to users who are far away from your store.

The data feed management platform will export another product feed simultaneously to Walmart Marketplace. The inventory buffers prevent customers on Walmart Marketplace from potentially buying products that are already sold out on your website because inventory quantities are updated frequently.

A customer orders an item on Walmart Marketplace. The order integration of the data feed management platform enables the order data to be transmitted from Walmart to your eCommerce platform.

After that, the tracking number, carrier information, and shipping status are sent back to Shopify. Shopify will process the order data, transmit it to the data feed management platform, and then back to Walmart. Then, the customer will be informed of the order status.
Reducing Barriers to Entry
Issues of Entry Barriers
Most online merchants find it hard to handle perceived barriers to entry. And this can prevent them from transitioning their business from physical sales to an eCommerce model. 
On the other hand, the technological advantages are limited for brand owners who want to expand their online presence. Some legacy commerce platforms do not provide simple enough processes for exporting product catalogs to online shopping channels.
That's why merchants have to pay developers to create custom product feed exports for each of their channels. But they can still encounter an inflexible integration that requires manual updates. Other merchants feel not confident in their expertise to transition, so they end up hesitating to start it up.
Fortunately, eCommerce systems are getting more integrated and easier for online merchants to use right out of the box. Big platforms like BigCommerce, Shopify, Magento, or Salesforce Commerce Cloud offer various degrees of customizability, customer support, and direct integrations with the most popular sales channels. 
The Solution from Product Listing Partners
However, it is just a small step to send product data to a sales channel. The crucial thing for eCommerce success is optimizing the product data for performance on each channel.
You can integrate this process into your tech workflow quite easily. Oftentimes, you can use a product listing partner which serves as the glue between your eCommerce platform and the other channels where there are your listing products.
While most modern eCommerce platforms have simpler workflows, you can still use an older eCommerce platform to export a product catalog, with the right help of product listing partners.
These partners can crawl a merchant's website and import the product data into a separate database. Then, the data is formatted correctly before being exported to a sales channel like Google Shopping Ads, Walmart Marketplace, or any other destination.
Sometimes, the issues with data synchronization cannot be solved in-house because merchants can find the learning curve too steep. Staying up-to-date with frequent changes in product listing requirements across various channels is always challenging.
Giant shopping channels like Amazon, eBay, and Google are trying to create a better customer experience. They have more strict requirements about maintaining high-quality product data and minimizing the notice about issue account suspensions. 
Online merchants should partner with companies with expertise in the product listing to shorten the onboarding period. Also, these companies can help them make the best options once they decide to expand beyond their own online store. Brands often enlist designers to get their product models updated, or retain agency support to execute a digital marketing strategy. 
In a similar way, product listing partners serve as an amazing tool to help manage and improve product feeds, enabling the fast expansion of eCommerce businesses. 
Data Synchronization Strategies and Use Cases
It is necessary to build data synchronization strategies around your organization's data architecture and future requirements. These constraints can help you arrange your data synchronization process in different ways properly. And there should be assistance from data synchronization tools.
Maintaining Available Data
One of the first data synchronization strategies is maintaining the availability of data. For example, you are running an insurance company and all of its claims are processed through legacy mainframes. After a few years of continuous operation, the hardware may have begun to have so many faults that cause it to go offline intermittently. This problem can even lead to the loss of critical data.
The solution for this issue may be setting up a cloud data synchronization process to make sure your OLTP data is backed up safely to a remote, scalable data warehouse environment. This place can be Amazon Redshift or Google Big Query. In this case, setting up one-way data synchronization on a trigger based on time is a great idea so that you can have transactional updates routinely replicated to the cloud. 
Unifying Business Units
Imagine you are operating several business units worldwide and they all produce the same type of data. Then, you may probably want to get a data synchronization process to pick up real-time updates from different regional centers of your company and apply validation rules to ensure inputs are displayed in the standard format. Also, the output could then be loaded into a centralized database in an incremental way. 
With these data synchronization strategies, you would have an up-to-date view of disparate business units. Based on that, you can compare their performances and make accordingly improvements in different regions in need. 
Have a Complete Picture of a Business Process
Sometimes, it is not enough to see just one set of data to have a complete picture of a business process. For example, you can look into your sales department. You can see if the performance of your company over the past quarter has gotten better or not through a simple report on your revenue generation. but it won't tell you the reasons for those results.
To get these insights, it is necessary to analyze data from other sources. For instance, you can have more information from pulling in traffic and conversion figures from your online channels. From the collected data, you will get a better idea of customer engagement and how it contributes to sales. 
Otherwise, you can integrate CSAT surveys from customer support channels into your reporting in order to know which areas of your product are receiving positive and which ones have more negative feedback. 
Proper data synchronization strategies would also allow you to gather current data from different sources such as CRM systems, analytics platforms, or survey tools. You can do that at defined periods and then load these to a data warehouse. 
You can load the key attributes about revenue, traffic, engagement, and average customer satisfaction into slowly changing dimension (SCD) tables. This table would show you a clearer idea of changes in values and add a new row for an effective start. It also ends the date field to show the records which are active at the moment.
Update Your Index
When it comes to data synchronization strategies, here are three main ways to update your index:
Full reindexing
When you decide to perform a full reindex, all existing records are being removed and replaced with a fresh set. People often do this method when the data changes a lot and there's no way for you to track it.
For example, if you have a content site with technical documentation that constantly changes, you need to split long pages into many different records for relevant reasons. This can shift the whole record structure by adding a sentence in the middle of a page, which makes tracking changes very difficult. Also, with some complicated site structure and the way you update it, it might be impossible for you to know what exact pages were impacted. It's where full reindexing is necessary.
Full Record Updates
If it is still possible for you to track changes to your data and identify affected records, then you can update records individually.
Let's assume your forum has a search to look for members and your records contain a one-to-one relationship with member entities. In this case, you can get each record updated whenever the entity changes. 
Partial Record Updates
Full record updates are necessary when you can specify the full data to put in the record. Yet, sometimes when you are only aware of the part of the data to update, and not the rest. In those scenarios, you can choose to perform partial record updates with only the data needed to change.
It is the case when you have an online store with independent systems responsible for different aspects of your data. It can be one for content management and the other for a third-party service for customer reviews. When there are changes in a product's description, your CMS doesn't know the number of reviews the product has. Conversely, as a customer posts a review, the API of your third-party service cannot provide you with other data besides this. Based on the data you get, you might want to centralize update events and perform partial record updates.
To Conclude
Getting products online is only the first step in the whole process. More importantly, merchants need to offer a good customer experience in order to maximize their online business potential. It is said that the best time to invest in the right technology was yesterday, and today is the second-best time. So you should take the action right today to get more advantages. Managing an eCommerce business always seems complicated, but at the same time more tech solutions, including data synchronization strategies, are available than ever before to help you to go on the long run more smoothly. 
Discover the Next Cart data synchronization besides its already well-known service as a shopping cart migration tool.