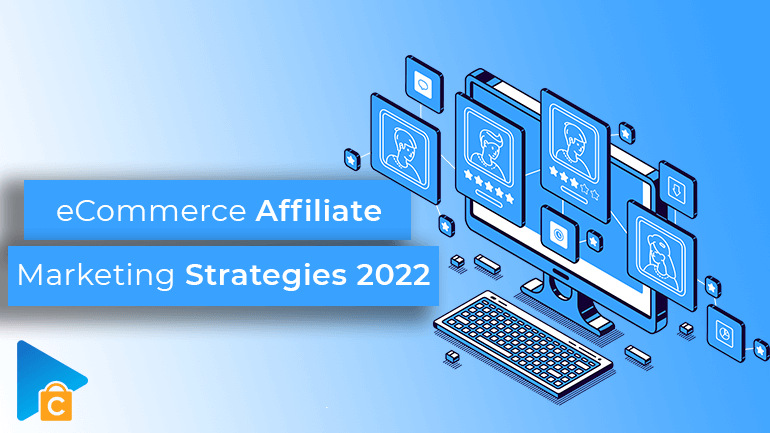 Affiliate marketing has today become a very hot side hustle, especially for the modern generations. People partner with brands, creating unique affiliate links and earning commission on each product sold successfully. However, the market is getting more competitive in the past few years, so you have to learn more about eCommerce affiliate marketing strategies 2022 to take the most of this marketing method.
What is affiliate marketing? In a nutshell, affiliate marketing, or eCommerce affiliate marketing, is an advertising model where affiliates can earn commission in exchange for promoting a brand's products on their own platform. It is predicted that affiliate marketing content will generate over $8 billion in sales this year. This article will share essential eCommerce affiliate marketing strategies 2022 you can use to get a bigger slice of the pie.
Pick up the Right Affiliates
Word of mouth is still a useful marketing tool for you to look into potential affiliates who already have engaged followers that trust them. Numbers are the first thing you see, but engagement, authority, and page views should be also an important factor in your decision-making. So choosing the right affiliates is one of the first eCommerce affiliate marketing strategies 2022 you should apply this year.
Moreover, it is also vital to gauge whether the audience would be engaged in the products or services that you're providing. In other words, you should determine your niche and choose to work with affiliates affecting the same field of interest. Or they have an audience that belongs to your target segment. For example, a tech company wouldn't want to choose an affiliate that specializes in household products.
If you have no idea of where to begin, you can always refer to influencer affiliate marketing platforms. You can meet and recruit high-ranking affiliates.
Optimize Your Own Website
SEO is important for any business, including affiliate marketing. Investing in SEO can leverage your whole affiliate marketing campaign. But it definitely takes time and effort to see the final results.
In addition, SEO is a perfect affiliate marketing strategy when you've just entered the market and with no reputation. It will help you compete with those who have a long presence in the marketplace.
Via affiliate's recommendation, a potential buyer might get interested in your products and go to your website to know more about the products. But while affiliate marketing is one of the best eCommerce marketing strategies to drive traffic to your site, the main goal is to get a conversion. When visitors land on your website, they should be interested enough to take action. It should be purchasing a product or at least signing up for your newsletter. 
Also, the optimizing conversion also creates a great user experience, which boosts leads and traffic to your website. Some platform optimizing strategies to increase conversion include:
Creating video information

Sending personalized email messages

Using keywords based on intent consistently on all your website pages

Developing targeted landing pages

Creating new highly relevant content or updating previous content for the most relevant 

Testing your platform speed
Diversify Affiliate Program through Multi Sources
Financially, diversifying investment portfolios will help investors reduce risk. The same thing happens with diversifying an affiliate program. You can start with relying on one to two affiliates, but it should not be a sustainable option in the long run. To maximize your program potential, you can create a diversified affiliate program. In addition, you can tap new audiences and create future opportunities.
Some tips to diversify your affiliate marketing programs
Find and research potential affiliates, then establish a relationship with them on their own platforms. Arrange your time for recruitment and review your affiliate mix every quarter.

Provide

effective eCommerce marketing strategies

for each type of affiliate. Choose the campaigns that would be relevant and productive for each type as well as define a target ROI. 

Look into more opportunities with your marketing campaigns. If the campaign's performance is consistently well within a set timeline, you can expand your budget for a more elaborate advertising solution.

Share as much information as you can. Discussing how to process your affiliate programs would offer potential solutions for your peers and may even build a collaboration.
By incorporating multiple platforms into your affiliate programs, you can approach a much more audience and drive the best results to your affiliate marketing strategies. It can help you analyze which platform your audience is most engaged for further modification.
Read more:
Some potential sources to leverage affiliate promotions
Product review blogs: While actively approaching a review affiliate blog, you can promote your product more effectively. This affiliated group can help you drive customers who're really engaged in your products or services.
Webinars: You can find great candidates from experts whose webinars' topic is relevant to your niche. Their highly targeted lead generation can be a great advantage for your affiliate program. 

Social media: Social media are the main platforms of most micro-influencers as they are the first starting point to engage with followers. So you should get your products featured by social media influencers, which can give you exponential results.

Email marketing: You can take advantage of affiliates who already have a massive potential list of email subscribers in your niche. Email marketing has always been an excellent way in helping you drive more conversions.
Collaborate with an Influencer
The rising number of social media influencers is changing the marketing industry. In fact, according to a poll earlier this year, 14% of older Gen Z's had bought an item from an influencer's recommendation. Moreover, a study showed that influencer marketing yields 11 times more return on investment than a conventional banner ad campaign.
The reasons why influencers make great affiliates are many. But one of the biggest reasons is that they already have an audience. They can just be content creators, not even need to be celebrities. Actually, many ordinary people who can create engaging content on social media can build a large follower community.
However, affiliate reputation still plays a significant role in the sales conversation, especially for a small and infamous brand.
Then, the best way is to choose to cooperate with publishers who have already established a reputation and an engaged audience who trust them. Apparently, it is more beneficial for you to do business with affiliates with solid recognition by their followers.
To identify if a publisher is potential, check whether that affiliate:
Build a good rapport with their audience

Positively or negatively mentioned on the public

Other factors to consider: site ranking, views, number of followers on social media profiles, engagement, and authority
Leverage Coupon Deals
In the age of digital marketing, coupons still grow in popularity. The relevant research has shown that 60% of online shoppers worldwide actively check for available coupons before purchasing an item from a virtual shop. People rely more on the internet because of the coronavirus pandemic, so they tend to save up all coupons they can get.
About their benefits, coupons are a cost-effective marketing solution, and it is measurable. They can engage new customers and attract old customers to come back. Manageable and affordable coupons allow you to control where you distribute your discount more effectively.
Here are some of the essential things you should do when launching a coupon affiliate marketing strategy: 
Investigate the Industry
Before anything else, it is important to conduct extensive research on the market. You should evaluate your competitors to see how they reward customers, and which affiliates are promoting them? Based on that, build your own coupon or cashback campaign. Decide how long it will run, and how much is the discount value that you will offer to your customers.
Design Your Coupon Campaigns
Next, take a review of your calendar and schedule suitable coupon campaigns at the right. Coupons tend to perform well during holidays of the year, such as Christmas or Halloween.
However, sometimes you could think outside the box, like celebrating a company milestone, which is one of the great opportunities for a coupon campaign. That means segmenting your affiliates will help you decide which ones would do well in which strategy.
Track your the results
You can look into promo codes to review your marketing efforts. They will show you which platforms are bringing the most traffic as well as the conversion rate of each one. You can also understand the needs and shopping habits of your customers. Then, based on their traits and behaviors, you could optimize deals in the future.
Launch Your Affiliate Site with Existing Content
While affiliate marketing is a good option for a potential eCommerce business marketing strategy to start a business online, it'd be hard to launch a brand new website and expect commission instantly. By contrast, it takes time for people to trust the products they're recommended. Though affiliate marketers can help you with promoting your products, you cannot rely totally on your affiliates to have sales come in.
You should spread the word about your new affiliate website before getting it ready. It is said that over the recent years, the greatest performing sites are the ones with over 20 pieces of content before they are put live.
It's so easy to stress over how the website looks. But we should prepare a certain volume of good content to live before people can see the site anyway. A golden rule is to set a whole list of content pieces that are researched in advance. Then, a good number is written up and the site can be launched with content in place.
When affiliates successfully drive interesting perspectives to your landing pages or product pages, it is your job to convert the traffic into customers. To get higher success of each generated lead from affiliate marketers, you should make sure:
The site loading speed is fast, within 1-2 seconds.

The content on the website is informative and relevant to your target audience's needs.

The page displays high-quality and attractive product photos.

It shows customer reviews to build trust.
By optimizing website content and product pages, you will surely give great support to your affiliate marketing strategies and create more conversions in the long term.
Initiate Co-brand Partnerships
The statistics showed that 34% of marketers cited brand-to-brand partnership as the most effective way to get the number of email subscribers. Meanwhile, co-marketed ads led 68% of consumers to a buying decision before even talking to a salesperson. Therefore, co-brand partnerships are listed as one of the potential eCommerce affiliate marketing strategies 2022.
This shows that a co-brand partnership is a productive means for a high conversion rate. What you need is another brand with the same values and demographic targets. 
A perfect example of a successful partnership is Spotify and Starbucks' co-branding campaign. Based on the music ecosystem of Spotify, Starbucks has created a new coffee shop experience. Starbucks can receive new complimentary access to Spotify premium and have the power to control the in-store playlists. 
On the other hand, Spotify's artists can reach out to a wider audience when customers get free Starbucks coffee when they subscribe to Spotify Premium. Overall, it's a win-win relationship.
To implement brand-to-brand affiliate partnerships: 
Set a Short-term Initiative
You can start with creating a short-term campaign with a complementary brand and its affiliates. It is also something like the way that Starbucks and Spotify did. Set metrics, such as cost per lead or return on investment, which should be actionable and quantifiable. This will help you easily review the outcome and make a comparison to previous campaigns. Otherwise, it would be hard to gauge how successful your campaign is.
Explore Potential Opportunities
If the campaigns have been successful, you can consider expanding your partnership further. To make it sure, you might want to do another campaign to test the collaboration. If it proves effective for both your brands, then it's time to involve marketing teams in the process. A bigger marketing initiative could bring a more long-term relationship.
Expand your Efforts
The final step of the co-branding process is to build a more collaborative partnership online and offline as well. That entails different channels for digital and traditional platforms, or even for multivendor eCommerce marketplace. For example, you could promote on social media and even in-store at the same time. To think out of the box, you can even create a section on your website specifically for your brand-to-brand strategy. 
Use Affiliate Marketing Software
It could be overwhelming to build and manage your affiliate marketing campaigns. This is where affiliate marketing software appears as one of the essential eCommerce affiliate marketing strategies 2022. These platforms will help you with tracking, overseeing, and even developing your initiatives. Those, in turn, can grow your eCommerce sales and promote your brand to brand partnerships.
To choose the right software, take these factors into consideration: 
All-in-one platform
The selected affiliate marketing software should allow you to manage multiple affiliate programs with only a single account. By running many different unrelated programs, you can streamline all your information in one location. 
Seamless integration
You should choose the software that integrates efficiently into your websites. You should pay attention to its shopping cart solutions. Which eCommerce platforms does it align with? Does it provide customer support software, or can you incorporate one?
Easy to Set up
The ideal software already has everything including additional tools or plugins that shouldn't require you to download. The software should work on a browser and can be downloaded to your desktop. Also, it should be user-friendly with an intuitive interface.
Mobile Compatibility
Mobile devices bring half of the web traffic globally, so your platform should surely be adaptable on mobile. Moreover, it would be more convenient for you to manage your store's programs. At the same time, a mobile-friendly website would be an easy way for your affiliates to sign in and use your platform. They can track the promotions, and check their commission reports anytime to make any adjustments if possible.
Create Your Own Affiliate Program
It seems a better way to start in an affiliate network. But when you want to grow your business to another level, building your own affiliate program is one of the integral eCommerce affiliate marketing strategies 2022. A successful program would not only drive more traffic to your website domain but would also give you the ability to manage all your transactions, affiliates, and even commissions. 
There are several things to build your own affiliate program: 
Decide Which Software to Use
To run your own affiliate program, you need to use an affiliate tracking SaaS solution which can help you oversee your affiliate campaigns. With the software, you can also communicate with your partners, manage offers, and compensate your affiliates. Moreover, it will allow you to review your campaigns' performance and make necessary changes for future campaigns. 
There's a wide range of software solutions for you to choose from. You might need an extensive tracking report or different commission options. But be aware to choose the one with features that can address your business's practical needs. 
Set Rules and Expectations for the Programs
Discuss the basic information with your affiliates, like your target audience and the time of day to plot your marketing campaign. You should also pinpoint which channels are appropriate for each marketing campaign. 
Your priority is explaining program rules that would help curb fraudulent affiliate links and shed light on any payment problems. You should also have an agreement with your affiliates about duties and expectations. This would avoid misunderstandings and wrong messages. The results are costly and may damage your reputation as well.
Plan a Payout Scheme
You should know and get familiar with the most convenient payout methods, such as pay-per-sale, pay-per-click, or pay-per-lead. The payout structure would decide your goal. To identify practical commission percentage, there are a few elements, such as customer acquisition and retention. You can refer to the commission rate at which your competitors are offering the same products or services. Otherwise, it is also an exciting option to offer higher commission rates for a limited time.
Find Affiliates
Affiliates are the main goal of your program. You can rely on many software to find trustful and high-performing partners. Or you can also entice potential affiliates, by linking the affiliate program to your website, or advertising on forums or social media groups, using Facebook or Instagram ads. It is also workable to email your subscribers to join your affiliate network.
Build Marketing Guidelines
Affiliates will look forward to advertising materials when working with a brand. That's why you should prepare your marketing materials and guidelines in advance so that the work will get easier for both you and your affiliates. 
Detailed marketing guidelines will speed up the promotion process. Thanks to the guidelines, your affiliates can understand your brand quicker and can promote your products more efficiently as a result. The less time they need to channel into creating content, the more time and energy they have on promotion. You should spend time presenting which types of materials work best for each type of platform. 
The marketing collateral can help your affiliates market your most relevant products, but not lose your voice. For instance, you can decide the logo designs they can use. Also, you can brief them on which tone they should apply on copy points and captions in each of their promotions.
Final Thoughts
Affiliate marketing has existed since the early days of the internet, but recent eCommerce trends in digital advertising have brought more interest toward it. 81% of brands in the world today apply for affiliate programs in their marketing campaigns, so numerous techniques are available to get you on track. In this article, we've made a list of eCommerce affiliate marketing strategies 2022 to help you explore the most potential ones and follow one or more approaches for your practical business goals.
Learn more about one of the most essential tools for the eCommerce business, which is the shopping cart migration tool from Next Cart.