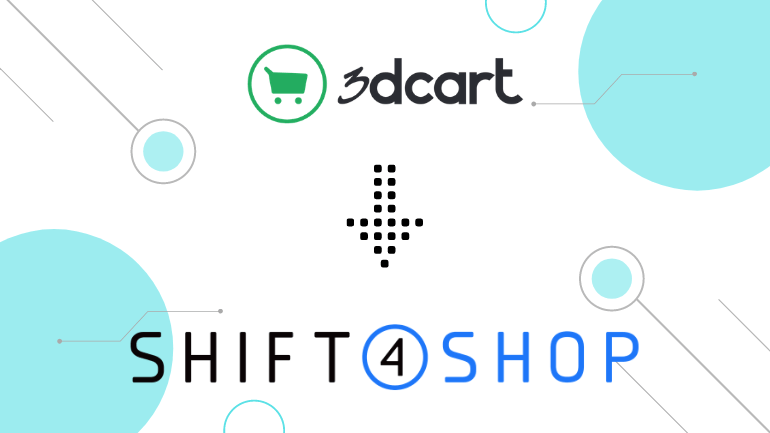 Whoever familiar with 3dcart is now witnessing a renovation that simply skyrockets the platform to one of the easiest-to-use eCommerce frameworks. Firstly, it's the change in the name that catches the attention. 3dcart now is Shift4Shop, jam-packed with whole new features optimized for online shop owners.
But what changes make the platform so powerful? And how does it help with store operation, customer management, and other tasks?
Our experts at Next-Cart have boiled down the pros and cons in this Shift4Shop review.
From 3dcart to Shift4Shop
Launched in 1997, 3dcart has been a respected player in the eCommerce platform play yard. In the context where online shopping is dominating, solutions for eCommerce have evolved to a vast scale.
To serve the demand of building online shops that function smoothly, rivals of 3dcart have developed tons of features to attract users. That said, the platform has to grow in with a selling point, making an easy-to-use one that is suitable for even non-techies.
In November 2020, 3dcart was sold to Shift4 Payment. This commercial affair did not eradicate 3dcart on the eCommerce playground but reinforced it by checking out's powerful technology. From there, the company keeps advancing the platform as well as rebranding to Shift4Shop.
Benefits of the Shift4 technology
While payment is an ache for many other platforms where customers suffer various failures in processing their checks, Shift4 provides feature-rich solutions for checkouts.
Reliable as it should be, the technology is preferred by small to medium merchants and large enterprises. Additionally, the platform remains its user-friendly UX/UI that makes it suitable for non-coders and beginners.
Shift4Shop reviews
Ease of use
Like 3dcart, Shift4Shop inherits a user-drive interface designed in such a way that anyone can use it. At the very start, anyone can create an account and establish their online business using the integrated features.
What's great is Shift4Shop offers the first month for free so that users can use the basic store-building tools to get familiar with the platform.
As soon as you are in the framework, there will be a wizard guide that walks you through setting up steps. Here, you can start naming your business, adding the logo, listing products, setting shipping methods and payments.
The built-in elements allow you to customize the appearance of the storefront and internal pages. Then, you can view the whole from the bird's eyes mode and design it to your liking.
Affordable pricing
The initial price to open a store on Shift4Shop starts at $0 for the first month. The most advanced plan costs $229/month. The other two plans are $29 for the Basic Store and $79 for Plus Store. And all the plans include:
No additional transaction fees
24×7 Tech Support
Built-in Blog
Domain Registration
Facebook Store
Unlimited Bandwidth
Shopping Cart
Secure Web Hosting
100+ Payment Providers
Unlimited Orders
50+ Mobile-Ready Themes
API Access
You can check for the official site for the pricing here.
So, you may ask why the End-to-End eCommerce plan seems like a great deal as it offers no limit access to the features as well as unlimited Staff Users. Well, good cherries have the price. At no cost, you are only assigned to the in-house processor payment powered by Shift4 Payments. Of course, there will be rates charged by the parent company at the industry standard of 2,9% plus $.30 per transaction. Besides, End-to-End eCommerce is just available for merchants based in the US.
On the other hand, paid plans provide you with a number of payment gateways to make your store highly functional. All of the plans offer the first free month for you to test the platform.
Features on Shift4Shop
A well-organized dashboard: You can find the dashboard of Shift4Shop is quite basic, with all the tools aligned on the left. Those are the major features that let you have an overview of your store quickly
Products: This feature allows you to list all kinds of products, including virtual and physical ones. You can add descriptions, categories, images, attributes, and all information of what you sell here
Multi-channel selling: You can connect your store to the ones on social media. Shift4Shop supports adding checkout POS options on Facebook, Shopzilla, Aliexpress, Doba, Amazon, and eBay
Global selling: The payment gateways provided by Shift4Shop accepts several credit card and digital wallet providers. There are also options for international shipping
Checkouts: You can set up single-page or three-page checkouts. Customers can either pay as members or guests. A module lets you set up a calculator for customers to get real-time quotes from many international shipping providers.
Marketing: You can add promotions, coupons, gift vouchers to boost sales. More than that, there are email templates for you to perform email marketing
Dropshipping: Though this is not a focused feature of Shift4Shop, you can do dropshipping right on this platform with the auto-emailing built-in function. As you know, Shift4Shop is partnered with two dropship giants which are Aliexpress and Doba.
SEO: The SEO tools are made to optimize your products and site. It helps generate SEO-friendly URLs with long-tail keywords. More than that, you can customize the content following the search-friendly navigations right on the platform.
Integrations and plug-ins
There are more than 200 apps on the Shift4Shop store for you to integrate into your store. Although the amount of app is not as abundant as other platforms, it offers essential tools to create a well-functional shop.
The add-ons range from Support, Live chat, Accounting, shipping, order management, inventory management, and so on. But before picking any app, read the reviews from users. Some of the apps don't have or just a few feedbacks.
There is a section where developers can build custom connections using the provided RESTful API.
Payment processing
Outside of the End-to-End eCommerce default payment gateway, you can choose among more than 100 payment providers in the paid plans.
Although there are no transaction fees charged by Shift4Shop, you are expected to pay processing fees. For flat-rate providers like Stripe, Paypal, and Square, the charge is somewhere around 2.9% + $0.30 per transaction.
The platform also allows beyond card payment methods. That means you can include ACH and eCheck payments and more options. They consist of financial lenders like Affirm, Sezzle, Klarna, Square Installments. It also accepts Amazon Pay, Apple Pay, and Google Pay.
Customer Service
Shift4Shop supports via a range of channels, including Phone, Chat, Form, Email, Forum, Manuals, Videos, Guide, Advisors, and a Developer Portal.
However, Shift4Shop is not so powerful in terms of support. The Live Chat is not very responsive and may get disconnected for no reason. But we can expect that the team will improve their help desk soon in the future.
For Calling, due to the high volume of requests, you may be put on a long queue, then encouraged to send an email instead. But anytime you get the advisor to help, the answer should be satisfactory.
Security
When it comes to security, Shift4Shop performs at a moderate level, according to our evaluations. It meets the most standard requirements, such as being compliant with the Level 1 PCI DSS (Payment Card Industry Data Security Standard). It does protect your data at a high enough level.
The downsides
Shift4Shop is getting better, apparently sharper in terms of features. However, the platform is still coping with a number of cons.
Upon experience, Next-Cart had gone through a few noticeable subjective matters:
Costly extensions: Be careful when using add-ons from the shop because you can get billed more than you expect. While many plug-ins are free, most of them require a subscription to access advanced features
Poor help desk: It's must be said that Shift4Shop should improve their support team so as to be more responsive when customers submit their concerns
Bleak templates: The free themes available are not as impressive as on other platforms, to be honest. Most of them are there to impress new users. But to make a memorable storefront, customizations are needed
Final verdict
With Shift4Shop, creating an online shop starts like a breeze for anyone. It fits the purpose of setting a small store and can be scaled in the long run. In terms of management, Shift4Shop has done well in providing the right and user-friendly tools. And it needless to say that using the payment gateways on this platform is more secure than the others.
Next cart hopes that this Shift4Shop review has given you consideration about this platform. If you need to migrate to it, Next-Cart renders the best service.
Thank you for reading.