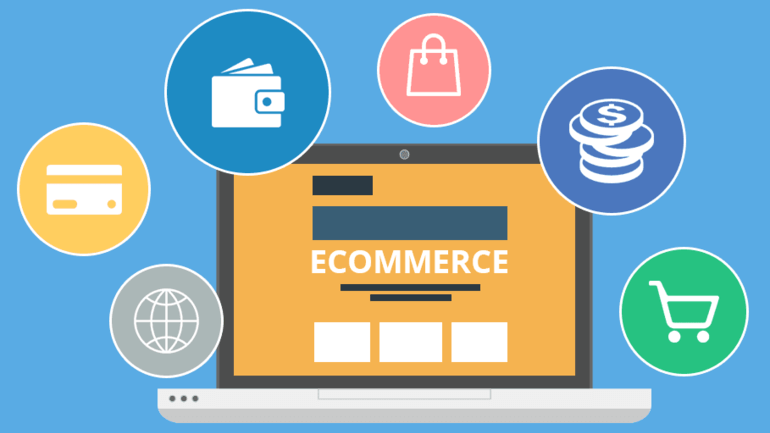 Have you ever idolized some prosperous figures working in the eCommerce business? Have you considered them as your role model and hoped that one day, you could gain similar success? Supposed you say yes, we will show you how to make that dream comes true.
In an era of booming usage of the Internet, all you need to be commercially successful is to find out a suitable eCommerce platform that goes along well with your intended business model from the outset. Of course, this should be an exhausting searching journey but will end with rewarding results.
To make things easier, this article offers you a ranking list of 5 most competitive eCommerce site builders. The ultimate choice, however, is still up to you.
The top 5 eCommerce platforms
Magento
Undoubtedly, the first candidate on the "Best shopping cart 2019" list is Magento. Since its inception back to 2008, Magento has always been a formidable opponent that no other eCommerce sites should underestimate. It answers the need of the growing online market traders with an all-in-one solution featuring both digital, virtual and physical products, sold across a whole spectrum of storefronts.
Did you know that Magento had laid the foundation for the global success of many prominent brands? We can name  Nike, Burger King, Huawei, Pepe Jeans, and Liverpool F.C.
So for which reason can Magento set up its name as such a reliable eCommerce site?
It is established to be customizable and easily adjusted to a specific model you want your dream store to be. No matter how big your goal, how massive your store or how ambitious your global expansion plan is, Magento will help you better-equipped to survive in an increasingly demanding market.
Its automatic order management service saves you valuable time and manual effort for better care of your eCommerce websites.
What makes Magento stand out from the crowd is the available marketing management and searching engine to help bring the message of your online shop closer to the masses.
Note that the basic version will charge you nothing, but an enterprise version won't. Unless you have large groups of available staffs and developers, be ready to invest in third-party integration as well.
Wait, we know it may cost more, but don't get put off. Getting this extension is worth a penny, at best in exchange for your website's extraordinary growth in the long run.
Pros
Open & customizable
Guaranteed security
Powerful SEO
A global community of users and developers
Support seamless shopping for meaningful experiences
Accept a variety of payment gateways
Cons   
Additional cost for functionality maximizations
Occasional slow-down
Beginners without developmental skills struggle
Require ample memory capacity
Shopify
Introduced to the market in 2004, Shopify is, up till now, an undefeatable platform. Targetting small to medium-sized business, Shopify wants to deliver a standard image in which simplicity and beauty are the roots of all things.  It is made for everyone, from a complete tech amateur to a computer geek.
Why? You may ponder.
With the help of the drag and drop interface, designing your own selling home online can't be more accessible. This is not to mention the 100 plus professional design templates. Even for those who are new to website construction can get the hang of it in a matter of minutes.
If you intend to set up a small-scale Facebook-based or Instagram-based business, then the Shopify system is the best bet. Take our words for it because Shopify is working in partnership with Facebook, Amazon, and Uber and it has become a household name, trusted by thousands of businesses.
When it comes to customization, customers often hesitate when choosing between 2 options offered: access to the code or templates. To comfort users, Shopify promised to include customization for both methods.
A striking feature of Shopify that you be pleased with is that they also have the POS system allowing payment methods via a mobile app. This is definitely what online, and brick-and-mortar stores are looking for.
Pros
Super easy to use
Fast loading time
Sleek, elegant design themes open to choices
24/7 customer support
Cons
Only ten design themes are free-of-charge, others must be paid before use
Having a poor ranking in SEO is a great down-size
The URL structure can't be changed
Extra transaction fee needed if you are not using Shopify payments
WooCommerce
This eCommerce powerhouse pops up in the ranking for best shopping cart 2019 thanks to its perfect combination between eCommerce and affiliate site. WooCommerce is working on a tandem with the WordPress platform, which is usually referred to as the King of content and optimal SEO.
Thus, if you are a loyal fan of WordPress, you will, sooner or later, know WooCommerce like the back of your hand. In case you are not, getting familiar with this site undoubtedly takes more time as there are much to cover, such as purchasing hosting and SSL issues.
Even though WooCommerce stands behind Shopify and BigCommerce when it comes to selling aspect, the platform itself is ideal to use
WooCommerce is open to public use and offers quite a lot of free themes with impressive designs.
WooCommerce went ahead with some extensions version supporting paying methods, 1-click selling, follow-up email marketing and shipping service. But bear in mind that some of these must be paid.
One thing that you, dealers, are less likely to encounter when using WooCommerce is abandoned cart recovery – a serious and common worry in online transactions.
But it is not without limitations:
The cost required to purchase good hosting and register a domain name can be prohibitive.
There is no technical support on standby when you face with slow mobile speed.
Most complaints are about loading speed, which hovers around 3.4 seconds.
The site will load more slowlier in the mobile app than in desktop.
BigCommerce
Share your first impression when hearing the word BigCommerce. Do you think of something that has to do with large scale operation, bigger retail brands and so on? If so, then you are right.
BigCommerce has a firm hold on the market and to be fair; it is the best eCommerce platform that takes care of everything you desire to trade from physical to digital goods.
Don't worry if your online store is still new to buyers. BigCommerce comes along with many attractive goodies that no customers can neglect, namely discounts, coupons, give-away gift vouchers, etc. This can be a steady springboard for your brand-new business to thrive and progress.
But that's just one.
Another aspect to amaze at is its entire scalability, ready to be conformed to keep up with the growing demands of the market. One of its prospective clients is Cargill – among the world's top producers and distributors of agricultural products.
Pros
Provide valuable aesthetic sense in design templates to give your store a unique insignia
No design skills needed
Customizable and flexible
Impeccable, reliable shipping & delivery services
Easy check-out
Advanced cart abandonment tool
Cons
Less support for multi-vendor store
Limited themes available for free use
Lacking in 1-click upsells
Prohibitive charge required to update storing space
PrestaShop
The last contender on the list of Best shopping cart 2019 is an ideal choice if you wish to set up an online store within just a minimal investment.
How enticing it sounds, right? We can't wait to check it out.
Founded in 2007, PrestaShop is an open-source organization which uses a freemium model. Not only does this feature help PrestaShop become a preferred choice among thousands of buyers but it also helps contribute to a global ecosystem of dedicated members to whom you can turn for help.
The fully-fledged platform is available for use both in the cloud and on your system after downloading, which means you can choose between a free version in which you can experience the whole customization process at your own pace or if you love, you can go further with the paid version called Prestashop Ready.
To feed the arteries of the whole community, PrestaShop goes into partnership with the eCommerce industry leaders, namely PayPal and Google. Thus, when using the two payment options mentioned above, you are reassured with entirely secure transactions.
Plus, there are hundreds of built-in systems to optimize the functionality of your site, including payment solutions, shipping, robust store builder, SEO service, and social analytics.
Pros
Simple installation
 User-friendly interface
The app will never cost you
Further integration with payment gateways
24/7 technical support
Cons
Limited scalability for multichannel projects
 Slower than other platforms
Conclusion
The "Best shopping cart 2019" uncovers many potential names that will get the ball rolling for your brand-new business. If you are an entrepreneur, go ahead and pursue your dream with a supportive tool from the five platforms above.
Careful considerations will lead to an ultimate wise choice. Finally, best luck for all.