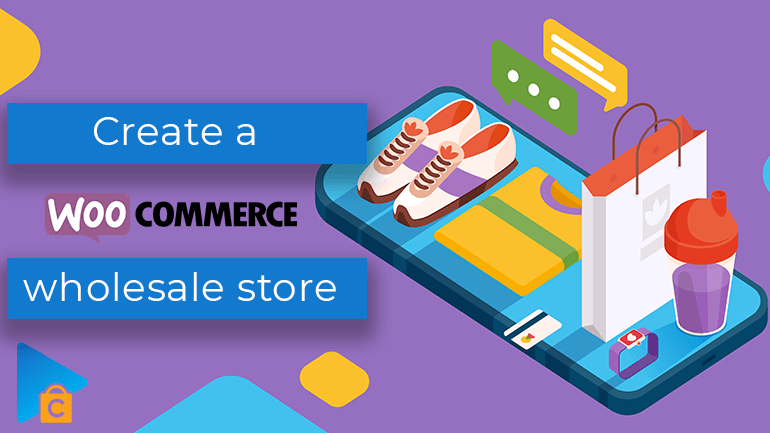 Keep reading the following article to learn about a perfect platform for the wholesale business, WooCommerce, and how to create a WooCommerce wholesale store. What you need are WooCommerce and the best WooCommerce wholesale plugins.
A wide range of available eCommerce platforms makes selling online easier than ever. However, the problem of most platforms is not distinguishing between retail and wholesale customers. If you work with wholesale buyers, you will be quickly aware that their needs are different from retail/public customers. Besides needing wholesale pricing and discounts, they already get familiar with your products and want a quicker and simpler way to buy.
The problem for companies like yours is to ensure the experience for public customers while adding a WooCommerce wholesale area. No worries! Reading to the end of this article will help you walk away knowing how to:
Create a WooCommerce wholesale area for your existing store while not making any changes for retail customers.

Build a complete private wholesale-only online store.

Add a wide variety of B2B features to your store, including wholesale registration forms, pricing, and user roles.

Choose which products to show in the

WooCommerce wholesale

and retail areas.

Increase your wholesale revenue by adding quick one-page order forms designed specifically for wholesale businesses.
We'll show you how to automate your whole WooCommerce store in the additional part. You will know how to set it up in 15 minutes, then wait for it to do all the work for you. It's known as a faster and cheaper way for you to start taking wholesale orders today.
Learn the strategies to skyrocket your eCommerce 2022:
You first need to add a wholesale WooCommerce store, but you should hide it from public view so that only approved wholesale customers can see it. It is better to start with a standard online retail store that has a separate private wholesale area. Some users choose to have a 100% hidden WooCommerce wholesale ordering store that no one can access!
You can do all of this by using WooCommerce Wholesale Pro. As below, you can see how to use the WooCommerce wholesale Pro plugin to add:
Wholesale login page – You can choose to either use or not a registration form for new wholesalers.

User roles – This helps you create additional wholesale user roles.

Wholesale products – You can use the same products in the retail and wholesale areas. But special pricing and order forms are set for wholesale users. Or you can choose different products for retail and wholesale.

Menu links – Use these links to set up the wholesale store navigation.
All these steps are optional, so you can just stick to the default options to set up the WooCommerce wholesale plugin. As a result, the process will get faster.
1.1. Install WooCommerce Wholesale Plugins
You would start it off by buying the WooCommerce Wholesale Pro plugin. After installing and activating the plugin, you will be required to add the license key following the instructions in the confirmation email.
As soon as you finish these things, the WooCommerce Wholesale Pro plugin will automatically create a wholesale user role, a Wholesale Store page, and a Wholesale Login page. You might find you haven't done anything yet, but your WooCommerce wholesale store is now 90% set up already!
1.2. Make Wholesale Registration (optional)
In the next step, log into the WordPress admin and find WooCommerce → Settings → Wholesale → General. Here you will decide whether or not to let new users register for the wholesale store:
If the wholesale registration is workable, then:
The Wholesale Login page will have a registration form as well.

You can decide whether new wholesalers can access the wholesale area immediately, or whether an administrator will hold the customer account for moderation first.
If you cannot make the wholesale registration, then you can still add wholesalers manually through the WordPress admin.
When it comes to editing your wholesale registration emails, it is optional. The WooCommerce wholesale plugin comes with a lot of emails at each stage of the wholesale registration process.
During the installation of the wholesale plugin, these emails will be pre-populated based on suitable wording. It is easy to edit the emails at WooCommerce → Settings → Wholesale → Roles if required.
Once the email registration is done, wholesale users and your normal customers will receive the same emails. WooCommerce will provide these tools rather than the wholesale plugin.
1.3. Add Extra Wholesale User Roles (Optional)
As the WooCommerce wholesale plugin automatically creates one wholesale role, it is necessary to charge different prices to different wholesale users, then you have to create a separate role for each group.
To do this, you can go to WooCommerce → Settings → Wholesale → Roles:
The enabled wholesale registration allows new wholesalers to be added to the default wholesale role. Then, their role can be changed manually, for example, when you approve their account.
Via Users → Add New in the WordPress admin, you can add new wholesale users manually, and select the appropriate wholesale role from the 'Roles' dropdown.
1.4. Check the Visibility of WooCommerce Wholesale Products (optional)
All the products in your WooCommerce wholesale store are by default accessible to everyone. However, while public users and normal customers notice the standard price for each product, wholesale users pay attention to the correct price for their role.
Depending on your reference, you can choose which category of products is visible to public users or wholesalers only. You can easily do this option by going to Products → Categories. Thanks to this, you can sell different products or SKU's to both retail and wholesale buyers.
1.5. Create the Wholesale Store Navigation
Finally, to help customers easily find their way around, you need to structure your wholesale store systematically. It only takes you a minute for this task:
Connect to the wholesale login page
WooCommerce wholesale stores can either add a wholesale login link to their public website or keep this private. You can add a link to the 'Wholesale Login' page to your menu or anywhere else on your site, such as the footer. Or, if you do not want people to know that you have a wholesale store, then send a link to the Wholesale Login page to your distributors, such as in the email to new wholesale users. By doing this, retail customers will never be aware of the hidden wholesale area.
Thanks to the WooCommerce Wholesale Pro plugin, you can cleverly show or hide your menu links. As a result, each user only can see pages that they have access to. In the main menu on your site, make sure there are all the required links for both the public and wholesale users. Each group will only see the specific links for them. 
For example, public or normal customers will only access the link to the Wholesale Login page, but not any other links to wholesale-only content. When a wholesale user login, then the menu will hide any public-only links and display the wholesale-only content instead.
Some people add clear 'Wholesale Login' and 'Wholesale Registration' links to the website header to ensure wholesalers can easily find the hidden products and pricing. This contributes to an intuitive user experience for wholesale buyers but still ensures navigation for retail customers. 
Now, it is time to handle your WooCommerce wholesale pricing setting.
Add Wholesale Pricing and Discounts
After building the private wholesale store, the next step is to add the correct pricing and discounts for wholesale users. You should have different pricing for each wholesale role. It will be perfect if there are tiered wholesale discounts for different groups.
WooCommerce Wholesale Pro brings you three straightforward ways to set wholesale prices:
Global percentage discount
Go to WooCommerce → Settings → Wholesale → Roles to set a % discount for each wholesale role. The discount will be deducted from the price of all products. But you can set any products that have a category or product-specific discount.
Category percentage discount
You can have greater control by setting category-level % discounts which will impact all products in that category and its sub-categories. This application is not for any products you have entered individual wholesale pricing.
Product-specific wholesale pricing
You can have specific wholesale prices for each product or variation when it comes to more fine-grained control. Just remember that this option only appears for roles where you enable product-specific pricing on WooCommerce → Settings → Wholesale → Roles.
Logged in as wholesale users, customers will see the correct product pricing for their role. The main price will appear crossed out while the wholesale price will be alongside.
If the products are accessible to guest users and non-wholesale roles, then they will appear at the standard price as usual. The WooCommerce wholesale pricing will get secure, and only wholesale users can see them.
Create User-friendly Wholesale Layouts & Order Forms
So far we have mentioned how to protect your wholesale area from public users most effectively and to set wholesale pricing. But we have just passed only half the journey to creating the best WooCommerce wholesale store.
The second half will handle the layout of your wholesale area. That means we will do things relating to user experience and focus on increasing your wholesale sales rather than functionality.
You need to do something to improve a private wholesalers section if it's clunky and complicated to use, or even if it looks similar to a retail shop. In other words, when it comes to user experience, you need to offer a visually different experience that's better catered to the specific needs of wholesalers.
With public eCommerce shops, their standard layouts often come with large product images and basic information. This layout style is suitable for retail customers who don't need to know detailed product specifications but do get interested in eye-catching, persuasive visual listings. Notably, Barn2 offers a great order form that enables a sweatless add-to-cart process for wholesale buyers.
Retail customers tend to browse the products and if they want to view more detail, they will click on individual product pages. They take their time to go through and choose each product and enjoy visiting a separate page to set quantities and variations for each one.
Certainly, this retail-style layout isn't suited to most WooCommerce wholesale stores. But amazingly, most WooCommerce wholesale stores neglect this fact and leave their wholesale area to appear the same as the public shop.
To help you avoid this mistake, WooCommerce Wholesale Pro is created to cooperate with its sister plugin – WooCommerce Product Table, to bring you the best solutions.
3.1. WooCommerce Product Table
WooCommerce Product Table offers an order form layout that is friendly for wholesale businesses. Products are displayed in a responsive grid to save space or tabular layout with additional product data and instant purchase options.
All those features are more appropriate for wholesale customers, who are already familiar with your products. They tend to see all the product information at a glance, then can select quantities and variations, and make quick buying decisions thanks to a one-page order form. Wholesale customers don't want to waste time browsing different pages for each product.
With a product table wholesale layout acting as a wholesale quick reorder list, B2B customers can have an easy way to reorder their regular products.
Many merchants have made it very straightforward for customers to place an order thanks to the one-page wholesale B2B reorder list powered by WooCommerce Product Table. This list presents everything wholesalers need to know, providing a quick-to-view layout on the front-end, from a short description to the product price and weight.
Moreover, the wholesale order form even shows the inventory status of the products. Most wholesale customers are clear about what they're looking for, so what they want to do is even just check what they want is in stock. Then they just need to enter the quantities of products, select any product variations, and click add to cart.
Other companies use Woo Product Table together with Quick View Pro and WooCommerce Variation Swatches and Photos to build the perfect WooCommerce wholesale suite of plugins.
What the developer wanted is a quick one-page wholesale order form to allow quick buying away from the single product page. Also, it is ideal to allow wholesale customers to click on an image and select each color variation.
3.2. How to Create Wholesale Product Tables
Get a WooCommerce product table. You can buy it on its own, but you can have a cheaper price when buying it as a bundle with

WooCommerce Wholesale Pro

. You can find it on the

WooCommerce Wholesale Pro

sales page.

You can easily install and activate WooCommerce Product Table by following the instructions in the confirmation email.
Navigate to the plugin settings page from the admin panel – WooCommerce → Settings → Products → Product Table. Take the license key from the confirmation email, decide the default settings for your wholesale order forms, and then click Save. You can customize the tables according to the details you want, from the styling to the table columns, filters, and sort order.

You can use a shortcode to manually add product tables. However, it is better to set up the product tables in step 3 only, then go to WooCommerce → Settings → Wholesale → Layout. You can automatically enable the product table layout in the wholesale store. The wholesale order form is displayed for logged-in wholesale users in your store, while guests and retail customers still can access the default layouts.
Take More Advantages from Your Wholesale Product Tables
The WooCommerce wholesale table plugin appears extremely flexible. You can see below a summary of the main features to list wholesale products:
There are various columns in the table. Therefore, you can easily control all the main WooCommerce data fields, including title, description, categories, product attributes, tags, stock, etc. You can also add extra product data thanks to custom fields and taxonomies.
With "Add to cart buttons, wholesale customers can place an online order directly from the product table view. You can choose whether or not to include a quantity selector and product variations. Also, the Product Add-Ons plugin allows you to create further options. This way helps you create a wholesale order form that makes it easy for easy bulk ordering and quick re-ordering.
Instead of the add to cart column, you can use wholesale inquiry buttons. Adding buttons or links to the wholesale table allows users to click through to a separate page with an inquiry form. This form is created by using a WordPress contact form plugin. Alternatively, you can use WooCommerce Product Table with a Request a Quote plugin.
In most Woo wholesale stores, files with technical product information are available to download. This feature is incredibly useful for downloadable promotional materials, specification documents, etc. You can add an icon, button, or text for each product linking to a downloadable PDF or similar in each column.
Take advantage of filters to help wholesale customers to find products quickly and easily.
Apply Quick View to Speed up Wholesale Ordering
Going to this stage, you might already know how to create a one-page WooCommerce wholesale order form. But what to do next if you want to show even more information on your website or purchase options? Of course, you will not take wholesale users to a separate page for each product.
The answer is adding the WooCommerce Quick View Pro plugin. With this wholesale quick view plugin, you can add quick view links or buttons to the order form. As a result, wholesale customers can see extra product information, choose variations, and add the products to the cart from a quick view lightbox.
Once they have selected their references, they immediately return to the wholesale order form and continue to add more products to their order. As a result, the customers can do their purchasing much quicker than buying from a separate page.
There are a variety of ways to customize the quick view lightbox to your WooCommerce wholesale store. For example:
Choose to include images in the quick view popup or not. For wholesale stores that sell non-visual products, there's no need to distract buyers with big images.

Decide to show quick view buttons, or just let customers click the product name or image to open the lightbox.

Replace the wording of the Quick View button, for example, to 'Configure Options', 'Read More' or 'Customize Product'.

Select specific information to display in the wholesale lightbox.
Test and Add Wholesale Users 
When you finish setting up the WooCommerce wholesale plugin, it's vital to review and test the experience for both public and wholesale users.
Try logging out and visiting your shop as a guest to see whether the products and pricing are correct?

Now enter your shop as a wholesale user and check if you see the correct products and pricing. Also, make sure the menu links are intuitive. And if you're using WooCommerce Product Table, can you see the wholesale order form layout?
If there are any issues, go back to the plugin settings and keep tweaking your wholesale store until it works perfectly.
Once you've tested everything of the WooCommerce wholesale plugin, it's time to add wholesale users.
If the wholesale registration works well, people can make a registration for an account on the Wholesale Login page. If you want to add wholesale users yourself, there are a few ways to do this:
Add wholesale users manually
For each wholesale user, create a user account (Users → Add New) in WordPress and assign them to one of your wholesale roles.
Convert existing customers to wholesale
You might want to convert an existing customer to wholesale. There is an easy way to do this by editing their account and choosing a wholesale role from the 'Roles' dropdown.
If you migrate from another B2B eCommerce system, there will be a lot of wholesale users to import. In this case, you need to install a WooCommerce user import plugin that allows you to select which user role to import the users to. 
You can use WordPress Users & WooCommerce Customers Import Export. The plugin documentation can help you prepare a CSV file where all the data for the wholesalers is available to be imported and then run the import. 
No matter which method you use to add them, you need to make sure your B2B eCommerce users can log into their account and easily access the private WooCommerce wholesale area. Meanwhile, guests and other user roles will be never aware of its existence.
Extra Tips to Build a WooCommerce Wholesale Store
Create a Private WooCommerce Wholesale Store
Some wholesale stores don't have a public eCommerce area, so you should set up the WooCommerce wholesale plugin without a retail-facing store. To do this, you just need to mark all your product categories as 'Wholesale Only'. Then, you can hide them from public view and other search engines.
There are some tools for you to hide other parts of WooCommerce, like the links to your cart and checkout pages. You can consider using WooCommerce Wholesale Pro coming with our other WooCommerce B2B plugin, WooCommerce Private Store. 
WooCommerce Wholesale Pro enables your wholesale registration, login, and to set different prices for each wholesale role. Meanwhile, WooCommerce Private Store helps you hide those extra parts of your store from public view. 
Just make sure that your non-WooCommerce pages will remain public, such as the homepage and blog. The reason is that WooCommerce Private Store is designed explicitly for stores that do not cater to the public. 
Hide Prices from Personal Users
Suppose you have a wholesale-only store, but you don't want the public to see the wholesale pricing while still being able to browse the products. In that case, you can use WooCommerce Wholesale Pro with the Catalog Visibility Options plugin:
Wholesale Pro helps you to set up wholesale user registration, create wholesale user roles, and add WooCommerce wholesale pricing and discounts.

With Catalog Visibility Options, you can hide the prices and add to cart buttons from users who have logged out. You can also hide that information from logged-in users but without wholesale roles.
As a result, when non-wholesalers visit your store, they can browse products as usual, but they cannot see the prices and purchase options.
Have Customer-specific Wholesale Products and Pricing
WooCommerce wholesale stores can provide specific products and pricing for each customer based on their needs. For instance:
You might sell custom products, like branded items to specific wholesale users.

On the other hand, you might want to sell the same products to all your wholesalers but charge different user-specific pricing.
Create Different Payment and Shipping Methods
WooCommerce wholesale stores can choose to apply different payment methods for trade and retail customers. For example, trade customers tend to pay by invoice rather than online. Other stores provide special shipping options for wholesale users, which are more favorable for bulk buying.
The good thing is that you have an excellent WordPress plugin for this. It is Role-Based Payment / Shipping Methods which is available on WooCommerce.com. This plugin gives you easy ways to offer suitable shipping and payment methods according to the user role.
It is an amazing plugin to set your standard B2C options for retail customers and guests; and B2B options for logged-in wholesale users.
To Conclude,
Whether you are entirely new to WordPress or already own a WooCommerce retail store, running a WooCommerce wholesale store is a brilliant idea. With the involvement of some WooCommerce plugins we have shared in this article, you can totally serve both B2B and B2C customers with one site effectively.
If you are working on another eCommerce platform and want to migrate your current online store to WooCommerce, consider using the Next Cart shopping cart migration plugin for WooCommerce, which makes the eCommerce migration become much easier and more effective.
Let's see how the WooCommerce migration tool works here.