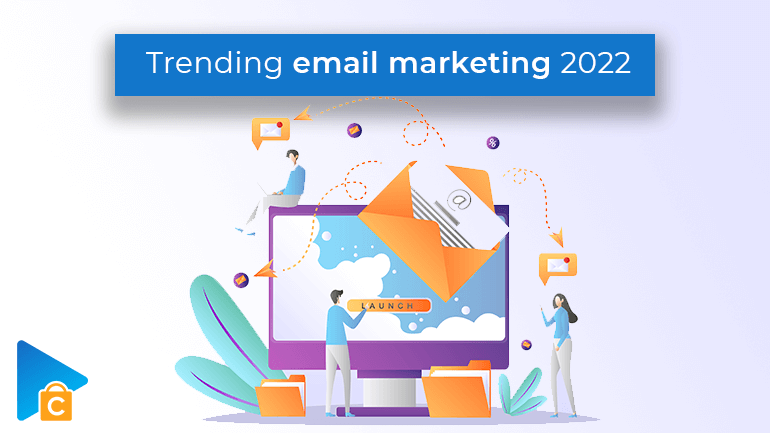 Marketing strategies constantly change positively over time. Digital marketers always stay ready to update new trends. 1 of the best trends is email marketing 2022. Through emails, eCommerce marketers connect with customers and drive them to buy more products.
In this article, we share the top 10 email marketing trends in 2022. Also, you can refer to the top 8 services and platforms that support email marketing campaigns. Let's have a look!
What is eCommerce email marketing?
eCommerce email marketing is a unique marketing channel that sends notifications to your customers about new products, recommended items, discounts, best offers, and other promotions from your online store.
Email marketing is also an excellent strategy to describe the high value of your eCommerce brand to people. With good email marketing ideas, you can drive more potential customers to buy your products and retain old subscribers to keep purchasing your items.
Top 10 email marketing trends in 2022
1. User Generated content
Building user-generated content is a simple and effective way you may consider. It supports creating more conversions and improving organic traffic for your store.
The user-generated content is your customer review of a specific product, his rating, pictures of your customers using your items, feedback, and other types of customer posts.
As people see positive reviews from many other customers regularly, they will have trust in your business. Since you have impressed the customers, conversion chances will increase enormously.
The question is, how to generate content from your customers? You may consider taking advantage of email marketing strategies. Send emails to customers in which you require them to submit pictures, photos, texts, or other types of posts that describe their experience using your products.
As you collect the data, include it in your email copy and send it to other people to gain their trust and convince them to purchase your products.
2. Microsegmentation
You can dig deep into your customer's behavioral information, personalities, interests, locations, and preferences with micro segmentation before categorizing them into specific mailing lists.
The behavioral needs of customers constantly change over time. Therefore, you need to regularly update or renew the customer lists based on the latest behavioral patterns.
To update the lists, you first need the data from your customers. Start a survey in the emails you send to the audience to catch up on all the changes in their needs and preferences.
You can do micro-segmentation from many characteristics from the collected survey data. For example:
Customer location/ customer area: house location, company location, and so on

Personal favorites: favorite shopping period, favorite food, an ideal time for email reading, etc.

Buying habits: favorite goods, preferable shopping time, and so on.

Personalities: age, profession, work position, gender, etc.

History of travel: famous travel area, history of the previous trips, etc. 
3. Application of AR/VR – Augmented Reality and Virtual Reality
AR/VR is not the most common strategy, as there are still limitations that prevent marketers from leveraging this type of content in an email (not all customers have high-end smartphones that are compatible with AR/VR). But it is a hot trend that will grow strongly soon. 
More and more eCommerce store owners, massive companies like Apple, are applying Augmented Reality and Virtual Reality in their emails.
The best sample we can give is Apple. This giant company integrated AR support features in its iPads and iPhones. Customers can experience beautiful AR content right in their Mail application, as well as in other third-party apps. 
In detail, you can send a regular 2D photo of your product in the email. As the receivers click on the picture, it expands into a 3D Augmented Reality object. This gives users a chance to understand your products better. 
4. Personalisation
Many customers are very aware of the information collected from them. Your guests accept to provide you their data, with the hope that you will offer better service for their requirements, based on the collected information. 
As you know everything about the customer, including names, preferences, location, frequently bought products, buying history, etc., you can personalize effective marketing emails to suit the interest of each guest.
Many stores even apply AI – Artificial Intelligence to analyze the customer's data. The AI will then customize marketing emails with specific messages and newsletters that suit the different personalities of the target audience.
5. Mobile optimization
In this modern era, everyone has a smartphone. People can literally do all things on their mobile devices, from shopping for goods, studying, conducting official meetings, to chatting. It is needless to say that your email marketing campaign should have mobile optimization techniques.
In other words, you have to design the emails so that they run smoothly and show up beautifully on the customer's screen. Imagine that the users have to wait for minutes to load your email content. This is such an annoying thing you need to avoid.
On the other hand, make sure that your emails can be read on laptops and mobile devices. If you don't design the responsiveness to fit the screen resolution, customers may miss some important content from your emails, including promotions, offers, discounts, etc.
Good mobile optimization for emails will help enhance Call To Action.
6. Crisp designs
A popular trend for email marketing 2022 is crisp newsletter designs. A visual-friendly email with good content will drive more customers.
What do you need to do to create a proper design for your eCommerce email? Consider getting rid of all unwanted elements and unimportant content. Your customers receive your emails regularly. They will not want to read long content or get bored with a bad interface.
It is essential to keep your email close to the main point. When your customers read your email, they should understand immediately why the mail is relevant.
You can design several reflective elements for the visual experience, including using web-safe fonts, high-quality images, optimized graphics.
If you include programmatic native ads in the emails, make sure that they don't distract your customers.
7. Email accessibility
Your marketing campaign will not be successful if the email is only able to be accessed by a limited number of customers. In other words, marketers should make sure that the marketing emails are accessible (received and viewed) by receivers from different geographical areas worldwide and through various models of smart devices.
Here are some tips to improve the accessibility of your marketing emails:
Optimize the content and interface of your emails for different intelligent devices

Use simple text that is easy to understand

Apply standard font that is safe to all websites

Use adequate font size

Use engaging color

Design a crystal clear graphic

Add dark mode to the email

Edit email content in the customer's language
8. Data privacy
The internet space is full of threats. Many untrustable stores gather privacy data from the customers and leak it out. As a consequence, buyers may not be willing to give their personal information to you.
To gain trust and convince the customers to send you their data, you should send emails to them, explaining and promising that you will make sure for the data privacy. As the customers understand that their information is safe, they will not be afraid of providing you with what you need.
9. Interactivity
Old styles of emails contain fixed text, images, or videos. If you want to gain marketing success, try creating something new with the emails. Designing interactivity features is an excellent way to make your marketing emails more engaging and exciting.
Some interactivities you can add to your marketing emails are:
Call To Action buttons

Graphics interchange format (GIFs)

Gamification elements

Rollover effects for images and photos

Hover effects for images

Options for light mode and dark mode

Forms, polls, survey

User-generated content

Interactive sounds
10. Omnichannel communication
You will have more chance of success with marketing emails if you combine them with other multimedia channels, including SMS, social networks, popup web push notifications, etc. Expanding your digital presence to many channels will help you make more interactions with customers.
The advantage of omnichannel marketing is that it updates and changes messages on different platforms constantly based on the behavior of the customer. 
For example, a guest opens your email and visits your store. He looks at a particular product but does not buy it. You will then follow up with a Facebook advertisement that suggests that type of product to him. When the customer confirms the order, he immediately receives a confirmation email with shipment data.
More strategies for your online business:
Why should you use an email marketing service?
The ISPs – Internet Service Providers do not offer features for sending newsletters or campaigns. You may not be able to follow the email marketing 2022 trends above if using only Gmail or Outlook. Professional email marketing services are required.
Here are what email marketing platforms and services offer:
Get better rates of deliverability: the email marketing service helps you send a massive number of campaigns to the primary mailbox of the customer. A low number of emails will be put in the spam box.

Increase performance analytics: The service tracks the number of emails opens, clicks, and interactions. You can analyze all the tracking details to determine whether the email marketing campaign is successful or not.

Monitor customers that have unsubscribed: The email marketing service tracks the unsubscribes by itself and updates contact records (customer list). You will avoid sending emails to customers who don't care about what you are providing.

Send a large number of emails: Many internet service providers give limitations to the number of emails you can send daily. But professional email marketing services do not. You are free to set up the marketing plan with any number of emails you decide.

Customize personalized emails: The

email marketing platforms

integrate designing features. You can use their custom tools to edit and design beautiful and attractive emails based on the customer's personality. You can also build responsive HTML emails to show up beautifully on both laptop and mobile screens.
Note: If you want to transfer data from your existing website to a new email marketing platform, try the shopping cart migration tool of Next-Cart. The tool is integrated with different popular platforms, including WordPress, WooCommerce, BigCommerce, etc.
What to Look for while choosing an email marketing service?
Different email marketing platforms offer various services and features. Some services have all functions you require for a high-quality email marketing campaign, while some don't. In this section, we explain all the factors to consider when you choose an email marketing service.
Design support
The email marketing service should include designing tools so that you can customize the emails quickly. It should offer ready-to-use materials that you can apply to your newsletters to perform a good UI – user interface.
The design tool should not be complex to use. Most services nowadays offer a drag and drop editor, which allows you to customize your emails using your desktop mouse easily.
AI Feature
A good email marketing service may offer integrated AI-powered tools. These technologies automatically track users' data and personalize emails to suit customers' preferences. You will not need a lot of effort to send a large number of personalized emails, thanks to artificial intelligence.
Contact list management
The service should also allow you to manage your contact list. It is good if you can divide customers into different categories and track the interactions of your customers with your emails.
Many trustable platforms can track how customers interact with the emails and give analyzed results. You can determine how successful your marketing campaign is.
Also, if the service finds out that someone unsubscribes your emails, it will remove that user from the contact list. You will not waste time sending that customer the email next time.
Deliverability
Deliverability is 1 of the most critical factors a service must offer. As you know, customers focus mainly on reading the primary mailbox. The chance of a successful marketing campaign will not be high if the emails are delivered to the spam folder.
Best Email Marketing Services in 2022
The following tools and services will give you the best support in email marketing 2022. Find out which one pleases you most!
1. Constant Contact
Overview
Constant Contact is a popular service for email marketing eCommerce around the globe. It is simple to use for both new and professional marketers.
Using the service, you can easily monitor and manage your customer contact, email lists, email templates, marketing calendar, and so on.
With an account from Constant Contact, you can access unlimited emails. The service also tracks and reports the performance of your email marketing ideas.
The service contains everything you need for a successful marketing campaign. It features multiple built-in tools for social media, offers a massive library of free images, supports segmentation lists, integrates Facebook advertisement, and so on.
If you want to create and send targeted emails, Constant Contact also supports you. The service appears with great features, including:
Email automation

Surveys

Polls

Drip campaigns

Coupons

Digital donations

A/B testing
You can learn how to use this software in multiple ways. The tool offers live chats, phone calls, community support, email, etc. It also comes with a massive library of valuable resources.
In addition, constant Contact offers online training and in-person live seminars that will help all newbies learn basic techniques of email marketing in the shortest period.
Advantages of Constant Contact
Suitable for startups and small business

Free trial period of 60 days

Not required to use a credit card for trial signup

Low price

Included coupons for price reduction

Containing multiple features
2. SendinBlue
Overview
SendinBlue is a software that focuses on SMS and email marketing for eCommerce stores. The platform is top-rated in European countries.
The service comes with multiple excellent tools that are super easy to use. That said, you can rely on these features to build engaging and attractive emails for your targeted customers. Even when you have no technique in coding, the SendinBlue supports customizing emails with its drag and drop editor.
You will have ease in creating email marketing campaigns, thanks to the SendinBlue automation tools. With AI algorithms, they give support in different tasks, including:
Set up workflows for automatic follow-up emails

User segment

Transfer transactional emails

Recommend the best time to transfer bulk emails for high deliverability
In free plans, SendinBlue allows you to send your customers up to 300 emails in a single day. However, your emails come with the SendinBlue branding. For unlimited emails and no branding, you need to use the paid plans.
The premium plan is now updated with multiple advanced functions. You can now build your own landing pages, use live chat for customer service, use sales CRM, and follow up your customers with Facebook advertisements.
Advantages of SendinBlue
Free sign up with no credit card required

Free plan and premium plan

Low price

Containing multiple features

SMS and email marketing
3. Drip
Overview
Drip is 1 of the best services for email marketing 2022. Many bloggers and digital marketers have gotten success with this tool. 
The service comes up with many advanced features to support sales funnels, personalization, and automation.
This email software integrates with multiple famous website builders. Some samples we can list are WooCommerce and WordPress. This means you can add opt-in signup forms and popup ads to your website.
You can get in touch with your targeted customers and drive them to buy your products. Drip has artificial intelligence that supports automation email marketing campaigns, including:
Smart email segmenting

Split testing features

Visual drag and drop editor

List groups
The automation system also helps you transfer bulk emails while still staying close to every single customer.
As a beginner, you can get used to the service quickly. Drip offers live chat support, online training, courses, no-cost instructions, webinars, as well as complete documentation.
The great thing is, Drip has a revenue attribution function. It analyzes and returns results about the amount of revenue you make from your email marketing campaigns.
Advantages of Drip
Free trial for 14 days

No requirement for credit card in signup

Automated marketing campaigns with emails and SMS

Artificial intelligence features
Overview
HubSpot is famous for its support in CRM and email marketing. The service comes with automation functions that give convenience in starting marketing campaigns.
This tool features a drag and drops editor with a library of beautiful templates. You can take advantage of the tool to customize newsletters, emails, etc., that are suitable to the personalities and colors of your brands and customers.
The service integrates with HubSpot CRM. That's why it can track and analyze personal data from your customers, including:
Device model

Country

Membership

Personal information.
From the analyzed data, you can personalize all emails for particular customers.
HubSpot is also well known for optimization. This software uses automatic features to optimize the email transfer time, increase the deliverability, improve A/B testing, perform detailed analytics, automate marketing, drip marketing campaigns, and so on.
As you see, HubSpot has everything you need. Primarily, you can use all features in just 1 marketing platform, from CRM, automation workflows, email marketing, sales tools to building websites operation hubs.
eCommerce store owners can use either a free plan or premium plan from Hubspot Email Marketing. The free plan already contains CRM and multiple tools for sales, service, and operation. But there will be a limitation for the number of emails that you can send daily (2000).
You also have access to tools that support customizing forms for popup and signup, creating landing pages. The free features also track your online advertisements.
But it is worth it to pay extra money for advanced features. The premium functions are designed for a higher chance of success with email marketing 2022.
Advantages of HubSpot
Free to use

Advanced features for a low price

Offer free-to-use templates

Integrated CRM for personalized emails
5. ConvertKit
Overview
ConvertKit is a trustable tool for email marketing 2022 for online marketers.
The service supports users in upgrading content with email signup forms. It features automatic responders so that administrators can transfer drip emails to customers right from the emailing service.
In case you require a tool that focuses on user segmentation, ConvertKit is an excellent choice. It helps you segment your customers into groups of ones who have bought your products and ones who are interested in particular items. 
Since you complete segmentation, the tool supports creating automated personal emails to increase conversions.
ConvertKit also contains multiple supportive features for email and website design, such as
A/B testing

Templates for design

Landing page editor

Intelligent workflows
If you use the Pro plan of ConvertKit, you can experience high-quality functions such as:
Newsletter referral system

Report

Scoring system for subscribers

Facebook custom audience
Advantages of ConvertKit
Free to use in 14 days

Low price

A policy of money back within 30 days from the purchase date

Offer free-to-use templates

Multiple functions for efficient email marketing strategies
6. Moosend
Overview
Moosend is our best recommendation for small digital business owners. The service has all things required for your email marketing campaigns, including automation functions, email list creating tools, landing page features, and so on.
You don't need to have design skills or coding techniques to customize targeted emails. The software provides tons of pre-made and ready-to-use templates. You can build newsletters and personalized emails in a short period by choosing a template and filling in information.
After starting the email marketing campaign, you can see the results of its performance. Moosend tracks and analyzes essential metrics, including:
The number of email opens

Number of clicks

Bounces

Number of product views

Purchases from the customers
The service even predicts the performance with demographic data.
Ecommerce store owners can take advantage of many advanced features while using the free plan. It is a great thing that Moosend does not charge for marketing automation functions. It is a miss if you don't use the automation workflow system to personalize your newsletter.
Also, you don't need to pay money to use the following features:
A/B testing

Countdown timers

Conditional content

Recommend products by an artificial intelligence engine

Analyzing email heatmap

Create forms that pop up

Design floating bars

Build signup subscription forms
While the free plans in other services give a limitation for the number of sent emails daily and use time, Moosend does not provide any restriction. You can use the free plan forever and send an unlimited number of emails every day. Of course, Moosend does not ask you to give your credit card information.
But overall, we still recommend you purchase the premium option. It includes advanced features for successful email marketing campaigns. With the paid version, you can send automatic transactional emails, build landing pages, and so on.
Advantages of Moosend
No credit card is required for sign up

Free trial

Contain multiple advanced features for free use

Provide ready-to-use templates
7. AWeber
AWeber is an old service, but its features are still trending for email marketing 2022. The software is famous worldwide due to its powerful tools. Both small and medium eCommerce stores can make successful marketing campaigns with this service.
The service is compatible with many famous platforms, including WordPress. Beginners will find it easy to use, as the software offers many email templates that are ready to use.
Besides, AWeber gives support in many tasks, including:
List management

Autoresponders

A/B testing

Tracking emails

Providing detailed insights
You don't need to have experience using an email marketing service before. AWeber provides multiple options of live chat, email support, phone support, live webinars to help you get started. There are also tutorials that show all the basics to you.
Advantages of AWeber
Customer support 24/7

100s of integrations

Free plans with 500 subscribers support

Free signup

Low price for premium plans
8. Omnisend
Omnisend is 1 of the best all-in-one email marketing platforms any eCommerce businessman can trust. The service supports creating beautiful newsletters and automating emails to drive more customers to buy your items. Besides, the platform allows you to do user segmentation.
Of course, Omnisend includes built-in automation to support multiple purposes, such as welcome series, transactional emails, and cart abandonment. 
Users are free to create and customize professional, engaging, and beautiful emails without the need of having coding skills. The service includes a massive library with many ready-to-use templates. Your job is to add your brand, items, discount codes, and other things.
You need low effort to manage your marketing campaign performance. Omnisend tracks and analyzes sales and customer activities. By reading the analytics, you can determine whether the marketing plan has been successful or not.
With Omnisend, you can even go further, as it supports combining emails with SMS to drive more good sales.
For the free plan, you can send up to 15000 emails per month (maximum 2000 emails daily). The limitation increases, depending on your choice for Standard or Pro plans.
Advantages of Omnisend
Low price

Free trial

24/7 support

No credit card required
Last Words
Email marketing is overgrowing. It will soon be an essential strategy that any digital marketers must have to promote their online business.
Above are the top trends of email marketing 2022. They will help you stay close to your customers and drive them to buy your products.
New trends will even come up in the future. Make sure that you are ready to update and apply them to your email marketing campaigns. 
Of course, without good email marketing services, you will have difficulty with your strategies. When choosing a platform, you should check whether it meets all criteria we have explained in our guide.
You can also refer to our top 8 email marketing services. They are the most popular platforms used by tons of bloggers and marketers nowadays.
For further questions, please get in touch with us. We will explain everything that is unclear to you.
And now, many thanks for reading!