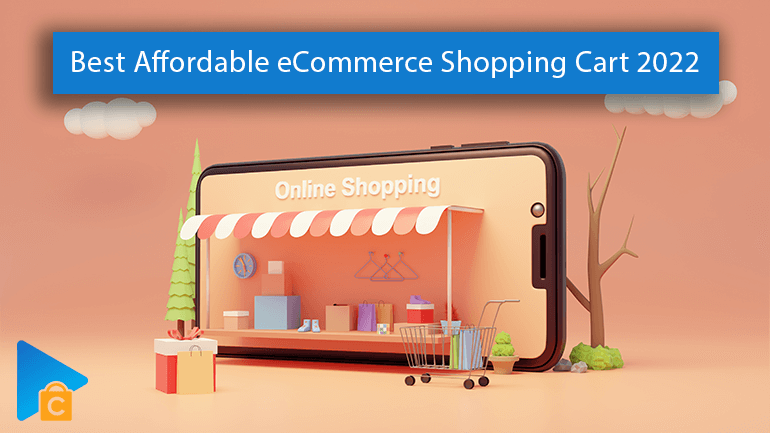 Online business is a billion-dollar industry with a wide range of online stores, so it can be hard to decide where to start and invest your money. If you're looking for a way to create and operate your online store within a budget this new year, a good idea is integrating with an affordable eCommerce shopping cart 2022. 
An online shopping cart is a web-based software that users can add to their online store. This software allows customers to gather the products they want to buy and in the right quantities before checking out. 
About eCommerce Shopping Cart
What is an eCommerce Shopping Cart?
An eCommerce shopping cart is a web-based application created to allow customers to collect items in one place online. After adding items to their carts, customers can review the products and adjust quantities before finalizing the purchases. 
eCommerce small businesses need more than just an online store to work effectively. They also require an efficient solution of managing customer orders, inventory, and customer data. Then, online shopping cart software can help you do all of that.
The online shopping cart is similar to the tangible ones at the supermarket, but serves many more functions. It's also the shelves for products, the building, the clearance sign, the cash register and often the credit card machine. Shopping carts make the gap between shopping and buying smaller. So it is extremely important to have the best shopping cart software on your website.
How does it work step by step?
1. Adding to Cart
When customers surf your store to find their needed goods or services, they could become potential buyers. Then, you can use the Add to Cart button on every product page to encourage customers to select those items for further review. This is the first impression of an easy-to-use tool and attracts customers to move to the next step.
2. On the Cart
On the cart, customers can add new items, remove chosen ones, change the quantity, size, colors, material, etc. They can carry out these actions with a few simple clicks. The total price of all items is automatically calculated to help them balance their budget. When these activities run smoothly, customers will be ready to spend their money on the checkout process. Then, the Checkout button leads them to the next step of payment.
3. Checking out
In this stage, customers are needed to provide necessary information for the payment, such as their name, address, phone number, or credit card number. You should keep this process concise and convenient by using supportive features like automatic address suggestions, diverse payment methods, or multiple shipping options. With a simple click on the Submit/Complete order button, customers can have a quick review of their order information to avoid mistakes and go to make the payment. 
4. Buying some more
After succeeding in making customers spend their money for the first time, the shopping cart does keep customers staying in your online store and buying more. That's why a Continue shopping button is essential. This button leads customers back to the shopping web page to continue browsing for more products. 
Also, you should consider some automatic suggestions for substitutes or complements by which customers can make a purchase without having to leave the shopping cart.
How Can You Make an eCommerce Shopping Online Cart Work?
To use an online shopping cart, at least, you need to have a computer with internet access and a web hosting company to provide server space for your website. Plus, the shopping cart software requires payment processing capabilities and an SSL certificate to get its functionalities activated. 
Shopping Cart vs eCommerce Platform
Shopping cart software allows customers to select and gather products they want to buy. To have this software, you will integrate it with your current website.
In the meantime, an eCommerce platform is a more complex eCommerce solution that covers everything, including online payment processing. The eCommerce software providers design platforms to help you handle every work of the transaction process without the need for third-party services or email marketing software. If this seems more like the solution you need, check out the list of the best eCommerce platforms.
How to Choose the Best eCommerce Shopping Cart in 2022
Many small business owners rely on an affordable eCommerce shopping cart 2022 service as part of their sales strategy to reach a wider audience through the Internet. An easy-to-use platform that integrates with convenient payment providers such as PayPal and eBay will help you start without too much mess.
Learn more:
A Review of the Top 10 Affordable eCommerce Shopping Carts 2022
Online businesses need more than just an eCommerce platform to satisfy their customers. A long and complex checkout is one of the main reasons customers abandon their shopping cart. There is a wide range of options to choose from, but here's a list of the 10 best affordable eCommerce shopping cart 2022 for small businesses. They have reasonable pricing plans that you can pay just under $100 per month.
Shopify Features
Shopify is an amazing eCommerce platform allowing you to build a unique online store to sell products and services. Shopify is designed to support you with inventory, orders, and customer management with ease. The software offers an easy-to-navigate checkout and a reporting feature to help you view the performance of your online shop.
The powerful features of Shopify include:
Easy website integration

Automatic SEO generation

Multiple shipping options

Cross-border selling capabilities
Shopify Pricing
Starting with only $9 per month, Shopify offers several types of packages with a free trial. You can choose among Basic Shopify ($29.99/month), Shopify ($79.99/month), and Advanced Shopify ($299.99/month).
The Shopify Lite plan charges only $9 per month. It gives you tools to sell on Facebook, using Buy buttons and accepting credit card payments. Though not exactly a real online store with a shopping cart, it is really useful for smaller companies. It is also great if you try to install several basic Buy buttons on an existing website, such as your blog or podcast website.
Basic Shopify costs $29 per month, which is the cheapest available option. It gives you all the basic tools you need to start an online business. The basic plan includes 2 staff accounts, 24/7 support, unlimited products, blog feature on your website, and sales channels. Also, you can take advantage of a free SSL certificate, discount codes, manual order creation, and abandoned cart recovery.
Shopify is the standard plan, which is a slightly more expensive plan. The Shopify standard pricing plan is available for $79 per month. It contains everything you get from the Basic Shopify plan and includes gift cards and professional reports, 5 staff accounts in addition.
=> Migrate your website to Shopify with a shopping cart migration tool.
Like Shopify, BigCommerce is an affordable eCommerce shopping cart 2022 for you to create an online store to sell products and services. The user-friendly interface of BigCommerce allows you to design your own storefront, but still take care of hosting and maintenance for you. Bigcommerce has been supporting small to large companies since 1998.
BigCommerce Features
It has over 175 features in which the most important things are:
Customizable templates

Multiple selling tools

Real-time shipping quotes
With Bigcommerce, all your needs are satisfied without breaking the bank. There are five different plans available for use. Following are two of the most basic ones:
BigCommerce Pricing
The Standard Plan can be a suitable choice for you with a selection of critical tools like a payment processor, checkout, and a high-level eCommerce platform. The number of features is rather plentiful for such an affordable plan. To start, you can upload unlimited products and storage, so even large companies can possibly choose the Standard Plan and make it work. 
The Standard Plan costs $25.95 per month. This plan can accept credit cards or payments from PayPal with a 1.5% transaction fee. This does not include the credit card processing fees, so you need to take care of it, otherwise, this fee can add up.
The BigCommerce Plus Plan offers all the Standard Plan features. The additional features include real-time carrier shipping for accurate rates, the best payment providers possible, and an abandoned cart saver.
Advanced customer segmentation is created for honing in on customers you really want to target. Another powerful bonus is about your checkout page which is hosted on your domain. This means that your customers will not be redirected to a third-party payment page. Instead, it keeps customers staying in your store to buy more. Moreover, eBay listings, the wholesale and retail pricing groups work well to create new revenue streams.
Price: $79.95 per month
When it comes to a powerful affordable eCommerce shopping cart 2022, Magento appears to be one of the best options available. There are two Magento versions, which are Magento Open Source (also known as Magento Community) and Adobe Commerce (also known as Magento Enterprise). 
While the Open Source version of this eCommerce shopping cart is ideal for small businesses looking for a way to customize their website design, the version for enterprises requires a huge budget. The cost of Magento Open Source comes from main things like web hosting, extensions, and hiring developers to code your site or fix technical issues. Meanwhile, Adobe Commerce offers exclusive built-in features and their codes can be optimized by default.
With an open-source code, it is easy to integrate Magento with your current website. This unique feature allows you to change your site in any way you like without the coding experience required. This software allows you to create an online store that:
Gets integrated with SEO and many different languages and currencies

Includes personalized emails for each customer purchase

Helps you design a unique storefront

Allows you to track the number of visitors to certain products so that you can measure conversion rates.
In fact, Magento pricing varies a lot. It depends so much on how you want to edit and the hosting option you choose. eCommerce solutions from Magento start at only $29 per month and you can have a free 30-day trial.
=> Find out more about eCommerce migration to the Magento platform.
OpenCart features
OpenCart is an eCommerce shopping cart solution that is user-friendly and easy to customize. You can design and manage your website with ease at the click of a few buttons. This software also provides customized templates including thousands of free web fonts from Google for you to choose from. It also helps you create meta tags, headings, titles, short descriptions, and long descriptions automatically.
OpenCart shopping cart also provides users with:
Tools to send email notifications when any transaction is completed, including the information of refunds or order creation.

An RSS feed to update all customers through email or RSS feeds when there are any changes on site.

A solution to ensure the security of all necessary customer information in an encrypted format for authorized users only.
OpenCart Pricing
As one of the most affordable eCommerce shopping cart 2022, OpenCart is free to download and install. But creating an OpenCart store might charge you some extras:
Hosting plan: The hosting fee usually starts at around $10 / month which fits any budget.

Getting a domain name for your store only costs you around $10 / year or so.

An SSL certificate fee varies, depending on the practical needs of the store owner.

A unique theme, template, additional modules, or extensions that you want to add to your online store. Those cost $100 on average.
Moreover, OpenCart also provides a cloud hosting solution based on AWS (Amazon Web Service) Server. This is an "all-in-one" package and will be fully equipped with the latest version of OpenCart. So, there is no need for a complicated installation process.
All stores built on OpenCart Cloud will get unlimited products, categories, and orders for all their pricing tiers. This is an advantageous feature of OpenCart Cloud compared with some other eCommerce platforms which need you to upgrade to higher tiers of subscription to display more products.
There are three different pricing plans for their Cloud version. Each plan comes with a 14-day free trial and a discount of 50% for the annual payment.
OpenCart offers three tiers starting from £25/month, namely Bronze, Silver, and Gold. Higher levels of subscription provide additional privileges like better customer support and multiple stores. 
Zen Cart Features
Like other affordable eCommerce shopping cart 2022 above, Zen Cart allows users to design an eCommerce store with the ability to sell products and services. In addition, this software offers you the ability to choose your own hosting service company as it's not hosted. Zen Cart gives users complete management over their websites' creation and maintenance without third-party involvement. This shopping cart solution helps you to manage multiple warehouses and set up taxes for every shipping option you offer.
Zen Cart offers you all the necessary features required by businesses today for an online store. Magento will be the best choice for you in case of a powerful eCommerce platform with:
Thousands of free Google web fonts

Customizable templates

Customer notifications upon completion of transactions

SEO integrations

Multiple languages
Zen Cart Pricing
Zen Cart has a free 30-day trial and some different plans for you to choose from. The price ranges from $24.95 per month, and it varies depending on specific business needs.
Zen Cart is free software, so no plans or membership tiers can be compared to one another. Zen Cart will offer the same baseline features (before adding extensions, plugins, or themes into the store) for its users. The difference is on additional features that you are paying for. For instance, if you find Zen Cart's system requirements are already mild, there will be no need to pay for a top-of-the-line web host to install it.
Shift4shop Advantages
As an eCommerce business, you'll need a software platform that supports your specific needs. Shift4shop is an all-in-one affordable eCommerce shopping cart 2022 that provides you with impressive functionality, payment-processing options, advanced tools and scalability, and at a competitive cost. 
This software has over 50 features, all of which will help your customers make their purchase decisions quickly. It optimizes your website to increase conversion rates. This software product allows you to design a platform with customized templates according to your unique preferences.
With Shift4shop software, you can:
Build a powerful storefront to sell products and services.

Manage warehouses

Track inventory

Set up taxes according to shipping options offered

Accept credit card payments (including recurring billing)

Email personalized messages for each client purchase, including special offers like loyalty programs.

Monitor customer spending patterns

Get real-time reports upon completion of transactions.
Shift4shop Pricing
Shift4shop does not have setup fees, transactions, or PCI-compliance fees. You can get a free 15 day trial with no credit card required. The software also offers several different plans, ranging from $49 per month.
There are four different pricing plans on a monthly subscription basis, including the Startup Store, Basic Store, Plus Store, and Pro Store. Each plan will provide you with a specific number of features for your online store. The plan levels increase in price comes with platform functionality.
Three reasonable monthly 3dcart plans:
The cheapest plan is Startup Store, which costs $19 per month. And you will get a 10% discount on this price if you buy 12 prepaid months of a Shift4shop subscription.

The second plan of Shift4shop is the Basic Store, which costs $29 per month.

The Plus Store with more functionalities costs $79 per month
WooCommerce's Advantages
WooCommerce supports you to build an online store with a few clicks. And its free templates and plugins allow you to customize your website. Moreover, you can find out the most suitable extensions among over 100,000 extensions available to integrate into your eCommerce solution.
Some excellent features that you have when you work on WooCommerce platform:
Different currencies for each product are accepted on your site

You can offer and accept coupons and daily deals in order to increase revenues for your business without additional cost

Use Google web fonts

Offer free shipping based on geographical location

Offer real-time reports upon completion of transactions

Integrate and sell products from different platforms including eBay and Amazon

Customize your site with the help of over 30 free themes and templates

Create a mobile version of your website so customers can do shopping from any location
WooCommerce pricing 
The price varies depending on your specific needs and the features that you want to add into your shopping cart solution. And the different tiers of pricing are available to serve your unique requirements to customize your store. WooCommerce pricing plans range from $9 to $249 per month according to your needs and budget. Here are the most typical fees:
Hosting just costs $3.95 or $5,00 per month. Most hosts have an initial free or low-cost period, and you can receive discounts when buying hosting services for over two years.

Like hosting, domain registration costs an inexpensive introductory price. You also get discounts when you purchase multiple years of service. You will pay about $15 per year for each domain name you use.
What is X-Cart?
This is one of the more affordable eCommerce shopping carts 2022 in the market today. But this software still gives you the ability to create an online store with built-in content management features. It also supports multiple shopping carts for small and large businesses. X-Cart allows you to manage your entire inventory and create different types of payment gateways for your customers to choose from.
X-Cart-based shopping carts allow you to:
Offer coupons and daily deals for customers when they do shopping on their site.

Create a mobile version of the website so that customers can check the product information and make a purchase from any location.

Offer different shopping cart solution options for certain types of businesses.

Customize your website with the help of over 150 different themes and templates.

Improve search features throughout your site for the products which are hard to find.

Manage inventory and orders with the  X-Cart solution.

Offer recurring billing for your customers to choose from while also providing a free trial for any customers who want to purchase from you.
X-Cart pricing
Like some other eCommerce shopping carts, X-Cart pricing is also based on the overall features that you use for your business. The X-Cart plans vary from $9 per month to $49 per month.
It might be a bit confusing if you just know about free open source software because X-Cart is licensed and open source as well. However, with X-Cart, when you purchase a license, you can access the source code for custom development as well. Normally, it requires PHP/MySQL expertise. X-Cart also offers a free edition that functions as well as the usual free open-source model.
With different editions of X-Cart, you can have different numbers of features. Those features are intended for businesses of different sizes and goals. And each edition costs its own license charge. 
Some words about PrestaShop
PrestaShop is considered one of the most flexible shopping cart software on the market today. Its over 240,000 free themes can be customized depending on your special preferences with no need for HTML or CSS coding knowledge. In addition, there is a wide range of payment gateways and shipping options available for you to offer to your customers.
With PrestaShop shopping cart, you can:
Offer coupons to your customers when they are shopping in your store.

Create a mobile version of your website so that your customers can still do shopping on your site while they are on the go.

Create custom modules for your website and expand the features of this shopping cart software even more.
PrestaShop Pricing
Almost all reviews on PrestaShop software are high marks in terms of the pricing. Because it is free, and of course, this price is hard to beat. PrestaShop costs $0 per month to download and use the open-source software to run a website.
While the costs of setting up a PrestaShop store are as low as can be, you are expected to pay for site hosting. The cheapest hosting options, which are shared hosting or cloud hosting, will cost you just a few dollars a month. Meanwhile, you also can spend more than $100 each month to access dedicated site hosting. 
Another expense for buying and maintaining a domain name will charge you just less than $20 per year. If you care for your website's security, you can pay for the security costs, too. This cost varies around $100-$500 for an SSL certificate. Also, with just a few hundred dollars a year, you can set up a functioning eCommerce site on PrestaShop.
PrestaShop does not provide you with a free trial, but be aware that it is free to download and tinker with the software. That means there is nothing you can lose by testing it out. PrestaShop also offers a detailed demo that will let you explore the admin and storefront on many devices. You can use desktop, tablet, and phone views. In the demo store, everything is filled in with sample information. That's why you can quickly gain a clear view of how the software functions and decide if it is a good fit for your business.
Volusion's strength
Volusion is a great option to choose if you want to design an online store according to your unique preferences. This software has more than 350+ professionally designed templates. They can be customized without the HTML and CSS coding knowledge. Moreover, this affordable eCommerce shopping cart 2022 provides 24/7 support in order to resolve any issues that may arise while you are using their service.
With Volusion, you can:
Offer coupons and promotional codes on your store for savings.

Build a mobile version of your website so customers can get easy access while they are on the go.

Choose among more than 160 different payment gateways that vary in price points from $20 per month.

Post products with helpful features like adding, removing, and editing photos of your inventory.

Access a customizable design for your online store without HTML or CSS coding knowledge
Volusion price plans 
Two reasonable pricing plans of Volusion:
Volusion Personal Plan is designed for small retailers with a maximum upload of 100 products. A great thing that Volusion brings to you is no transaction fees are required across any of their plans. And credit card fees are set at only 2.15%. In fact, the number of 100 products is plenty to see already. So go for it if Volusion is right for you. This is an ideal software for small companies or inventors who only sell a certain number of items. You really can't go wrong with the rate of $29 per month.
Volusion Professional is a great option for small businesses that are already seeing some cash flow. They can implement more advanced tasks such as product ratings or product imports. The abandoned cart reports show that there is already a strategy for you. And you can spend a little extra money to predict with these reports and even send email marketing messages to attract your customers. The phone support is also very helpful if you sell expensive products. The price for this plan is $79 per month (monthly), or just $71.10 per month (annually)
Final Thoughts
There is no perfect solution for every business's needs. However, shopping cart software provides eCommerce businesses with much more advantages than just an online store. These affordable eCommerce shopping cart 2022 mentioned in this post all give you everything you'll need to build and maintain your eCommerce website. Also, you can optimize it to grow your profits. If you want to find a way to manage all aspects of your business in one place, take this into consideration, it may be the best option for you.
If you consider moving your store to one of these platforms and boosting your growth, our data migration service will do the work.