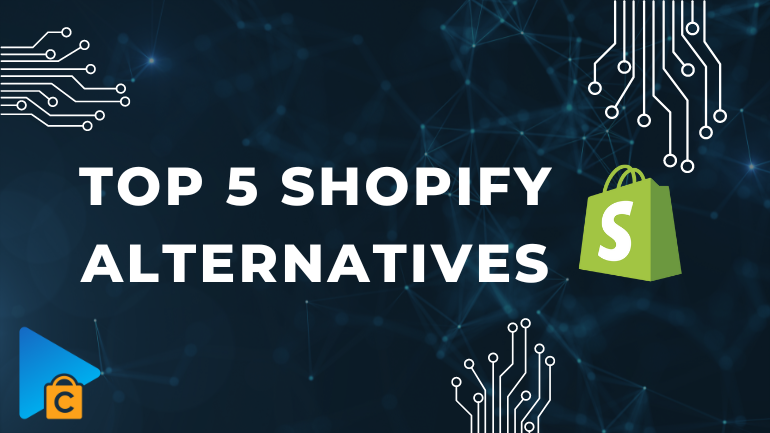 Shopify is one of the most popular eCommerce platforms which is chosen by merchants worldwide. Suppose that you have just started up and want to refer to more options besides Shopify before any commitment to a platform. That's why we are making a collection of the best Shopify alternatives for eCommerce businesses to choose from.
Shopify is the leader, but it's not without any drawbacks and is not for everyone. There are some reasons why Shopify could not be the choice for you. Firstly, you have to pay a monthly fee to use this subscription-based platform. Then, transaction fees are applied to all sales processed through the platform. In addition, there are still numerous limitations in terms of customization and control over your Shopify store.
Let's dive into the list below! 
WooCommerce
WooCommerce provides a powerful and easy-to-use platform for businesses of all sizes to sell their products and services online, becoming the first choice among alternatives of Shopify. With WooCommerce, you can sell physical or digital products, offer subscriptions and membership plans, set up an online store, or even create a marketplace where multiple vendors can sell their products.
In addition, as WooCommerce is built on WordPress, it benefits from all the existing WordPress tools and resources, as well as the huge ecosystem of plugins and themes that are available. Whether you're just starting in eCommerce or you're looking for a more robust solution for your business, WooCommerce is worth considering.
BigCommerce
While Shopify may be the more popular platform, BigCommerce is the next name on the list of the Shopify alternatives, being a strong competitor that offers many of the same advantages. As a SaaS platform, BigCommerce includes hosting and software updates in the price. It also has a larger range of features than Shopify, though this can make it harder to use for some people.
However, the presence of these features means lower app costs in the long run. Overall, BigCommerce is a powerful platform that can save users money while still providing all the features they need.
While BigCommerce does offer a lot of features, it can be expensive, and users have little control over which plan they use. For businesses that are just starting, Shopify might be a better option because it is less expensive and easier to use. 
However, once a business starts making more money, BigCommerce could be Shopify best alternative because it has more features. There is a bit of a learning curve when using BigCommerce, but it could be worth it for businesses that are looking for more advanced features.
Shift4Shop
Shift4Shop is a full-featured SaaS eCommerce platform that doesn't have the common drawbacks of other Shopify alternatives. You will not have to worry about web hosting, software updates, or security as these issues are all processed by Shift4Shop. Therefore, you can spend more time running your store. Moreover, Shift4Shop offers more features than Shopify and other SaaS platforms at a lower cost.
Shift4Shop allows you to use a full collection of marketing features and inventory management tools. This software also includes one of the most powerful built-in SEO tools. In addition, Shift4Shop is considered a Shopify cheap alternative. With the free plan of Shift4Shop, you can access the same or even more features from Shopify, without paying transaction fees. Then, the free 24/7 year-around live support is available to help Shift4Shop users to deal with their problems.
Prestashop
The popular Prestashop eCommerce solution is a strong contender for people on a budget. It is pretty inexpensive, considering it is free, but you must have web hosting and a domain name. Prestashop is available as a hosted solution from providers like 1&1, TMD, WebHostingHub, Microsoft Azure, and more.
Among Shopify alternatives, Prestashop is more limited than Shopify in themes and templates. But it offers an intuitive UX that even the most inexperienced users will appreciate. There are no additional transaction fees for the support of 25 languages, multiple currencies, overseas sales, attributes, and more. 
Also, many tutorials and guides are available for Prestashop users to create an online store easily without hiring an expensive web developer.
However, when your store starts to grow bigger, you might find it hard with only one pre-built theme. Therefore, you should upgrade the free limited modules to a premium one to boost your site much further. 
Square
Square is well known for its white card readers in a small size. It offers entrepreneurs a variety of features to help them run their online shops smarter and quicker. This eCommerce platform allows shop owners to process any customer payments from any country, being one of the best Shopify alternatives.
Square provides Square's Point of Sale app that users can download onto their mobile devices. The app is easy to use, but still powerful and highly customizable. It allows you to control your shop from the convenience of one screen. 
The app enables you and your employees to carry out all customer payments, but you can set control over what your staff is doing. If you want, it is possible to create the customer directory and manage it through the app.
Simplicity is the highlight of Square as it offers anyone with essential instructions to process their business jobs with ease. The workspace of Square is suitable for all kinds of products, ranging from clothes and drinks to TVs and other household equipment.
To Conclude,
Out of these alternatives, BigCommerce, Shift4Shop, and Square are the most similar eCommerce platforms to Shopify. WooCommerce and Prestashop are open-source which makes them trickier for new, even experience users
There are so many Shopify alternatives for eCommerce merchants to run their online stores. This article has presented some of the best alternatives to Shopify that have their advantages over the leader. 
However, Shopify is nowadays still the winner in the eCommerce world, and there are persuasive reasons for that. It is a comprehensive feature-rich and scalable platform with various sleek templates. But on top of that, Shopify's ease of use is the best with the most user-friendly interface and good-looking themes.
If you want to migrate to any eCommerce platform, you could consider the helpful shopping cart migration tool of NextCart to make this process much more straightforward and efficient.