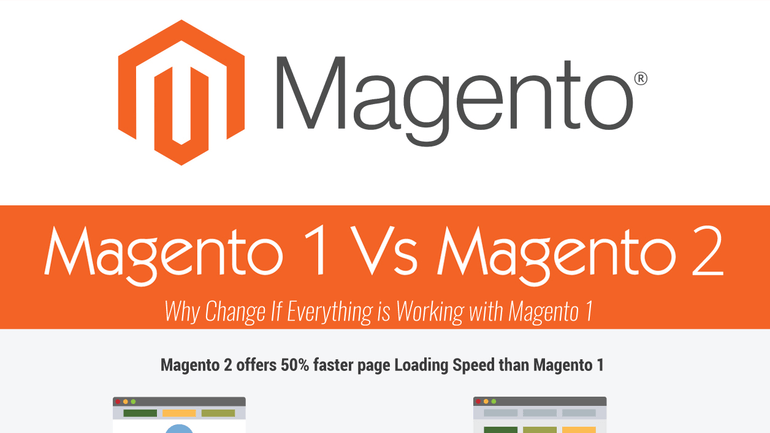 The Magento 1 should have given you a comfort reasoning an adhesion to it.
But there are still many reasons to have a leap to the second version.
Released 10 years after its counterpart, Magento 2 does include advancements that take time to get used to.
However, users constantly wonder if they should do an upgrade for good.
Be it as it may, let's look at the key differences between Magento 1 and 2.
At the end of this article, there will be a cold hard truth as to whether you wish to shift to the new version or not.
Magento Overall
Magento is an eCommerce solution that lets you build and manage your own online stores.
Large companies like Nike, RosettaStone, Easter and many others use it.
The software offers three solutions of Enterprise Edition, Community Edition, and Magento Go.
As an eCommerce platform, its single purpose in life is to sell goods and services online.
It is an open source which allows you or developers to change and adapt the software if there is something not meeting your needs.
Features:
Scalable functionality
Catalogue Management
Content Editing
SEO optimization
Magento is quite popular. It is in the first position in Alexa top 100,000, closely followed by WooCommerce.
Magento 1 vs. Magento 2: Comparison
So far, you can find Magento available in two versions with each containing sub-versions packs a majority of updates.
It's likely that you're in the first version and considering switching to the new one but still on hold.
Here are the 10 essential changes that Magento has made on the version 2.
1. Added theme
This is not a significant change, but Magento 2 now comes with a packaged theme called Luma aside with its Blank counterpart.
2. Improved structure
Old themes and extensions on the first version are not compatible with the existing solution on version 2, but they almost have both versions for Magento 1 and Magento 2. You will need to restructure and look for alternative support to adapt.
However, most of the themes and extensions have versions on both Magento 1 and 2. You only need to take care of the data migration so that it can respectively match Magento version 2.
Next Cart provides the essential solutions to support this matter for you. Please check out our service page.
3. Higher priced extensions
Many of Magento 2's extensions have increased its price compare to those of the first version. That leads to many developers tend to stop their one-off fee for the extensions and use SAAS model to which they pay a recurrent fee.
4. Back-end overhauled
In this version, Magento has approached a flat design making the interface look cleaner and sleek. For some users, the concept exposes to be large with no clear gap between sections of the pages. But once one gets accustomed to it over time, the layout won't be so offensive.
5. Customizable grid data
This built-in ability is an additive copycat of the BL custom grids installed from a third party allows you to add or remove columns to grids. These changes are made on a per-user basis that won't affect what your colleague sees.
6. Increased performance
Heavy demands made Magneto 1 always an uphill battle to load. But its upgraded brother has brought this problem to solve. It is the inbuilt one-page catching and base code optimized that enhance the page load speed and quicker execution on the back-end.
7. Fast-pace update
Like any software, Magento 2 is plowing forward with bug fixes, new features, and quality. If the former version was hit and miss when running updates, Magento 2 is much more user-friendly. The Web Setup Wizard replaced the broken Magento Connect which will run prerequisite checks and point-and-click backup process before upgrading.
8. SEO comprehended
Magento 2 has added a lot of improvements in SEO, some of which can undermine the need for installing third-party extensions. The key advantage is the support of microdata allowing you to make your product data much easier to crawl by search engines.
9. Streamlined checkout
If Magento 1 compiled a whole lot of complexities to make the checkout process frustrated, the lasted version gives the front-end checkout experience more fluid. Assuming you have guest checkouts initiated, the software will auto mark users' email and assign that order to their purchase history.
10. More secure
While security was a concern on the Magento 1, its next-generation comes with a collection of security features that were only available for Enterprise customers on the last version. An array of security options is now on so that you can add peace of mind.
Is it worth it to upgrade to Magento 2?
A high doubt raised when many people jump to the decision to upgrade.
Since the Magento two doesn't promise not to keep your vigil and days of random glitches, but the pain is that Magento no longer supports the first version. But users can expect the expansion of policy or charge a privilege fee.
Any Magento user may know that the first version of the platform is a non-dummy eCommerce platform that requires time to embrace.
The thought of upgrading may bring a feeling of dread to adapt to the new architecture and take time for users to stand on both feet.
However, it is encouraged to make the leap to embrace the changes because what's old will draw and the news keeps coming. Also, it is natural to feel uncertain when moving to a new level.
Will you cross the barrier?
The point of getting the upgrade is to keep up with the changing pace and get to the other side.
But the long run, making that move always bear a good mean for all of you.
Yet it is your choice to decide for an upgrade, but Next-Cart is here to support. With our Magento Migration Service, you will be able to transfer all necessary data from your old Magento 1 store to a new Magento 2 store in a few minutes.
Do leave us questions and comments below so that we can help you.