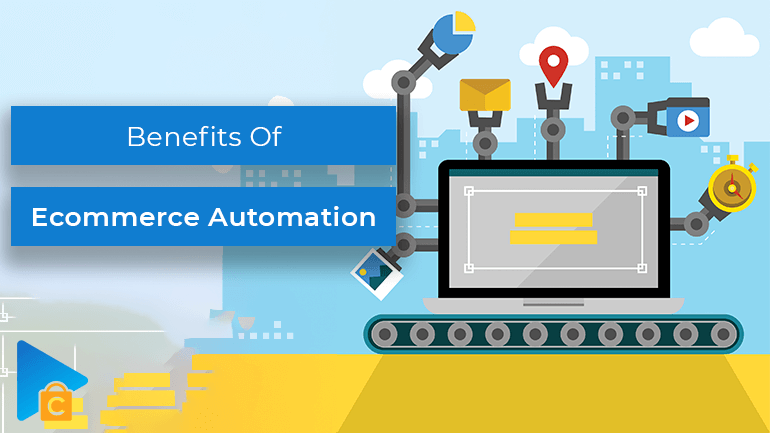 As technology improves day by day, many digital marketers realize the benefits of eCommerce automation. Many business owners have started integrating their online platform with automation features to automate all tasks and improve the store operation structure.
So technically, what can your store benefit from automation? This article explains all the advantages of automation in eCommerce. Also, we teach you how to automate your business with tips and tools. Slide down and have a look!
What is eCommerce Automation?
eCommerce automation is a way of automating different tasks of your online store. Basically, you use software to switch manual tasks into automatic workflows. 
For example, eCommerce automation helps you trigger internal and external emails, notifications, and actions in many applications. All you need to do is set up conditions and requirements for the software. The software will run while you take the automation process under your control.
You probably think that automation makes you fire your employees. However, keep in mind that automatic software does not replace the position of humans. On the positive side, eCommerce automation even gives freedom and ease for your business team to do more tasks at a higher efficiency.
To sum up, eCommerce automation is a type of integration software that is designed to automate tasks, processes, and marketing campaigns under conditions that the users set up. Automation handles a high quantity of complex tasks, which humans can not complete in a short period.
Benefits of eCommerce automation
Here are the top benefits of eCommerce automation. You may not imagine how the software will improve the quality of your online business.
Save User Time
While handling a business, you will want to do as many tasks as you can. Unfortunately, time limits your ability. Since automation takes over a high percentage of your jobs, you will free up your time to do other things.
In detail, the automation software can replace you to process tasks and produce products. The most common automated jobs are social media postings, marketing by emails, and data analyzing. While regular employees need days, even weeks, to complete the tasks, the automation completes those in minutes.
With the potential of automation, eCommerce marketers can focus on finishing higher-skill works. The business efficiency will also improve, as automation helps you complete more tasks.
Streamline Order Processing
With the growth of digital marketing, more and more people choose online shopping. Every day, thousands of orders have been made. It is a difficult task for an ordinary person to process a large number of orders.
In this case, automation shows an advantage. Any eCommerce automation platform has artificial intelligence in the backend. It automates the order processing in a short period of time.
Improve Shipping Reliability
The risks of manual transaction handling are high. Any error can happen that causes serious consequences. For example, a customer orders your product online. Some of your employees forget to track the order. The product will then never be shipped to the customer.
Automation integration will solve the problem. It tracks every single order of your customer, processes it, prints labels of the correct customer address on the package, and changes to the shipping process automatically.
Every data the customer inputs will be processed immediately. That's why there will be a low risk of errors.
Increase the Quality of Marketing Leads
The quality of your leads depends on how you are staying close to your customers. If you don't get in touch with customers regularly, the lead rate will be inferior. On the other hand, if you stay close to the low-quality leads, you will miss your chance to reach better ones.
In this case, you rely on automation tools. They support multiple tasks, from featuring an opt-in button to set up post schedules in different marketing channels. With the help of the tool, you will reduce the bad-rate leads and focus on good ones that help your business profit.
Automation can track the data engagement, views, click-through rates from the customer to distinguish between low-quality and high-quality guests. The result returns to a list of good customers that you should get in touch with.
Maintain A Consistent Brand Presence
In this modern era, you can not introduce your brand to many customers by just advertising in a standalone newspaper. Many eCommerce stores start showing their brand presence on multiple channels, including buyer websites, email marketing, social media, search engine, and so on.
However, there will be a limitation on the number of channels you can advertise your brand. You may not want to spend time maintaining your brand presence on all those channels every day as well. So, why don't you let automation do the job?
The automation tools will show ads on different channels based on the schedule you set up for them. In addition, they may automatically send emails to customers to drive them to buy your products. All the jobs are for maintaining a consistent brand presence for a high engagement rate.
Optimize Operational Structure
By automating many workflows, you can optimize the operational structure of your eCommerce store. Automation integration supports content creation publication, storefront management, payment processing, and so on. All parts of your eCommerce business will stay under your control. 
Improve Analysis of Performance Data (ROI)
Many digital marketers have problems with ROI – Return Of Investment demonstration. But with the benefits of eCommerce automation, ascertaining the ROI of the initiatives by individual channels will be a piece of cake.
In detail, the automated feature supports finding target data. Many automation eCommerce platforms can help you analyze triggered emails, open rates, close rates of potential customers, and marketing conversion rates by showing multiple demographics. Automated technology gives ease of ROI data analysis, you can improve the sales performance of your eCommerce business quickly.
Reduce Customer Churn Rate
A successful business uses digital marketing not only to get more new customers but also to drive the old buyers to revisit the store. Many surveys have shown that a company may use 5 times of investment money for acquiring new customers as for retaining existing clients.
Of course, the benefits of eCommerce automation include managing the churn rate. The artificial intelligence programs are integrated into the eCommerce platform. It analyzes data and automatically gets in touch with existing customers. Many automation software can personalize newsletters and emails to catch the eyes of particular target clients.
The automation software follows your old customers. It knows what customers have bought, like, and are about to buy. This automated feature will then suggest similar products to attract the targets. Thanks to it, your customers will always be engaged with your offers. The trust that the customers give in your brand will also increase.
Improve Customer Satisfaction
Automation gives convenience to not only business owners but also customers. It allows people to access the store, view all specific details of the product that they are interested in, check coupons, and manage other valuable information that is useful to them.
When customers are attracted to a product but are not ready to buy it, they can put it in a cart. After a time, they may forget. But automation may send notifications to remind them.
On the other hand, as customers order the product, the automation will then send a confirmation immediately. They can also monitor the delivery process, as automation navigates and tracks the package location.
When customers have issues with your product, they do not even need to find an employee to help them. Automation can listen to the customer's problem and give the solution quickly.
There are more things that automation brings to the customers during their buying and using journey. All features will make them satisfied. Since the satisfaction increases, trust increases as well.
Offer Simple And Quick Scalability
The online market is super competitive. You always need to scale your pricing with one of your opponents. As you know, between tons of offers for the same product, customers will choose the best deal for the price.
The problem is the prices change at high speed, as other online stores need to change their prices to attract customers as well. It is hard to make an accurate scale in a short period.
That's why you need the benefits of eCommerce automation. It tracks and compares the price of multiple products from different opponents and suggests the best pricing to you on time. With this feature, you can always give the customers the best offers and make them engaged.
Make The Employee Engaged
The automation analyzes and gives data quickly. It also supports scheduling work plans, setting up suitable workflows, and providing recommendations. Your employees will need less effort to complete their tasks, but still make sure of the high efficiency. Since the team members are engaged with their position, they will be loyal to your business.
Offer Secure Payment
Not all customers are pleased with paying by cash. They would like to purchase a product as soon as they can. By applying automation in your business, you can offer the customers multiple ways of payment, not only online banking but also through third-party services, such as Paypal, Stripe, SecurePay, etc. 
You can even create an automated payment gateway by your own brand, in which customers can exchange money for coupons (or coins) and use them to purchase products in your store.
Of course, the automation software is designed carefully to make sure that the payment is entirely secure.
More strategies on boosting your store:
11 Ways to Automate Ecommerce Businesses
To gain the full benefits of eCommerce automation, you should automate all tasks in your online store. In this section, we provide you with 11 best ways to automate your online business.
Customer Experience & Management Automation
1. Track and send gifts to your most engaged clients
Tracking and rewarding customers is an excellent way to retain valuable existing customers to the business. A survey has shown that you can increase your eCommerce profit up to 30% – 95% by a customer retention rate rise of 5%.
Plus, to build a close relationship with loyal customers, you can offer extra gifts or free shipping on orders over $100. Using the segment tool, you can divide your customers into different lists based on their spending and send them emails with suitable gifts.
2. Gather feedback after a purchase.
Reviews or feedback from customers on commerce stores are critical. They can help your business either for the better or for, the worse. To encourage customer reviews, set up an automated email workflow. At this time, emails will be sent out after a period of purchase. Your request for feedback will be sent and fulfilled.
3. Reach Out To Negative Reviews
​​In case you get 1-star reviews, always make sure to respond to the customers as soon as possible. You can set up automated software to help customers. This allows you quickly absorb information and make early corrections. Listen and understand your customers.
4. Tag And Segment Customers Based On Buying Behavior
You can understand customers better through customer segmentation. Also, constantly update the individual needs of customers. With CRM, you can segment customers by tagging. For example, segment by gender, location, order quantity, order value, or any membership registration.
Inventory Automation
5. Automate Inventory Management For Low-Stock Products
Customers will be very disappointed when the product is out of stock. To avoid a bad experience, automate your inventory management to update when it is in stock.
Many automation tools trigger notifications when they detect products that are out of stock. Then, you will know when a product needs to be restocked.
Order Management Automation
6. Send Abandoned Cart Emails
As mentioned, customers may put products that they are interested in their shopping cart. However, after a time, they forget to purchase those. A survey shows that up to 70% of eCommerce shopping carts are not processed.
Of course, you can not follow all customers to remind them to buy the product. But automation tools do the job quickly. They track how long a product has been left in the cart. If the time is long enough, a notification will be sent automatically.
You can use automated email marketing tools to do this job. Many software is ready to use. You just need to integrate it into your eCommerce platform and set up the period (how long it should wait before notifying the client).
7. Send Emails To Customer So That They Re-Order Products
Some types of products can be reordered regularly, including food, healthcare, medicines, beauty products, and so on. You can use automation tools to send emails to the customers, reminding them to reorder your consumables.
The setup is similar to the previous way. You choose the period (how long the software should wait before reminding the customer).
Marketing Automation
8. Take Care Of Potential Customers With Email Marketing
As the customers give you their email addresses and contacts, you can consider them as potential customers. Don't stop marketing them. Use automation tools to personalize emails and gifts to attract these clients. As the customers feel engaged, they may go and buy your products.
With a large number of customers, you can not create individual personalized newsletters for each. But eCommerce email automation can do this job quickly.
9. Schedule Social Media Posts Automatically
It is not necessary to spend a lot of time manually posting content on social media, as there are many automation tools to streamline this process. 
For example, Shopify app – Post-Studio-Auto Posting can automatically post the information of your store products to Facebook and Twitter pages daily. On the other hand, Buffer is another automation application that gives ease of scheduling messages in advance.  
Business Management Automation
10. Use Automation Software That Adds Tasks To Team Sheets
After using automation to analyze the data, you may require a way to notify the team members so that they start handling the situation. For example, if the automation detects a bad review from a customer, it should announce an employee who is responsible for the customer service to solve the problem. Or, if the automation finds out a product is out of stock, it should tell your team to restock it. 
Many automated integrations can support sending internal notifications and pushing data to company sheets. They also allow employees to communicate with each other. Arigato Automation is an excellent sample for Shopify users.
11. Choose A Powerful Help Desk Software
When expanding your e-commerce business, you should ensure that your customer service is covered. Choosing good help desk software is a must. Thanks to the help desk platform, you can easily centralize customer support in one place and clearly control the operation on all channels.t
Last Words
Now you know the benefits of eCommerce automation. By taking advantage of these features, you can streamline a lot of long and challenging tasks and focus on other missions that are essential. The work efficiency will increase.
You don't need to have experience or any technical coding skills to apply automation in your eCommerce store. Just by following our tips above, you can already automate your business after a few clicks.
If you want to move your online store to a new eCommerce automation platform and keep all the information of the current shopping cart, use the service of Next-Cart. They offer a shopping cart migration tool to move all data, including automation integration, between different eCommerce platforms.
Also, there will be tons of valuable tools that help you.