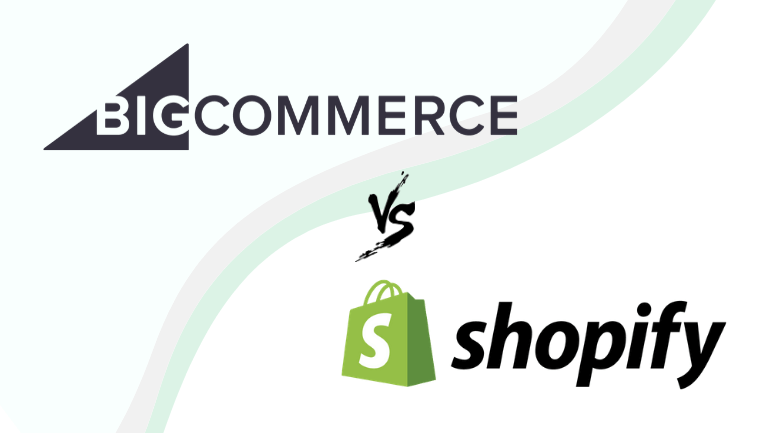 eCommerce sites always serve as quite a vital role in helping entrepreneurs of all kinds to set up their business online. However, with the rise in influence of the Internet as well as the rapid development of the online market, nowadays there are just too many available platforms for you to choose from.
If you are having that kind of trouble, then this article will be of great help, as it will be explaining the differences as well as similarities between the current top two popular platforms, Shopify vs BigCommerce.
Background
|   | BigCommerce | Shopify |
| --- | --- | --- |
| Number of Sites Powered | Not public | 6,000,000+ |
| Number of Products | Unlimited | Unlimited |
| Number of Themes | 208 (15 free) | 141 (12 free) |
| Number of Apps and Plugins | 5,000+ | 8,000+ |
| Number of Stores | Not Public | 4,400,000+ |
| Number of Supported Payment Gateways | Almost all | 70+ |
| Bandwidth Restrictions | None | None |
| Pricing | Starting at $29 | Starting at $25 |
(These figures were updated in June, 2023)
BigCommerce
Founded back in 2009 as a two-person startup, BigCommerce was completely bootstrapped until they managed to get a Series A funding worth 15 million USD from General Catalyst Partners. Right then, BigCommerce also announced that the site's client base had risen 680% year after year.
It went on to become one of the most popular platforms for all kinds of online entrepreneurs. The company then made a bunch of special deals with giants such as Paypal, Instagram, etc. As a result, it is the one you would like to use if you want huge connections.
Advantages of BigCommerce
Possessing the single largest collection of built-in features in all of the e-commerce platforms
It has one of if not, the best SEO helper that can help you tremendously in the process of boosting the store's ranking in the search engine
Supporting multiple channels that can sell across a lot of platforms like Pinterest, Instagram, and Facebook.
The flexibility of the platform is quite great.
Disadvantages of BigCommerce
It is quite poor for the beginners, as it has quite a complex terminology.
It does not offer the support of the mobile application, meaning there will not be any BigCommerce mobile app.
The interface that you will be using to edit your store is actually quite difficult to navigate around.
Shopify
Created back in 2004, Shopify is undoubtedly among one of the oldest platforms for online stores. Since its conception, this platform has continuously provided quite a streamlined approach for building stores. Shopify has one of the highest-quality hosting services right now, equipping unlimited bandwidth, site backups, and a CDN.
The site will make you forget about ever needing to find a hosting provider. In addition, it has quite a user-friendly interface that was specifically designed to help the newcomers through the essential process like registration as well as product addition.
Advantages of Shopify
It has a big collection of varied and mobile-friendly themes for the storefront. With this feature, the store will optimize automatically so that it can become compatible with numerous types of devices and screen sizes.
A humongous App Store which is always available so that you can add more functionalities easily to the site.
The platform does offer hosting as well as SSL, meaning you will be able to cut down quite a huge sum of budget.
The customer support feature is always available 24/7. You can contact the support staff through emails, live chats, or cell phones. This platform even has a dedicated forum so that the users can share business tips as well as experience building a website with each other.
Disadvantages of Shopify
The themes are not all free. Nonetheless, your early investments in the premium themes that Shopify offers can pay off the longer you use them.
With each sale you made, there will be a transaction fee attached. However, you can limit this with more premium plans, as the more inclusive plan you get, the less fee it requires.
Their capabilities of CMS are quite weak. This will cause difficulties for stores that have big traffic flows.
Shopify vs. BigCommerce. Which one is better?
Templates and themes
Between the two platforms, it is quite clear that BigCommerce has a much wider collection of themes for you to choose from.
With Shopify, you only get 141 templates, among them, only 12 are completely free. However, these templates are indeed all mobile-optimized as well as modern-looking. This will be of great help due to the great experience for users it can provide, no matter which devices they log in from. Even its free options offer 2 to 3 variations so the customers may make their own version. The paid templates have some powerful tools for customization such as sizes, banner images, fonts, and palette.
BigCommerce has a wider template collection with 208 templates. However, their free-of-charge templates number is only 15. Of course, these 15 will not be as greatly designed as the premium ones. Nonetheless, they can still do their jobs properly.
Customer Support
For every tier of subscription, Shopify has both online as well as phone support. The staff is famous for their helpfulness as well as responsiveness and the response of live chat usually comes in one minute.
As for Big Commerce, its support and help center is notorious for the confusing instructions. This coupled with the fact that the features can be quite hard to utilize make it quite intimidating for beginners.
Ease of use
With its user-friendly interface, anyone using Shopify can set the shop up in a basic way within one to two days. From then on, it can take a little while to figure out adding products and images, setting the layout, etc. However, it is still quite a fast process.
BigCommerce has some of the most powerful tools in the eCommerce market. However, this also means that it will take a much longer time with a lot more effort to get used to them.
The Final Verdict
Shopify vs BigCommerce each has its own drawbacks as well as benefits. Thus, it would not be fair saying which is better than which. Their greatness will be dependent on the specific needs that you have.
If you sell complex products with a lot of options and variants, let go with BigCommerce. Otherwise, Shopify is always the best choice.