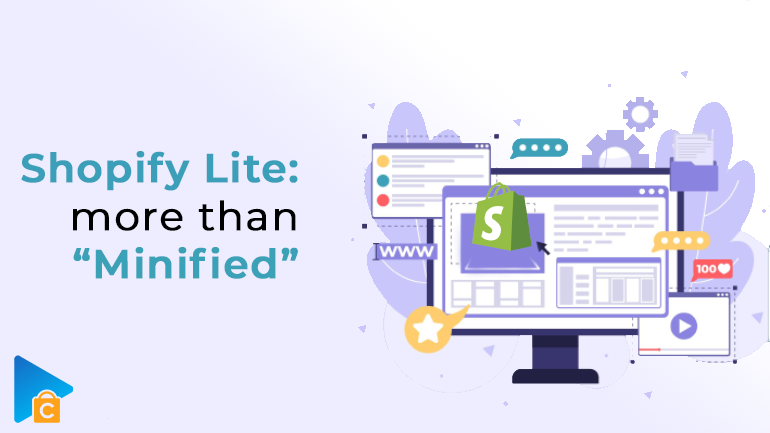 The Lite version of Shopify will help you have your first experience in the field of e-commerce as well as open up an additional sales channel for businesses. Simple and effective, it's Shopify Lite! This Shopify Lite review will release more worthwhile features.
A report from Hootsuite shows that as of January 2021, the number of global smartphone users is 5.22 billion, the number of internet users is 4.66 billion, and the number of social media users is 4.2 billion people.
The popularity of smartphones as well as the impact of the Covid-19 pandemic when people have to stay at home more to ensure social distancing turn social networks into a "fertile" market for business.
Nowadays, people can sell anything online. And using social networking sites like Facebook, Instagram, or Twitter for business is not a strange thing.
But if you are just starting to enter the business with a modest amount of capital and do not have much experience to run an online store on these platforms, take it slow.
First, what is Shopify Lite?
Businesses often know Shopify with three main service packages: Basic Shopify ($29), Shopify ($79), Advanced Shopify ($229).
Shopify Lite is a bold new strategy. Its target audience is new business people like a blogger who wants to sell some t-shirts, tote bags, a baker who wants to share his delicious cakes, or someone owning a fan page with a high amount of interaction. high. Overall, they don't have an online store of their own (or don't intend to). And Shopify Lite turns a customer's social media site into an official sales page. In terms of features, Shopify Lite provides a buy now button for your website, a fully integrated Facebook store, Shopify's POS for direct selling, dashboard, financial reports, and 24/7 support via Email or live chat from Shopify if you have any questions.
Currently, Shopify Lite only allows users to set up sales on Facebook.
Some typical examples of Shopify Lite and Facebook affiliate stores are Master & Dynamic, Ambrosio Jewelry, Riopy Music, Photo Hack Lovers, and Biko Jewelry. These "sales pages" have a stunning layout that resembles an online storefront and attracts a large number of customers.
Shopify Lite review – The highlights
Price advantage
The $9 price point may surprise many people because it is much cheaper than Shopify's previously offered service packages. And I think it is suitable for those who are new to the business.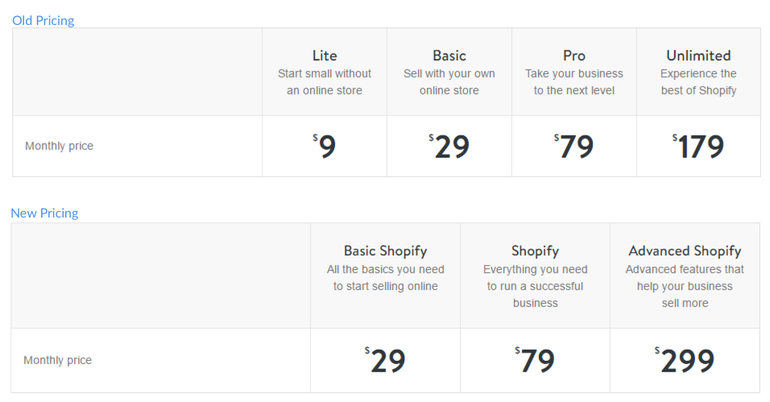 However, the price you pay will still come with additional fees. Credit card fees are the same at 2.9% + 30¢ for online credit card payments and 2.7% for in-person payments. You will also be charged an additional 2% fee if you use a third-party payment provider other than Shopify Payments.
Selling on social networks
What's the point of a store when you can sell directly on your Facebook page or blog? Shopify gives you the power to create a consumer network based on your influence. This plan helps users create a fully integrated Facebook store, making it easy for them to sell their products through Facebook.
Advertising is also made easier as you will reach a large number of customers on Facebook and lead people to the store. The best part is that they don't have to leave Facebook to make a purchase. By doing everything from one trusted social media platform, the number of steps to make a sale is cut down.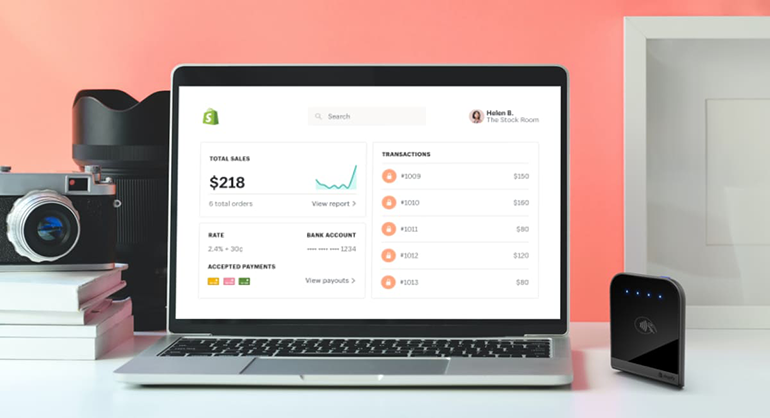 Facebook business pages will become product galleries with your shopping carts inside Facebook. The Always-on Store tab is fully mobile-optimized and this ensures that customers have a shopping experience they want to repeat.
Product management will be synced between your Shopify Lite and Facebook so you won't have to upload products multiple times. The only thing you have to watch is the Shopify dashboard, so you won't have to worry much about what's going on on the Facebook store page. If you make changes to the product image, price, or description, it will also be updated in the Facebook store quickly. When you change the collection order in Shopify, everything in Facebook changes as well.
One of the best things about Shopify Lite is that when a product in your store is unavailable, the store will automatically notify you and remove the item from your store. In addition, Shopify Facebook integration includes a beautiful, simple and functional payment module.
Simple to great purchasing feature
With shopping happening right on your integrated store, customers won't have to visit your website. This lack of complexity helps provide a more consistent and secure customer experience.
Customers also have the option to save all of their payment information on Facebook, which means that if the customer comes back with more orders in the future, the information will be filled in automatically. By making selling easy, you can make more money!
This module can help cut down on the steps customers need to take before making a purchase and this can also increase revenue as checkout is secure and gives shoppers the option to save details of their steps for future purchases.
Overall, the platform allows you to create a solid Facebook store that has all the tools you need to stay on top of your online hustle. It makes sense to use Shopify Lite for companies that want to start with selling exclusively on Facebook, as well as for people with blogs and Facebook pages.
Connect with customers and sell through Facebook Messenger
The Shopify Lite plan also comes with a live chat module for Facebook messenger as it uses Facebook as the main sales channel. Your store will not only get a built-in Facebook store, but also a live chat module that is synchronized with the overall platform.
You can connect with your customers and provide customer support whenever they need it with this feature and make sure everyone is being cared for. Chatbots provide quick answers to quickly respond to customer inquiries who contact you with quick questions. The answers provide basic product information as well as help with the purchase. Plus, you can take the Facebook Messenger app anywhere, and this helps you run your business' support without hiring too many people.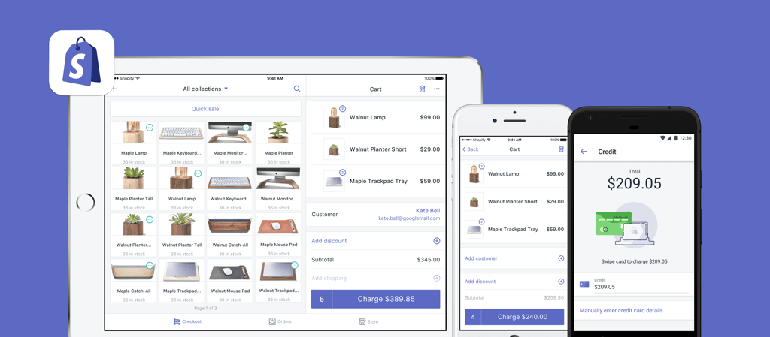 Additionally, it has call-to-action buttons for viewing online, making purchases, reading descriptions, and more. Once the conversation is over, the customer has the opportunity to purchase the product right from the Facebook Messenger chatbox.
Last but certainly not least, the Facebook messenger will send shipping updates, tracking codes, and a View Order button so your customers know exactly when they can receive the product. Great, isn't it?
Use Shopify embed buttons to sell on your Blog or Website
Shopify Buy embed button is the main feature of Shopify Lite.
This is the embodiment of e-commerce. Tumblr, WordPress, or your blog no longer limits your business. You will be able to easily embed a buy button or product gallery, which is a Shopify-powered sales tool that can help drive sales.
The buttons you use can be customized to fit any website theme, and you can also use a shopping cart for secure checkout. Inventory and sales are also tracked on your Shopify Lite dashboard, which means you only have to use one interface to power your entire online sales system.
We especially like that Shopify Lite allows users to customize the Buy button to match their brand. That way, you don't have to worry about it standing out like a sore thumb when visitors browse your site. It gives them a subtle incentive to buy a product or service without sounding overly pushy – and you won't want to do that.
Sell online and offline
If you want to sell your products in person at marketplaces, trade shows, exhibitions, or pop-ups, then Shopify Lite is a good solution for you. Since the platform offers standard point-of-sale features, there are many options for users who want to accept credit card payments via Stripe, PayPal, or Square.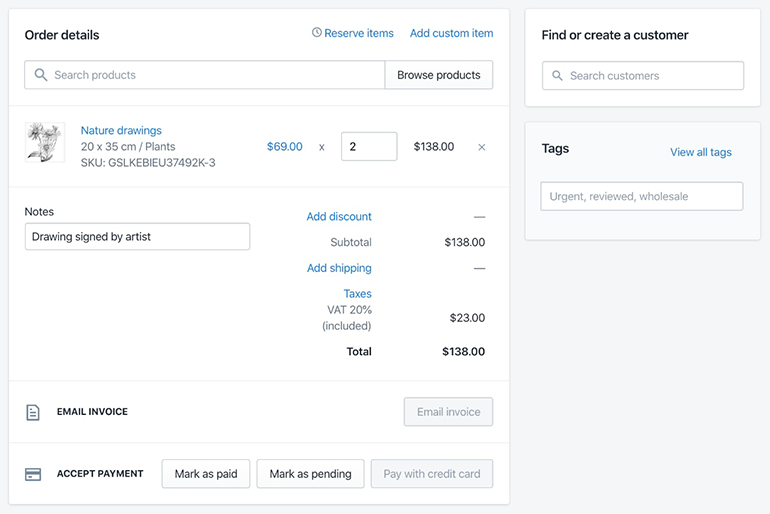 Shopify Lite opens the door to offline and online sales, and companies get a plug-and-play card reader that they can use in case they want to accept payments offline as well as online.
With the POS feature, merchants can accept credit cards, apply discounts, customize taxes, offer shipping at checkout, receive gift cards, and process refunds.
In case of any problems, you can seek help from the dedicated POS team 24/7. The POS feature also automatically syncs your inventory across all sales channels, and you can manage products directly from your Shopify app.
Create invoices and pay faster
Shopify Lite is great if you primarily deal with wholesale, phone, or custom orders.
It is an affordable plan to generate invoices and get paid safely and quickly without any problems. This process includes creating an invoice, sending the invoice to the customer, and then they will pay through Shopify's shopping cart. It's not much different from other invoicing tools.
In addition, there are additional tools that you also get with Shopify Lite for selling online, on Facebook, and offline. While it is a basic platform, it gives your company a multitude of options for bringing in money, which makes it an attractive platform for any SME business.
Generate discount code
Shopify Lite allows you to generate discount codes and discounts automatically.
With flexible and powerful discount options, you can order a variable, fixed amount, free shipping or buy X with discount Y. You can also set your requirements like the minimum amount people need to spend to qualify for discounts and more.
In addition, you can increase customer interest on holidays or any special occasion. For example, a discount on their birthday, free shipping on your store anniversary, etc.
Financial report
Another important element of Shopify Lite is the analytics – more specifically – the Financial reports. It gives you detailed information about your transactions from a financial point of view. You can view the total sales made during a specific period, broken down into individual transactions, including sales, shipping and returns amounts.
You can also view currency transactions for both payments and refunds, based on payment service providers. Let's say you want to see a summary version of all your revenue, expenses, gross profit, and liabilities. In that case, this information is available on your Shopify Admin's Finance summary page.
Customer reviews and support
Shopify customers get 24/7 support every day of the year via live chat or email.
That sounds like good value, but is the support helpful? According to many users, no. Some of the complaints talk about not getting money back when canceling a plan (it's not a refund policy for subscription payments, so make sure before opting for annual or rarer installments), who Others have yet to solve their problems.
A special feature is the sheer number of reviews submitted by customers of businesses that sell through Shopify. There seem to be many scam businesses, which Shopify doesn't do enough to control. As a result, the average rating from a review site will likely be negatively affected by these claims.
On a positive note, Shopify users have access to rich learning resources including tutorials, video lectures, a large help section, and discussion forums. That is especially useful for those with little experience in online sales, marketing, and sales.
Overall rating
With a fee of only $9 a month, we can't ask for too much about the features it can bring. I think this is a great plan that Shopify brings to a group of potential customers.
Here is a comparison table between Shopify Lite and Shopify Basic
Pros
Low cost: Only $9/month, lowest among Shopify plans
User-friendly for beginners: It's as easy as running a Facebook business page.
Lots of ways to integrate: Shopify Buy Button is compatible with WordPress, Squarespace, Tumblr so your audience can buy comfortably.
Sell ​​Anywhere: Shopify POS is great if you're thinking of traveling and making a profit.
Send Invoices: This is extremely useful if you provide services and want to receive payments.
Support & resources: You get access to all of Shopify's knowledge base and 24/7 support via live chat or email
Cons
No storefront: There is a restriction on your store because of this.
Limited staff: You can only have one administrator and one employee logged in, so the operation is minimal.
Lack of more social media channels: You can't sell on Instagram, Twitter, Pinterest.
Difficult to scale: If your business is successful, credit card fees can hit the growth stage, and you'll also want a real website for your store in that case.
Overall Score: 8.5/10
Conclusion
This Shopify Lite review is a summary of my views from the perspective of an individual business. Overall, it provides full functionality for you to take the first steps on your e-commerce startup. Besides, if you want to open another one to sell, Shopify Lite is a perfect plan for you. 
With a 14-day trial, you can try it out and let me know what you think! 
Thanks for reading!