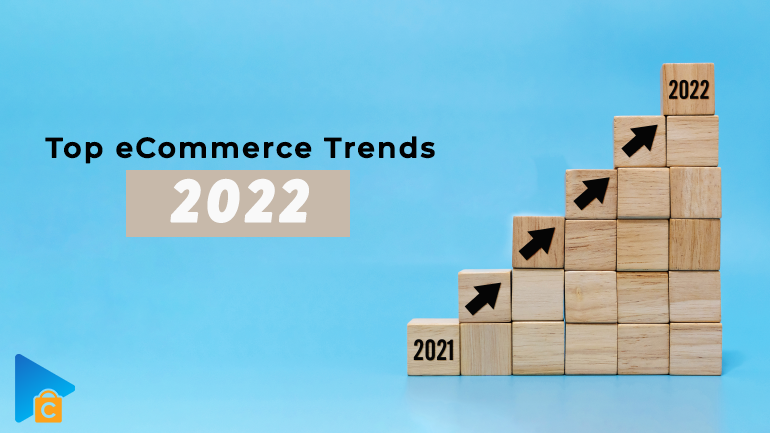 The effects of the Covid-19 pandemic have not shown any signs of abating, especially as the strains of this virus become more and more powerful and cause worse consequences for human health. This directly affects the psychology of consumers. In-store shopping combined with social distancing measures make searching and ordering at websites or online stores the only way to meet people's needs. And so amid the dark picture of the epidemic are the rare rays of light of the economy from the field of eCommerce. 
And of course, the numbers don't lie, retail eCommerce sales worldwide in 2021 are estimated at $4.921 trillion and it will increase to more than $5.5 trillion in 2022. Maintaining the growth momentum is like that, but one thing is easy to see. In any other industry, eCommerce never stands still. Newmarket demands, technological innovations and entrepreneurial thinking makes us consider the question "what's new eCommerce trends in 2022?" to find out the new ways of doing business in this field. Here are the eCommerce trends in 2022 and some of my suggestions for how businesses should prepare for the trend of 2022.
Mobile commerce
The proliferation of eCommerce on mobile devices is not new in recent years. Especially in the context that the Covid-19 pandemic has not shown any signs of "cooling down" in many European countries, it has created more conditions for many people to self-isolate at home with their phones. 
The popularity of mobile devices such as phones or tablets is also the reason behind this trend. That's why, from June 2020, Mobile-first indexing is the mechanism by which Google will prioritize using the mobile version of the content for indexing and ranking, while it was previously the desktop version.
In my view, in 2022, eCommerce will grow even stronger with increasingly smartphones and more features equipped to support users' shopping. Customers have also gradually shifted from limiting their appearance in stores to ensuring their safety and looking for products combined with home delivery services.
As such, it is clear that businesses, as well as retailers, should improve the mobile versions of their online stores through search engine optimization, minimizing load times, and diversifying. payment gateways for the phone version. You certainly do not want to let your competitors rob this "fertile" market, right?
Online video consultation from sales stores
There is nothing more difficult than having to shop for clothes or accessories online. You can order a very nice sweater but when you get it, it's too tight. That is probably one of the reasons that started the trend of video consultations alongside the pandemic.
Here's how the system works: the user connects to the website, searches for the product, learns the product's features, and describes it in detail. It's almost like the seller will video call with his customer. If users need more information or have some other questions, the online store staff will answer them via video consultation.
Many companies are even more creative in that the salesperson will directly try on the customer's body to see what it looks like and if it fits the body.
Eyezon is a very good service provider. To connect this solution, owners need to add a unique button to their online store to connect this solution, which buyers will click on and see the manager. A window with a countdown will appear, so buyers will know how long they have to wait. When sellers are free, they connect with buyers instantly.
The rise of virtual and augmented reality in eCommerce
VR and AR have been around for a long time but now it is just trending and becoming an important feature in eCommerce in 2021 and beyond.
According to Statista research, by 2023 it is predicted that AR will become an 18 billion USD industry. Along with that, user spending on mobile applications applying AR technology will reach about 15 billion USD by 2022.
Visiting an online store and shopping for any item of your choice will be enjoyable, as it saves you time and effort. However, there is a gap between the content you see online and the way it looks when it is delivered.
Virtual reality and augmented reality (AR/VR) fill this gap by showing you what the product looks like in real life and how it will fit into your everyday lifestyle. This gives consumers the confidence to make smart purchasing decisions. Around 71% of consumers agree that they will shop more often from eCommerce brands that use VR.
Based on this, it is estimated that more than 120,000 stores will use AR by 2022 to provide a better shopping experience for customers.
Voice Shopping and Voice Chatbots
Whether you're at home, at the office, or practically anywhere, just talking to any of your voice-enabled devices makes things a whole lot easier. Unlike the normal experience of accessing websites, voice shopping does not bring about visual product images. By describing the product they want to buy, customers can choose the right product for their needs. And it's no surprise that voice search AIs like Apple's Siri, Amazon's Alexa, and Google's Assistant are tapping into it.
Current statistics estimate the voice assistant speaker market to reach around $4 billion by 2022. With voice shoppers expected to grow by 55%, and voice shopping to hitting $40 billion. I think it will be an eCommerce trends in 2022.
For eCommerce business owners, this presents an opportunity to use voice search optimization strategies to rank for keywords and phrases that perfectly match search queries using voicemail. voice.
You are probably familiar with chatbots that help open the story when customers need to learn about the product as well as related information about the store. However, along with voice shopping, many businesses and retailers have also chosen to add Voice Chatbots to their online stores to both meet the increasing demand of customers and relieve pressure. for employees.
I'm talking about automated consultants when robots can make outgoing calls, deliver different products to customers according to a prepared scenario. In addition, it can answer frequently asked questions on the internet store. If a bot has trouble answering some questions, artificial intelligence can connect customers with a real employee.
Besides, robots can also be great marketers. Artificial intelligence, using voice chat, can complete a survey and estimate the quality according to the customer's opinion.
Product trends in 2022: Sticking with life and living environment
Global warming, ice rising, air pollution… You are probably all too familiar with these phrases as they are hot topics that resound every day in the news around us.
The whole world is following the ecological trend and eCommerce is no exception. Modern customers are favorable in supporting manufactured goods, recycling, or protecting the environment. And many of them are willing to pay more if their products meet these standards.
Typical examples include Adidas' PRIMEGREEN and PRIMEBLUE materials recycled from marine waste used in their legendary Ultraboost shoe. Or Nike with the Space Hippie collection of 4 shoes, the shoe body is made from Flyknit yarn with 85% composition from plastic bottles and old t-shirts. Or a lot of businesses now use recyclable packaging to store products when sending to customers.
In addition, many businesses have held press conferences, launched collections directly related to hot issues of society such as hunger, climate change, and the negative impacts of the Covid-19 pandemic. 19… This is a great way to raise customer awareness.
Add Social Media channels as sales channels
Social media platforms have billions of global audiences. TikTok, the most downloaded app in Apple's App Store, costs users £37 million a year. Most platforms are evolving to facilitate social commerce so that their users can purchase products from third-party retailers without leaving the app.
In 2020, Instagram launched the Shopping tab as a way for users to discover new products. Facebook encourages retailers to use its built-in storefront and has simplified the product upload process. Pinterest uses purchasable pins to promote items for sale.
Social media has finally become central to our lives, and our reliance on mobile devices has fueled the addiction. Over 90% of social media users access their favorite platforms using a mobile device, and 54% use social media for product research.
In-person shopping is one of the mobile commerce trends that we expect to grow in 2022 as platforms like Instagram and Facebook have their live streaming features. It is based on customer interaction with a seller or an influencer (as an ambassador of the promoted brand) that takes place during the live stream.
Promoters showcase the product, its design, and its functionality, and customers have a chance to ask questions. Also, as part of the Livestream, there is a link to the webshop. The selling method is very direct and quite new, so we can expect it to grow a lot in the first half of 2022.
And this trend is also enthusiastically responded to by big businesses and brands in the world. Leading in this trend are probably the trendsetters of the fashion industry such as Dolce&Gabbana, Balenciaga, Balmain, or Giambattista Valli.
Although the audience cannot directly witness the collections, the visual experience is still preserved thanks to the extremely impressive shooting angles and great narration.
Various payment methods
Customer satisfaction lies in the little things. And the checkout process is a prime example of this. Payment by e-wallet becomes the preferred method when the percentage of people who prefer to pay via e-wallet increases from 22% to 37% in 2021. Like before, eCommerce payment by cash (CoD) is popular by 2022, the cash payment method will have to rank second after e-wallets.
Besides, many parts of the world are now looking at cryptocurrencies (Cryptocurrencies) as a more secure, flexible alternative to cash and online banking. This is partly due to the relative security of blockchain.
While Cryptocurrency is not a stable investment, it has a lot of potential to become a popular payment option for eCommerce.
Therefore, what we should do for this eCommerce trend in 2022 is to set up more valid payment methods in your webshop or online store so that customers can be most comfortable when withdrawing money from their wallets.
Except for payment by credit card, bank transfer, PayPal, and other forms, the trend of buying in installments is increasing. That is, the customer can divide the amount of money he has to pay for the product into several parts and pay a certain amount over time, usually 1 month. 
More services are available throughout Europe through different companies. Twisto is a prime example that does a great job in this regard. It can benefit by attracting customers who can't afford to buy the product under random circumstances.
An omnichannel and hyper-personalized customer experience
We already know that the number of users and potential customers on social media will never stop growing. But that doesn't mean they will disappear from other places.
Everyone likes their way of shopping, and not everyone is comfortable buying through social media.
That's why it needs to be seen in as many places as possible. Omnichannel is a sales method that uses all available channels, online or offline. More locations mean better reach, whether organic or paid.
Hyper-personalization allows businesses to provide the best customer experience. Collecting all information about customers from omnichannel makes an important asset that a company can work with. It starts where the customer is face to face with the touchpoints (CMS, TV, Watch, Native Apps, Social Commerce). 
After the customer experiences the storefront, the next step is taken – a customer data solution. Information can be aggregated from surveys, actionable customer insights, offline store visits, data privacy, consent management, and other sources.
AI will process the information provided by the customer online or offline and will create a Customer 360 profile. This is one very important piece of data. And if you intend to proceed with the shopping cart migration process, don't forget to bring it with you!
The ultimate miracle is happening in eCommerce applications. Information collected by the business may get deployed on the enterprise's eCommerce platform. Customers will experience it in online product catalogs, search, configurable products and promotions, shopping carts, order management, and all the places available on omnichannel where choices are made. select, options, pre-filled window, will be tailored to the customer's profile.
We can expect an emphasis on hyper-personalization now and soon, as we are undergoing a market transition to direct selling (D2C). Additionally, people don't want to be targeted by an extensive campaign but are more likely to buy a product if the advertised products and services are optimized for their needs.
Google nearest store inventory ads (LIA)
Google LIA is a new feature, spreading across Europe. It is a cluster where the customer's location is the center, the product points that the customer is looking for will be satellites. Its marketing principle is very simple. 
The user searches for the desired product on google and the products available in the nearby store will appear highlighted. As a result, customers have the opportunity to come to the store to check or try the product before purchasing to avoid unnecessary trouble (wrong size, the color looks different from the picture, etc.).
According to Google, consumers who can see the actual product are more likely to buy it.
Closing Thought
My above analysis is personal but can be a useful reference for you to better understand the eCommerce trends in 2022 and determine what you should do to better orient your business. All in all, 2022 will still be the year of eCommerce with tremendous growth thanks to the combination of technology and the efforts of businesses/retailers in customer satisfaction.
And you, what do you think are the eCommerce trends in 2022 and what should we prepare for the trend of 2022? Share it with us!