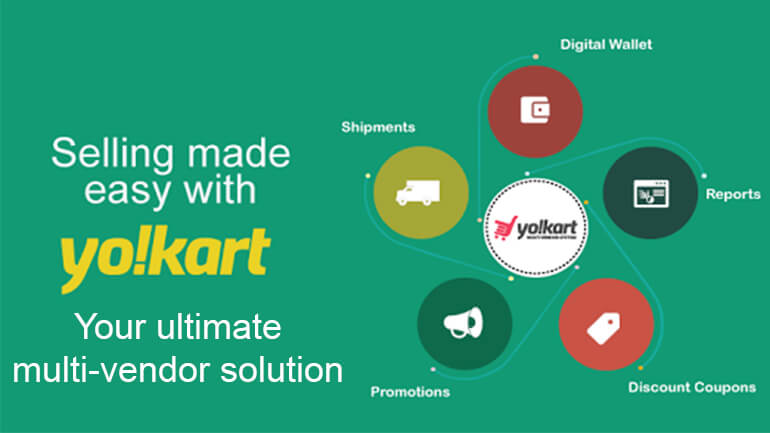 You intend to start an online business but want more than a store and orders? In other words, you want to create a marketplace where everyone sells together?
So, the first thing you need to do is investing in a multi-vendor platform, which can help you manage the huge workload of an online marketplace. Also, it will help you increase profits as well as expand your business.
When it comes to reputable providers, it will be a shortcoming if we ignore Yo!Kart. If you're wondering about it, don't miss this Yo!Kart review.
What is Yo!Kart?
Yo!Kart acts as a multi-vendor eCommerce platform, allowing users to easily manage their marketplace and vendors through available features and add-ons.
We'll explain with an example:
Suppose you rent one of the hundreds of stores in a shopping mall that is under control of the local government. You will sell goods to those who visit the mall and pay the store rent to the government monthly or yearly.
At that time, you are called a vendor, and that shopping area is the marketplace. The government is those who spend money to build the mall and profit from the store rental fees. Therefore, it can be said that they are using a multi-vendor eCommerce platform to create a marketplace for vendors to sell their products like you.
Of course, you can choose and customize these features based on the operational needs of your business. Besides, it is cloud-based so that it can store and process website information, vendors, orders, customers, etc. quickly and conveniently.
But why Yo!Kart? Is Yo!Kart reliable?
There are many brands that offer multi-vendor eCommerce platform services, but Yo!Kart has emerged thanks to its powerful features and the huge amount of capabilities it can do for you and your customers.
You might be thinking:
"High performance is usually proportional to the cost."
It's no doubt. However, everything seems different from the situation of Yo!Kart, helping you to win the battle for cost.
If you still don't believe their reputation, take a look at top well-known companies using the platform provided by Yo!Kart.
UNI Diamonds
Bwanaz
Mycart
Nest Stores
Furniturespot
Pendazi
Pipehub
Weedmayhem
And more
So, how powerful is Yo!Kart? It is expressed through the features of the platform that we will discuss in the next section.
Key features of Yo!Kart
Yo!Kart ease of use
After experiencing Yo!Kart, we find that they do not differ too much in the four interfaces, including Frontend, Buyer, Admin, and Supplier side. All of these interfaces are easy to move around and have an easy-to-see layout.
In general, for a platform like Yo!Kart, you will not have any difficulty when using to design a website even though you do not have much technical or website operation knowledge.
Templates and design
Yo!Kart is designed based on standard MVC Architecture, so its framework is lightweight and customizable.
That's why working on Yo!Kart is remarkably easy. You do not have to equip the skills or knowledge of a different coding discipline and architecture to run the website effectively. As the admin, you are also supported to increase sales through complementary product cross-selling.
Not only is Yo!Kart's website design convenient for you to set up the display, but it also helps the vendors quickly post and manage product catalogs. Besides, customers will not have any difficulties finding what they want, and the visual of the store, as well as the entire catalog of the website, will also comfort them.
Product management
There are many aspects to analyzing Yo!Kart's product management capabilities. As we have told about its product catalog system, vendors will have no trouble posting and adding their products to their store. Also, other features related to inventory, such as announcing items that run out, shipping items, etc. will help them manage their products easily and quickly.
Sellers are also given the right to mark the most favorite products, helping motivate buyers to pay for them through the sales funnel. The product review feature is also updated by Yo!Kart in the Review section.
While you may have a limited number of products provided by some platforms, Yo!Kart will support you with more than a million products, and it also allows vendors to upload videos relating to their products.
Plus, customers can find the type of product they need for seconds through product filters such as brand, catalog, or price, etc. They can live chat or send messages in an internal system with the vendors, etc.
On your side, you can move your data quickly and easily in the CMS format when you want to migrate from a traditional platform to Yo!Kart. You can also set product taxes based on the number and type of products of vendors.
SEO friendliness and marketing
It can be said that the SEO function in Yo!Kart is surprisingly complete, and you do not need to install the plugin as when using the WordPress website manually. Everything is automated that Yo!Kart has a Google-friendly hierarchical organization. Besides, it has a useful CMS, which helps you attract more audiences through blogs and optimize keywords. Yo!Kart's Social Media Sharing and Affiliate Module features also have a similar role.
Rewards, discounts, and coupons are excellent ways for vendors to boost sales. In the Yo!Kart sales system, the sellers can create more buying opportunities for their customers, from sign-ups to first-time purchases. In particular, they can use the Promotional Banners attribute to attract the attention of customers to participate in your promotional program.
And want to know the best part?
When you run an online store, you'll want to take its advantage so that your customers can access the store and view the product anytime, anywhere.
However, with most multi-vendor platforms today, customers can only access their websites on computers and mobiles. Computers are not always portable, and mobiles are challenging to choose products or make an order.
Fortunately, Yo!Kart is one of the rare providers that is ready for iOS and Android for both buyers and sellers, helping boost sales and grow your marketplace.
It also comes with some useful features like Notifications or Firebase Analytics, etc.
Yo!Kart's pricing
Yo!Kart now has a total of three packages for you to choose from, including GoQuick, GoCustom Lite, and GoCustom at prices of $1,299, $3,999, and $6,999 for one-time payment, respectively. All of these options allow you to own the rights to the license.
As you can see in the picture, the GoQuick package will lack some functionality compared to the other two packages like Custom Design and Post Launch Marketing.
As Yo!Kart explains, the Custom Design feature of the GoCustom Lite package is limited to three pages, which are the homepage, Product Listing Page, and Product Detail Page. In the meantime, with the GoCustom package, you get full control over responsive design customization for homepage and nine inner pages.
Furthermore, this largest package also offers the Post Launch Marketing Service, which will help you search for keywords, optimize category pages, set up social media profiles, Google analytics, and more.
But here's the kicker:
$1,299 for a non-recurring seems overwhelming to those who have just started their online business. However, if you are in that class, you don't have to worry too much. That's because Yo!Kart also has a dedicated package for start-ups for only $500/year.
It is especially beneficial for small-scale start-ups because, with only a small budget (in a year), they can own the standard attributes of a multi-vendor eCommerce platform with FREE hosting.
One thing that we appreciate about Yo!Kart is that whatever package you choose, for what price level, you will get the similar features that best suit the scale and type of the business you are pursuing.
Besides this, is there something more to add?
That is, you will get free technical support from Yo!Kart's expert team for one year without maintenance costs. You will find it very helpful in the early stages because with newbies, making mistakes is hard to avoid. Consequently, technical support will help your marketplace work more smoothly.
What makes Yo!Kart imperfect
Yo!Kart takes a bit of time to learn to use 
Of course, compared to building an online store, creating an online marketplace will be much more complicated. You will need a robust platform that will help you manage a large number of stores, interact with vendors, manage inventory, and integrate with many other useful service providers, etc. Therefore, first of all, the platform needs to be easy to use.
When it comes to Yo!Kart, you will receive user support for installation from FATbit. However, this will require a bit of technical knowledge, MVC architecture, and PHP because it doesn't look like an open-source program for beginners.
On the other hand, there are many tabs for you to choose from and customize. Sometimes, these tabs, however, may confuse you.
Lack of free themes
The lack of free theme selection in Yo!Kart is one of the reasons that many people want to find other options. It has only one theme, which means that you can only adjust the color scheme displayed on the website.
Meanwhile, if you want to attract a lot of vendors, you need to help them build a good-looking store that expresses personal marks. And with these limitations of Yo! Kart, it's a pity.
Not only that, but heavy customization is also a cause for Yo!Kart to lose points in the eyes of users. Even though you can get support from FATbit, it is not much.
But here's something about Yo!Kart you'll love
Powerful SEO capabilities and CMS
As we have analyzed, Yo!Kart has a powerful SEO and CMS system, what a marketplace is required to feature. In addition, you may also charge advertising fees when allowing vendors to advertise their products on your website.
Various payment options
Yo!Kart integrates with 15 different payment gateways, giving both buyers and sellers more options. Thanks to that, the transactions will not be interrupted. Besides, the platform also offers payment options through COD and Digital wallets.
Third-Party Integrations
Yo!Kart can be integrated easily with any third-party API. The platform comes with in-built third-party integrations such as Quickbooks, ShipStation, Taxjar, Mailchimp, etc.
It's a highly secure system
You will be assured of the safety of the huge data source on your website with multiple protection layers and database backup. In case anything happens, a notification will be sent to you immediately.
Fully Customizable and Scalable
Yo!Kart platform can be customized up to any extent. If you are looking for a custom web/mobile design, vertical-specific design, or any feature and functionalities changes, it can be done easily with Yo!Kart.
Also, the platform enables the growth of your business by accelerating the ecommerce potential through scalability.
Great Support
You'll find a range of tutorials on the Yo!Kart website, including various types, from FAQs to documentation, etc. You can book free one on one demo with their team to understand the system. Moreover, you can also do live chat or call with the support team and receive free technical support within the first year.
Is Yo!Kart the best choice for you?
In particular, this platform targets SMEs with employees of up to 100 people. So, whether you're just starting out or already a big business but still ambitious about the online market, this is a significant push that you can hardly ignore.
We believe that with the help of a technical expert or if you are willing to update your knowledge, your Yo!Kart marketplace will not be inferior to Amazon, Etsy, or Alibaba in the multi-vendor website industry.
Wrapping up
With many useful and advanced features, Yo!Kart has helped start-ups & large enterprises from around the world achieve their dream through the creation of a multi-vendor marketplace. If you also want to develop your business in this direction, then Yo!Kart will not let you down.
For further information and guides, feel free to contact us or leave your comment below. Don't hesitate to like and share the article with others if you find it useful.