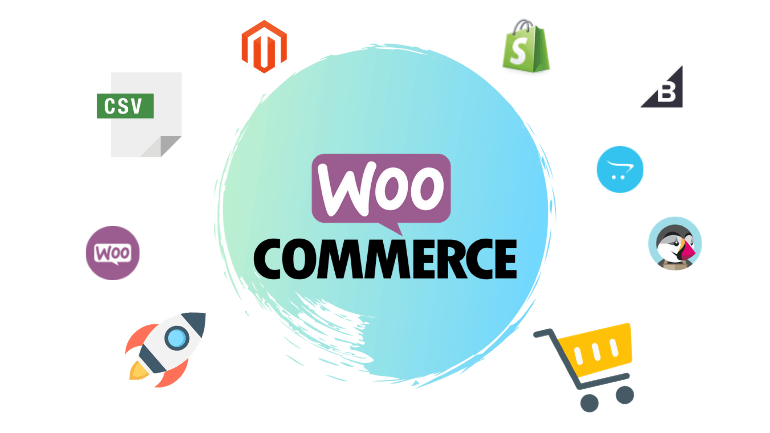 eCommerce has led the world like a storm. It is durable, easy to deploy, and more profitable than traditional stores.
If you have already set up an eCommerce store and it is on the rise, then slow down, now is the time to change to a more suitable platform. And trust us, transferring an eCommerce site to a new platform is not as complicated as a lesson about rocket science.
That's why we will show you about WooCommerce: How to migrate your store to WooCommerce in a few steps?
So, what is WooCommerce?
What is the WooCommerce platform?
Let's take a simple example.
You want to build a ship to transport goods to distant customers, but there is not enough material needed, or your current ship is too old. Therefore, you choose to hire a shipbuilder to design and produce for you a new ship based on the old functions but is bigger and more multi-functional.
Thus, your business becomes more prosperous.
Have you envisioned it?
WooCommerce is a completely new approach to your online business in order to help you reach a wider range of audience and create more successful promotions than the traditional business.
In other words, WooCommerce is an open-source eCommerce plugin specifically designed for WordPress, is a fast and suitable platform for online small and large transactions.
WooCommerce has many different features like delivery, payment methods, diverse products, and much more. In this WooCommerce instruction, you will know how to immigrate your website to WooCommerce and start selling.
Some features of WooCommerce:
Create products in common formats, products with properties, affiliate products, and digital products (downloadable).
Support some forms of online payment such as PayPal, Credit Card, CoD, Cash and will be more and more when installing additional support plugin for it.
Support self-calculation of VAT or tax for businesses.
Support self-calculation of the delivery price.
Manage orders professionally and filter orders through each status.
Support template display separately to be able to reconfigure the template to display the shop section and products. This is very beneficial for programmers.
There are many themes and extensions available to turn your website into a professional shop page, etc.
What can Next-Cart do for you?
If you are a newbie who is learning to install an eCommerce platform to build an online website, we would say that WooCommerce is not an absolutely ideal position.
Why do we say that?
Since this platform requires you to have a basic knowledge about software and so on, you will have to install, manage updates, keep backups, etc.
But, when it comes to migrating to WooCommerce, it means that you've already been familiar to the current platform, and the operation, usage of a new one like WooCommerce can no longer challenge you.
Or at least,..
You'll know how to follow the 3 easy steps of Next-Cart – a paid migration tool supporting users to migrate between two any eCommerce platforms with no need for consultation of IT specialists.
Let's be clearer. Next-Cart is one of the best shopping cart migration service to transfer data from your store to another eCommerce platform. It can access all the operating eCommerce platforms in the industry like WooCommerce WordPress, Shopify, Magento, BigCommerce, PrestaShop, OsCommerce or OpenCart, etc.
That is, you can transfer any type of data from your current platform to another one depending on your needs through the service, from products, categories, orders to customer contacts, etc.
What is better than that?
With only 3 steps, it's incredibly easy to understand and follow. You just need to fill the necessary information and perform what the website tells you to do. Simple, right? In case you don't want to do it yourself, our technicians are always ready to take care of the entire migration process for you A to Z. That's better!
In case you need any other requirements, the 24/7 technical support will help you figure out and handle it for you.
Steps to migrate your store to WooCommerce on Next-Cart
Before performing any action, you need to log in to your account on Next-Cart. If you don't have one, register via Google or Facebook.  Choose to buy your migration plan or try Free Demo WooCommerce Migration.
Step 1: Setup
The first step is to provide the Next-Cart migration program all the required necessary information.
They include Source Cart Type (your online store's current eCommerce platform), Target Cart Type (WooCommerce), Source Store URL, Target Store URL (WooCommerce store URL).
Then click Next Step.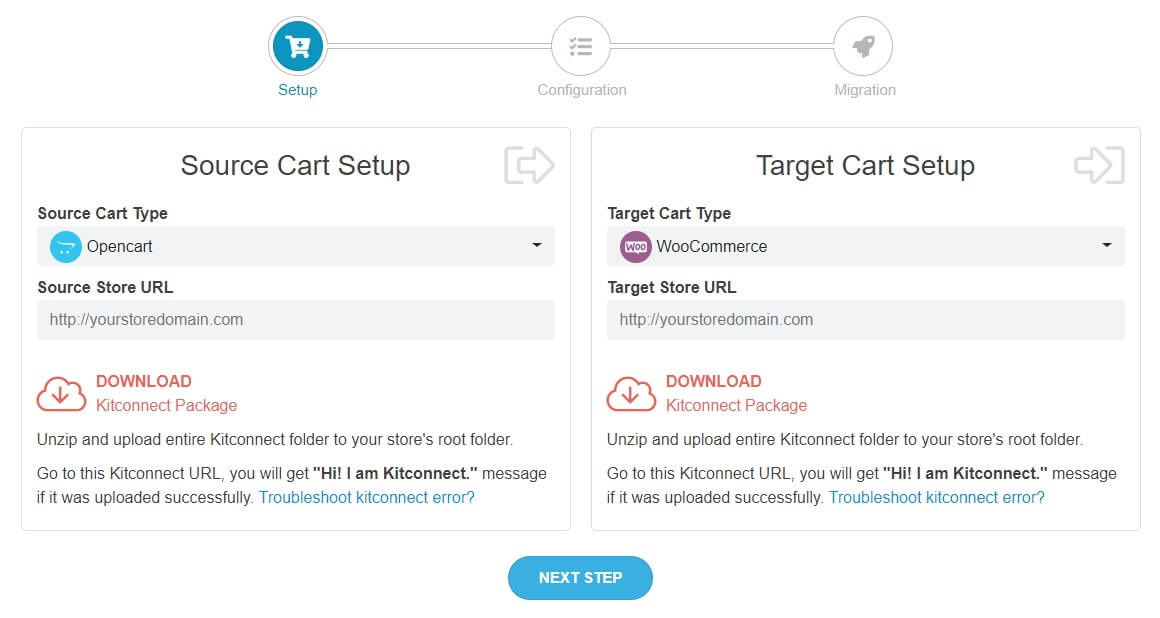 Step 2: Configuration
In the second step, you will choose which data you want to migrate to WooCommerce in the Entities Selection such as Taxes, Manufacturers, Products, and Categories, etc.
Moreover, you can consider other Additional Options and Advance Attributes Mapping.
Unlike some plugins that hold you back on choosing the necessary data, it's up to you with Next-Cart.
Then press Next Step and click Yes when they ask you whether you are ready.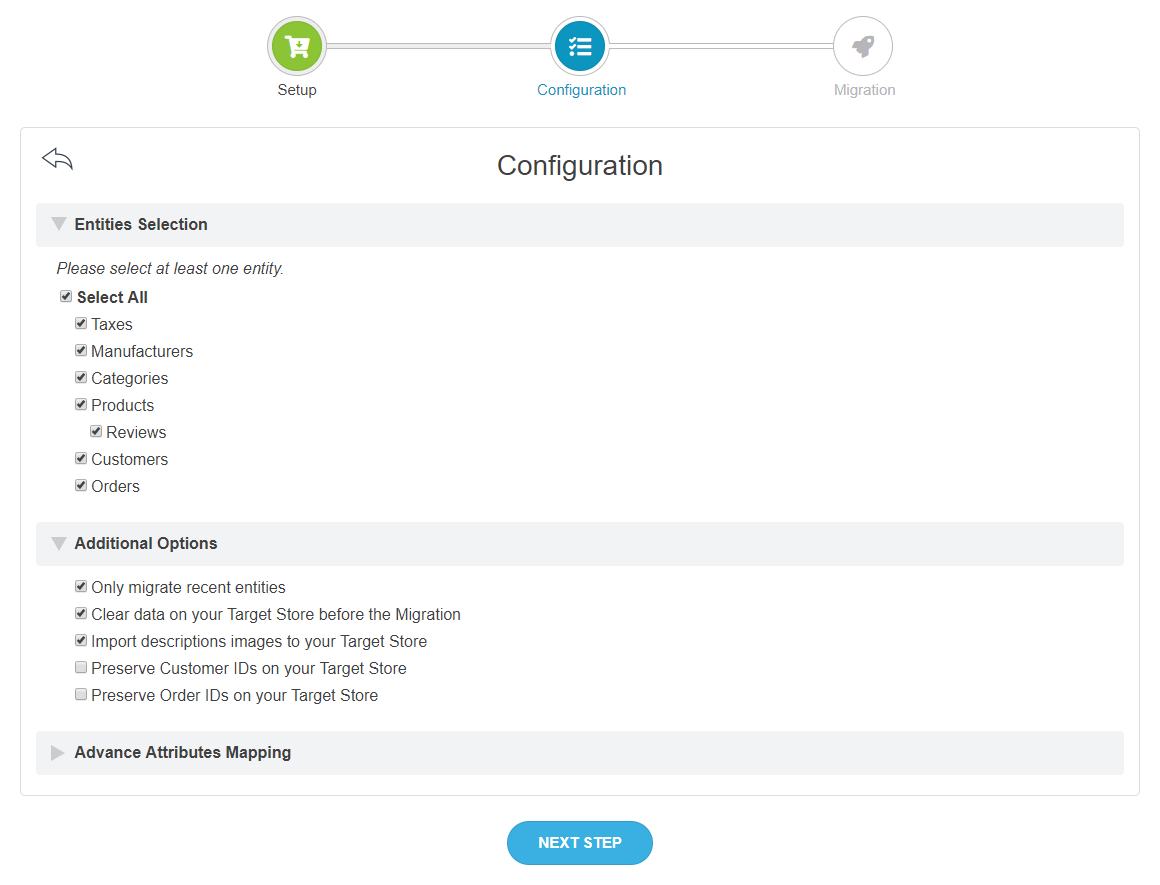 Step 3: Migration
The final step shows the migration process to WooCommerce. All your job has finished.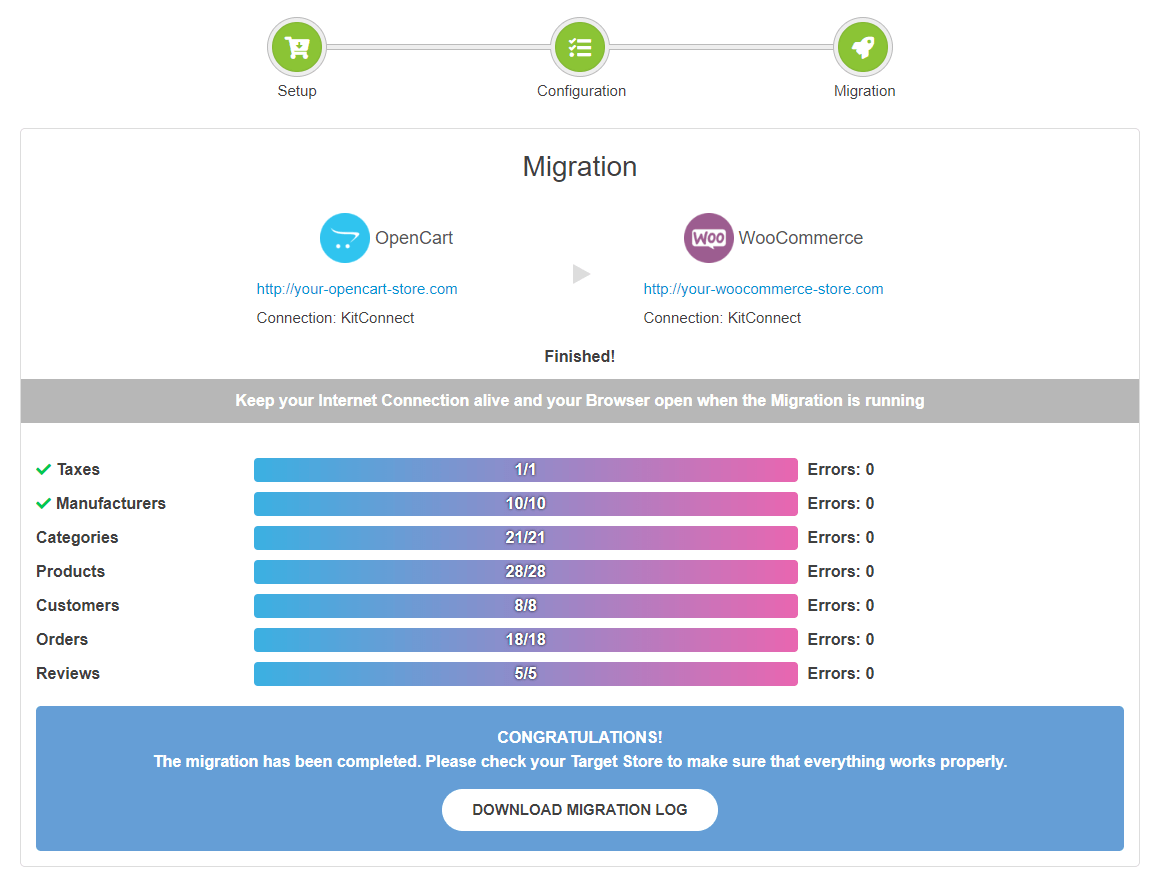 Conclusion
We recommend you to use WooCommerce instead of other open source platforms in the eCommerce market because of its large portfolio and almost unlimited design capabilities that this plugin provides.
In addition, when you migrate your eCommerce store to WooCommerce, you will be allowed to completely control over it.
If you have any trouble transferring it on Next-Cart or want to consider other choices, feel free to contact us, our WooCommerce experts are always ready to help you 24/7. In contrast, if you are a techie and looking for migration consultant job, Jooble will help you. Don't forget to like and share the guide with others if it's useful for you. Thank you.