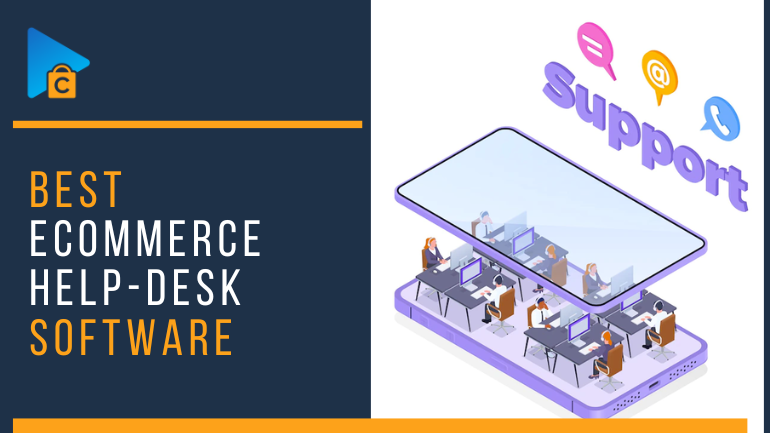 Choosing the best help desk software for an eCommerce business can be daunting. With so many options available, it can be hard to know which is right for your business. 
This post will explore the benefits of using help desk software and provide a list of some of the best options available. By the end of this post, you will have all the information you need to make an informed decision about what is best for your business. So, let's get started!
What are eCommerce help desk software and its benefits?
eCommerce help desk software is a tool that helps businesses manage customer interactions across multiple channels. It provides a central place for customers to submit their questions and issues and allow businesses to track and resolve those issues on time. 
The software also typically includes knowledge base management, ticket assignment and routing, and reporting and analytics. eCommerce help desk software further allows businesses to track and manage customer inquiries, and provide a knowledge base of FAQs and troubleshooting information. The software also typically includes live chat and email support features to provide immediate assistance to customers. 
By using eCommerce help desk software, businesses can provide consistent customer service regardless of the channel through which the customer is interacting.
In addition, some eCommerce help desk software solutions also offer social media monitoring and management tools. This can help businesses to quickly respond to negative reviews or comments, as well as help promote positive customer experiences. Overall, eCommerce help desk software can be a valuable tool for businesses that sell products or services online.
Learn more:
Most important help desk features
Help desks provide a central place for tracking and resolving issues, and they offer a variety of features that can improve the efficiency of your support team.
Most help desks allow multiple users to collaborate on resolving an issue, and some include live chat functionality that can help reduce the need for phone support. In addition, many help desks include a knowledge base where customers can find answers to common questions and templates that can help support agents resolve issues more quickly. 
Help desk software also provides reporting and analytics features that can help you track the performance of your support team and identify areas for improvement. By taking advantage of these features, you can ensure that your help desk is providing the best possible service to your customers.
What do you need to consider when choosing help desk software?
When it comes to choosing a help desk software, there are a few important factors to consider:
First, you need to think about the

size

of your business. If you have a small team, you may not need all the bells and whistles that come with more comprehensive software. On the other hand, if you have a large team, you'll want to make sure the software is scalable and can accommodate your future needs. 

Second, you need to think about your

sales goals

. What kind of support do you need in order to meet your targets? 

Finally, you need to consider the

type of support

you need. Do you need email support? Live chat? Social media monitoring? 
Considering all these factors, you can choose the best help desk software for your business.
Best help desk software to improve customer experience
Take a look at the following top help desk software that you can choose from for your online business.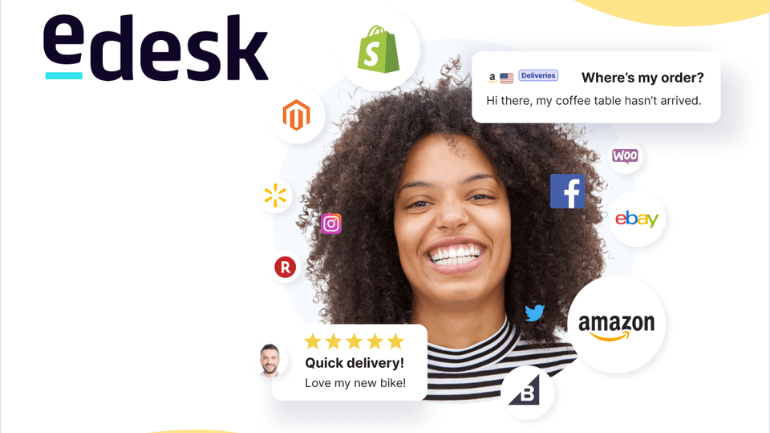 eDesk helpdesk software is a cloud-based customer service and support platform that helps businesses manage their customer inquiries and complaints. eDesk is a powerful helpdesk solution that centralizes your customer support into one manageable location. It integrates with over 75 marketplaces and web store platforms, making navigating easy for your customer service team. 
The software includes a ticketing system for tracking customer issues, a knowledge base for storing FAQs and other information, and a live chat tool for providing real-time assistance. eDesk also offers a range of features specifically designed to help businesses improve their customer service, including automated responses, SLA management, and data reporting.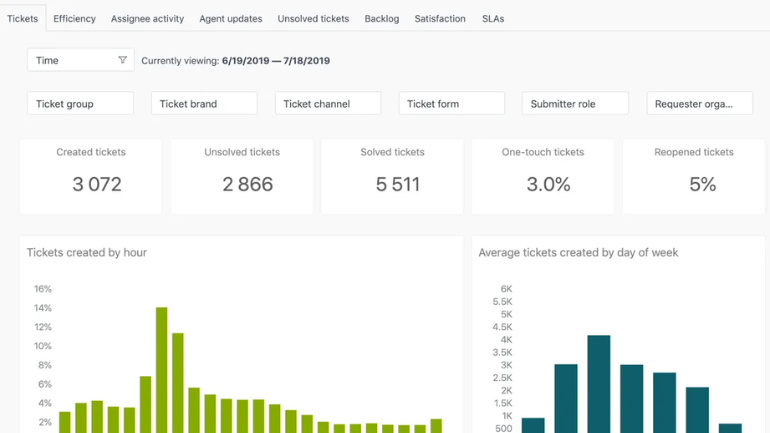 Zendesk's Support Suite is another option for the best help desk software. It provides a comprehensive customer support solution that helps businesses provide support across all channels in a seamless, efficient package. 
The Support Suite includes the best help desk systems to help track and resolve support issues, as well as live chat and self-service options to provide real-time assistance to customers. In addition, the Support Suite includes a knowledge base filled with articles and FAQs to help customers find answers on their own. 
With the Support Suite, businesses can provide an omnichannel support experience that is convenient and easy to use for both agents and customers. As a result, businesses can resolve support issues more quickly and improve customer satisfaction levels.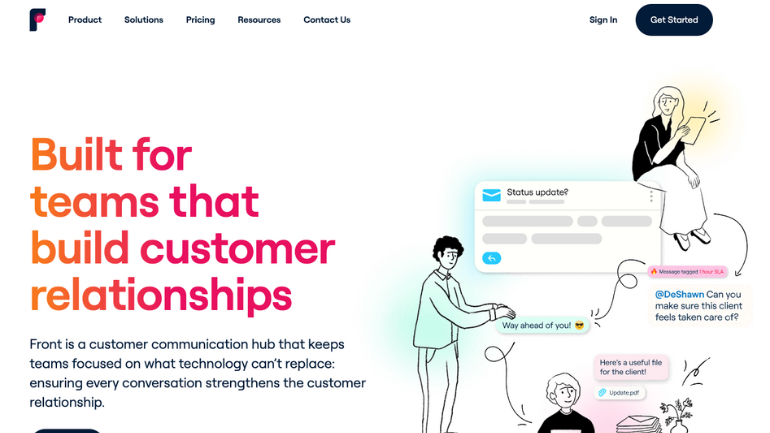 Front is an essential tool for businesses that manage a high volume of customer inquiries. By consolidating email, live chat, and app communications into one platform, Front saves businesses time and money by streamlining the support process. 
In addition, Front's robust ticketing system ensures that every inquiry is tracked and resolved promptly. With its powerful features and easy-to-use interface, Front is the perfect solution for businesses that need to provide top-notch customer service.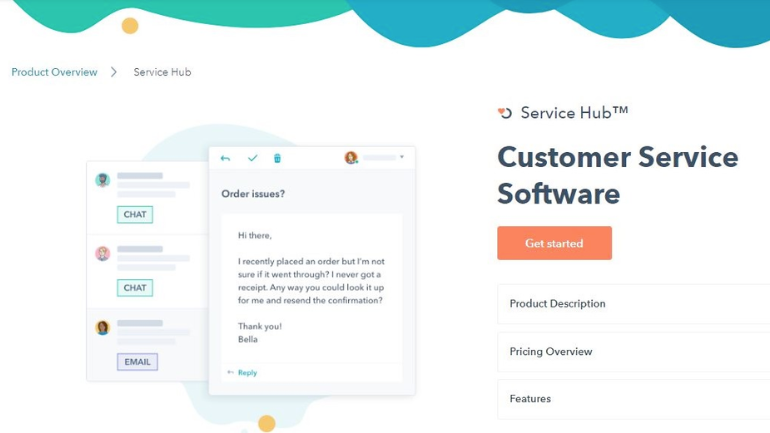 The HubSpot Service Hub is a comprehensive help desk software solution, offering the best help desk tools to help businesses build an ideal customer experience. One of the key features of the HubSpot Service Hub is its ticketing system, making it easy to track and manage customer inquiries. 
The software also includes a knowledge base builder, allowing businesses to create self-service solutions for their customers. In addition, the HubSpot Service Hub provides tools to help businesses gather customer feedback and use it to drive growth. Overall, the HubSpot Service Hub is an excellent option for businesses looking for a complete help desk software solution.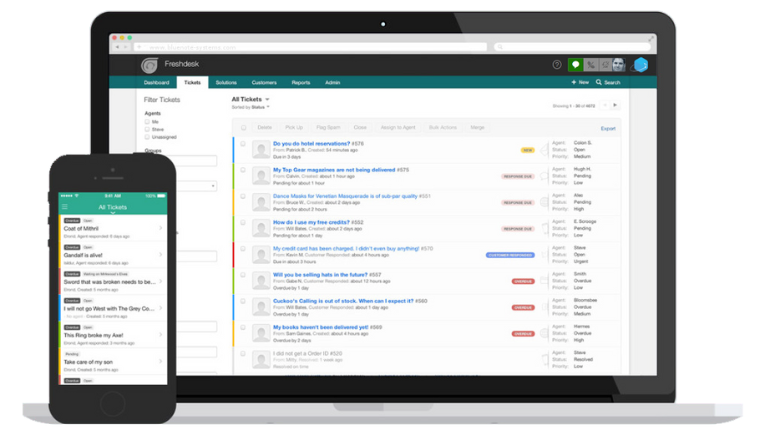 Regarding the best help desk software, Freshdesk is a popular customer support software offering essential features to make support more efficient and effective. One of its most popular features is its AI-powered chatbot, which can automatically handle simple queries and save valuable time for support agents. 
Additionally, Freshdesk's predictive support capabilities help agents resolve issues more quickly by suggesting possible solutions based on past cases. Finally, the software's field service management capabilities streamline support for businesses with field-based operations. Overall, Freshdesk's features make it an essential tool for any customer support team.
Conclusion 
eCommerce help desk software provides customer support for online stores and businesses. There are many different types of help desk software, so it is important to consider the most important features of your business before making a purchase. 
We have outlined the things you should keep in mind when choosing help desk software, and the best help desk software for your eCommerce business. Have you tried any of these programs? What is the best help desk software? Please share with us how any of them have worked out for you!